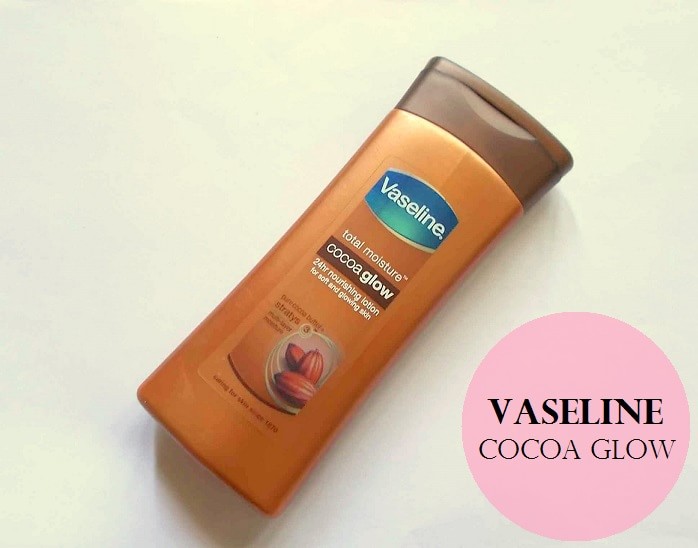 Review and Price of Vaseline Total Moisture Cocoa Glow Nourishing Lotion
By Contributor: Rini
Body lotions are a saviour in winters and because of my dry, patchy skin, I always need to keep a lotion handy. Using the same type of body lotions, I got really bored and then, I thought why not try something with cocoa or chocolate in it. Again, a problem came up, I liked both Lotus herbals cocomoist cocoa butter and Vaseline total moisture cocoa glow lotion. I had to do "inky-pinky-ponky" to choose either of them. Now that I settled with buying and trying Cocoa glow 24 hr nourishing lotion, I am here to share my review with this lotion. Let's see if Cocoa glow lotion is a decent nourishing lotion for the winters.
Vaseline Claims: Vaseline Total Moisture Cocoa glow lotion leaves your skin feeling soft and glowing. Our 24 hr nourishing formula combines pure cocoa butter + stratys 3 – multi layer moisture, infusing moisture at top, core and deep down layers of skin.
My Review:
Vaseline Cocoa Glow 24 hr nourishing body lotion comes in a brown colored container with a darker brown colored flip open cap. The body lotion is neither thick nor runny. It has a nice consistency. The cocoa glow lotion highly smells of cocoa.
The lotion has a pale brownish hue. But my mom says it is white. I nearly broke into an argument with mommy because she said the lotion is white but I felt its color to be pale brown. Mommy was like "You are obsessing over chocolates so much that your eyes can see only chocolatey color everywhere." Well, I still feel that the lotion is light brown in color.
Vaseline Cocoa glow is easy to apply and spread. It takes 1-2 minutes to get absorbed by the skin. My skin immediately feels moisturised, soft and supple. The lotion seems to darken the skin tone a bit. But that is the case with almost all the body lotions and creams except the 'whitening' ones. It keeps my skin fairly hydrated for 5-6 hours, after which I feel the need to re apply the lotion.
I do not think this Vaseline one is a heavy duty one. Because it is not too moisturising. The lotion is very good and moisturises the skin properly but I like some more moisturisation than the lotion is capable of providing.
The lotion does not live up to its claim of 24 hr nourishment but I like Vaseline cocoa glow lotion for its yummy cocoa smell, hydration and its consistency. Also the lotion is very decent in healing broken, patchy and rough skin. It soothes the skin very nicely. I would like mention one not-so-happy incident of mine. A few days ago, I burned my left hand by accidentally spilling boiled milk. After keeping soaked in ice-water, the burning sensation went away and no boils came up on my hand. But I was feeling like scratching the burnt area. Generally, my aloe vera gel takes care of my such tendencies. But this time, I just could not find the aloe gel in time and ended up smearing this lotion. And the lotion (just like the aloe gel) shooed away the scratching feeling. It is worth its price.
Pros of Vaseline Total Moisture Cocoa Glow Nourishing Body Lotion:
Has cocoa butter.
Amazing cocoa smell.
It has 2 year long shelf life.

Neither runny nor thick. Appropriate consistency.
Keeps the skin moisturised up to 6 hours.
Leaves the skin soft and supple.
Cons of Vaseline Total Moisture Cocoa Glow Nourishing Body Lotion:
Does not add glow to the skin, as claimed.
Claim of 24 hr nourishment is not true.
Price: Rs. 230 for 300 ml and Rs. 75 for 100 ml.
VNA Rating: 4/5
Conclusion: Vaseline Total Moisture Cocoa Glow 24 hr nourishing lotion is a decent body lotion for the dry, wintry season. Now, it has made my days worth bathing! I love its smell very much and though I need to re apply the lotion every 5-6 hours, I do not mind. It generously hydrates, softens, smoothens and soothes the skin. Gives a nice 'chocolatey' feeling and leaves behind supple skin. What do I want more? Wish it were some more moisturising. I am surely purchasing it repeatedly until the summer days arrive.