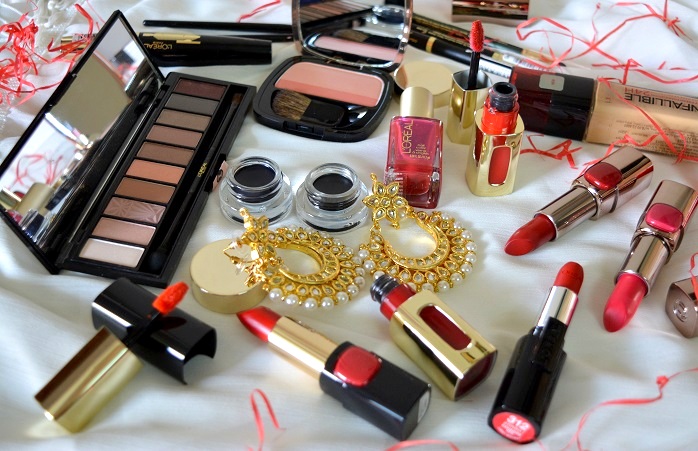 This is my favourite time of the year! Its October, its fall, its festival time, and this time I also have my sister's wedding to look forward to! We have got festivals lined up one after another and this pretty little makeup box from L'Oreal Paris came at just the right time. Normally I do all my unboxing on snapchat (id: vanitynoapology) but this time I wanted to share the contents of the festive box here. Mostly because a lot of products have reviews here on VNA which I wanted to link with them. Let's unbox!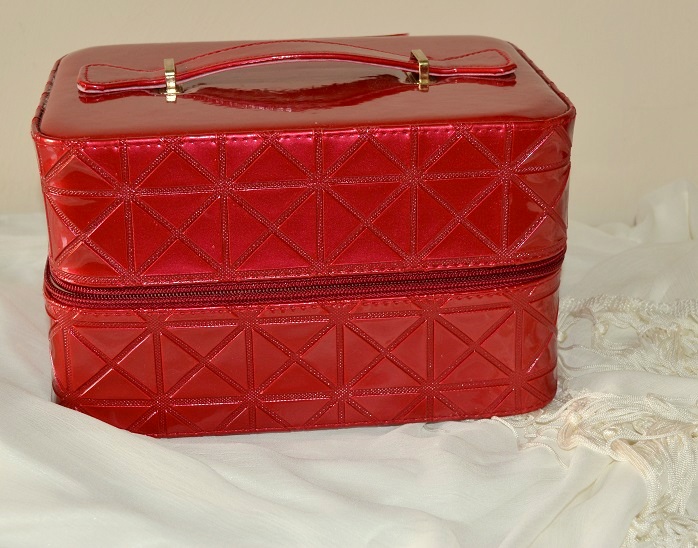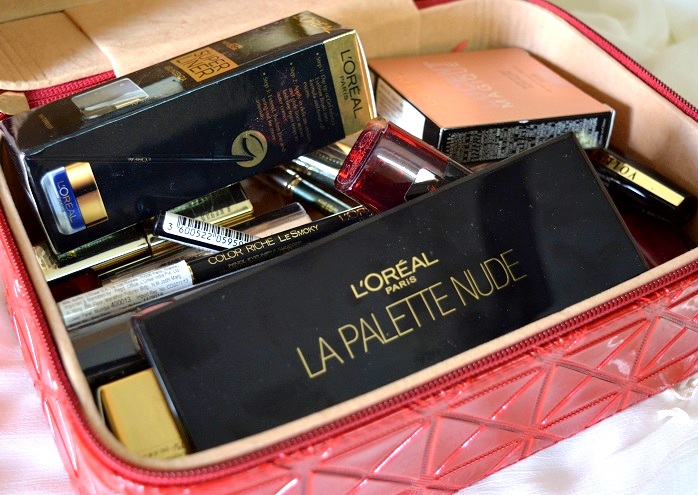 L'oreal Paris La Palette Nude:
This is the product I am most excited about! It is so difficult to get a neutrals palette in India at a decent price and this eyeshadow palette ticks off all the right boxes. It has a mix of matte and shimmer shades which can help you in taking your day look to night with ease. Also how pretty does it look!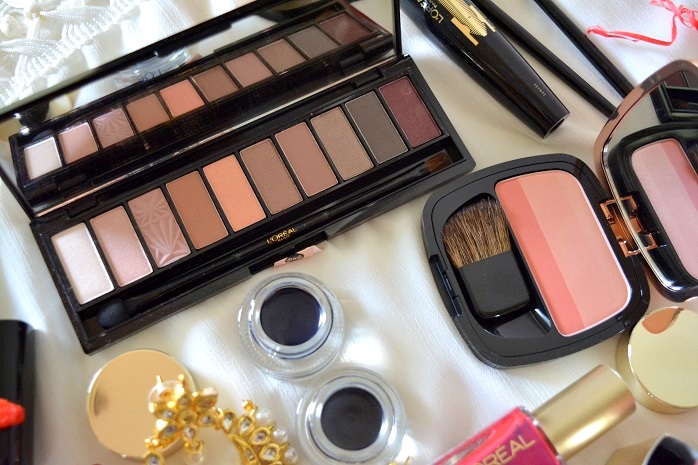 It has got two shades: Diamond Black and Sapphire Blue. These liners last all day. Both of these have been reviewed on VNA so you can follow the links to check their swatches. I think I would be using Diamond Black with my festive look as I like to keep my lips bold and bright.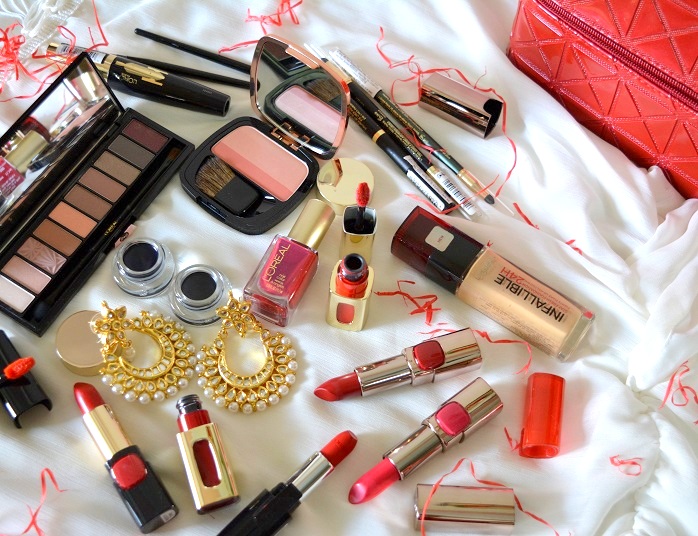 L'oreal Lucent Magique Blush of Light Glow Palette:
Would you believe it if I tell you that I gifted the same blush to my sister as part of her wedding trousseau. If you follow me on snapchat, you would know I was making a beautiful bridal trousseau box for my sister which I just gave her yesterday during her engagement ceremony. And now I have it again, what luck! The shade I have is Sunset Glow which is a beautiful burnt orangey bronze shade. We have a review of the shade Blushing Kiss here which is a very beautiful rose pink shade. It can be doubled up a highlighter. Needless to say, It makes for a great gift option.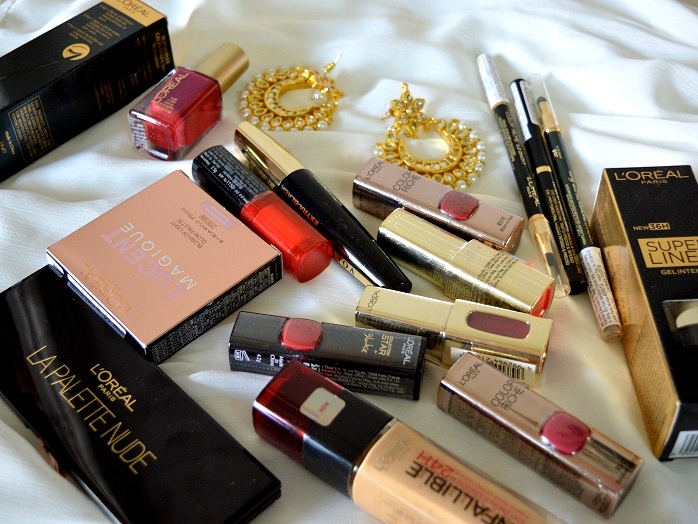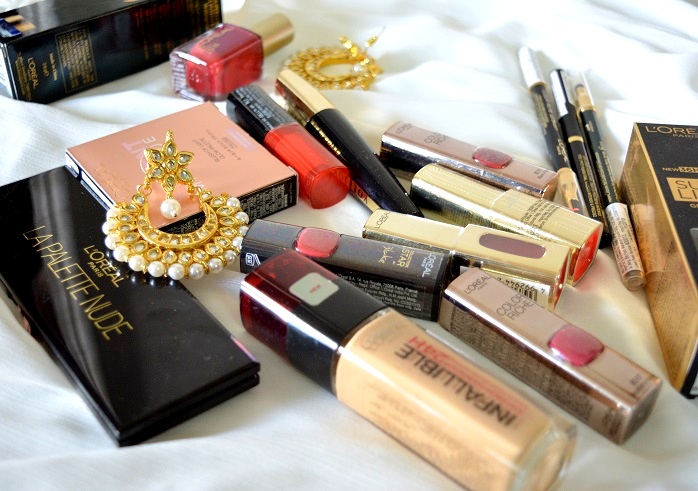 This is my favourite foundation for daily use! I actually have the same shade which I am gonna run out of soon so really, thanks Loreal for sending over the backup! It has superb coverage and lasts all day. I'm shade 250 Radiant Sand. If you have this foundation then let me know which shade are you. And as always, it also has a review here on VNA along with its powder variant .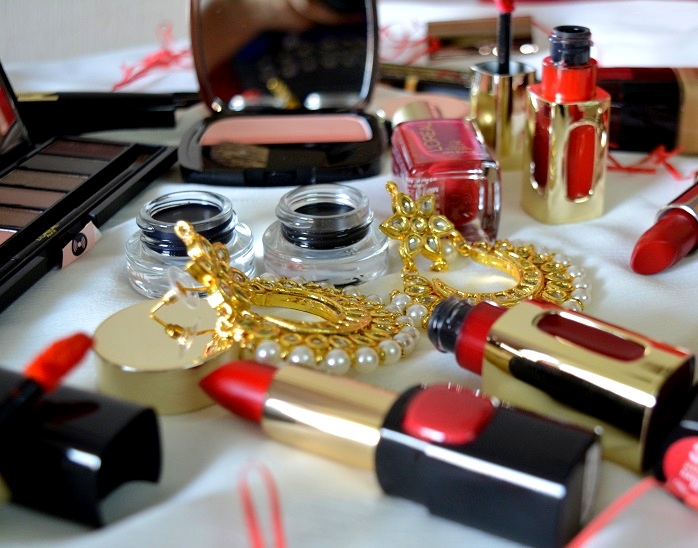 L'oreal Volume Million Lashes Mascara:
I don't know how many times I have recommended this mascara here. It separate all your lashes, curls them and gives them a great volume. I totally love the super fat brush.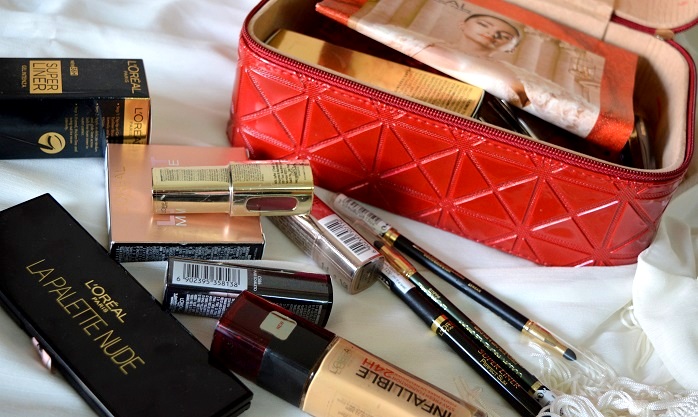 L'oreal Color Rich Le Smoky Pencil Eyeliner:
I have got two shades: Black Velour and Antique Green. It comes with a smudger to make your liner smokey. It's the first time I would be trying it out.
L'oreal Super Liner Perfect Slim:
The shade is Intense Black. One can never have too many black eyeliners! Super excited to try this one out.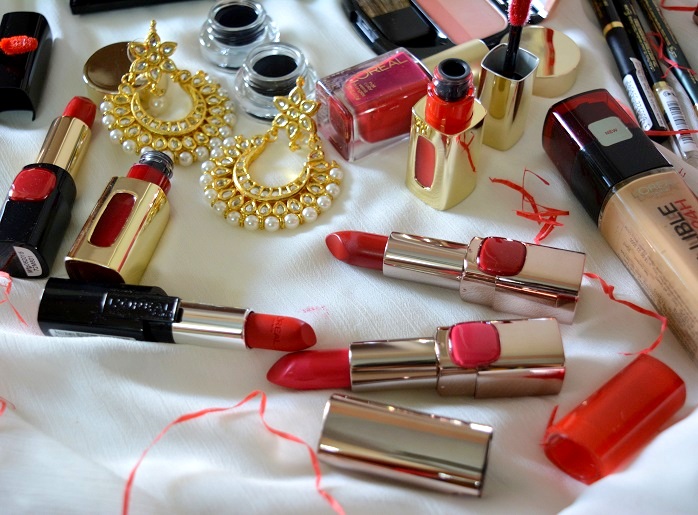 Lipsticks:
My preciousss! I wonder if these guys work as part time spy agents because I got back ups of all my favourite shades. I got 6 lipsticks which I would swatch on my snapchat soon. Two of them have reviews on VNA which you can check out: Pure Scarleto

and Ravishing Red. I already know which one I am picking for my festive look.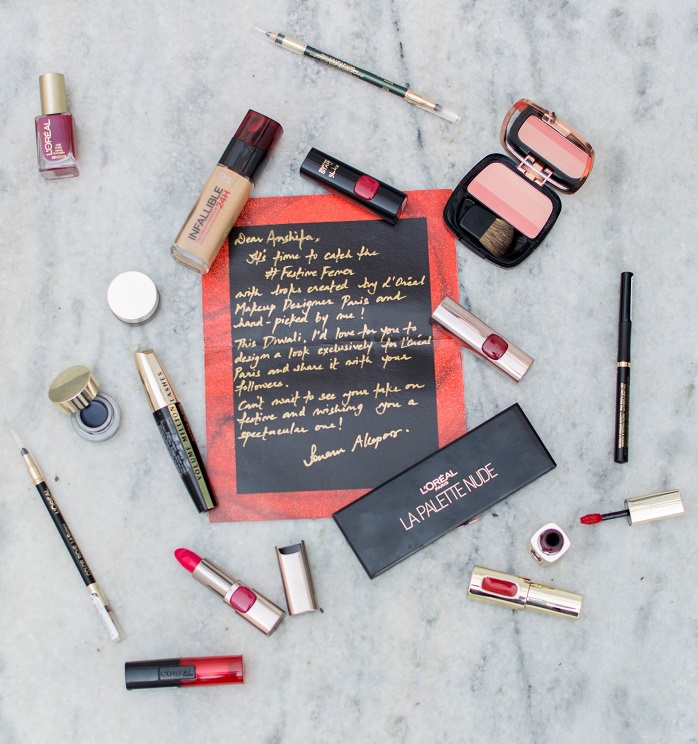 L'oreal Paris Nail Color Vernis:
I have got shade Red Tote which is a beautiful burgundy red.
Stay tuned for my makeup tutorial to see the look I create with this festive box. I got dolled up for my sister's wedding yesterday. I can recreate that look too if you girls would like.