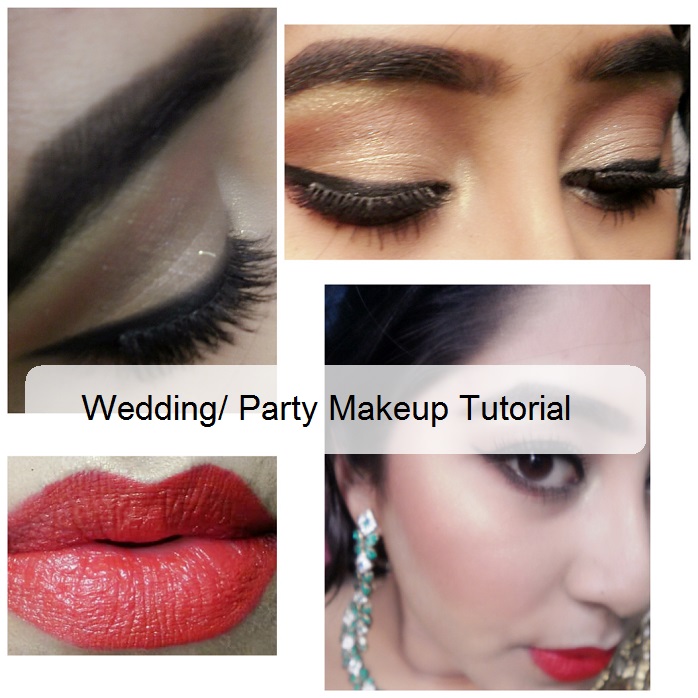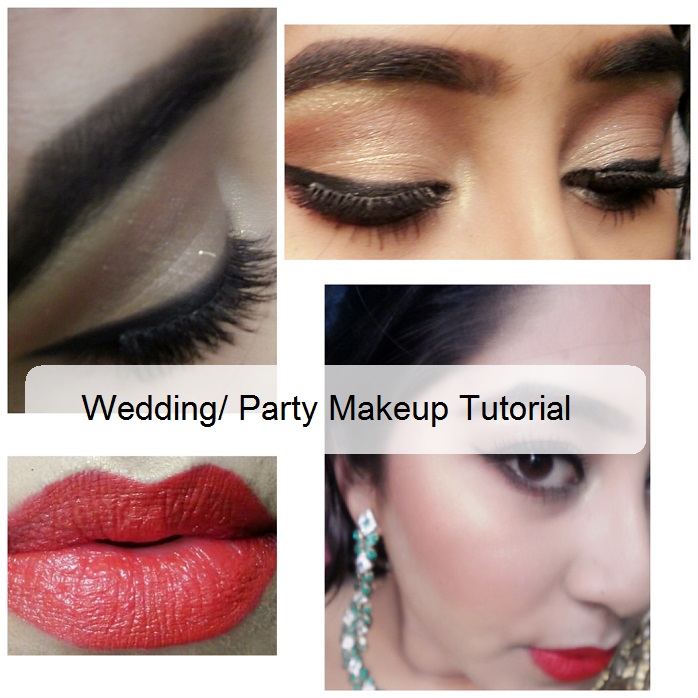 Wedding Party Makeup Tutorial: Step by Step
It is my first makeup tutorial on VNA and I am so excited to be a part of this wonderful VNA team. Today I am going to show you how to do wedding makeup on yourself. This is a very simple makeup technique but looks very stunning for evening parties and you can do this even if you are a beginner in makeup. lt's a beautiful makeup look for bride's sisters or friends. You can also do this wedding or party makeup tutorial if you are just a guest. Before that I would like to put a little kind of disclaimer out there I am not a professional MUA or something, I am just very passionate about it. You can totally add or skip a few steps as you would like. I believe that there is no perfect way of doing your makeup, if you feel it and like it then you should do it, You do you boo! SO let's get this party look started.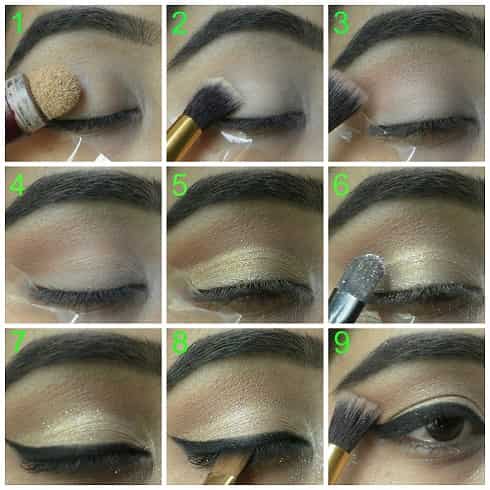 Step 1: Start off by taking two small pieces of sellotape or scotch tape and press it lightly on the back of your hand once and then apply it from the corner of your eyes to your eyebrows. This will help you to apply your eyeshadow and eye liner in place.
Now apply a primer or a concealer that doesn't crease on your eyelids. Blend it well so it doesn't look patchy. I am going to apply Maybelline age rewind concealer
as a primer. After this apply nude or skin color eyeshadow to set it, you can also apply compact powder if you don't have nude eyeshadow. (This will help your eyeshadow to show well and also conceal any darkness)
Step 2: Take a bronze or warm brown eyeshadow color and apply it with a blending brush in your crease and blend it nicely. After that apply a more cool toned brown or chocolate-brown color in your crease to give it more depth and definition.
Step 3: Now take a golden eyeshadow and apply it just on your eyelid don't take it to your crease just pack it on the eyelid. After this just take a little more of that chocolate-brown eyeshadow color and just blend the edges of the golden eyeshadow into your crease a little so that it doesn't look unblended.
Step 4: Take a silver shimmer eyeshadow and dip your flat eyeshadow brush in it and just dust it off on your eyelids a little. Don't go overboard with this it should  look like specs of glitter here and there on the eyes.
Step 5: Apply a nice crisp wing eyeliner (Sharp enough to kill, LOL!)
Step 6: Now remove the tape off and take a matte black eyeshadow and set your eyeliner with it. Then take a blending brush and just blend the outer corner of the eyes softly.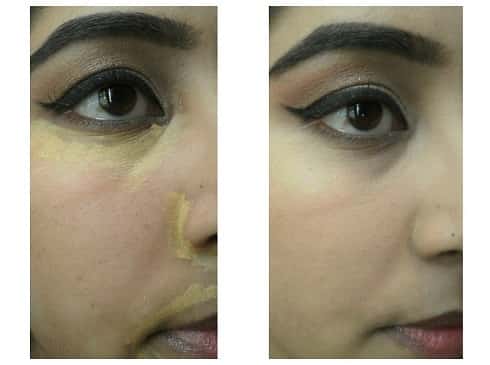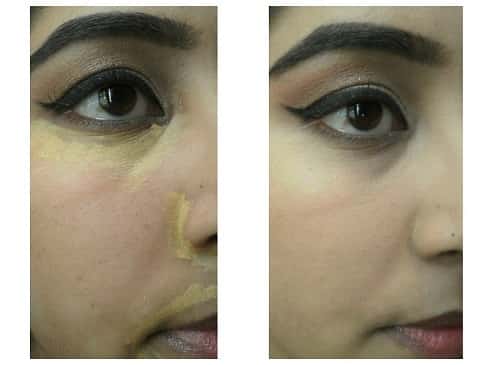 How to apply base makeup for weddings
Step 7: Apply an orange color concealer on any discoloration of your face. I have applied it under my eyes and around my mouth. Now blend it well and then apply your favorite foundation over it just remember that wherever you have applied the orange concealer apply the foundation over it and just dab to blend it don't drag or buff it.
Step 8: Take a darker foundation or concealer or powder whatever floats your boat :p Just remember it should be 2 or 3 shades darker than your complexion so that we can contour with it. Now apply it under  your cheek bones, on your temples that is side of the forehead, on your jaw line and on your nose and just blend it well.
Step 9: Take any light-colored concealer or powder just 1 or 2 shades lighter than your complexion and apply it under  your eyes, right under your cheek contour, on the center of your forehead and on your chin and just blend it well. (I have used the Ben Nye Banana Powder)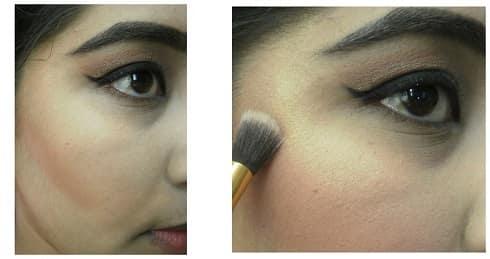 Step 10: Now just take a nice highlighter or any golden champagne eyeshadow and apply it on your cheek bones, on the bridge of the nose, cupid's bow that is the V of your lip, chin and center of your forehead. Indian weddings are full of loud makeup and here is your chance at glamour.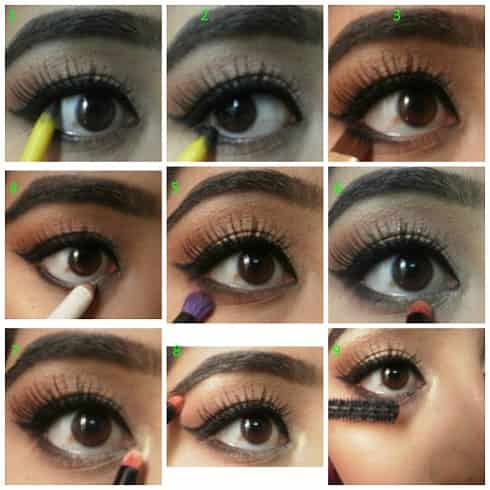 Step 11: Apply some false lashes if you don't want to then just apply a generous amount of mascara. Tight line your lash line with a kajal and then just take the kajal halfway through your lower water line that is apply it from the outer corner of the eyes till the center and then apply a nude eye pencil to the rest of the water line. It brings on all the drama required to get ready for Indian parties or weddings.
Step 12: Take a matte black eyeshadow and just run it under your water line just where your kajal ends and buff it with a brown eyeshadow and for the rest of the water line take a light gold color and apply it. Apply some mascara to your lower lash line.
Fill in your eyebrows to make them look thick. Take the highlighter and apply it in your inner corner of the eyes and on your brow bone.
Step 13: Apply some peachy pink color blush on your cheeks.
Step 14: Finish up your look with some nice red lipstick or any color of your preference.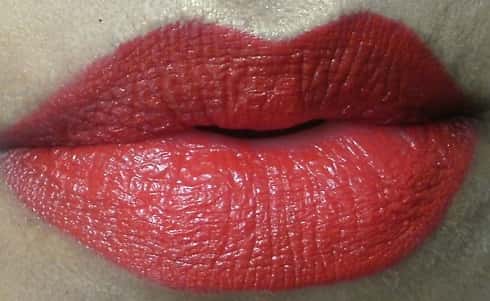 And *Drumrolls* TADDDDAAA!! We are done with the party makeup look. You are now ready to rock this makeup look in any evening parties or wedding. I am sure all the eyes will be on you.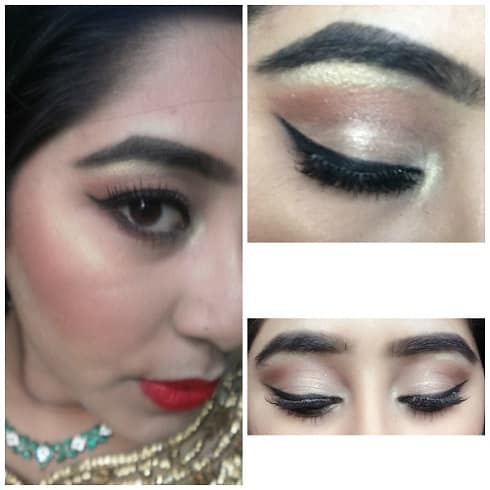 I know it looks quite lengthy but it isn't actually when you do it. I hope you understand my steps. Please refer to images for more understanding. And as I said earlier you can add or skip any steps you want. Makeup is all about getting creative.
List of Makeup Products used for the Tutorial:
EYE PRODUCTS:
Maybelline age rewind concealer.
Colorbar blush in bronzing glaze – crease.
Miss claire eyeshadow in 0237 – crease.
Golden eye shade from the Essence All About Sunrise palette – Eyelid.
Maybelline Gel eyeliner in black.
Maybelline colossal kajal in black.
Oriflame kohl pencil in nude.
MUA Pro-brow Ultimate eyebrow kit for the eyebrows.
Bourjois Paris Volume 1 second mascara.
Ardell False lashes – 116
BASE PRODUCTS:
Kryolan Supracolor in 303- for the discoloration
Kryolan Supracolor in FS 29- for the base
HIGHLIGHT AND CONTOUR PRODUCTS:
Ben Nye Powder Rouge- Contour No.1
Ben Nye Banana Powder
Sivanna Baking Highlight in the shade 02
Milani Baked Blush in – 05 luminoso
Bourjois paris blush -34 Rose d'Or
LIP PRODUCT:
Bourjois Paris Rouge Edition 12 Hours lipstick in the shade 34 cherry my cherie.
Read More:
Which is your favourite party makeup look? Share your reviews with us.