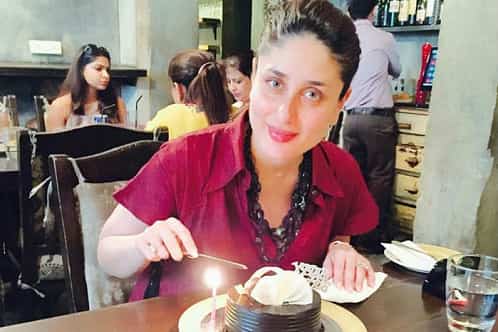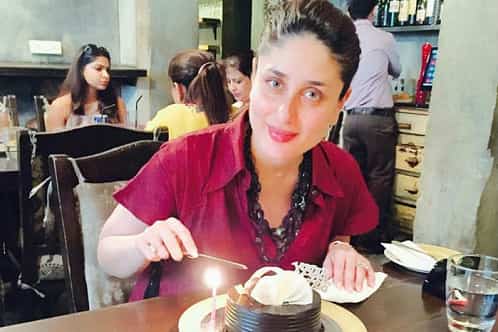 Kareena Kapoor Without Makeup Top 10 Pictures
Kareena Kapoor Khan, the yummy mummy, is one super gorgeous woman, whom everyone remembers for her flawless beauty. When I say flawless, I actually mean it. I mean, yes of course celebrities are blessed with the best make up artists from across the world, the best brand make ups, high photo shop skilled people to enhance their pictures and of course, great photographers, but some people are extra ordinarily beautiful and unaffected by such materialistic woos. The sans makeup look is favourite of Kareena's. because she gets clicked without any makeup so often
. Make up and everything else is a cherry on the cake, for her, who is already a pudding before hand! She is irresistible, I know.
Do you remember Kareena in her debut movie, Refugee? Yes, we all do. That chirpiness, that innocence, that freshness we cannot forget. She was simple and plain in the movie and we loved her look way too much. She proved in that movie itself that she is a beauty package. Just look at her flawless fair skin, is there any way you cannot love her. No doubt Kareena looks ravishing in those red lips and smokey eyes too.
And how can we forget her role of the self obsessed beauty queen Poo from K3G. We love everything about this natural beauty from bollywood, especially her badass 'Main apni favorite hoon' kind of attitude. Shahrukh Khan, in an award night, once referred Kareena as a kajal (kohl) as kajal is great for eyes and so is Kareena. We agree with you sir, on every bit. She is serious beauty goals for sure. Here, we bring in ten pictures of Kapoor girl sans make up which proves make up and all such attributes are just a choice for her. We could have bought more, but we got to be limited, so let's compromise at ten.
Image Gallery of Bollywood Actress Kareena Kapoor in No Makeup:
1. Kareena At The Airport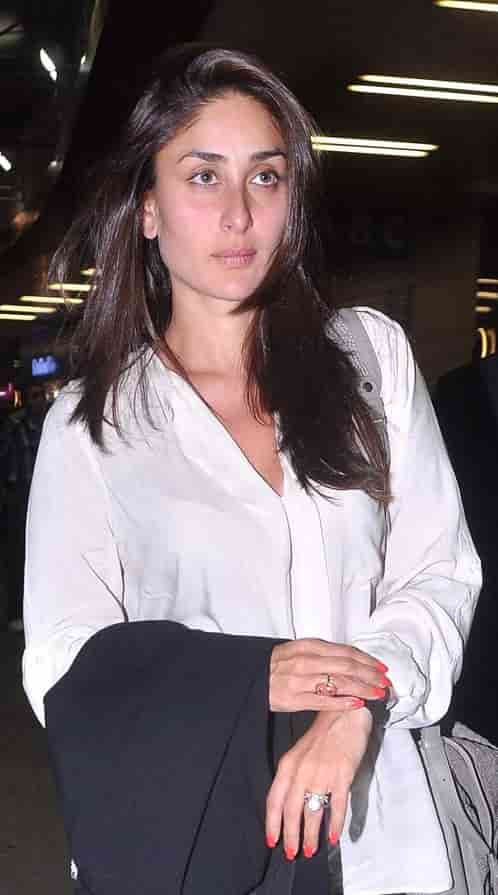 This look of hers is snapped at airport. She is wearing a simple white shirt, black pant and black high boots. Loose open hair, with no tinge of make up, Kareena looks like a boss. She knows she is looking pretty as always, and so she is not at all bothered about the paparazzi clicking her that way. Her natural pink cheeks look like a light blush applied on her face, but that is pure blush that she has from within.
2. Top Bollywood Celebrities No Makeup Look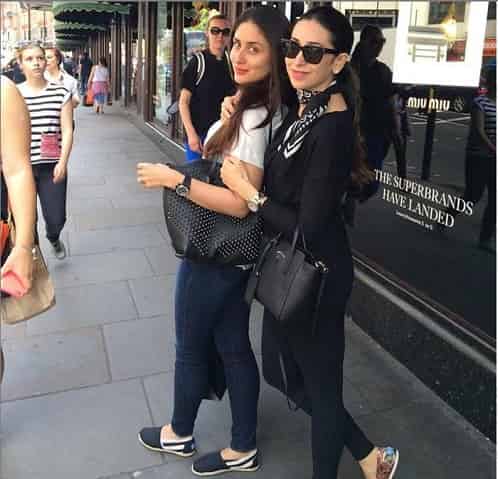 Bebo has her best friend in her sister, and we don't have any doubts about it. When caught without any makeup happens to be a big deal for most of the other actresses, Kareena poses herself joyously in such situations. In the pic, Bebo looks like a natural beauty and lolo also manages to look super fresh and beautiful. They have it in their genes, we guess.
3. New Mommy Mrs.Khan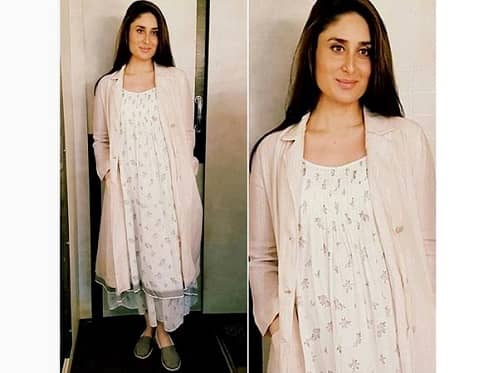 Kareena is someone who has always believed in not hiding her real life happiness or anything. She is the one posing with her baby bump and creating a buzz everywhere with her stunning looks. She goes all with minimal makeup in this snap, wearing a light coloured dress with a trench for Malabar gold and diamond shoot. A little blackish eye make up and nude lips, and with this Kareena chooses natural look policy again.
4. Bebo And Her Girl Gang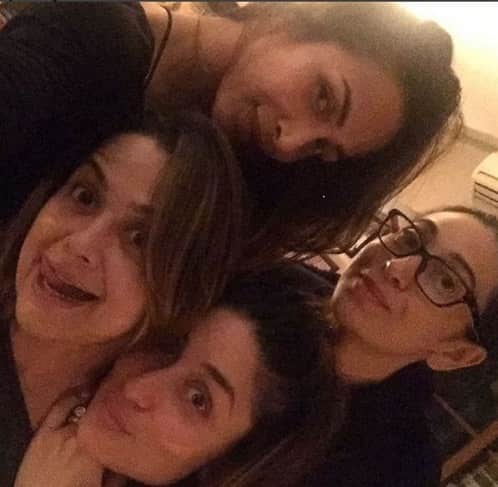 As beautiful as Kareena is, her girl gang is equally pretty. In this picture of Bebo with her girlfriends, she is all shinny and shimmery but with her natural glow and glaze. This picture of these bollywood actresses show their flawless skin. No makeup and all smiles is what makes us go aww for this picture. Even star girls believe that happy girls are the prettiest.
5. Image of Kareena Sans Makeup Escaping Paparazzi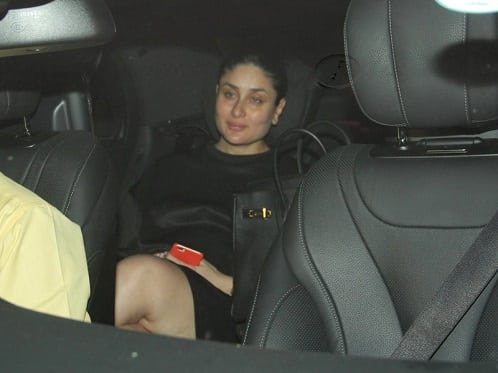 Always followed by the media, cameras and fans, bollywood celebs make most effort to escape from them on not so special occasions. Well, this is justified, every person has their set of mood swings. Bebo skips a glance and focuses her way through her car. In this sample and nature picture of Kareena Kapoor Khan she has no kohl eyes, plain pout, everything natural, genetic beauty. She keeps her head high knowing her vivacious look is enough to steal hearts of millions.
6. Kareena Celebrating Her 36th Birthday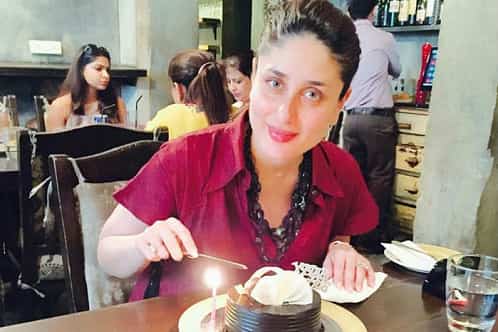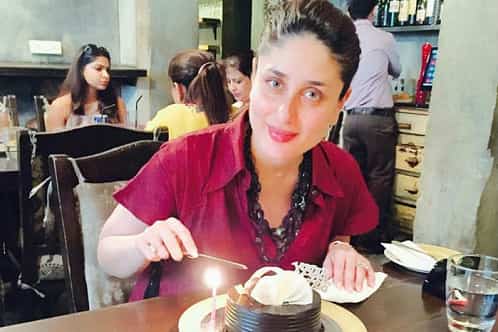 Every girl has a bucket list filled for all her birthdays and so does Bebo, ofcourse. Bebo is wearing a Chola wine coloured dress and cutting her yummy cake and looking even more yummilicious and extremely beautiful as she is posing. Light shade of mauve on the lips and no make up look, she nails it again. Sleek and perfectly tied ponytail and all fair and natural pink cheeks again. No wonder she is a diva.
7. Kareena With Hubby Saif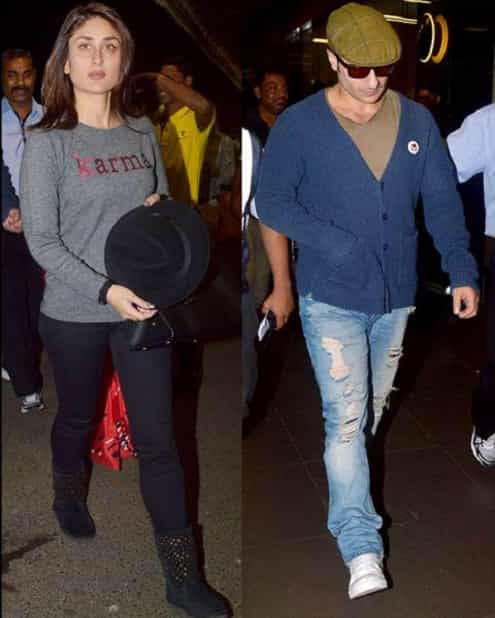 When you have a better half who is so goodlooking, you don't need any make up or any filters. Its the partner who compliments you. Bebo is all casual as she leaves to travel with hubby, wearing a basic sweat tee shirt in grey and black ripped denim with black boots. She swears on karma through her tee. She is all again without any makeup and loose open hair and still looks cute as always. She chooses to be pretty in a natural avatar way rather than to opt for makeup.
8. Bollywood Actress With No Makeup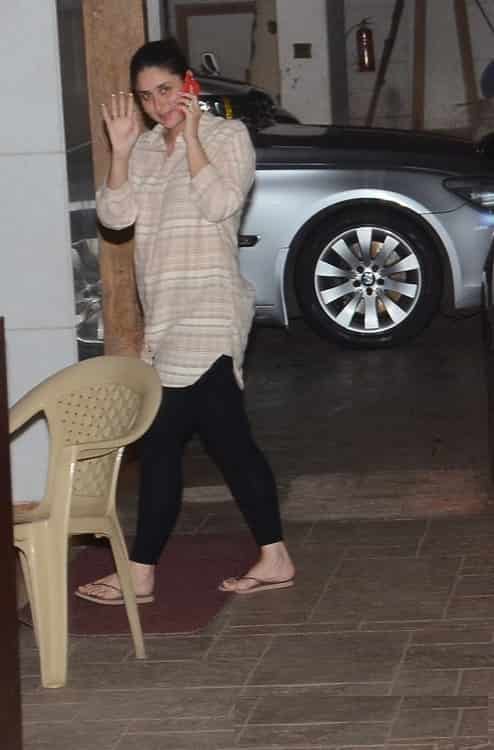 This is my favourite image of Kareena Kapoor sans makeup, where she is being all herself and busy in calls, wrapped her hair in a bun like any other girl. No make up at all on her face, yet she looks so pretty and stunning. I like her outfit, her khaki long collared shirt and her metallic slippers. This is an effortless super duper pretty picture of her. She loves her fans and did not miss a chance to wave them even being so busy.
9. Kareena Being All Candid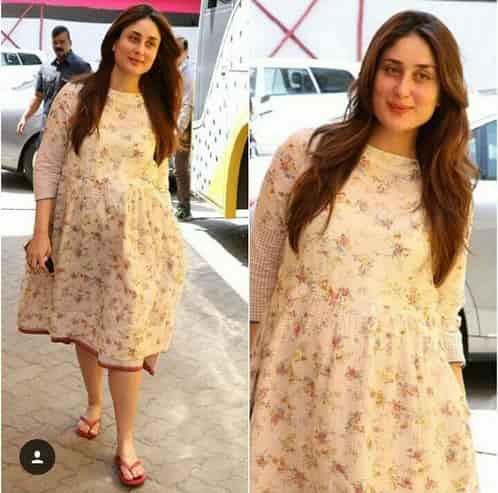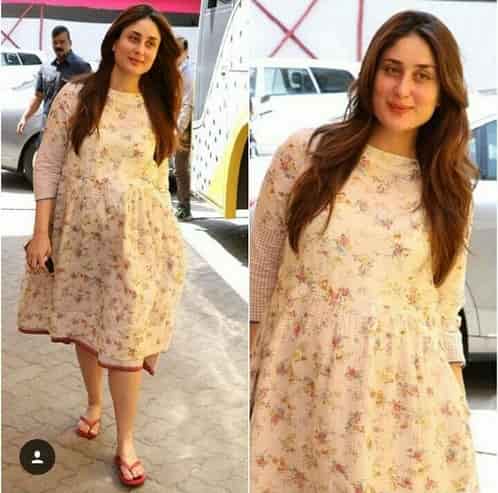 This is one of the recent clicks of Bebo in Mehboob studio, where she is shooting for covers. Kareena wears a comfy midi one piece by Pero with red flip flops and we are loving this comfortable and chic look. We love her beachy waves and no make up look. Her pretty eyes with no make up look all very fresh and she looks fabulous. No eyeliner or lipstick, all natural glow before the shoot and daylight makes it a picture perfect.
10. Kareena With Her Baby Love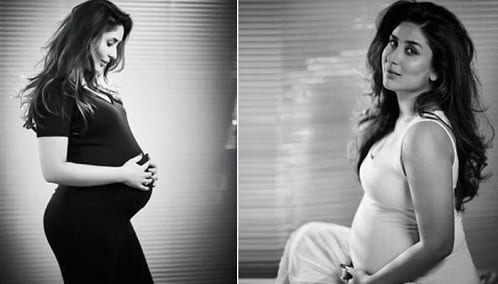 We believe in the saying, last but not the least, and so is this picture. Obviously, this is a fairtale moments in every woman's life and something which is hard to express but beautiful to feel. Bebo did a beautiful and mesmerizing photo shoot in her last days of pregnancy, and chose to be au naturale and pretty. Make up could have hidden her warmth and beauty. She makes this a perfect picture to be adored for lifetime.
These more than pretty pictures of Kareena Kapoor prove makeup is not mandatory and just a choice and matter of being happy and beautiful for any woman. She also gives motivation to every woman out there, in their pregnancy days, to not to hide themselves and embrace this feeling and these days. She has broken all the stereotypes and has posed, partied, did endorsements, attended functions all like a very proud and strong woman. Off screen or on screen, we love you Bebo, you have surely set a benchmark.
Image Source: 2, 3, 4, 5, 6, 7, 8, 9, 10, 11
Read More:
Which is your favourite bebo pic? Share your reviews with us.