Top 10 Most Beautiful Bollywood Bridal Makeup Looks and Hair
Whenever we are looking for any inspiration, be it for a desi function in the family or even if we're hitting the mall and are undecided upon what to wear/ what look to go for, the first place we look for any kind of inspiration is of course our beloved Bollywood. You need any kind of makeup inspiration, and you'll get it in heaps from Bollywood actresses. While various Indian actresses give us outfit inspiration on a daily basis, let's look for a different kind of inspiration today. You know the wedding season is still not over yet and there are a numerous things that Indian brides-to-be have to take care of apart from the wedding pictures, and makeup happens to be one of them. Makeup is a crucial part of any indian bride's complete hair and makeup look. Makeup is one thing that can totally make or break and outfit.
So let's turn to our lovely Bollywood brides for wedding makeup and hair inspiration, shall we? I've done a round up of 10 of the most beautiful bridal makeup looks that our favorite Bollywood actresses sported on their wedding days. Have a look!
List of Top Ten Bridal Makeup and Looks of Bollywood Actresses we Love
1. Gul Panag's Bridal Makeup: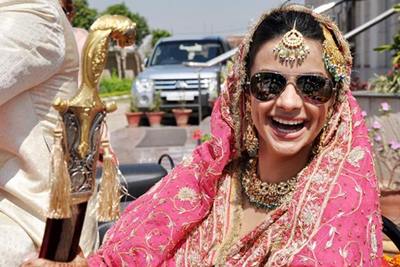 Gul Panag looked absolutely charming on her wedding day. She ditched the conventional red lehenga for a more sassy pink one. I love the fancy touch she's added with her Ray Bans, after all it was a daytime wedding. Her makeup, as you can see, is pretty minimal. This actress bridal makeup looks very fun and pretty. She has a flawless base with some blush and a nude lip shade. I think this is the perfect bridal makeup look for a daytime wedding
and also if you're wearing a heavy lehenga.
2. Aishwarya Rai Bachchan's Bridal Look: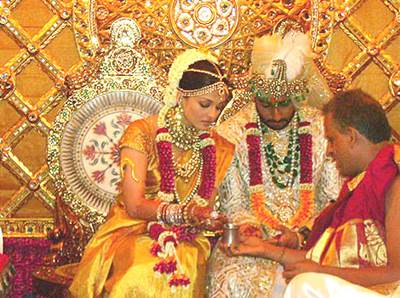 Aishwarya Rai looked like a goddess on her wedding, seriously! It was the celeb rity wedding everyone talked about day in and day out. Everything was too gold-gold- And I loved her overall wedding look. From the gajra and jewelry to the saree and makeup, everything was on point. Since her wedding outfit was pretty heavy and so was her jewelry, Aishwarya opted for a subtle makeup. She went for a flawless base with minimal eye makeup, a nude lip shade and lots of highlighting and blush with a hair updo. I  love how her makeup complements her entire wedding look.
3. Esha Deol's Wedding Look: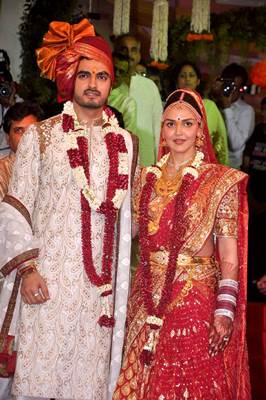 There is a pattern with bollywood bridal makeup, as you can see. Most celebrities and actresses go for subtle makeup on their wedding day but when it comes to their outfit and jewelry, they go all out. I think it's the perfect balance. Esha Deol went for a red and gold lehenga on her wedding with classic gold jewelry but she kept her makeup very minimal. Her base looks flawless, her eye makeup is pretty natural, nothing fancy, she's wearing a bindi and her lip shade is pretty neutral too.
4. Dia Mirza's Wedding Makeup: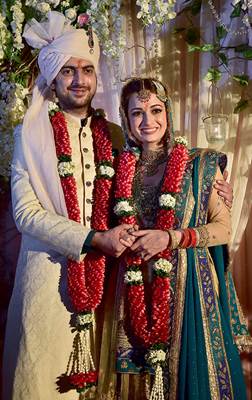 Dia Mirza is hands down my favorite Bollywood bride on this list. Whatever you see, it's perfect. Be it her dress, her jewelry, her makeup. She went for a green and beige wedding outfit paired with traditional jewelry and decent makeup. As for her makeup details, she went for a dewy base, well defined brows, a brown lip shade and some subtle highlighting. Dia mirza looked absolutely stunning on her wedding day!
5. Wedding Look of Kareena Kapoor Khan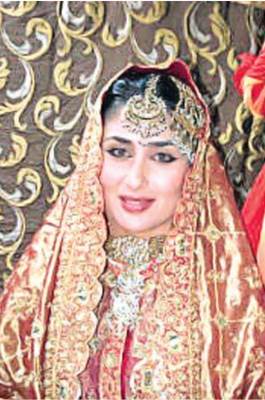 Kareena Kapoor is one actress who is at the top of every fashion game so it wouldn't come as a surprise that even on her wedding day, she looked unimaginably beautiful. She wore Sharmila Tagore's lehenga and paired it with traditional heavy jewelry. She also went all out with her bridal makeup. She is the first bride on this list who had some heavy makeup game going on on her wedding day. Her base looks matte, brows well defined, eyes have her signature cat eye liner and lips a shade of maroon. Her makeup looks pretty good, actually!
6. Bridal Makeup of Genelia D'Souza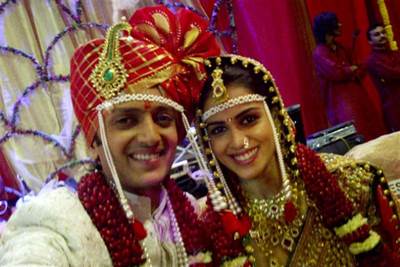 Genelia D'Souza got married in traditional Maharashtrian style. While her outfit and jewelry were kept the main elements of her overall look, her makeup was pretty subtle yet pretty ninetheless. She had the typical Maharashtrian bindi (that looked cute on her), her base dewy and a mauve lipstick. She is one of those actresses who are naturally beautiful so Genelia looked stunning even with pretty simple and subtle makeup on her big day.
7. Wedding Makeup of Kalki Koechlin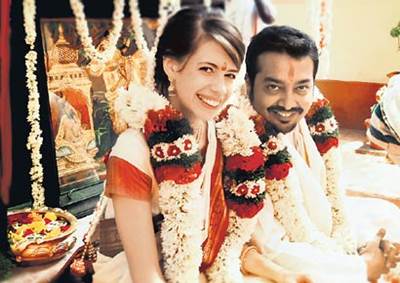 Kalki Koechlin got married in South India style, in a beautiful white and red Kanjeevaram saree and gajra. Kalki is again one of those bollywood actresses who in general wear very less makeup and manage to look absolutely stunning nonetheless. Her features are such that they don't need enhancing by makeup, she's naturally beautiful. On her wedding day, she opted for a matte base makeup, well defined brows, absolutely no contouring and just a brown-red lip shade that looks pretty good on her. She looks so stunning, I can't even…
8. Bridal Look of Mira Rajput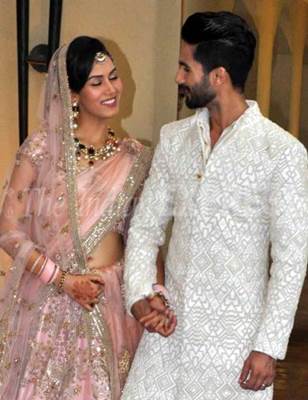 Let's first take a moment to acknowledge how cute Shahid and Mira look together. Hashtag goals! Mira Rajput looked so stunning on her wedding day in a pink outfit and very modern jewelry that she is giving all us girls major bride goals, am I right? Her makeup is perfect for this look. She kept her makeup pretty simple, nothing dramatic. She went for a pink based makeup. Her base is dewy, her brows are well defined, her eyes look sparkly and her lips are a pinky mauve. Oh and that highlight, I'm totally digging it!
9. Soha Ali Khan Bridal Makeup: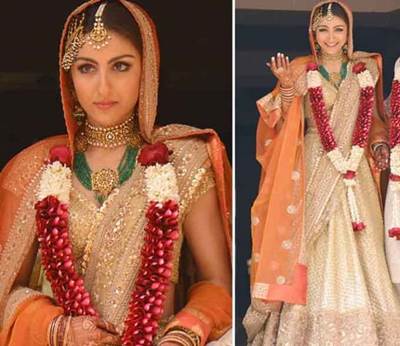 Soha Ali Khan is definitely one of the prettiest Bollywood brides ever! She looked like a royal princess, no kidding! Her outfit, oh my god! The beige and orange is looking just wow on her and her jewelry is also the prettiest I've seen. Everything about her wedding look screams perfection. Her makeup is well co-ordinated with her overall look. She is looking so beautiful in her wedding look. She has a flawless base makeup, she looks a bit tanned too (just in the slightest though), she has a bit of contouring going on and the highlight is just the right amount.
10. Shilpa Shetty as a bride: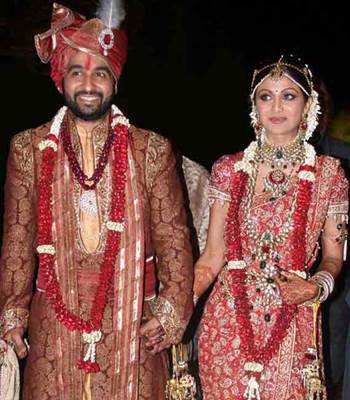 Shilpa Shetty is one Bollywood bride who went all out on her wedding day. Her outfit, jewelry and makeup- all on point. Her bridal look was traditional and beautiful. She looked absolutely gorgeous on her wedding day in a red lehenga and traditional polki jewelry. Her hairstyle perfectly complements this look and her makeup looks great. She looks like a Punjabi bride with all the dewy makeup, lots of highlight, dramatic eye makeup and bright lip shade. So pretty!
So this was my round up of 10 of the most stunning Bollywood brides and their beautiful makeup and hair looks. They all have one thing in common, while they went for heavy outfits and heavy jewelry, to balance out their look, they kept their makeup on the minimal side. They all managed to look pretty nonetheless. So which one is your favorite Bollywood bride? Mine is Dia Mirza for sure!
Image Source: 2, 3, 4, 5, 6, 7, 8, 9, 10, 11
Read More:
Which is your favourite bollywood bridal makeup? Share your reviews with us.