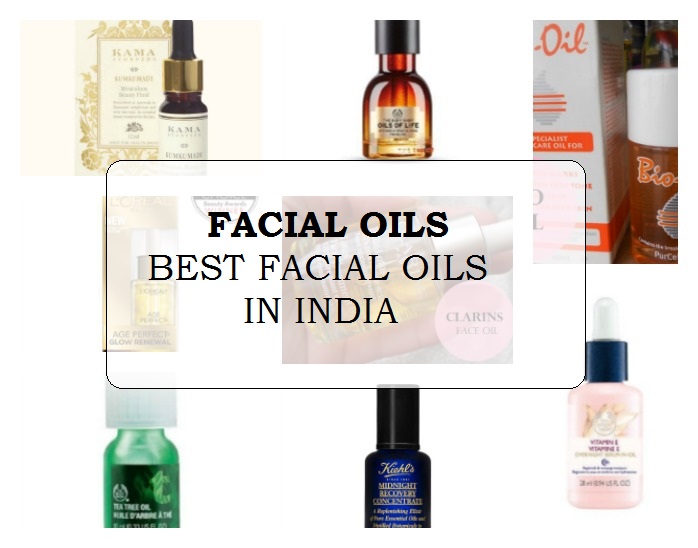 Top 8: Best Facial Oils Available in India with Reviews, Price List
Facial oils have taken the beauty scene by storm and in this ever changing weather, our skin really needs some solid skincare and facial oils provide our skin with the much needed replenishment. Many people have this misconception that if they have oily skin, they should stay away from oils! This is a complete myth! Their are light facial oils which act as serums and also help in oil-control. That is the main agenda behind this post, educating you about face oils and providing you with my list of the best facial oils available in India for oily skin, dry skin and acne prone sensitive skin. Let's start with my favourite magic oils for face.
Long term usage of facial oils creates a barrier on the skin which protects it from the external impurities and pollution and keeps the moisture in the skin. And the best part..they add a sheer glow to the skin which is always welcome! Most of these face oils work for all skin types however some are a bit richer than the others which can be used during harsh winter months and the lighter ones can be used in summers. You can also add 1-2 drops of these oils in your night cream or moisturizer if you have really oily skin.
Some Benefits of using facial oils:
Provides the much needed hydration to the skin
prevents ageing as the most common cause of early ageing is dryness.
Makes the skin soft and adds a sheer glow.

Targets specific skin concerns like uneven skin tone, dryness, dullness and dark spots.
Provides anti-oxidants which are essential for cell repair.
sooth the skin of any itchiness or eczema.
prevent acne (yes oils do prevent acne).
Oils are rich in fatty acids which help in building the lipid layer of the skin which acts as a natural barrier against pollution and dirt.
List of Top Eight Facial Oils in India with prices:
1. Kiehl's Midnight Recovery Concentrate- 3200 INR for 30 ml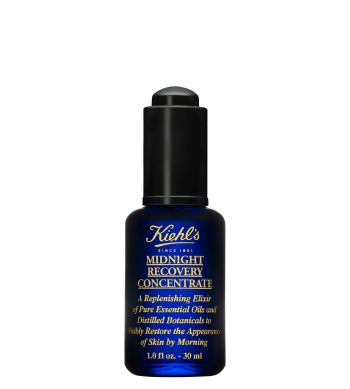 This is one of the most raved about skincare product by top beauty bloggers across the world. It is loved by celebrities also. Since it is made up of 99.8 % naturally derived essential and botanical oils, it is rich in antioxidants which help in repairing the skin cells overnight. The main ingredients include lavender oil and evening primrose oil.  It is a great anti-ageing product as well so those looking for a perfect night serum/oil, this is the best product out there. It is expensive but from what i have heard, it is worth its weight in gold!
2. Kama Ayurveda Kumkumadi Tailam – 1890 INR for 12 ml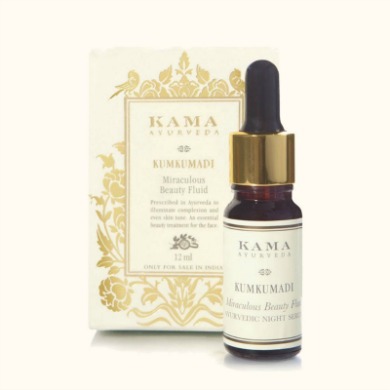 Kama products always have an ayurvedic philosophy behind them and people who prefer organic products love the brand. This oil is mainly an anti-ageing product with saffron, vetiver, sandalwood and lotus as the main ingredients. The fragrance of this oil is not something everybody would like but it disappears after few seconds and ayurvedic products always smell a little off! The dropper packaging is very convenient to use. The oil is very light in texture and gets absorbed in the skin with a little massage. The quantity is quite less for the price though!
3. The Body Shop Tea Tree oil- 695 INR for 10 ml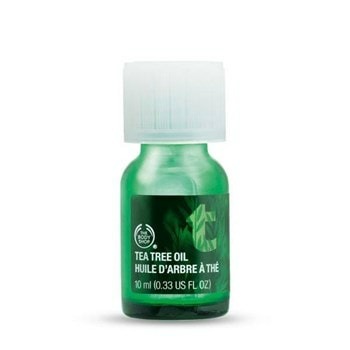 This little beauty is a very very famous product from the house the The Body Shop and is a boon for pimple-prone and oily skin. It is derived from the organic tea tree leaves from Kenya, it has anti-bacterial properties and can be used in so many ways. I fill up a spray bottle with water and put 4-5 drops of tea-tree oil in it and spray it on my face twice daily. It makes my skin free of pimples and controls oil. This oil can be used in multiple ways be it as a spot treatment for acne spots or overall face mist for oil control.
4. The Body Shop Oils Of Life Revitalizing Facial Oil- 3095 INR for 30 ml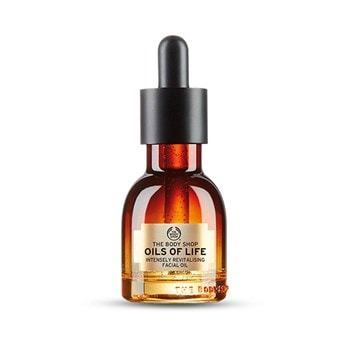 The Body Shop is a favourite of many when it comes to skincare and the recently launched Oils of Life range has intensive skincare products for dry skin. It is infused with three precious seed oils and 7 essential oils. It is very light weight oil which gets absorbed into the skin leaving a nourished skin. It is a perfect oil for those harsh winters when the skin becomes dry and needs extra moisture.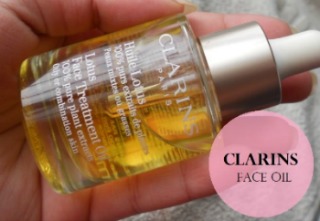 This oil is made up of 100% plant extracts and contains rosemary, geranium and lotus oils for improving the skin texture. The texture is very lightweight and the skin texture improves remarkably after continuous usage. The fragrance is also very soothing and mild. It is not at all greasy and is also recommended for dry/combination skin. The price is on a higher side but the quantity is worth it.
6. Bio Oil – 450 INR for 60 ml
Bio-oil saw a lot of publicity last year and i have 3 empty bottles to vouch for that! It is a multi-purpose oil which can be used for body and face. I used this oil all throughout the winter season when my skin became extremely dry. This made my skin plump and moisturized. The oil is also very helpful in reducing marks and uneven skin tone to an extent. The texture is also very light and runny so the oil is absorbed into the skin in an instant. It might be a bit heavy for summers but it is apt for winters. You can always use it on your body in summers.
7. The Body Shop Vitamin E Facial Serum-In-Oil-1695 INR for 28 ml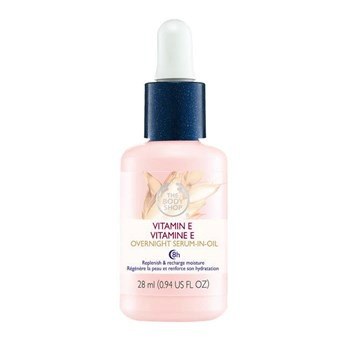 This is another facial oil by TBS and is a part of the Vitamin E range. The main ingredients include sunflower oil, sesame oil, jojoba seed oil, and wheat germ oil. Only concern with this oil is that the fragrance is a bit chemical-ish which makes it difficult to use it. This oil is perfect for dry skins but a bit heavy for oily/combination skins. Overnight treatment of the skin using this oil replenishes the skin of the moisture and treats dryness and skin tone when used regularly.
8. L'Oreal Age Perfect Glow Renewal Facial Oil- 1624 INR for 30 ml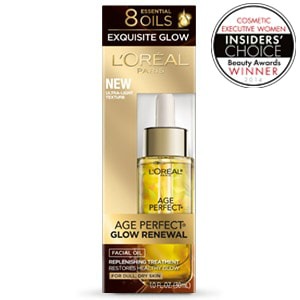 This oil is formulated with a blend of 8 essential oils like English lavender, rosemary, geranium, orange peel, chamomile, rose flower, lavandin and marjoram leaf. It also contains natural extracts of cucumber, turmeric and jasmine which add to the skincare benefits. The skin is instantly hydrated after use and long term usage makes the skin supple and soft. The luxurious packaging enhances the experience of using this oil!
So these are the best facial oils available in India which should be a part of every woman's skincare routine. Apart from these, you can also use virgin coconut oil which a best kept secret of many celebrities. Dry skin and oily skin both benefit from extra hydration which is provided by these oils which are targeted for specific skin concerns. I always make it a point to include a facial oil in my night skincare routine and i wake up with soft glowy skin!
Read More:
Best The Body Shop Products in India
Best Salicylic Acid Products in India
Maybelline Colossal Super Black Kajal
Best Maybelline Products in India
Which is your favourite facial oil? Share your reviews with us.