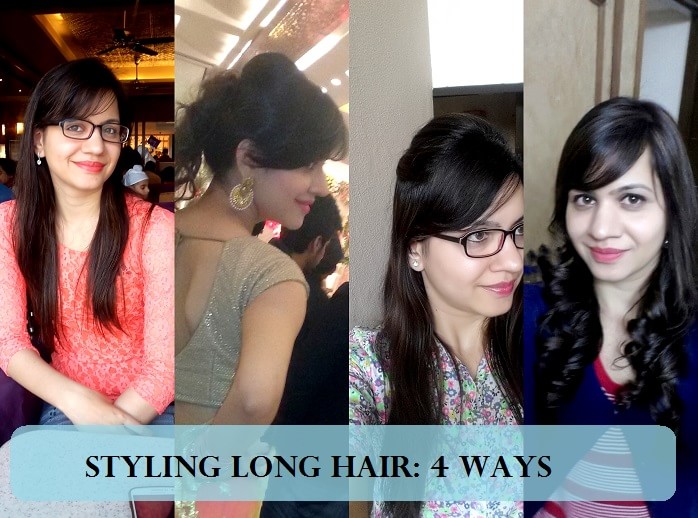 4 Best Hairstyles for Indian Girls with Medium Hair: Quick and Easy
By Contributor: Monica
Finally the summers are here and I am sooooo happy. Yeah! I am one of those people who loooooove summers for the mangoes, flowy chiffon tops, shorts, skirts, summer hats, sun..basically for everything. Today I am here to show you guys how I style my hair post my #HairIsFashion hair makeover session at Lakme salon. In case you guys don't know, I got subtle golden highlights done globally alongwith front bangs and I am in absolute love with my hair post it. I am all for quick and easy hairstyles on daily basis so here are top 4 hairstyles for girls with medium hair. I've categorized them under 3 occasions: office look, brunch date look and Indian weddings and parties look.
I just don't have to do much with my hair these days because they look so great without any extra efforts. I just wash my hair, use a hair serum and I am sorted. Yes, its that easy gals. Let me share with you girls a few of my hairstyles/looks that I do on regular basis for my office, dates, parties, etc. Because my golden highlights are quite subtle, sadly my camera just couldn't pick up the color that well. But you can always check out my hair makeover post with Lakme Salon in Delhi to see my highlights. Let's start with the hair style ideas.
1. Hairstyle for Medium Hair with Front Bangs for Office
So lets begin with my first look- regular office look. For my daily office hairstyle, I pick up a section of my front hair and tie them in a simple pouf. That's it! This gives me a professional look and is quite manageable and easy also and lasts whole day without any combing required. You can go ahead and seal with a hair spray to set the look.
2. Quick Hairstyle for Medium Hair for Lunch Dates and Shopping
Second look- Date look. This is the look which I have almost like 300 days out of 365 days. Because of the front bangs and these beautiful highlights I mostly go straight and blow dry my hair and I am ready for a date. The picture you see here is of valentine's day.
3. Hairstyle for Medium Hair for Indian Weddings and Parties
Third Look- wedding look. As you guys can see that I have straight hair, so for weddings or other important functions, I love to get my hair curled. Sometimes I curl them and leave open and sometimes I curl and tie them in a messy bun. I am very poor at hairstyling (which is quite obvious till now) so I have to rely upon my nearest hair salon for these functions. You can always curl them at home with a thick curling wand to get loose waves. If you are wearing a beautiful blouse and need to show off the back then just tie them up in a messy bun.
All in all, I am in sheer love with my hair these days and can't thank enough Anshita and VNA for this makeover. The highlights have improved the texture of my hair and they feel great upon touching too. I can go on and on about my hair these days. Don't blame me! I am in love.
Which is your favourite hairstyle for medium hair? Share your views with us.