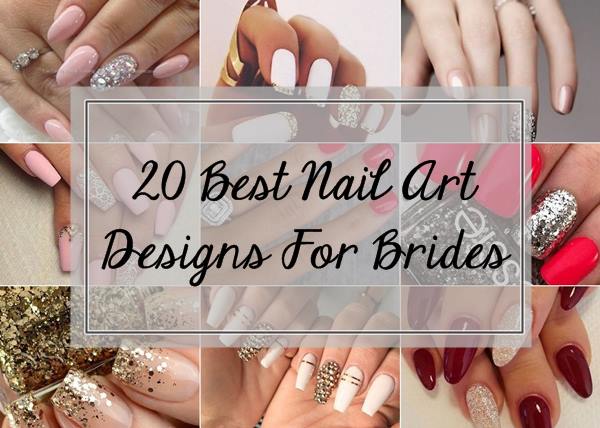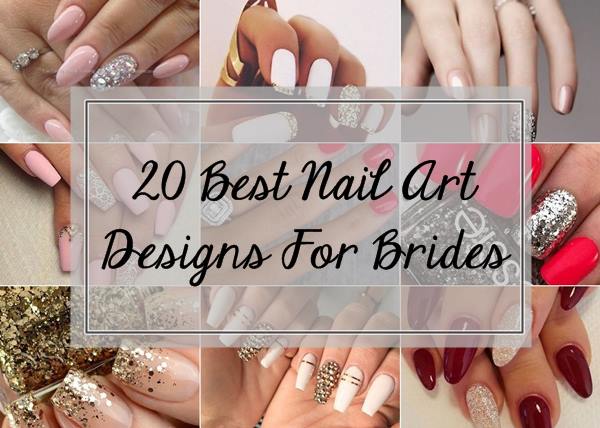 Top 20: Best Bridal Nail Art Designs for Brides-to-be, Gallery
A lot goes into planning for the big day, like picking out your wedding outfit, following a strict beauty and skincare regimen days before the wedding day, booking a makeup and hair artist, getting the perfect mani- pedi and the list is endles. Oh, speaking of mani- pedi, nails are something that a bride-to-be can just not ignore. The bridal nail art has to look perfect because there are going to be times when people are going to notice her hands and a tacky nail paint is not something a bride wants to be seen with. So to help you decide upon the perfect manicure or nail art for your big day easier, I did a round up of 20 best nail art designs for brides, Indian brides included.
All these nail art designs are extremely gorgeous in my opinion and would make you look an extra bit classy. Every girl who's married or is about to get married soon will agree with me on one thing- it is THE most important day of your life. All eyes are on you. Everybody watches you closely and as they say "first impression is the last impression", a bride never wants to make the wrong first impression. So go ahead and print your favourite nail arts and show your makeup artist on D day.
List of Top Twenty Bridal Nail Art Designs
1. The glitter red french manicure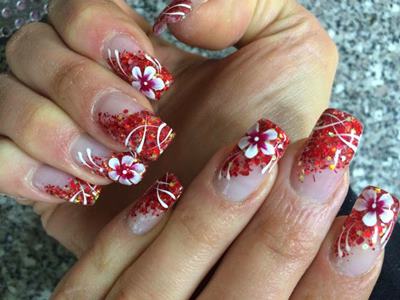 You can go for a nail art like this on your wedding day instead of the normal french manicure if you are someone who likes to stand out in a crowd (although, it's your wedding day, so obviously you'll be the one who'll stand out for sure. Hehe!)
2. The "ring on nails" nail art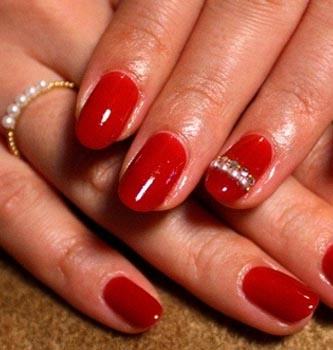 So you have a pretty wedding ring and you want to flaunt some stones matching your wedding ring on your nails too, then go for this nail art to sport on your big day. You can get bright red nails and on the accent nail, get a fancy studded nail art that matches the design of your ring. How cute!
3. Light pink nails with swarovski design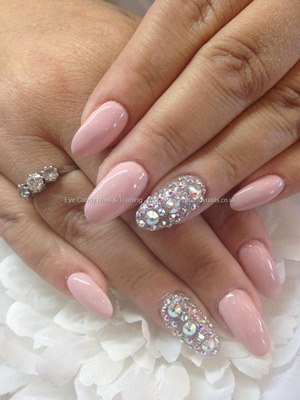 If you're not like the typical bride who wants everything red on her wedding day, you can go for a subtle pink manicure on gel or acrylic nails and then on one finger, go all out with some swarovski stones blast. These nails scream DIVA to me!
4. Coral 'n' Floral NOTD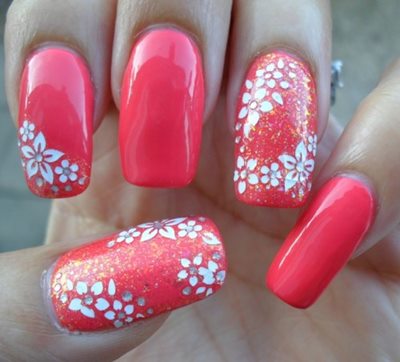 If you're someone who likes red but you also don't want the typical blood red nails, you can go for a more subtle coral nail art design. You can alternate plain nail paint with some fancy floral design and if you shape your nails square, that would make a whole lotta difference and everybody would be looking at 'em nails!
5. Red hearts Nail Art for Indian Brides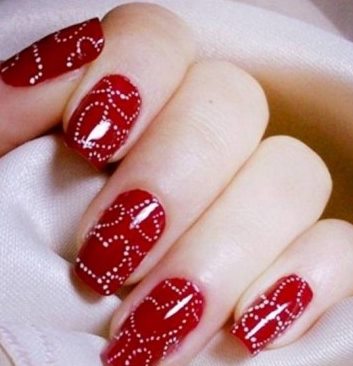 If you're the one who's all about hearts and roses and everything red, then this is the nail art for you. Go for the brightest red you find and have you nail art artist make cute little hearts on your nails that say "love is in the air"!
6. The gold and grey bridal nail art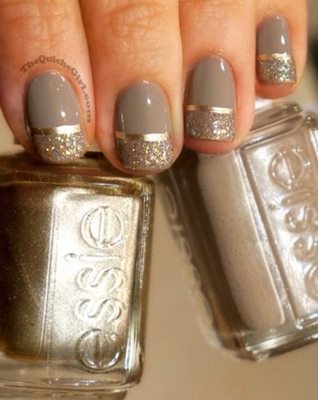 If you're a lover of earthy neutral colors then this is a great nail art option for you to sport on your wedding day. It is a grey/ brown half nail and the other half is golden glitter. This is a gorgeous nail art design for brides and would look gorgeous with your mehendi too.
7. Intricate henna Indian bridal nail art design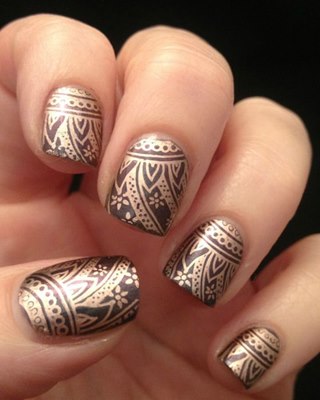 If you happen to be someone who's loved mehendi / henna ever since you were a little girl and on your big day, you want to go all out with mehendi, then this is the nail art design for you. Ask your nail artist to put a dark earthy tone nail paint as a base color and then do an intricate mehendi design on your nails with a metallic shade like gold or bronze. You will definitely make a statement with nails like these!
8. The white and gold French Nail Art Design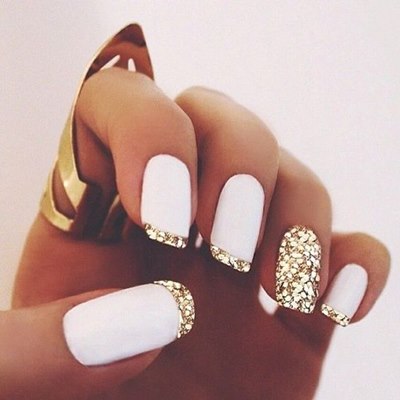 If you were a tomboy growing up or if you are nothing close to being a complete girly girl, then you can go for some classy white nails and ask your manicurist to jazz up your white nails with a ton of glitter like in the pic above. This kind of a nail art not only is great for a wedding as the white would complete the earthy shade of henna really well but will also look good on other marriage functions like your engagement etc.
9. Elegant pink and lace bridal design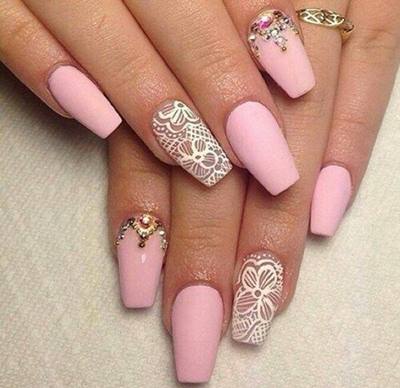 If elegance and class are your forte, then go for nails like these! Some candy pink with stones and a lace design on your ring finger will give you all the elegance that you deserve!
10. Neutral and metal classy nail art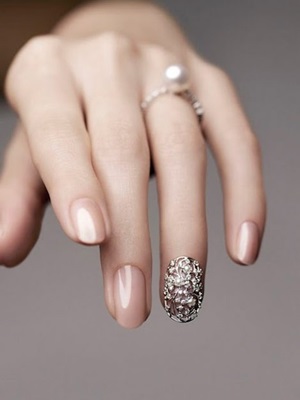 If you are going for a beige or a pastel color wedding outfit and want to skip on the red nails, you can opt for a subtle neutral / nude nail art on acrylic nails and to add an extra bit of glamour, you can go for a metal and stones design on your ring finger. This makes for a very decent and a fuss free nail art design.
11. The fancy french manicure for brides-to-be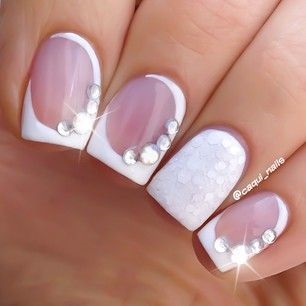 If you love some french tips on you but don't want to sport the usual design on your big day, you can jazz up your basic french manicure with some stones. This kind of a nail art would look decent and subtle but wouldn't look boring because of the presence of fancy stones in it!
12. Gorgeous red nails with shimmer nail art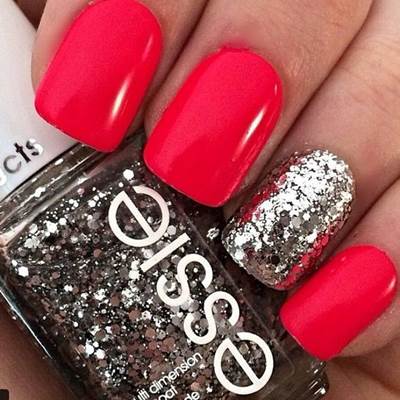 So you love hot red nails and they'd match perfectly with your wedding attire. However, you don't want to go for the conventional red nails. So you can add a twist by putting on some chunky glitter nail polish on your ring finger to add some glamour to your fingers and also to make your wedding ring stand out more!
13. The classic red nails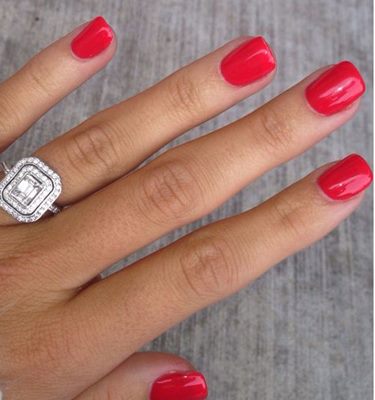 The classic red nails never go out of style. No matter what shade of outfit you are wearing on your big day, you can get away with wearing wonderful bridal red nails with it.
14. Wonderful French glitter mania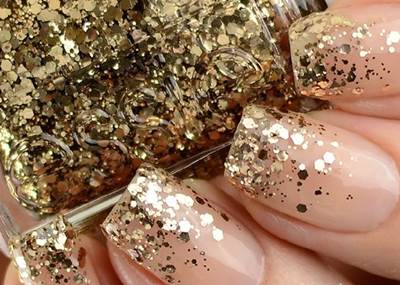 If you like the concept of french nails but you love glitter more than anything else, you can get a glitter french manicure done. This way, you get the best of both worlds. I personally love this nail art design a lot!
15. Full on shimmer nails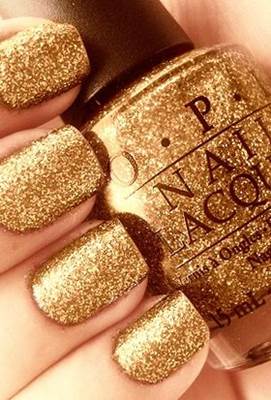 If you're wearing a subtle wedding attire but still want to dazzle, you can go for a very shimmery nail art. Just ask your manicurist to give you a metallic gold nail paint as a base and then top it off with some chunky gold glitter nail paint. Your nails will surely do all the taking!
16. Rose Gold Overload Bridal Nails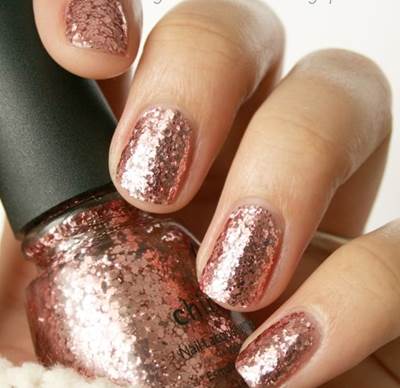 If you are a total girly girl and love everything that's pink and sparkle and shimmer just speak to you, in general, then the best nail art to go for on your big day is a rose gold glitter nail art. It will describe your perky personality the most.
17. Marsala madness nail art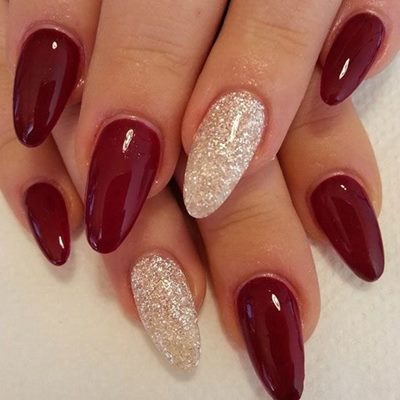 If your wedding is in the winter months and if you love deeper tones, then trying out a marsala nail art on your big day is the thing for you. Just go for a rich marsala nail paint and to give it an extra bit of glimmer, apply a chunky glitter nail polish on your ring finger.
18. French manicure design with a twist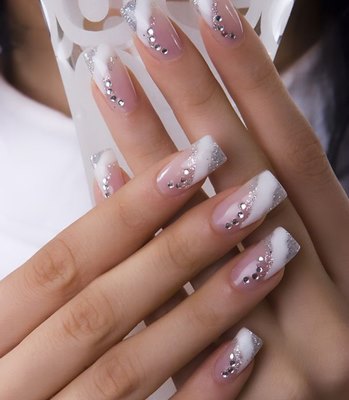 If you really do want just a classic nail art, then go for the french manicure. But who says a french manicure has to look basic? you can go for a diagonal french manicure with studs and some silver glitter.
19. Nude and stones nail art design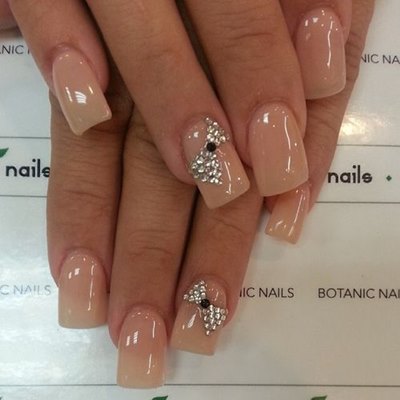 Nothing screams simplicity and elegance more than a nude gel nail paint. Gel nails are all the rage currently so you can go for a gel nail paint in a nude shade that matches your skin tone and you can make the nail paint look fancier by going for some stones bows etc.
20. White and gold bridal nail art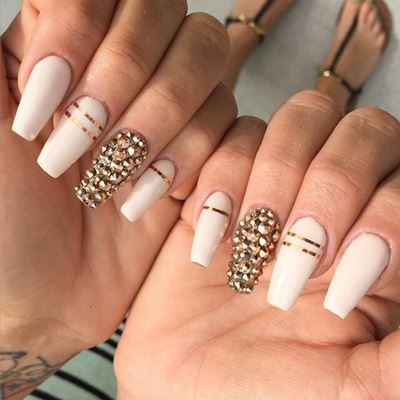 If you are a grunge princess at heart and love everything art related, then go for a white and gold nail art. Get some spiked gold stones on your accent nail and your nails would look fab.
So these are my top 20 picks for nail art designs for brides. Which one of the above do you like the most? Tell me in the comments below!
Image Source: 2, 3, 4, 5, 6, 7, 8, 9, 10, 11, 12, 13, 14, 15, 16, 17, 18, 19, 20, 21
Which is your favourite bridal nail art design? Share your reviews with us.