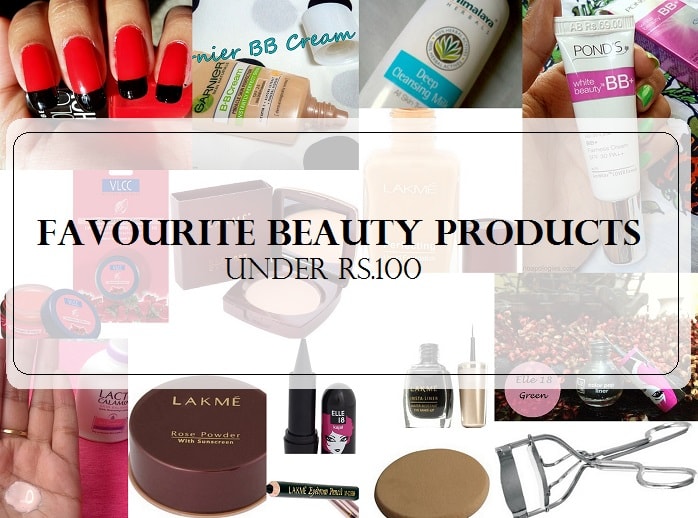 Top 18: Best Makeup and Beauty Products under Rs.100 in India with Reviews, Price List
Most of us on day to day basis, prefer to use make-up which is affordable and accessible. Of course, our vanity boasts of our favourite brands, and I know the time, energy and monetary investment we make to buy makeup. Be it, high end or budget/drugstore. When I say budget, it can be a broad term. Each one of us define our own minimum and maximum spending on our purchasing power. So, am going to try and give you a list of the best beauty and makeup products in India that come under Rs.100 mark, and should be pocket friendly for us all. The products mentioned are available online with decent discounts making them very affordable.
I have to say here that my main criteria for picking these products are their availability and price point. So, without any further ado, here are my most used and loved under 100-rupee makeup, available in India.
List of Beauty and Makeup Products under Rs.100 in India
Lakme Radiance Compact Powder: Best Compact under Rs.100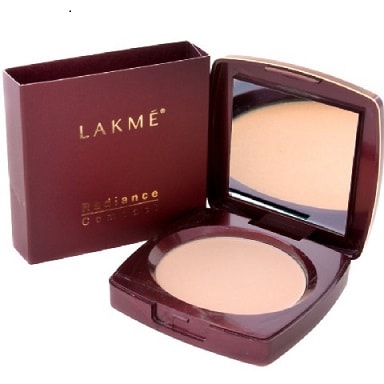 Drum roll please, for the first one on my list. This is the Lakme Radiance Compact Powder. Medium to light coverage, helps to set the foundation, and also comes for inr 100 only. It comes with a puff, and a in-built mirror.
Lakme Rose Loose Powder: Best Loose Powder under Rs.100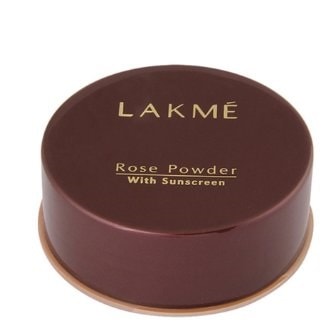 Priced at Rs.80, the Lakme Rose Loose Powder takes the second place. Similar to the above, it is used to set your foundation but this gives a radiance to the face. Best part is that it keeps the face looking non-oily for quite a few hours. Unlike those white loose powders, this pink toned powder, works well to not pale the skin.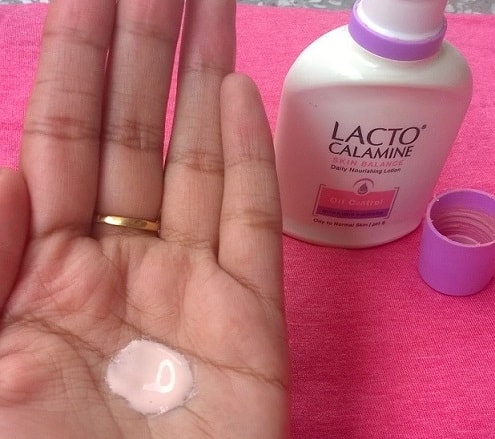 Lacto Calamine has been such a staple in my life, since a very young age. My grandmother swore by it (may her soul rest in peace) and I have benefited from it that it's one of my holy grail beauty products. But, today we look at it as a makeup product and not just as a skin care one. Comes in a range of sizes, these tinted lotions work very well when mixed with a BB cream or a foundation, to give it a good matte finish, keeping the skin shine free all day long, but it gets my brownie points for unclogging pores and keeping the skin safe from breaking out. Priced at 45 for a travel pack
size and
Rs. 99 for a medium sized
bottle, you will find one that suits your skin type – oil, dry or normal.
Lakme Perfecting Liquid Foundation: Best Liquid Foundation under Rs.100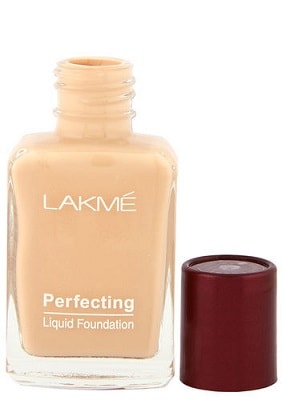 Lakme Perfecting Liquid Foundation – I think I speak for all, when I say, this is the first foundation a girl starts with. You can buy this one from drugstores, chemists, departmental stores, supermarkets, online, including the medium sized 'mom and pop' shops. Available in the widest range for skin tones, this foundation costs inr 99 for a 27ml bottle. Looks quite cute in a glass bottle, easy to carry and therefore, handy for travelling too.
Blue Heaven Glittering Lip Gloss: Best Lipgloss under Rs.100
Blue Heaven Glittering Lip Gloss – Comes in a variety of colours, the Blue Heaven lip gloss is a recent discovery for me. For 6.5ml, you pay Rs.100 and that doesn't pinch the pocket too.
Vega foundation sponge: Best Makeup Brush under Rs.100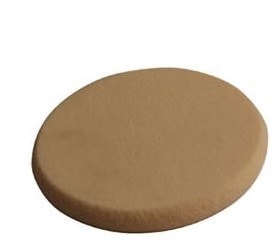 Vega foundation sponge – What's a bottle of foundation, if not used with a foundation sponge. Under product, under the 100-rupee mark, is this Vega sponge. Priced at inr  60, this oval shaped foundation sponge is quite a handy piece of makeup essential.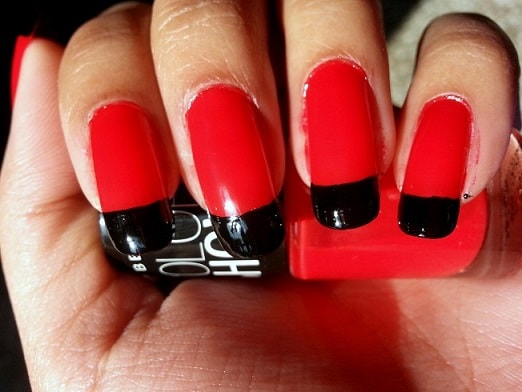 I love me some nail paint. Clean, trim and shaped nails coated with your favourite colour lipstick can never go wrong. And, now that can be very budget friendly too. Paint your nails with the range of colours from Maybelline Color Show Nail Lacquer. Priced at Rs 75, the brand offers you 40 shades to choose from. Go grab them and paint your nail away. I know, I want to.
Elle 18 Kajal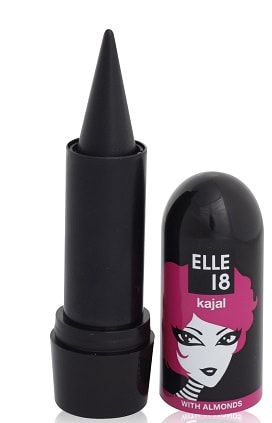 Elle 18 Kajal – This brand has been in the market for decades, I remember buying this Kajal when I first started wearing kajal in college. How time flies, I suddenly feel so old. Anyways, moving on! At Rs.65, you get this water resistant and black as night kajal. It may not be as smudge proof, if you have oily eyelids, but for the price it stays on for a good 4 to 5 hours on me. Glides on smoothly for a velvety, glossy finish without tugging on the skin and is even easy to apply on the water line.
Lakme Insta Liquid Liner: Best Liquid liner under Rs.100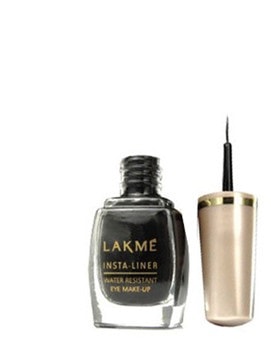 Since we are talking about, let's talk about this Lakme Liquid Liner Water resistant, long wear liner, this lightweight, comfortable eye makeup defines your eyes with precision. It dries quickly, therefore, doesn't smudge and spill. The tip of the brush is quite fine, and can be handy for that winged-line too. I say that's not bad for a 100 rupees liner!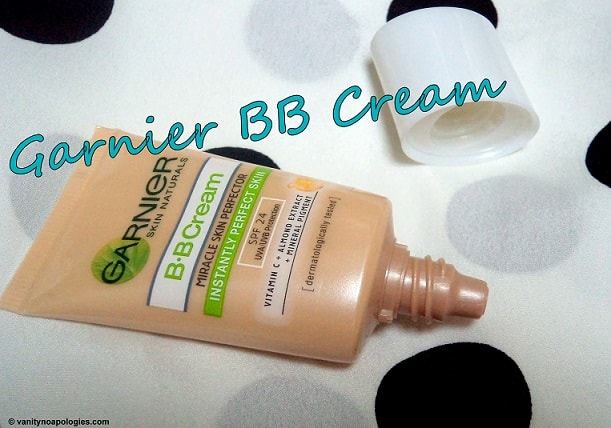 BB creams are so in trend this season. And why not, it does the job of so many products! Foundation, moisturiser, and some of them even have SPF these days. Today, I'm talking about the Garnier Skin Naturals Miracle Skin Perfector BB cream. This no-fuss, all-in-one skin loving cream is suitable for those with oily to combination skin. It is a light, non-greasy cream, which gives upto eight-hour moisturizing, covers minor skin blemishes and evens out the skin tone. Oh, did I tell you this comes with built-in SPF 24. All this for just Rs.99 for an 18ml tube. Deal!
Faces Kajal: Best Kajal under Rs.100
Faces Kajal – Now, who would have thought a Canadian brand would come in the budget friendly range. As always, the world of makeup is a continuous discovery, and i found this kajal at just inr 99! Yes! The kajal impressed me and how. It is creamy, glides very neatly on the water line; and almost negligible smudging and no bleeding around the eyes too. It has a nice shine and boy, is this dark.
Elle 18 nail pops
Elle 18 nail pops – The nail art range is priced at Rs.50, which is very affordable and has a great range of colors. Like I said before, paint away ladies, paint away!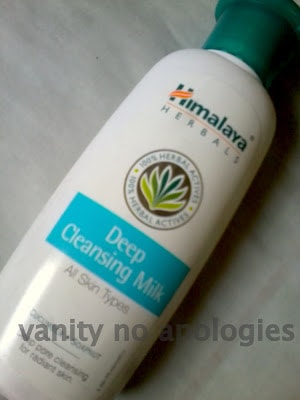 How about we take a break from putting makeup on, and use this Himalaya Cleansing Milk to clean up. This refreshing cleansing milk from Himalaya herbals is great to remove make up and is priced at inr 80.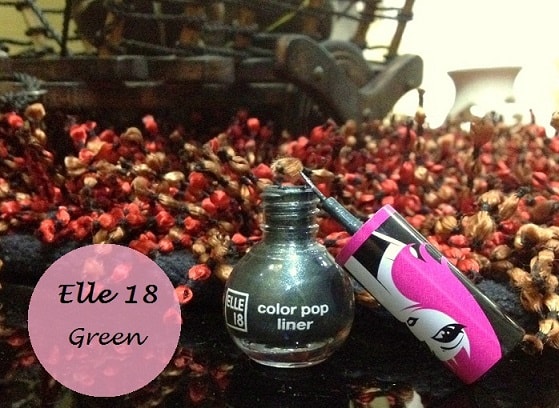 Coloured eye liners are your thing, and you think they are kind of out of reach. Or you are starting out and want to be experimental, here's presenting Elle 18 color pop liners. Use it just as they are, as a base to work up the colour to create your eye look, or even just to accentuate the inner corner of your eyes. And all this at Rs.85 only.
VLCC lip balms: Best Lip Balm under Rs.100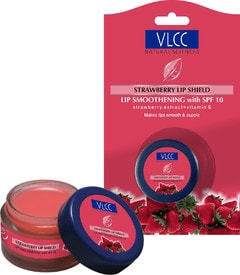 Moisturised lips make for lipstick to glide and pop the best. VLCC lip balms will let you achieve just that. Especially, the harsh winters are unapologetic to your lips. Get your hands on the range of lip balms, at Rs.80, to get soft and supple lips this winter.
Vega eyelash curler: Best eyelash curler under Rs.100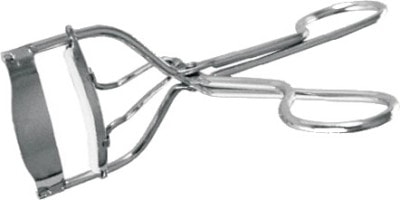 Curls! Another trend this season, right? And no, I'm not talking about hair curlers. The eyelashes. Yes, eyelash curlers are quite in vogue, and i give you an affordable one, right here. The Vega eyelash curler
. Nothing fancy, does its job without tugging, and comes at just Rs.80.
Lakme Brow Pencil: Best Eyebrow pencil under Rs.100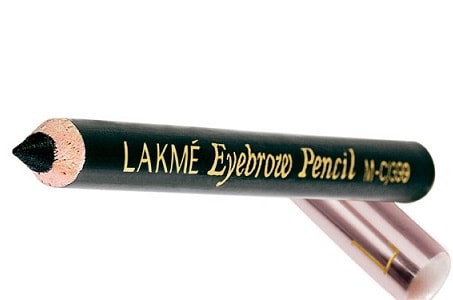 The Lakme Brow Pencil priced at inr 40, is an affordable and quite decently formulated eyebrow pencil. Veteran users may not be reaching out for this, but it's a good pick for those starting out to experiment with make-up and are beginners in the eyebrow game.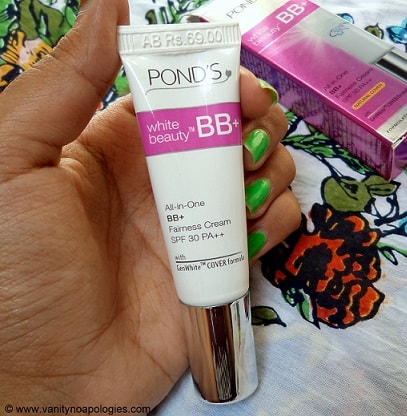 This is the HG bb cream for a lot of Indian girls. The reason its better than the other bb creams in the Indian market is the good coverage it provides. So if you are fair to medium toned then try this bb cream out and it would replace your daily foundation. The small tube comes at Rs.75 online.
Most of these products have detailed reviews and swatches on VNA so do click on the links. Odd number of products, but these are the ones I really thought was worthy of making to this list. Mainly because, I have at some point or the other used them all. Some of them, I still use, mostly as part of my handbag makeup essentials, or to be used before I rush out to run errands for the house. Used them, liked them and listed them! Hope they will come in handy for all of you, as well. I think most of us have used all or some of them, at some point or the other. I am just refreshing them for you, today. Do let me know any other budget makeup items, I should try. I would love to do so.
By Contributor: Pooja B
Which is your favourite beauty and makeup product under Rs.100? Share your reviews with us.