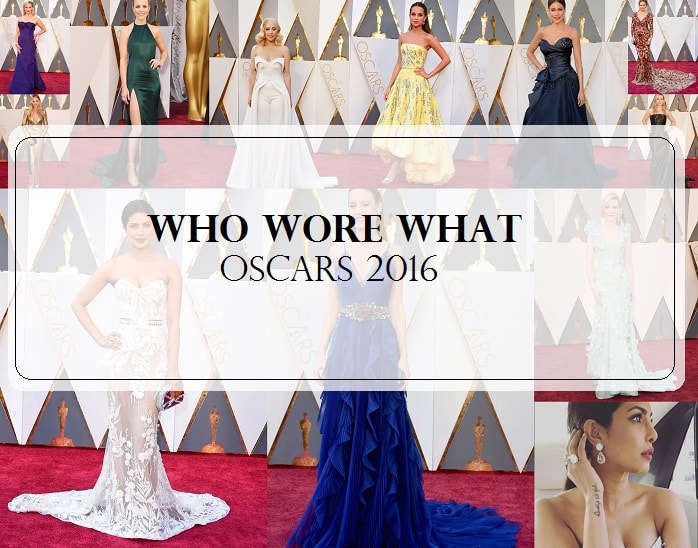 Top 18: Best and Worst Dressed Celebs at Oscars 2016 Red Carpet
The much awaited awards ceremony is here. With our very own Indian girl Priyanka Chopra making her debut at the Oscars by presenting an award and with everyone's favorite Leonardo DiCaprio finally winning an Oscar for his movie 'the Revenant', the 88th Academy Awards was a helluva night! But the spotlight, quite literally, was on Priyanka as she was undoubtedly one of the best dressed at the Oscars 2016 red carpet, giving tough competition to the Hollywood stars. Have a look at our top 18 best and worst dressed at this Oscars 2016 night to see who wore what. The Oscars was held on February 28 at the Dolby Theatre, Hollywood, California.
After 6 nominations, Leonardo DiCaprio won the much deserving Best Actor award. In his acceptance speech he talked about the climate change issue which is shown in his movie. He said we shouldn't take this planet for granted and he doesn't take tonight for granted. Brie Larson won the Best Actress award for her role in 'Room.' 'Spotlight' won the Best Picture Award. Let's move on to the red carpet to see who rocked the fashion charts.
List of Top 18 Best and Worst Dressed at Oscars 2016
Priyanka Chopra: Only Indian on the Red Carpet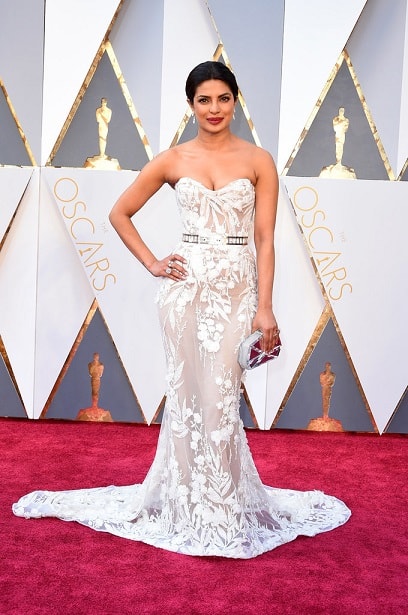 It is such a proud moment to have someone representing India on this global platform. And what adds to it is she getting introduced as a veteran of 50 bollywood films. And of course the outfit everyone is talking about! Priyanka Chopra looked absolutely magical in a Lebanese designer Zuhair Murad gown from his spring summer 2016 collection. Her sheer white strapless gown worked wonders with those shimmery white flowers on it. It had a classic silver belt. The gown had a mermaid fit and looked so sexy on Priyanka's toned body. She tied her hair in a sleek low ponytail and also carried a silver clutch. For the makeup she sported brown smokey eyes and a bold deep red pout.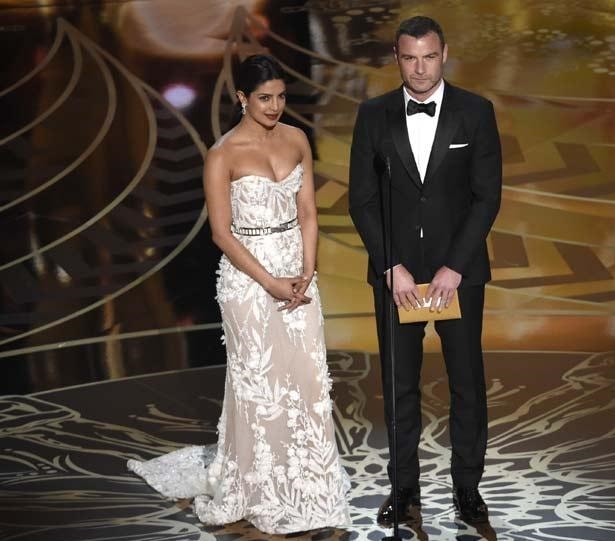 Celebrity American jeweler Lorraine Schwartz adorned her with drop shaped 50 carat diamond earrings. Priyanka posted a picture of hers on instagram dealing with the last minute touches and said she feels like a princess. She was flaunting her earrings and fashionable rings which included a 10 carat and an 8 carat diamond rings. She captioned it saying diamonds are a girl's best friend.
Priyanka said she was nervous and didn't want to screw up anyone's name while presenting. She was called on to the stage to present an award for Best Editing along with Liev Schreiber. She handed over the award to Margaret Sixel who won the Best Film Editing for 'Mad Max Fury Road.' Priyanka greeted everyone with a namaste. She definitely nailed it with her stunning attire and is for sure the outfit of the day. The Quantico star later tweeted that the whirlwind night is over and she is leaving for Miami to start shooting for Baywatch. Way to go PC!
The other Hollywood stars include,
Alicia Vikander: winner of Best Supporting Actress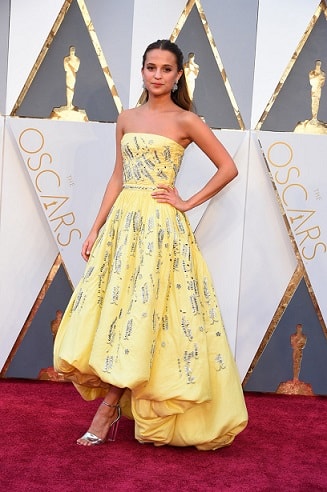 Alicia looked adorable in a yellow strapless Louis Vuitton dress. The dress was studded with silver sequins and she chose metallic heels to go with it. She prepped the look with sparkling earrings. And happy as she would be, she won the Oscar for the Best Supporting Actress for the movie 'The Danish Girl.'
Brie Larson: Best Actress award winner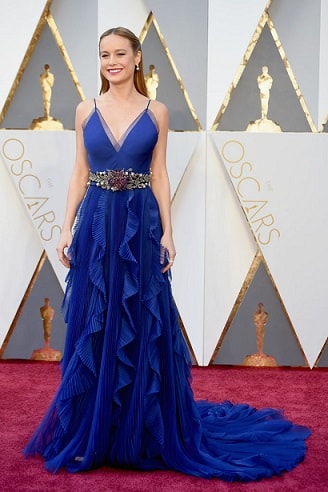 The 'Room' star won the Academy Award for the Best Actress. Brie Larson dazzled in a blue Gucci dress. The bling comes from the floral embellish on her waist that looked spectacular. Her gown stood out with pretty ruffles on the fabric. Definitely one of the best dressed at the night.
Cate Blanchett: best dressed in Armani Prive at Oscars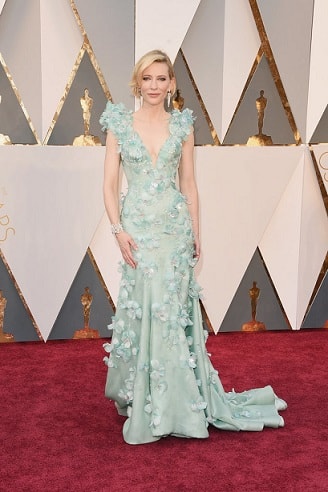 Cate Blanchett embraced a sea green colored Armani Prive gown with 3D flowers and Swarovski crystals sticking to it. I loved her earrings and bracelet which was from Tiffany & co. She was nominated for the Best Actress for the film 'Carol.'
Jennifer Lawrence: in Dior at Academy Awards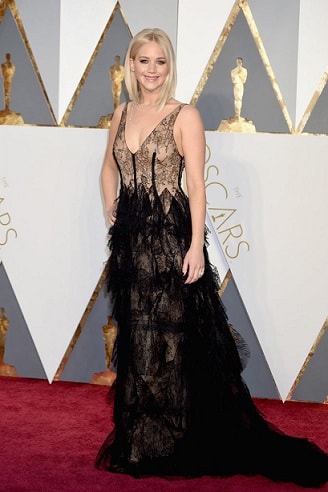 You just can't miss her! The 'Hunger Games' star donned a Dior Haute Couture and looked amazing in the sheer black lace dress. Her neckpiece and rings are from Chopard jewelry. Her haircut adds to her cuteness. She was also nominated for her role in the movie 'Joy.'
Heidi Klum: in Marchesa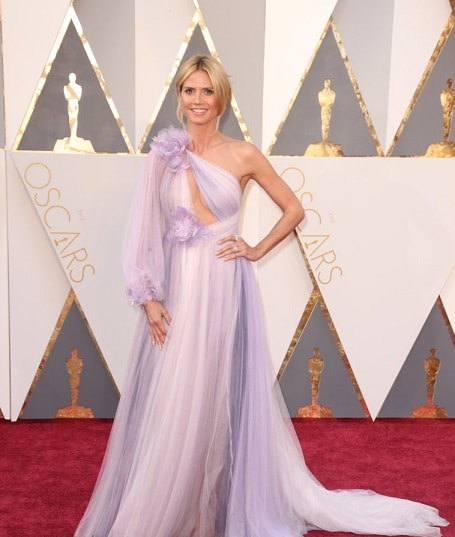 Heidi Klum was wearing a lavender chiffon gown from Marchesa fall 2016 collection. It had a cleavage cut out and fluffy sleeves on one side along with floral clusters. Her jewelry was by Lorraine Schwartz. It was one of the worst dressed outfits of the eve.
Chrissy Teigen: yummy mommy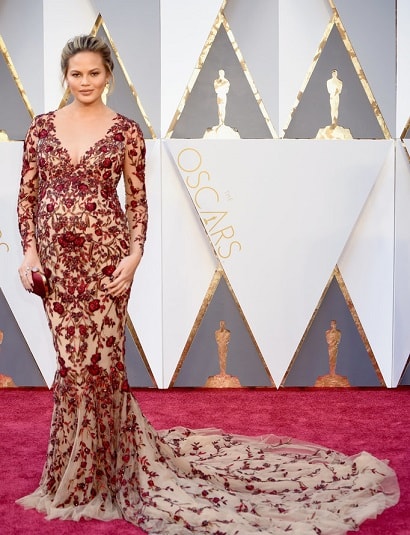 Chrissy who is expecting her first child with musician John Legend flaunted her baby bump in this body hugging sheer red lace outfit. The long flowing gown is from Marchesa and she carried a matching red Swarovski clutch. Her hair was tied in a pouf updo.
Lady Gaga: Oscars 2016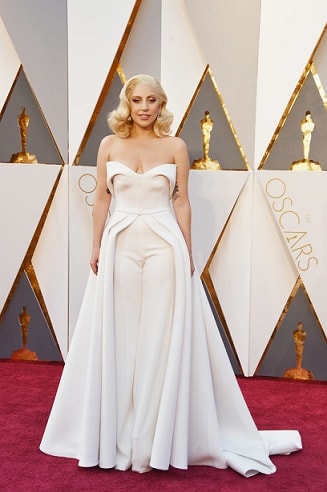 The singer wore a strapless white Brandon Maxwell outfit. It was a jumpsuit with floor length pleats at the front and long flowing ones at the back. She paired the look with chic earrings. For her makeup she had her signature winged eyeliner.
Emily Blunt: in Prada on the red carpet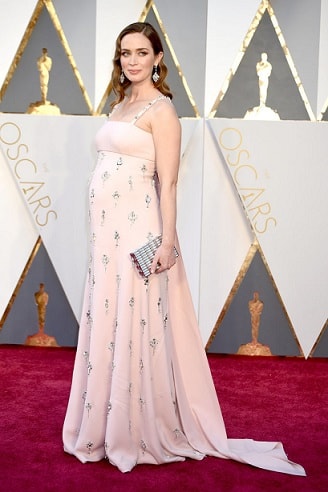 Another actress to flaunt the baby bump was Emily Blunt. The 'Sicario' actress sported a peach gown by Prada. Her hair was curled into lovely waves. She carried a box clutch by Judith Leiber Couture. The long diamond earrings added that extra glam.
Sofia Vergara: best dressed in Marchesa for the awards night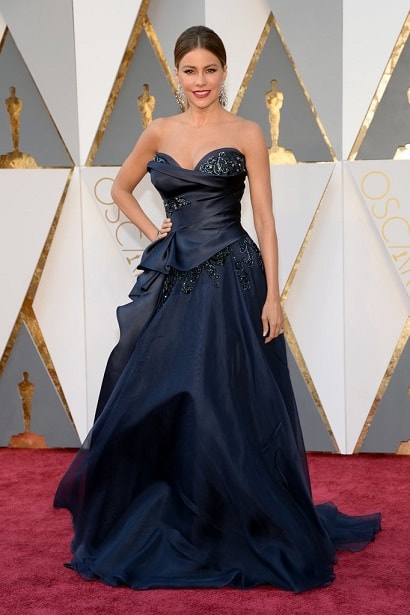 The 'Modern Family' acress looked pretty in a navy blue strapless Marchesa gown. It had sparkling silver embellishments. The sapphire vine earrings were a bang on! She also wore a sapphire and diamond ring by Lorraine Schwartz.
Naomi Watts: 88th Academy Awards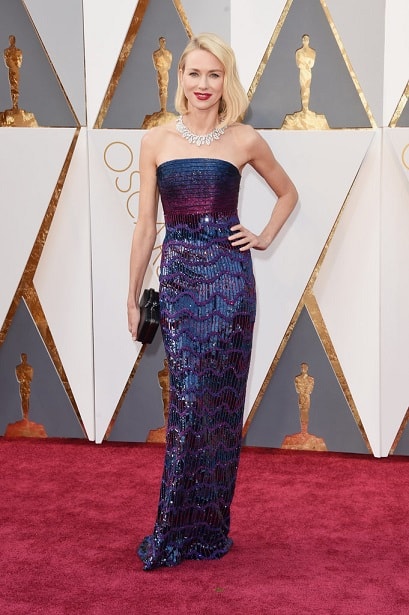 Naomi dazzled in a sapphire blue and purple Armani Prive gown. The costume was covered in Swarovski crystals and was all glitzy. She also wore a statement neckpiece from Bulgari jewels and carried a box clutch.
Kate Winslet: for this years Oscars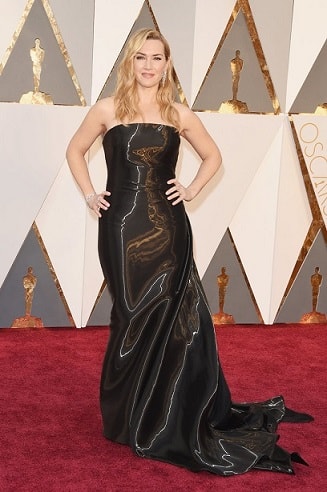 Kate Winslet was nominated for the Best Supporting Actress for 'Steve Jobs.' She wore a rather unusual liquid black gown which looked slimy. The gown was from Ralph Lauren and her diamond jewelry was by Nirav Modi. The 'Titanic' duo Kate and Leonardo DiCaprio had a moment together during the Oscars.
Saoirse Ronan: at the awards red carpet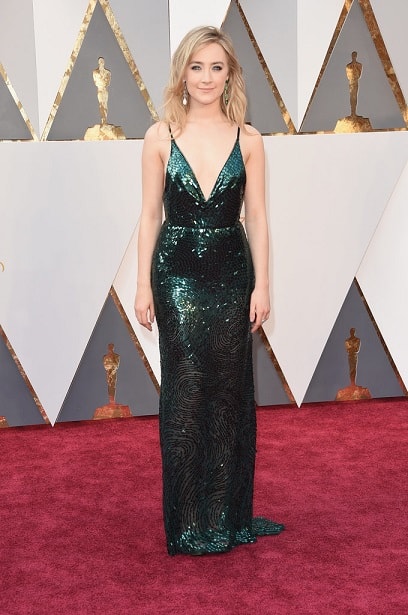 The actress who was nominated for the Best Actress for her film 'Brooklyn' wowed in a sparkling sequined green attire by Calvin Klein Collection. It had swirl patterns on the skirt. The look was completed with Chopard earrings.
Reese Witherspoon: in Oscar de la Renta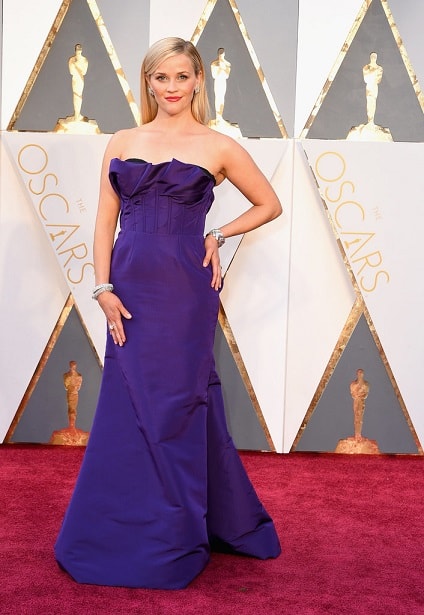 The 'Wild' actress embraced an ink blue off shoulder gown by Oscar de la Renta. The costume had an edgy fit near the midriff and flared at the bottom. She teamed it up with diamond earrings and bracelet.
Tina Fey: Oscars 2016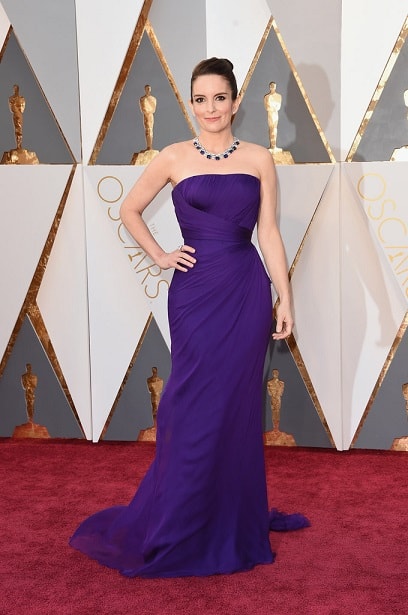 Tina fey opted for an Atelier Versace fit gown. The color was similar to what Reese Witherspoon was donning.  For her neck the 'Whiskey Tango Foxtrot' star had a matching sapphire and diamond necklace.
Rachel McAdams: at this years academy awards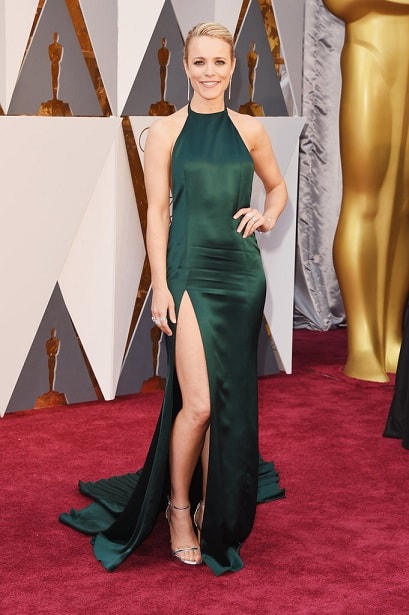 Having the Best Actress Supporting Role nomination, this 'Spotlight' actress wore a thigh high slit emerald gown with a halter neck by August Getty Atelier. She accessorized it with long earrings and a number of rings.
Margot Robbie: at the red carpet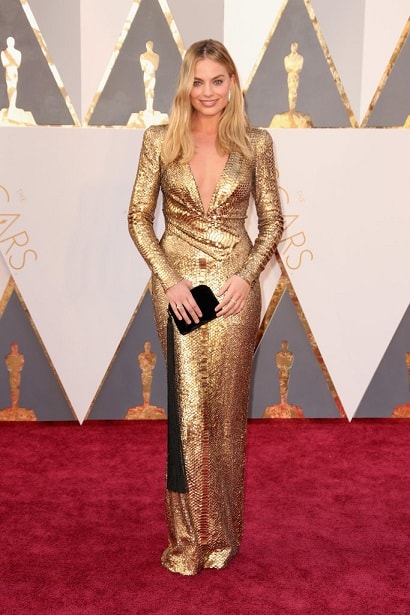 The golden girl made heads turn at the Academy awards wearing Tom Ford shimmery dress with an interesting low V-neckline. It had a snakeskin metallic sequins all around. The 'Suicide Squad' also carried a striking black clutch.
The Oscars 2016 was an amazing night and let us know what you think of everyone's look. And of course of our desi girl Priyanka Chopra's look.
And here is the full list of winners at Oscars 2016:
Best Picture: Spotlight
Actor in a Lead Role: Leonardo DiCaprio, The Revenant
Actress in a Lead Role: Brie Larson, Room
Directing: Alejandro, The Revenant
Live Action Short Film: Stutterer, Benjamin Cleary and Serena Armitage
Documentary Feature: Amy, Asif Kapadia and James Gay-Rees
Documentary Short Subject: A Girl in the River: The Price of Forgiveness, Sharmeen Obaid-Chinoy
Actor in a Supporting Role: Mark Rylance, Bridge of Spies
Animated Feature Film: Inside Out, Pete Docter and Jonas Rivera
Animated Short Film: Bear Story, Gabriel Osorio and Pato Escala
Original Song: "Writings on the Wall," Spectre, Jimmy Napes and Sam Smith
Best Foreign Language Film: Hungary, Son of Saul
Original Screenplay: Spotlight, Josh Singer and Tom McCarthy
Jean Hersholt Humanitarian Award: Debbie Reynolds
Honorary Oscar: Spike Lee
Honorary Oscar: Gena Rowlands
Visual Effects: Ex Machina, Andrew Whitehurst, Paul Norris, Mark Ardington and Sara Bennett
Sound Mixing: Mad Max: Fury Road, Chris Jenkins, Gregg Rudloff and Ben Osmo
Sound Editing: Mad Max: Fury Road, Mark Mangini and David White
Film Editing: Mad Max: Fury Road, Margaret Sixel
Cinematography: The Revenant, Emmanuel Lubezki
Original Score: Ennio Morricone, The Hateful Eight
Makeup and Hairstyling: Mad Max: Fury Road, Lesley Vanderwalt, Elka Wardega and Damian Martin
Production Design: Mad Max: Fury Road, Production Design: Colin Gibson; Set Decoration: Lisa Thompson
Costume Design: Mad Max: Fury Road, Jenny Beavan
Actress in a Supporting Role: Alicia Vikander, The Danish Girl
Best Adapted Screenplay: The Big Short, Charles Randolph and Adam McKay
Image source: popsugar
By Contributor: Tanvi Shah
Which is your best dressed celeb at Oscars 2016 red carpet? Share your reviews with us.