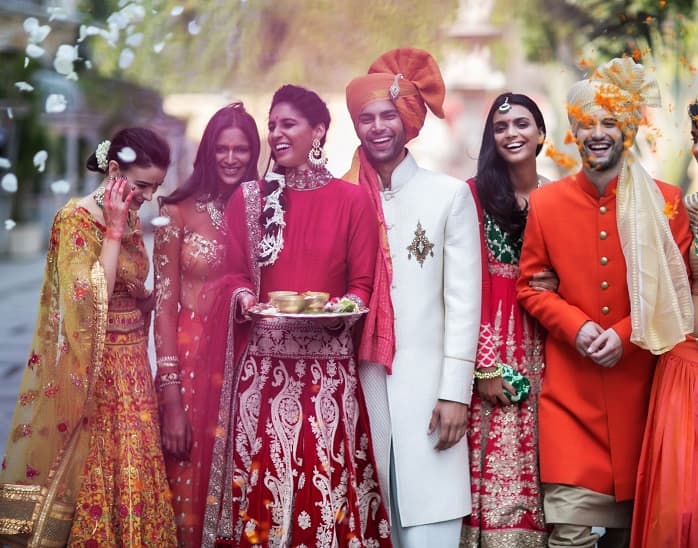 15 Best Indian Bridal Beauty Tips Before Marriage
So you have finally found the man of your dreams who is crazy enough (or simply crazy) to come riding down to your doorstep and swipe you right off-your feet! Or someone who can stand below your bedroom window after 12 am just to fly you goodnight kisses (sigh!) Well, that was easy girl. The real challenge is your 'D-Day', when the entire world will be invited to watch your 'life-circus-out' in full glory. Weddings can be crazy, wild, glamorous, simple, elegant, traditional in between all the wedding planning and organizing. But one aspect remains un-changed in every case; a nervous-to-the-bits Bride, a long hectic day ahead and the pressure to look beautiful no matter how much your new bridal heels are actually killing you. Well girls, I have compiled a little list of pre marriage beauty tips which also includes a beauty regimen for indian brides to help you make the best out of your wedding day and to help you breeze-by the 'most important day of your life'.
List of Beauty Tips For Brides-To-Be
1. Planning 3 Months Before Wedding
Your overall planning should start at least three months before the wedding. This should include your overall 'personal' planning. Now, you already have family and friends to arrange for the venue, Menu, gifts, flowers or allergies to them, return-gifts or whether your future in-laws are a 'Monster Family'. You just have to worry about looking good. Period. Sketch down your personal schedule and get 'self-obsessed' for a while.
2. Get Personal with Dermatologist
A visit to a good dermatologist should be done atleast 6 months before the wedding. This is the time to get 'up, close and personal' with a nice recommended Dermatologist. Book an appointment and have the doctor close-examine your skin and every single aspect around it. This is seriously advised for those of you who have stubborn scars, skin-pits, acne-marks left behind from your adolescent years.
With clinical beauty treatments an easy thing in today's time, get started with your prescribes 'peels' or 'laser-treatments' for that flawless skin. Remember always girls, beauty is beautiful skin; and the rest just follows.
3. Watch what you eat – Eat a Balanced Diet
Heard that a zillion-times and still can't make sense of it? Well, it's simple, you need to fit perfectly in to THE dress you have been dreaming about since you were a little girl and you simply cannot allow ugly flab to spoil the look. Now, this does not mean a crash-diet, rather a nutrition-watch
to help you build-up on strength and tone-up your body. For all you big girls out there, it by no means refers to getting skinny in three-months, but just watching your calories and sugar intake.
Remember to love your size whatever it is and hire a nutrition-specialist to list-out your meals 4-5 months before the wedding.
4. Hit the Gym
Sign-up at a gym close to your home 3 months before the wedding and be sure to work out at least for an hour every day. This will help you in more than one ways. A fitness routine will help build stamina, something that all Indian brides need in order to survive back-to-back wedding functions (and rendezvous with your husband later!) Gymming not only helps you tone-up your body, but sweating-out is great for your skin as well.
For those of you, who are thin, do not ignore this, as you do not want to faint on your wedding day and have the cameras film it. Build-up on your overall strength, stamina and wellness, as good health is the best cosmetic-treatment you can bank up-on.
5. Skin Facials 3 Months Before the Wedding
You should start with your monthly facials atleast 3 months before the wedding. Skin facials have come a long way from the times when a 'beautician' (usually named PINKY aunty) would rub some 'cream' into your skin and wash it with 'something'. It is a sophisticated process now which involves elaborate well-researched processes best suited to your skin. Beauticians now, are experienced aestheticians, who know how to massage de-clog pores and practice extractions, which involves patiently removing dirt from the deeper layers of your skin in multiple-sittings.
Apart from home beauty tips for brides, monthly facials or bridal facials will keep your skin supple and pink right till the day of your wedding.
6. Personal Skin Care Routine
Since your beauty is what they are going to be talking about long after the wedding is over, you better give them something to remember by. Take pains (literally) to include a skin care routine and stick by it. Learn your skin and treat it the way it needs to be. The pre wedding grooming of the bride is very important. While Cleansing-toning-moisturizing should be your Mantra, check for dry-skin patches at places you'd rather ignore, like the elbows and cracked-heels. Include bath salts in your shower as it will improve moisture-absorbing tendencies of your skin, making it baby-soft.
Use a good SPF specific to your skin-type and hydrate your lips at night. Book appointments for dandruff-treatments or naturally frizzy hair as your crowning glory has to withstand the elaborate hairstyles and heavy pallu on the D-day. For serious sun-burns, ask for series of Peels at the Spa and you will have a great-looking skin just in-time for your wedding.
I know of a rather pretty bride (poor thing) who ended-up looking ghastly on her wedding, thanks to the in-experienced make-up artist. Her foundation was all wrong making her look duskier than usual, lip-color was haywire and the eye-makeup was something best left un-spoken about. The end result was a sad-looking bride with a witch of a make-up artist. To avoid this, take a trial before -hand. There are salons that offer you a trial make-up before the final one on your wedding.
Go through your look and discuss in details as to what look you wish to opt for rather than suffering a bad surprise on your wedding day, when you cannot do anything about it. For a step further, have yourself photographed after the make-up, to see what you would look like on your wedding photos. A wedding album is a memory you will be looking-through decades after decades and you sure do not want to regret your appearance on the most special day of your life!
8. Zits Care
Zits on your D-day are something almost all brides dread about. However, if you happen to pop-up a pimple a night before or even in the morning of your wedding, try Benzoyl Peroxide. This, of course should be well-practiced and tried-upon before hand to rule-out any allergies. Although if you start your bridal beauty preparations 3-4 months before the wedding then you won't need to face such erratic skin behavior.
This step should actually start right before you get engaged. After you have The Rock on your fingers, people are sure to ask for a look at it. So, to be able to flaunt your engagement ring in style, it is important as well to take care of the fingers that will be wearing it. Get an appointment with a manicurist and keep your nails well-groomed. Try one of those UV technology Manicures that promise harder and smoother nails easier to manage.
Yes, these do exist. Your Bridal Emergency Kit is meant to fix-up any last-minute fix-ups like flyaway hair, falsies fall-out or a lost nail color. Your kit should contain items that can be whipped-up in no time and rescue you from a potential disaster. It should be well-stocked with safety-pins, bobby-pins, deodorant, a plan B makeup kit, hairspray or anything else that could save your day. You can buy it too as most store keep one ready. Our editor-in-chief Anshita has shared her detailed checklist on VNA.
Yes, though you will be having a make-up artist do the desired for you, however it is a good idea to be able to have a hand in make-up. This will help you if for some 'godforsaken' reason the make-up person is not on time. Your personal makeup skills will come handy during parties after marriage, when you still have to look your best.
12. Make-up Tool care
Take care of your makeup and makeup tools. This is important as it becomes a breeding ground for bacteria that will infect your skin to un-manageable break-outs. Clean your brushes with shampoo and keep your make-up kits and jars hygienic. I have known brides who have had horrible pimple break-outs the day after the wedding day, simply because of infected products.
13. Tweezing and Waxing
This step grows more important as your wedding day approaches nearer. Tweeze your eyebrows well before hand and try-out various techniques that will give you a final frame that suits your face shape. It is also advised never to tweeze your eyebrows a day before the marriage
 to avoid any reactions. There was a horror-story of a bride whose Honeymoon went for a toss because of a Bikini-Wax gone wrong! Be sure to practice hair-elimination techniques months before the wedding, to understand how your body reacts to it.
14. Wedding Dress Trials
You are the center-piece of your Wedding party, so be sure to get the look too. Have a dress-trial for every ceremony of yours right down to the tiniest details. Be it your hair-do, pallu-drapes, ornaments or the shoe you will be wearing. Plan a dress-up with your best friend to get opinions and suggestions that will help you look your best. And yes, try those heels over and over again, as a wrong pair of heels is the worst that could happen to you.
If you are new to heels, well girl, now is the time to step-up and practice your walk or you will end-up tripping and falling right in the middle of the ceremony!
15. Re-check Appointments
This has happened to a close friend of mine. Her stylist and make-up artist went Poof! Just before the wedding day. It is advisable to book your appointments at a reliable salon as you do not want to be ditched at the last minute. Re-check and confirm your appointments before hand to avoid chaos on your wedding day.
Writing this bridal preparations post bought back memories of my own! While the 'ultimate Indian Bride' is expected to be coy, you must know your mind too. Voice your opinion if you do not like a particular outfit bought by your in-laws, as it is a custom still practiced across the country. Better still have an elderly aunt or your own mother have a word with your in-laws to suggest a more desirable outfit in a diplomatic manner. However, we are in better times now, where the Bride is the Queen and her whims are a command. Make it your best girls and enjoy your 'Big Fat Indian Wedding'.
Read More:
Which are your favourite bridal tips for Indian weddings? Share your reviews with us.