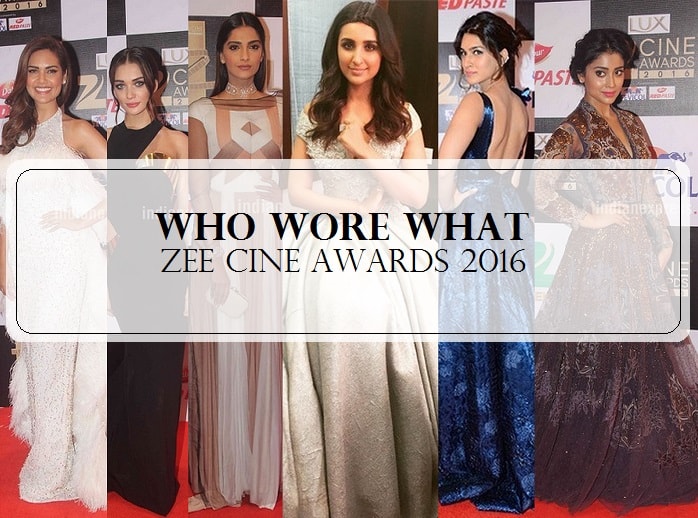 Red Carpet Who Wore What: Best and Worst Dressed Bollywood Actresses at Zee Cine Awards 2016
Yet another awards ceremony. The annual Zee Cine Awards 2016 was held on February 20 at Jlo gardens in Mumbai. Watching awards is always fun and we are always curious to know who is winning all the awards and what our favorite celebrities are wearing. This time too our bollywood stars dazzled and took fashion to another level at the zee cine awards red carpet. Many of the top stylish actresses were missing at the awards night but here's a sneak peek into who was the best dressed and who was the worst dressed at the awards night when it comes to fashion police.
With Karan Johar and Shahid Kapur hosting the show this awards night was full of swag! Parineeti Chopra and Sonakshi Sinha also helped in hosting a few segments. Actors like Ranveer Singh, Anil Kapoor and Sushant Singh Rajput enthralled the audience with their power packed performances. Sonam Kapoor, Salman Khan, Kajol, Kriti Sanon were all present at the event.
Top Best dressed Actresses at Zee Cine Awards 2016
Sonam Kapoor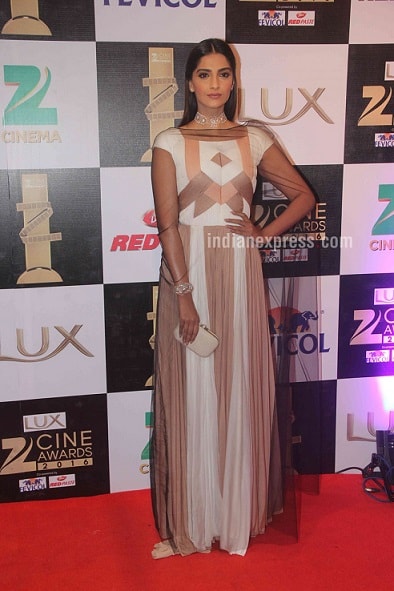 She is rightly called the style icon. With her impeccable style of fashion Sonam Kapoor stood out in a net wrapped umber and white gown by Vionnet's Spring 2016 collection. The dress had amazing patterns and she carried it with a lot of panache. She teamed it with elegant jewelry which included a metal choker and bracelet by Nirav Modi. Her sleek hair and winged eyeliner looked chic at the red carpet. She also carried a cute white shimmery clutch.
Parineeti Chopra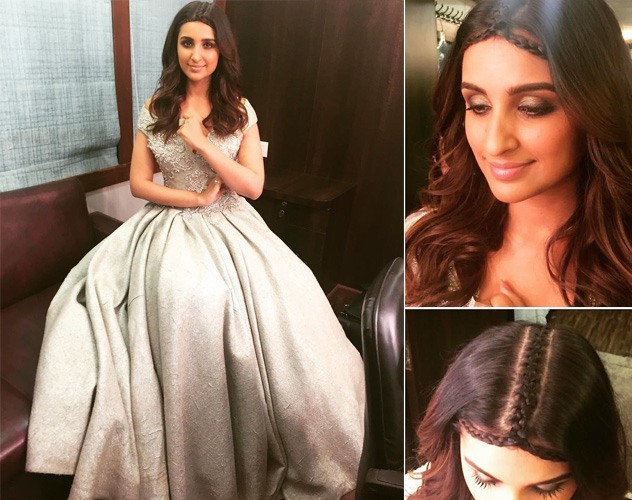 Parineeti is back in shape and looked confident in a grey voluminous gown. Hosting the awards this year, Parineeti opted for a simple yet stunning creation by Tarek Sinno. The bodice had embroidered designs with glass beads and sequins. Her hair was braided to give it a tiara like effect and her smokey eyes looked dramatic. She paired it with a clutch that looked edgy.
Sonakshi Sinha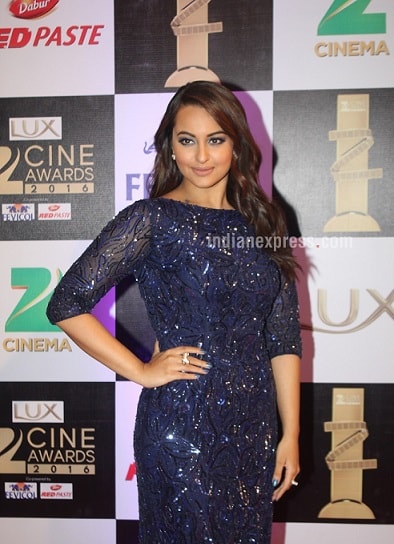 Sonakshi sparkled in a sequined midnight blue column gown enhancing her silhouette by Nadine Dhody. When it comes to Sonakshi's looks I have always noticed that her hairstylist Sheetal Khan has been doing a wonderful job and this time too her tresses looked great with brown highlights. She also sported some fashionable rings and studded earrings by Minawala jewelers. For the makeup she had blue eyelids to go with her outfit.
Amy Jackson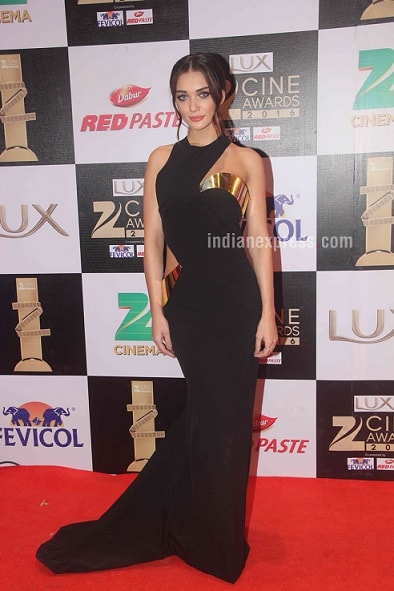 Amy looked like a doll in an asymmetric cut-out black Monisha Jaising gown. The gown had a mermaid fit and the gold embellish looked classy. The cut-out near the waist adds to the oomph factor and the gown enhances her figure. Her hair was tied in a messy ponytail. The makeup and her porcelain skin made her look gorgeous. Her jewelry was from Anmol jewelers.
Kriti Sanon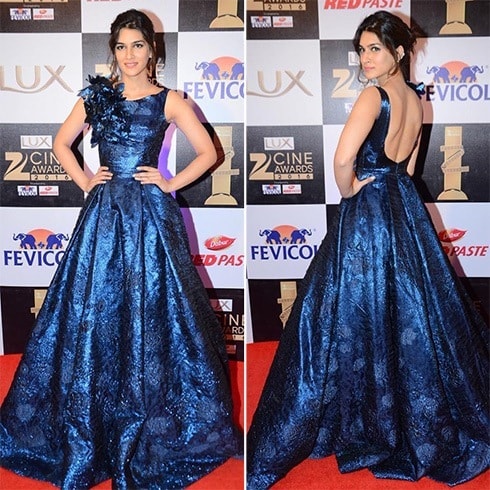 Kriti looked beautiful and fresh in a blue evening gown by Hamda Al Fahim from his Fall 2015 collection. The gown rested well on her waist and had a flared bottom. It was glamorous and shiny with a floral motif near her shoulders to do the talking. Her hair stylist Shaan Muttathil gave her a nice messy bun to complete the look.
Esha Gupta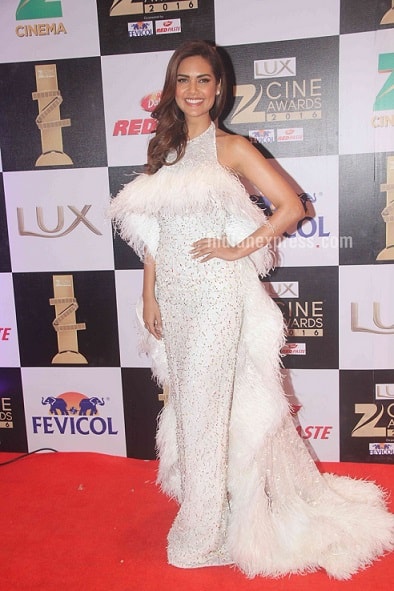 Esha Gupta wore a white Rami Kadi gown. The grass-like additions reminds us of Sonam Kapoor's look at Cannes 2015. The dress flaunted her back well. For her hair she had soft curls and carried a pretty smile on her face. Though the outfit might look a little over the top it was good enough to make a statement at the awards. Esha could have experimented with colors for this outfit.
Amyra Dastur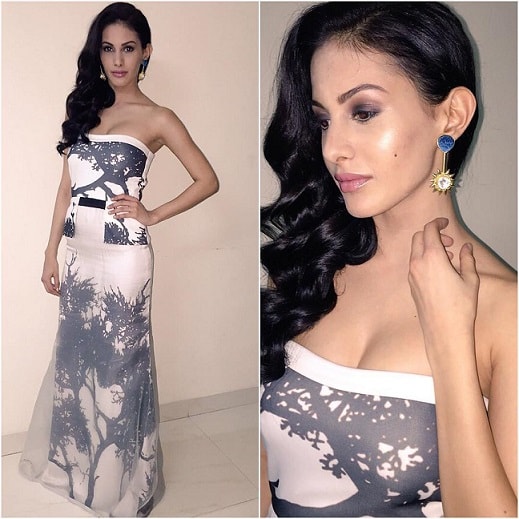 Amyra kept it simple in a Nikita Mhaisalkar gown. This young B-town newbie went for a monochrome look with mesh prints on the costume. The actress looked graceful in the strapless dress. Her dazzling earrings with blue and white stones popped the look. Her hair and makeup could have been done better.
Son ali Bendre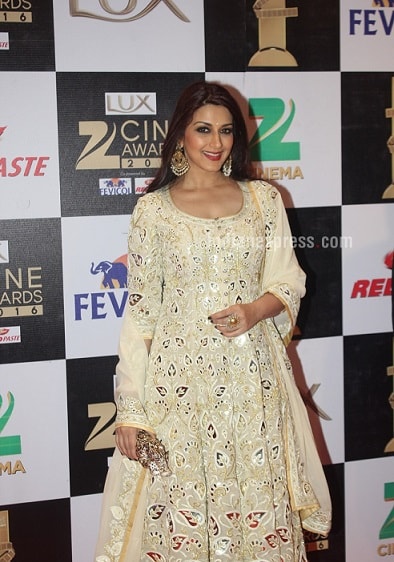 Sonali went for a traditional attire this time. The anarkali by Abu Sandeep Khosla is in cream pastels and looks royal with the dupatta. It had leafy prints in colors of red and teal. Sonali looks pretty as always and never disappoints. She paid a lot of attention to jewelry as well and it can be seen in her large earrings and ring. Her makeup is nicely done and her hair looks flawless. Though not my personal favorite but can give it a thumbs up.
Top Worst dressed at Zee Cine Awards 2016
Kajol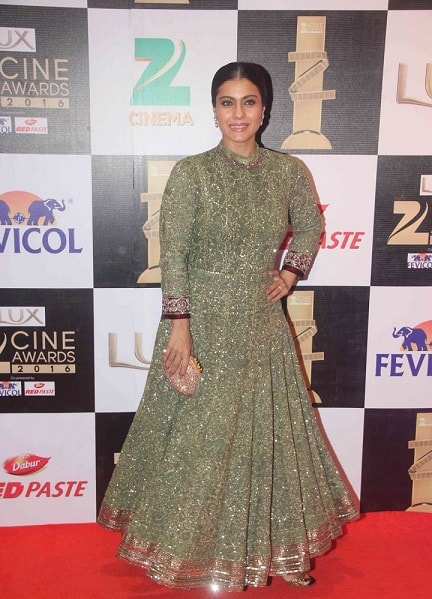 Kajol attended the award function mainly for her father-in-law Veeru Devgan who was felicitated with the Lifetime Achievement. She donned a sap green heavy worked anarkali with an open back by Bollywood's favorite designer Manish Malhotra. She paired it with kundan earrings for a regal look. She tied her hair into a bun and carried a copper clutch. Kajol had never been too much into fashion until of late when her sense of style improved immensely. But this costume didn't really work well for her.
Shriya Saran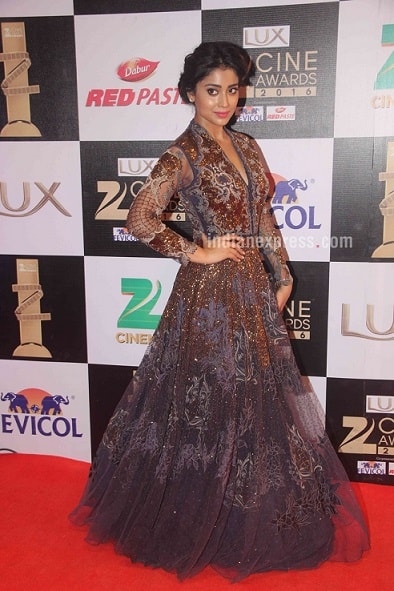 Shriya Saran wore a creation by Karthikeya. The shimmery gown had layered fabrics and large floral prints. It had transparent sleeves with edgy designs. Yet another actress to tie her hair into a bun. The color combination of the gown is a sore sight to the eyes and the makeup also makes her look very dull. I like her lip color though.
Gauhar Khan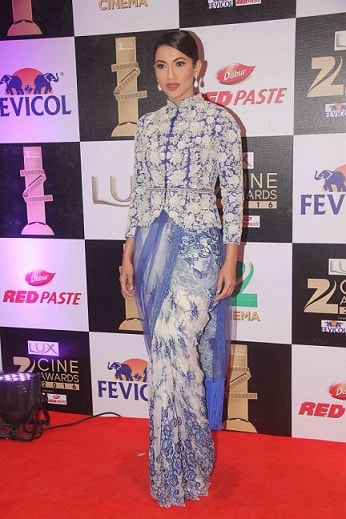 Gauhar Khan put on a fusion look by Rabani and Rakha. Something very unusual to try for, it was a blue and white closed neck jacket worn above the saree. The jacket had a peplum touch to it. A lot of actresses going for the back bun and so did Gauhar. She looked beautiful but the outfit doesn't really get a thumbs up. Her earrings looked stunning.
Radhika Apte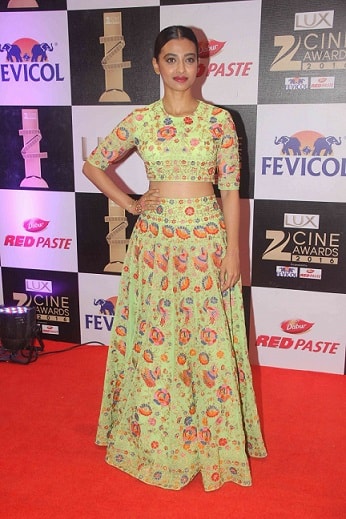 While everyone was opting for either dark or light shades, Radhika rather went for funky colors. A crop top with an open back and a lehenga skirt by Sonali Gupta Design. Her hair was slid into a bun with centre partition.  Her makeup looked spoiled and wasn't upto the mark and the costume wasn't good enough for a red carpet event. She had minimal accessory.
Sophie Choudry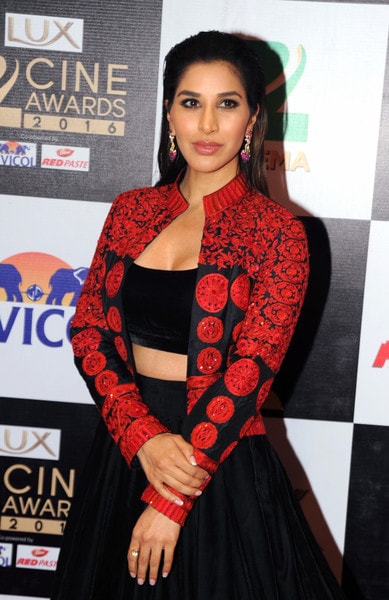 Sophie was also wearing a Manish Malhotra, a red and black jacket along with a black blouse and skirt. The jacket had various prints and looked elegant but the entire outfit didn't seem any exciting. She had pink and gold danglings that looked pretty. Her hair was slicked back and the makeup highlighted her eyes and cheekbones. For her lips she opted for a nice peach shade.
Mini Mathur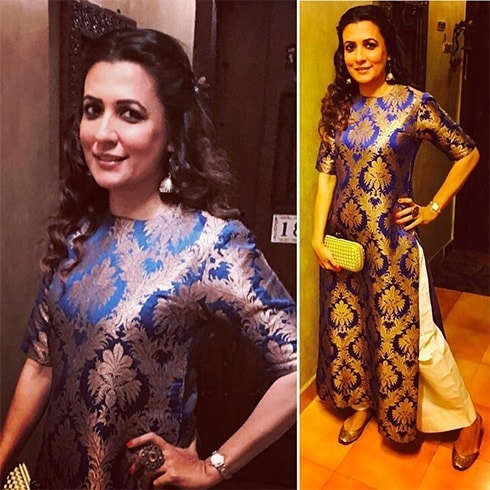 Mini Mathur wore a Payal Khandalwa designed suit. The look has gone wrong for a lot of reasons. The blue and bronze suit looked very mundane and make up was subtle. She paired the look with a wrist watch and a statement ring. Her hair was curled into waves. The yellow clutch also looked very plain. Mini could have done better.
So you are all set for the Saturday night as the Zee Cine Awards will be aired on television on March 5, 2016. Let us know what you think of everyone's look, who is your favourite and who you think made a fashion faux pas in the comments section below.
By Contributor: Tanvi Shah
Who is your best and worst dressed at the zee cine awards red carpet? Share your reviews with us.