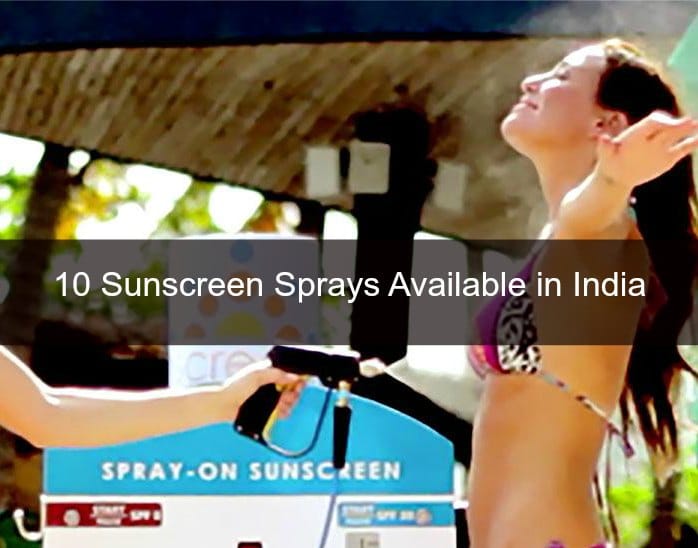 Top 10 Sunscreen Sprays in India with Reviews and Prices
I'll be the first to say it, spray on sunscreen has to be the best thing since sliced bread. It's no mess, no fuss and you can kiss that weird white sheen goodbye! It's also a great way to make sure you've coated every inch of you with sunblock. After all, you can never be too safe. I was fascinated to discover that there were many options in sunscreen sprays and thought that I would compile a list for you all on the must have spray Sunscreens Available in the market. Are sprays as effective as their lotion and stick counterparts? Yes they are, but it's best to use a sun protection product that is ideal for your skin type. So creams and sunscreen lotions are great for dry skin, but sticks and sprays are better for the oily combination skin.
Sprays are also very easily to apply. It is also great for areas like the nape of the neck instead of putting creams there, as that is messy. A word of caution with the spray sunblocks: because of how it's made and formulated, sometimes you don't get all the product out, which may lead to wast age.
List of Top Ten Sunscreen Sprays:
Coppertone Sport High Performance Sunscreen Clear Continuous Spray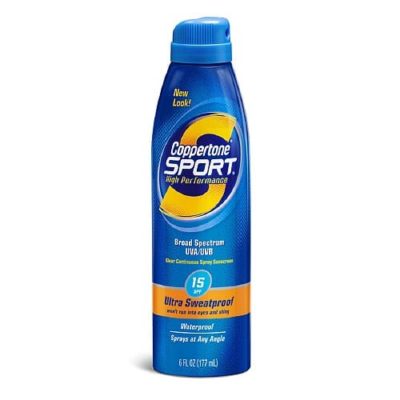 This is a great sunblock that is a clear gel formula that you can spray onto your skin without rubbing in. It has an SPF of 30. It is also athlete-friendly so if you run or are spending long hours out, this works great. Make sure to reapply every two hours otherwise there's no point. This is sweat and water resistant and CFC free. It also dries quickly and does not sting the eyes. It costs 900 for 6 oz of product. They do work exactly like regular sunscreens though, and are useful for those pesky kids of yours who never want to wait when you're trying to drown them in sunscreen!
It is important to note that if your SPF is lower than 30, it may not be the best for extended outdoor use. Try to use a higher SPF if you're staying out longer, but also make sure to apply every 2 hours. Applying once is not enough in a day and can cause serious sun damage. There are a lot of budget sunscreen lotion options in the market today which offer a range that will be comfortable to your wallet and beneficial to your skin. Make sure to read the ingredients list always, in case you or your child is allergic. Not all sun protection products are formulated with children in mind so you may need to buy a specific one for kids. We at VNA already have an article up about sunscreen for children, please do check that out.
2. Aveeno Hydrosport Sunblock Spray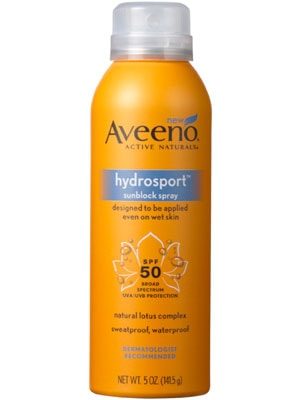 This spray can be used on wet skin. It is formulated with natural lotus complex. It is also sweat and waterproof. It is perfect for the sporty kinds of people. Aveena makes great skin products and can be used on the face and head. This product costs 1185 for 5 oz. This product is lightweight and isn't greasy on the skin.
3. Chicco Sun Milk SPF 50

This sun spray is great for sensitive skin. It contains Vitamin E which nourishes the skin. It is dermatologically tested. This is also kid friendly and can be used by kids who are 12 months and older. It offers UVA and UVB protection. This is also water-resistant. It is hypoallergenic  micro-biologically, clinically tested and an anti-inflammatory product. This product is 850 inr for 150 ml.
4. Banana Boat Sport Performance Coolzone UVA/UVB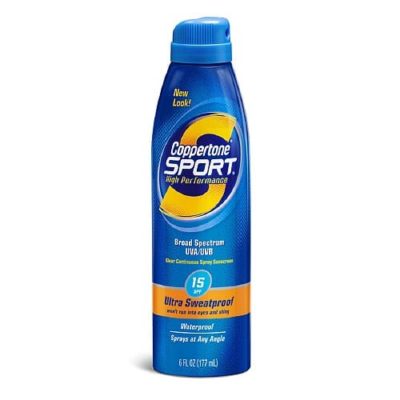 This is a sun mist that contains SPF 50. It is long lasting and revitalizes the skin, leaving it looking healthy and supple along with protecting you from sun damage. It is also smudge and rub proof and is non-greasy. You do not need to manhandle yourself and rub this after spraying it on. It is ideal for sporty and outdoorsy people. This spray is also very cooling and soothes the skin.
5. Neutrogena Wet Skin Kids Spray Beach and Pool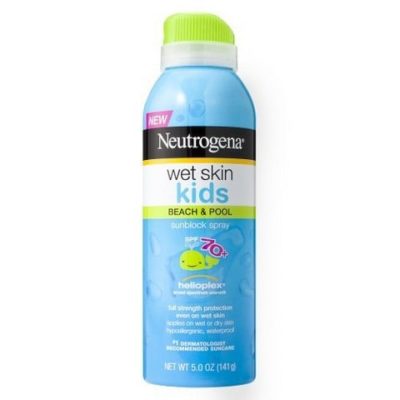 This packs a punch and has a SPF of 70! It is ideal for kids and can work on both wet and dry skin. This is one of the best sweat and water proof sunblocks. You don't have to worry about that weird white residue that comes off sunscreens. The sun spray also contains a sunscreen complex called Helioplex which fights against UVA AND UVB rays. It is also oil-free, hypoallergenic and PABA free.
6. Clarins Sunscreen Spray Milk Lotion Tanning SPF 20
This sunblock has an SPF of 20 and it's extremely delicate on the skin. It provides protection against harmful sun rays and is water-resistant. It gives you healthy, soft skin and is suitable for all skin types. It contains a plant-based complex which is natural and soothing to the skin
7. L'Oreal Sublime Sun Advanced Sunscreen Clear Mist SPF 50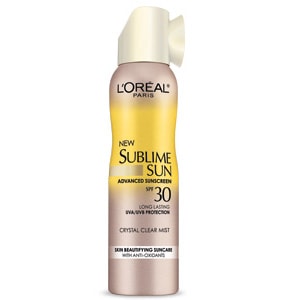 L'oreal has made its name as an international brand for its cosmetics, but often it is severely underrated when it comes to its skincare. It has a UV filter system which makes the sun protection long lasting. It is a very clear sun mist and contains Vitamin E and white grape seed. It is also rich in anti-oxidants. This will help keep your skin youthful. It also gets easily absorbed into the skin and doesn't leave behind any grease or white sheen. This spray is a non-comodegonic, oil-free and dermatologically tested. It is also ideal as an active sunscreen as it is water and swear proof. It is fragrance free and can be used all over the body.
8.  Lotus Herbals Intensive Sunblock Spray

Lotus Herbals is a great, budget-friendly.  It is a fine mist which grants UVA and UVB protection. It is also a non-greasy formula that makes you feel fresh and clean. This spray sunscreen costs 325 inr. It contains Sage, Chamomile and Thyme which act as natural sunscreen while moisturizing the skin. Thyme helps to sooth the skin. This product is quite runny so it becomes very easy to spread around and coat your skin with. It has a slight fragrance but it is not unbearable. It can also be used in place of a moisturizer and is super travel friendly.
9.  Neutrogena Beach Defense Sunscreen Spray SPF 70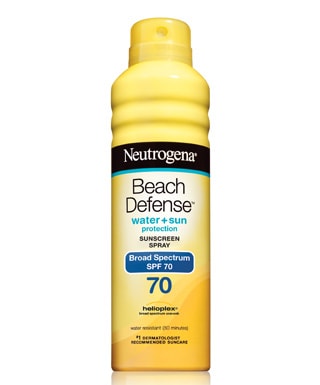 Beach Defense, can't get any more clear that that. Use it on days you're going to spend lazying about in the sun, but make sure to reapply. It is water-resistant up to 80 minutes. It protects against UVA and UVB rays. It is also lightweight and your skin absorbs it quickly. It is oil and PABA free. The spray sun also doesn't leave a white residue. This is especially good for sensitive skin and doesn't cause break outs.
10. Aroma Magic Sunlite Spray SPF 30 PA++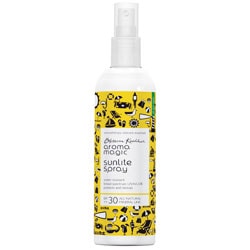 The packaging of this sun product is totally cute! It does not contain even a trace of alcohol, fragrance, parabens, oxybenzone and other harsh chemicals. It is a water resistant formula made with minerals. It is non greasy and contains hempseed, macadamia and rosemary oils. It provides natural sun safety and contains vitamins such as B5, E and C. It also contains anti-oxidant properties. It contains lavender, chamomile and helichrysum to revitalize and protect the skin. It also contains Moringa which also provides sun protection and moisture. This works really well with make up and helps hold your make up on longer. This costs 425 on eBay India.
As always, please share your thoughts below and comment and let us know if there are any sun protection products in India you swear by.
Read More:
Which is your favourite sunscreen spray? Share your reviews with us.