Top 10 Safest Baby Sunscreen Lotions for Kids Available in India
Kids are adorable, cuddly and smooth, but let's face it; we rarely think about what it takes to maintain a baby's soft skin. It sounds ridiculous to think about it, seeing as babies have the best skin out of all us, but if you forget sun protection, you might as well be sending the kid off to college or helping them get their first job! That last part was a joke, but here's something that isn't: Sun damage. Babies may be pretty tough when it comes to their cranium and other body parts, but baby skin is delicate and sensitive much like our own. We've recommended 10 of the best kids sunscreen creams that are designed for children, and hopefully you'll find one that suits that little rugrat in your home.
List of Ten Best Baby Sunscreen Creams and Lotions:
1. Lotus Herbal Kids Sun Block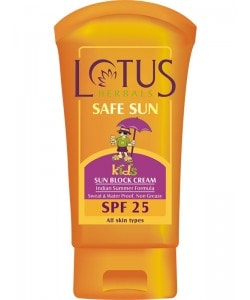 Never fear because Lotus is here! This brand is a lifesaver when it comes to affordable options for sunscreen. It contains chamomile flower extract to nourish your kid's skin and helps soothe it from the harsh rays. It helps provide UVA AND UVB ray protection and prevents sunburns and to an extent, suntans. This product is also sweat proof so your child can run around and play with no effect on the lasting power. It is recommended for babies above 6 months so bear that in mind. Another downside of this product is that it contains a fragrance and is not paraben free but for the cost, what can we expect? It costs 125 INR for 100 ml
on Flipkart.
2. Chicco Sun Milk Lotion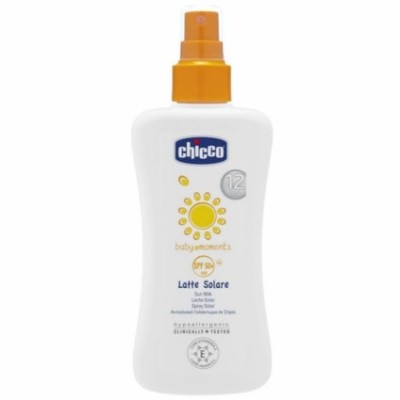 Other than the adorable name, what else is there to love? Turns out, quite a lot. This sunblock formula was specifically made with children in mind and has an SPF of 50! Talk about protection. It's also okay for babies to use from the time they're born! It's fragrance free. I'd say you should have no hang ups about picking up this particular kids sunscreen if you come by it. It comes in a spray bottle and is also water resistant. It offers UVA and UVB protection and is alcohol and dye free. It's hypoallergenic, micro biologically and dermatologically tested. It costs 899 INR for 150 ml.
3. Baby Sebamed Sun Lotion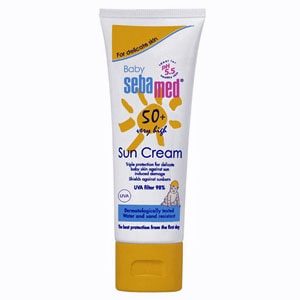 Sebamed has been well established with the Indian customers as a reliable brand often found in pharmacies, but little did I know that they made baby sunscreens. It contains an SPF of 50. It filters out 98% of UVA and UVB rays. It is water and sweat resistant and has a lasting power of 6 hours. It is great for sun intolerant or sensitive skin and is fragrance and alcohol free. It comes at a hefty cost of 1500 INR for 200 ml of product.
4. Farlin Baby Sunscreen Lotion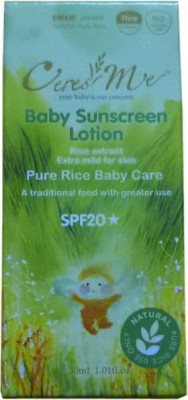 This is a natural sunblock that uses pure rice as an extract. It is mild and cruelty free. It prevents sun tans and burns. It is hypoallergenic, doesn't contain harmful chemicals and is suitable for children. It also has a moisturising agent which repairs the skin and rejuvenates it. It protects from free radicals that are UB generated. The rice extracts are perfect for inflammation. It costs 995 INR for 30 ml of product.
5. Neutrogena Pure & Free Baby Sunscreen Lotion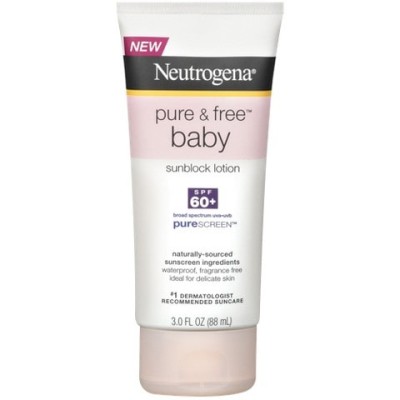 This product has an SPF of 60. It is a broad spectrum sunblock cream which provides UVA and UVB protection with a prescreen. A prescreen is basically a formula that is fragrance free and contains ingredients such as zinc oxide and titanium dioxide that are mixed with natural ingredients making it suitable for a baby's soft skin. It is PABA free, water resistant, hypoallergenic and oil free. It costs 1974 INR for 147 ml which is quite pricey.
6. California Baby Everyday Lotion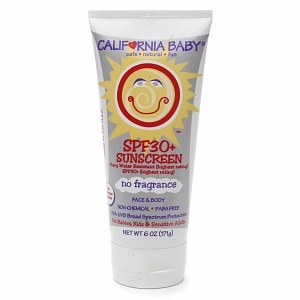 This is probably the priciest of the lot, costing around 3300 INR for 8.2 grams of product. It comes in a cute tube and contains an SPF of 30. It is safe lotion for children to use every day. It contains lemongrass which is very soothing to the skin. It is also possible to use this as an aromatherapy tool for the face and the body. The best part about this sunscreen cream for babies is that it doesn't sting when it comes into contact with the eyes. It is also sweat and water resistant. It is PABA free.
7. Aveeno Active Baby Continuous Natural Protection Sunscreen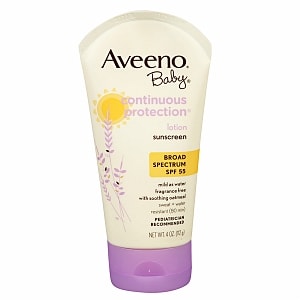 This product contains an SPF of 55. Aveeno is a brand heavily endorsed by our golden girl Jennifer Aniston, and if it's good enough for Jen then let me be the first to say it's probably good for all of us and our kids. It provides natural protection for babies and children. It has a mineral guard technology is and is only sourced from 100% natural ingredients. It contains zinc oxide, titanium dioxide, and oat extracts. All of these ingredients help provide nourishment to the skin and create a barrier that prevent UV Rays. It also has anti-ageing properties, not that your baby needs that. This sunblock is priced at 1771 INR . Though a quick check of US websites suggest that it's around 750 INR so try getting a relative or friend to pick it up for you.
8. Nivea Sun Kids Lotion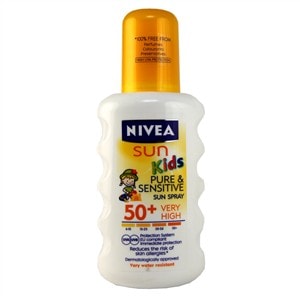 This is another product with an SPF of 50. It is a water resistant formula that provides immediate protection so you don't need to apply it 20 mins before getting into the sun. Make sure to keep re-applying sunblock lotion every 2-3 hours based on sun exposure. Unfortunately this product contains parabens and fragrance. This product is water resistant and claims to provide immediate protection. It contains parabens and fragrance. Unfortunately, there aren't too many options in India that are paraben free that also happen to be affordable. This sunscreen retails at 350 INR for 200 ml.
9. Banana Boat Baby Tear Free Sunscreen lotion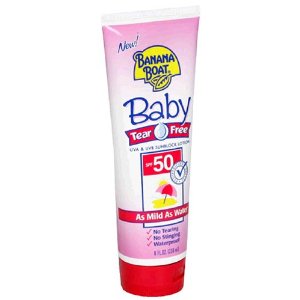 This stays true to its name and is tear free and suitable for babies. Pediatricians have tested it and said so. It contains an SPF of 50. It is free of many things like alcohol and fragrance. It is water resistant sun defense cream and perfect for beach or pool days. Most importantly, the tear free aspect means your kid won't be crying anytime you slather it on their face. It is a white coloured sunscreen lotion which leaves a residue behind, which is useful in this case because you want to ensure you have covered your baby completely in order for it to have any use. However, be mindful to use this only on babies that are older than 6 months. One of the safest sunscreen creams for your babies. It costs 1292 on Flipkart for 236 ml
of product.
10. Key Sun Clear Zinke Babies and Toddler Sunscreen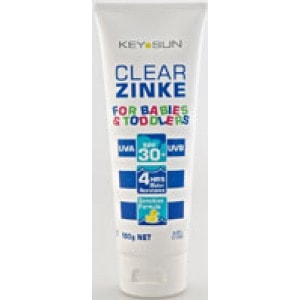 What's cooler than sunscreen in a stick? This comes in a cool applicator pack and is gentle and suitable for kids. The design of this product makes sure it doesn't sting the eye so you shouldn't worry about it. It contains an SPF of 30 and is fragrance free. It is also dermatologically tested. You can use this on long days at the beach or while swimming as it water resistant. I want to bring this to attention that now this product is around the 700 INR mark, but if you can buy it in Australia for the 400-500 range. It is also a broad spectrum cream. There are plenty of websites online that now ship to India, so give them a whirl.
Hope you found this helpful for your children!
Which is your favourite sunscreen lotion for babies? Share your reviews with us.