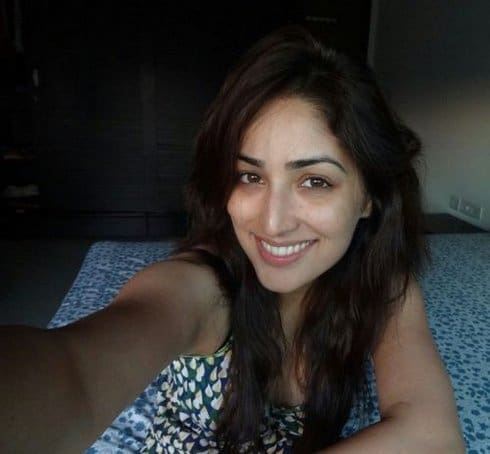 Top 10 Photos of Yami Gautam Without Any Makeup
There is something about Yami Gautam that you cannot turn a blind eye to. She isn't your usual over-the-top and excessively, often unnecessarily excited lady who laughs at the drop of a hat or mouths anything and everything. Yami isn't a pushover either. The fair and lovely girl is the perfect blend of equanimity and a go-getter attitude. Born in the picturesque Himachal Pradesh in 1988 and brought up in the planned city of Chandigarh, this picture-postcard lady, who has a Madhuri-like vibe to her, looks as comely without any trace of makeup as with it. The naturally beautiful face is counted among the most popular actresses of Bollywood. Not only that, she endorses a lot of beauty products too.
2012 saw a path-breaker of sorts in the conventional and predictable world of Bollywood that had and has been for long alleged for taking audiences' IQ for granted. Director Shoojit Sircar's slice-of-the-life serving Vicky Donor was a trail-blazer in every sense of the word. From dealing with the hush-hush cause of sperm donation to inter-caste marriages, from getting betrothed to a divorcee to adoption and all that with hints of humour added galore, Vicky Donor was a breath of fresh air.
And it was this very same pioneering flick from Bollywood that gave us two very promising actors- the quirky wiseacre Ayushmaan Khurrana and the tranquil Yami Gautam. Both stormed into Tinsel-town with a roar particularly Yami whose effortless, subtle and realistic portrayal of a new-age Bengali character- Aashima Roy earned a nod a approval from audiences, movie buffs and film critics alike.
While her choice of adverts attracts obloquy and rightly so, there is no denying that Gautam is one of the prettiest faces we have in Tinsel-town today. So, on that note, let us wallow in these makeup free photographs of Yami Gautam.
List of Beautiful No Makeup Selfies of Yami Gautam:
1. THE NO MAKEUP MORNING SELFIE-
And that's how Yami Gautam wakes up! With hardly any dark circles, crow's feet, fine lines and radiant skin, Yami illuminates up this totally natural morning selfie with her chirpy smile. Wish mornings were like this for us!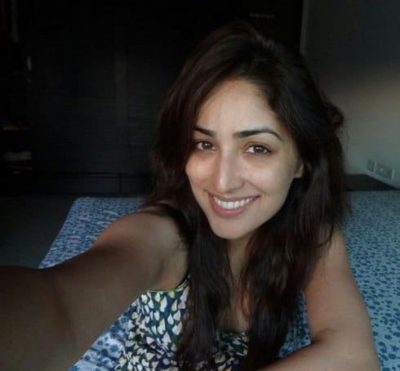 2. THE AT HOME SANS MAKEUP SELFIE-
And this picture proves that Yami Gautam is just like us- clad in a simple tee with the hair tied back and hardly any speck of makeup when at home. One of my friends quipped once, "Home is a place where you can look ugly and be unapologetic about it". Well, for Yami that 'ugly' part surely does not hold true. The flush of pink marking her porcelain skin is a cherry on the cake. Winsome, we say!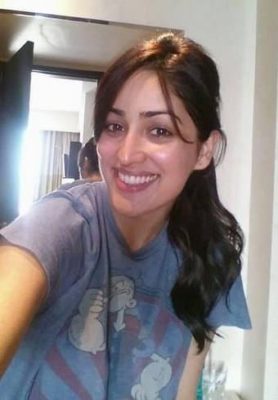 3. IN AN ETHNIC AVATAR-
Swaddled in an ethnic kurta with a little kohl highlighting her orbs, this look of the Badlapur actress Yami is picture-perfect. Although the young bollywood beauty is wearing kohl in the name of makeup, yet it can be deemed minimal makeup. Doesn't she look enchanting?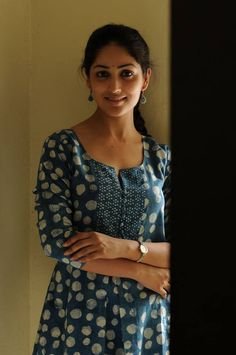 4. CATCHING A MOVIE AT PVR-
Here is a natural face picture of the pert and prepossessing Action Jackson actress Yami who was clicked by the shutterbugs while she went to catch a flick at PVR in Mumbai. Swathed in a pair of denims and white tank top, this Himachali beauty looks drop-dead gorgeous in her no-makeup avatar.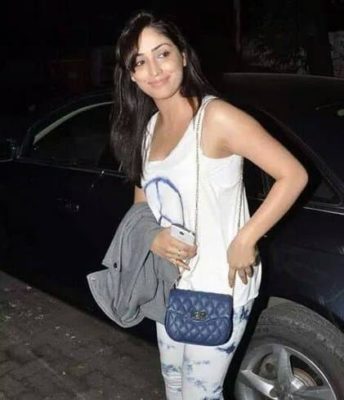 5. TAKING HER NO MAKEUP GAME SERIOUSLY-
Be it a day or night, if she is confident in her own skin (which she surely is as is corroborated by her in a recent interview), makeup simply does not matter to this beauty from the hills. Spotted with merely a little kohl outlining her piercing eyes and a little gloss/lip balm, Yami looks as ethereal as ever in this makeup free picture.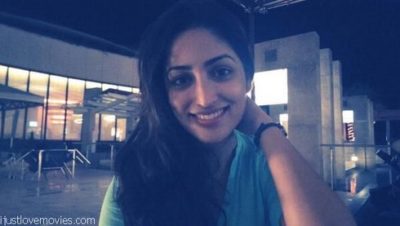 6. UNLEASHING THE ANGEL WITHIN-
The best out of the lot, I could not resist gaping at this no makeup selfie picture of Yami for five whole minutes. If one could look as winsome and flawless as her sans makeup, who on earth would invest in it in the first place? Radiant skin? Check. Glossy, smooth and luscious locks? Check. A heart-warming smile? Check. Captivating gaze? Check. Does this lady seriously lack in anything in terms of looks? She sets the bar high, no wait, WAY high when it comes to going 'No Makeup' now. Yami, you go girl! Also this is my favourite photo of yami without makeup.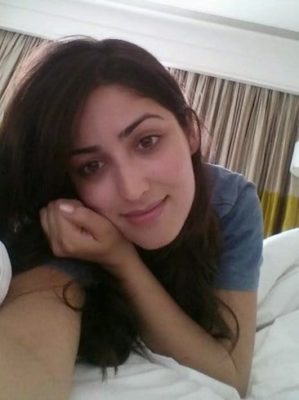 7. INSTAGRAM SUNSHINE-
If you have a smile as illuminating and exuberant, I would happily bestow the title upon you too! But for now, let us just take a minute out of our hectic lives and swoon over this winsome lady's no-makeup selfies. Gorgeous skin, beautiful face, natural beauty, pink pucker, satin smooth mane, pearly-white teeth, gorgeous eyes and oodles of positivity-combine them and there you have Yami Gautam. Needless to say, she is clearly without any makeup here and looks like a pristine beauty. Miss Sunshine, in true sense of the word.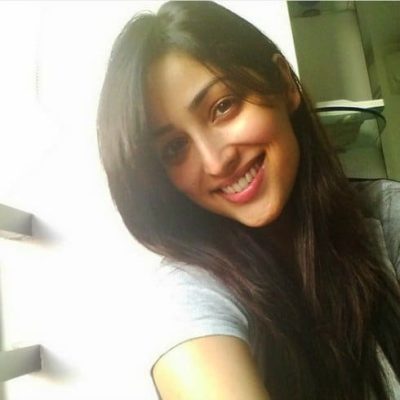 8. SELFIE SANS INHIBITIONS-
And that is how you show the world that you are not only comfortable but also uninhibitedly proud of what you have! With her smooth locks falling over her radiant skin with a few freckles, Yami embraces the flaws in her skin with aplomb. Can one stop themselves from falling for this naturally beautiful face now? Another great makeup free photo of Yami Gautam.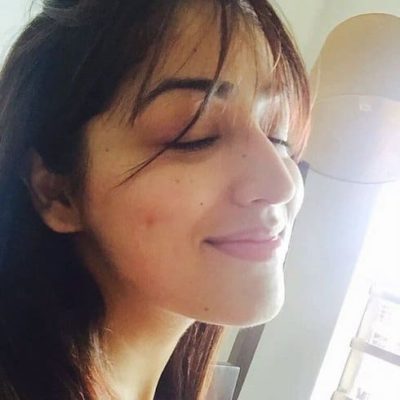 9. YAMI WITH HER PET POLO
With the world divided on who is better as pets- dogs or cats (we don't consider those who dislike dogs/cats, how can anyone? Aren't they humans?… Okay wait, I agree they are not but how can anyone dislike PETS?) and I, being a supporter of the former (Even though I have been chased by quite a few in the past and have some harrowing tales to narrate on that, I love dogs), the Badlapur actress scores a Brownie point from me for posing without any makeup with her pet dog- Polo. Beaming chirpily with a little kohl outlining her orbs and everything else falling in place, Yami Gautam looks beauteous beyond description in this instagram selfie.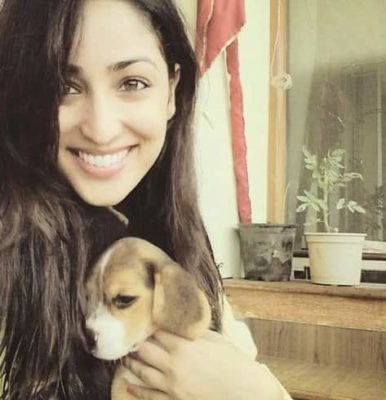 10. SPOTTED WITHOUT MAKEUP-
Strangely this picture of Yami conjures the visuals of a song from her debut flick- Paani Da Rang to my mind. Staring straight into Ayushman's eyes as he crooned Paani Da Rang to her ladylove, this song topped music charts for long besides bringing accolades, awards and loads of appreciation (particularly from the female species) to him. This picture of her makeup free face recreates stills of that iconic song in bits and pieces particularly in the way she is sitting and introspecting.
Coming to her look, as usual the Vicky Donor actress has just a hint of a liner on her eyelid in the name of makeup. With a flush of pink marking her lips, a radiant skin tone sans any makeup or considerable flaws and nonchalant persona, she sweeps us off our feet. Remember the times when we break into an impromptu jig out of the blue? Let's go 'Paani Da Rang Vekh Ke' once again on seeing this statuesque beauty sans makeup now, what say?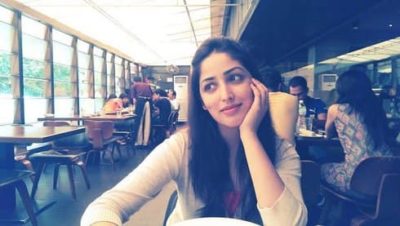 Image Source: 1,2,3,4,5,6,7,8,9,10,11
Read More:
Which is your favourite no makeup Yami Gautam photo? Share your reviews with us.