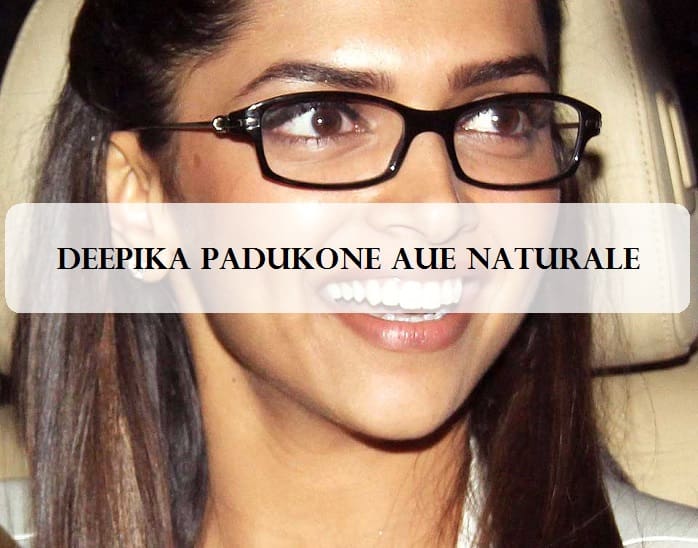 Top 10: Best Photos of Deepika Padukone without Makeup that prove she is beautiful naturally
After her much lauded "Bajirao Mastani," Deepika Padukone has now set her eyes on Hollywood with her movie XXX: The Return of Xander cage, with Vin Diesel. There's nothing that Deepika can't do. With her famed smile, gorgeous locks and doe-like eyes, she is the it-girl of the industry, possessing a classic charm with modern-day moxie. So we cheated a little, but finding a celebrity photo without make up on in today's celebrity junkie age is a gargantuan feat. However, our girl Deepika Padukone has mastered the look of the "No Make Up" Make Up look, and we at VNA thought we'd give you a little peek into what the Xander cage actress looks like without any make up. (Spoilers: Still beautiful. Deepika, what is your secret?)
List of Top Ten Deepika Padukone Photos without makeup
1. Deepika while shooting
Seen here prepping for a commercial, Deepika always looks naturally flawless. Her hair in this photo is all thanks to the powers of Coconut Oil. We all remember Deepika Padukone for her commercials in Liril, Limca and as the"Close-Up" girl. Her dedication to her craft is commendable. She moved to Mumbai at 21 to pursue her modelling career, living at her aunt's home, when she hit it big with being the Kingfisher Calendar girl for 2006. She is also known as the fresh-faced girl from the Liril Orange ad, which is arguably her real claim to fame prior the release of Om Shanti Om. Until that point, the brand was heavily endorse by Aishwarya Rai.
2. Deepika while Playing Badminton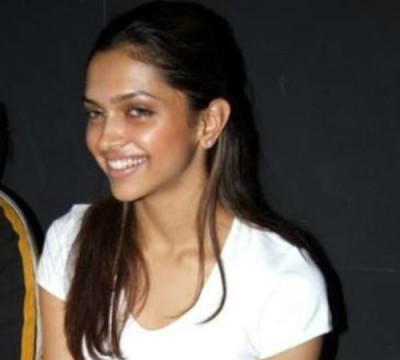 A dazzling smile is all it takes in your arsenal when you're Deepika Padukone, I don't see anything on her face but blush and maybe a hint of lipgloss. Deepika is known for her extreme dedication to fitness and health, having played badminton competitively since a young age. She also claimed to be socially awkward as a child (weren't we all, Deepika?) and therefore dedicated a lot of time to Badminton.
3. Deepika in Nerd Glasses without Makeup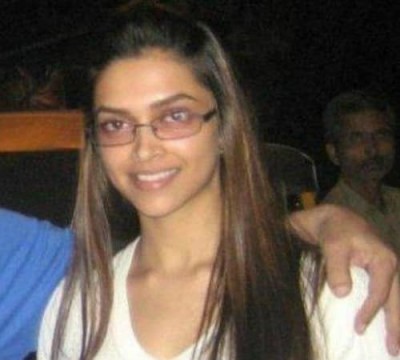 Somebody needs to thank the lord for the amount of time and effort he put into this woman. Now Deepika has skilled make up professionals that tend to her daily grooming needs, but we're always happy to see this simple, down-to-earth side of her.
4. Padukone as caught by the paparazzi without made up face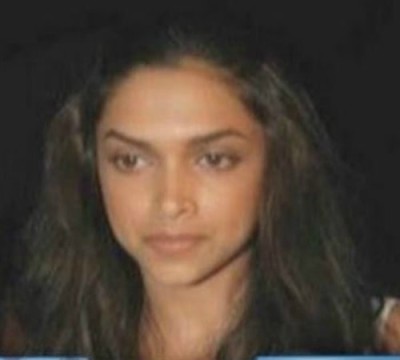 I searched around on the internet and it seems that Deepika has quite a few days when she's seen without make up by the press, and somehow she still manages to look like this. Deepika's make up is always thoroughly blended, leaving her a flawless base for all other forms of make up.
5. Deepika in Siddhivinayak Temple sans makeup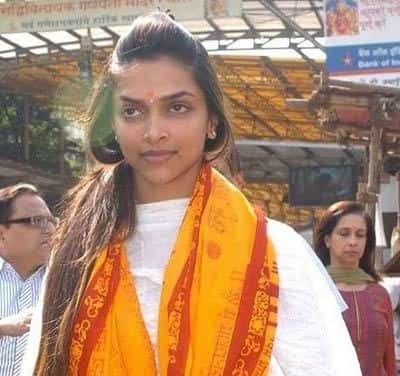 Possibly the most viewed picture of Deepika sans makeup, this picture was taken in 2008 when Deepika visited the Siddhivinayak temple (apparently this is her regular temple now) prior to her movie release. Deepika, a practicing hindu, has managed to retain her simple lifestyle even into her current glamourous film years. She happens to be a major foodie, with a penchant for South Indian food.
6. Photo of Deepika and Ranbir Kapoor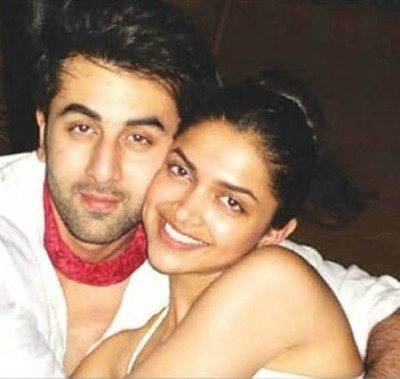 A throwback to another era, here we see Deepika during the early years of her time in the industry with former beau Ranbir Kapoor. Following her high profile split, Deepika went through a rough patch of films, but bounced back again due to her own dedication and made it big with 2012's "Cocktail." Deepika has often been in the limelight for her relationships with other high profile people. She's currently in a relationship with her contemporary, Ranveer Singh.
7. Padukone with MFBB makeup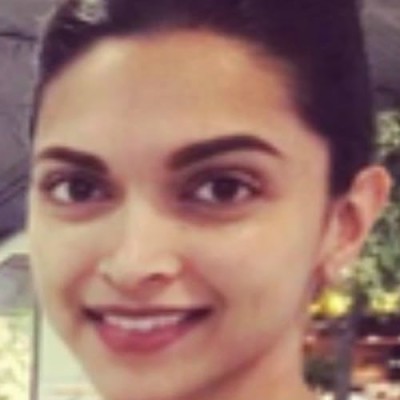 Nothing like a girl who's found her perfect MLBB shade, Deepika has always been know to rock a great set of brows and we see them in all their majesty in this photo. If there's one look Deepika has been about, it's her commitment to letting her features shine using a minimalist approach to makeup. She never usually has too much done at once, either it's her brows, or a perfect winged eyeliner or statement red lips.
8. Million Dollar smile of Deepika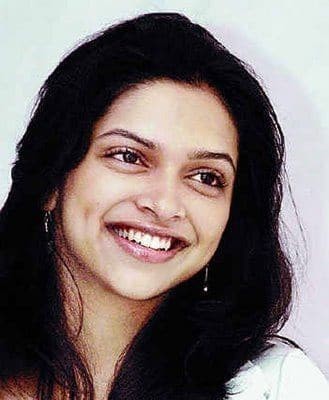 Deepika and her trusty beauty secret; pearly whites. No amount of highlighter can give you the kind of glow that this smile does. This is Deepika's moneymaker (among her other talents of course) and probably win even the hardest of hearts. Having been in the limelight since the age of 21, Deepika has learned how to handle the cameras and the constant interruptions of paparazzi culture in her life. She started out in the industry being honest about herself and her relationships, and has risen with grace and sheer grit in times of struggle. A true role model.
9. No makeup makeup look by Padukone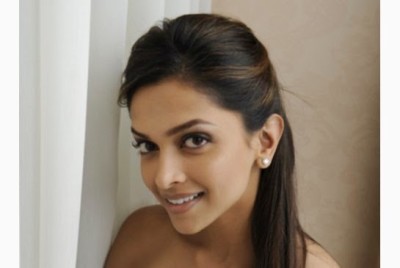 At this point, I ran out of "no make up" pictures of Deepika and started running into her classic "no make up" make up look. A bit of a smoky eye with some kohl and nude lips (although at this point I can't even tell if she's got anything on her lips) It's remarkable how little it takes for her to achieve this look. Deepika believes in a strict skincare routine and does not believe in going to bed without taking all her make up off. She usually doesn't wear much make up unless it's for a movie she's shooting. She also believes in CTM (Cleanse Tone Moisturize) and doesn't skip her clean up sessions. She is definitely a proponent of less is more.
10. Deepika on sets with barely there makeup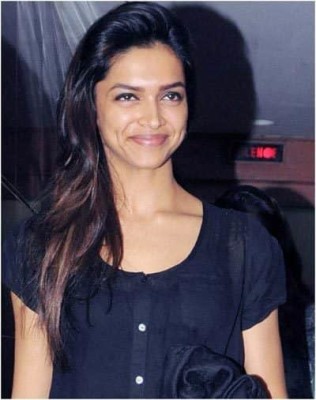 Some mild gloss, foundation and eyeliner and she's good to go. With a flawless face for a canvas, Deepika doesn't need too much to stand out. When she's not filming, Deepika normally opts for some lip balm and neutral foundation, and only applies concealer on days when she hasn't had much rest. She always sticks to foundations that suit her natural skin tone and doesn't opt to go lighter.
A few Deepika Padukone Fun Facts:
Deepika was born in Copenhagen, Denmark
She was once in a Himesh Reshammiya music video "Naam Hai Tera"
She was subsequently discovered by Farah Khan to act in Happy New Year, but that didn't go to air first so she went with Om Shanti Om first
She is a staunch ZARA girl (and every Indian girl screams with joy)
She swears by Pilates and her trainer Yasmin Karachiwala
She adopted the village of Ambedgaon in Maharashtra and helps with their electricity and water needs
She helps her father with his organization Olympic Gold Quest, which helps work towards the betterment of Indian athletes
She learned Jiu-Jiutsu for her movie Chandni Chowk to China and didn't use a body double
She's super organized and a list-maker
She is related to the legendary filmmaker Guru Dutt whose real name was Vasanth Padukone. I guess show business is in her genes
Her sister Anisha is a pro-golf player. Athletes run in this family too
Before she came into the film industry, Deepika was in a relationship with wannabe actor Nihar Pandya whom she left for Ranbir Kapoor. Pandya was to star in a film based on his relationship with Deepika. That never happened, but never say never.
We already know what a talented actress Deepika is, and with this year's XXX: The Return of Xander Cage movie lined up for her, we know she's reaching new heights. Whether she's killing the game with her views on feminism in Homi Adajania's video or being outspoken on mental illness, she's a girl to watch out for and someone who's hard to miss. Here's to yet another Indian beauty that makes us proud!
Image Source: 2,3,4,5,6,7,8,9,10,11
Which are your favourite pictures of Deepika Padukone without makeup? Share your reviews with us.