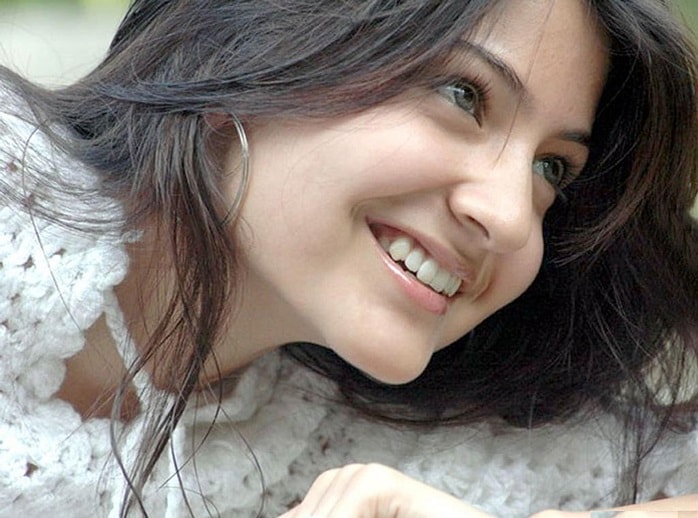 10 Best Photos of Anushka Sharma Without Makeup
Add vivaciousness, chirpiness with oodles of energy and a dash of 'care-a-damn' attitude and voila! You get Anushka Sharma! Believe it or not, the girl from Ayodhya definitely has it in her to compel you to turn back and take notice. She is among the most beautiful actresses in our Bollywood. She ticks all the boxes of 'Can you be the next big thing' questionnaire in Tinseltown. How? A svelte figure, gorgeous face, glowing skin, beautiful hair, towering height, some really author-backed performances (read: NH 10) and a go-getter attitude are all in her kitty. Brought into the limelight by SRK in 2008 as 'Taani partner', Anushka has come a long way in Bollywood not only in terms of her styling but also in terms of her craft.
Being in the limelight 24*7 without any iota of doubt isn't cushy. Not only does it take a toll on one's peace of mind (which by the way, is a priceless possession in today's time) but also on one's appearance. Quite often have we noted celebrities look dull, haggard and nowhere as flawless as they looked on the silver-screen. Thanks to the fact that women regardless of profession are always unfairly expected to look drop-dead gorgeous, female celebrities have it all the more tough. A single zit on the face, unkempt hair, unshaved/poorly shaved underarms, puffy eyes, you name it and they would have borne its brunt and tried their best to keep them hidden with makeup.
In the midst of all this, what if you catch a glimpse of your favourite celebrity shunning all the makeup altogether
and stepping in public looking all natural embracing themselves unabashedly? A group of people may go berserk for those celebrities broke the mirage of being flawless while another group would admire them for it does require the courage of one's conviction to accept oneself boldly when the world is telling you to keep the mask of makeup 24*7.
On that note, let us have a look at the top 10 moments when the leggy lass-Anushka Sharma stepped out sans makeup and we fell in love with her all the more!
10 Times Anushka Sharma Rocked Natural Makeup:
1. AT MUMBAI INTERNATIONAL AIRPORT:
While I see sleep-deprivation in her eyes, yet I cannot note any under-eye bags or puffiness. Oh yes, and no makeup as well. And do not tell me that those luscious locks of hers aren't covetous. Swaddled in a simple beige top and a comfy pair of denims, Anushka was spotted at the Mumbai International Airport in a typical 'Girl next door' avatar . With hardly any speck of makeup on her otherwise, fresh radiant skin, she looked one girl who no boy would miss a chance to take home to his mommy!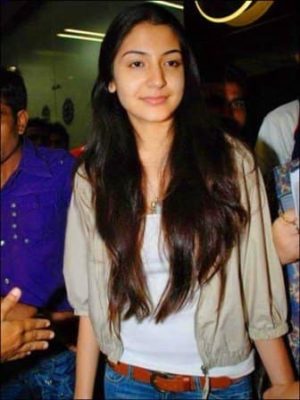 2. MOVIE TIME AT A MULTIPLEX-
While it may sound odd to me that a cine-star would watch movies in his/her free time for I think that's analogous to taking an air-hostess to an airport for a date but to each his own. Moreover, Bollywood is not the only film-making industry in the world so, watching movies in one's spare time is legit even if the viewers are actors or actresses.
Coming back to Anushka, the lady looks chic and confident as she walks dressed in a simple white tee, cropped pants and red loafers. Comfortable clothing surely stands on top for her and the same can be said about her appearance. Wear makeup when absolutely necessary. Avert otherwise. And who better than she herself to validate it? Kudos, Anushka for the no makeup look!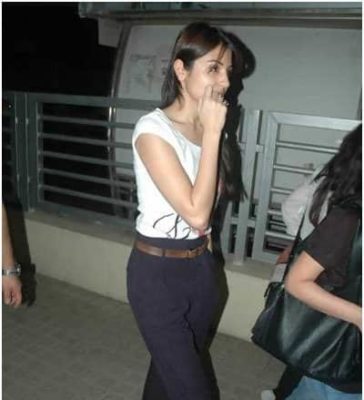 3. AT THE CHAUTHARA OF LATE DIRECTOR YASH CHOPRA-
Yash Chopra gave her one of her most cherished characters, that of Akira Rai for which she confessed to being indebted to him for long after all, it gave the actor in her to rise to the occasion and not just be a pretty mannequin in the flick. Naturally, she was grief-stricken at his untimely death and at his Chauthara at Yash Raj Studios, she went to pay condolences to his family. It is trite that she is sans makeup here.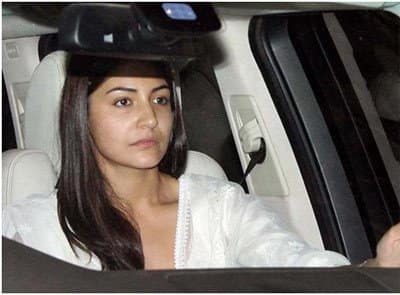 4. WATCHING JTHJ WITH HER BROTHER AT A THEATRE-
Talking of JTHJ, Anushka was accompanied by her brother –Karnesh Sharma as she stepped into a theatre with no trace of makeup swaddled in a black vest, checkered tee, black denims and comfy sneakers to watch her flick- Jab Tak Hai Jaan. Her face bears no mark of heavy-duty makeup and she looks fresh as a daisy.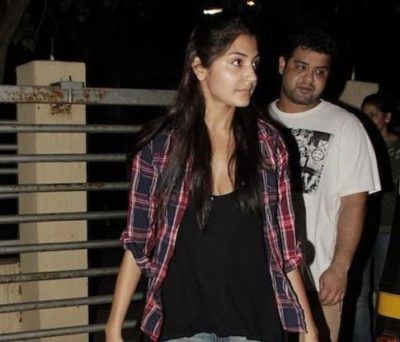 5. ATTENDING A B-WOOD PARTY-
No one amongst us knows what actually goes in a typical B-wood party but given how larger than life B-wood and its flicks are (sometimes, in a cringe-worthy manner), we can surely and safely surmise that they would be high on glitz, glamour and glitter! Quite naturally, we behold actresses dressed in the trendiest of outfits with their makeup on point attending these star-studded bashes but that's not the case with this towering lass- Anushka Sharma, at least for the case at hand.
Looking vivacious as always, Anushka dazzled one and all with her no-makeup look, ripped denims and sleeveless black top avatar. But she rocked the deglam avatar too.
6. AT THE AIRPORT IN STYLE-
While a lot many celebs crib about being jet-lagged and hence, looking dull, here is Anushka fresh as a daisy flaunting her heart-warming smile dressed in a leather jacket, tee and a pair of denims which by now, we have surmised that are her staples! Did you spot any trace of heavy-duty makeup there? No, take a closer look. Did you now? Naah, well that is how Anushka is and don't we love her for that? Love the non makeup face.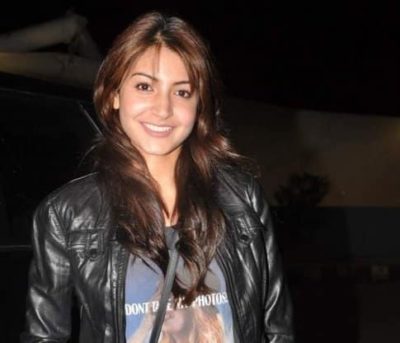 7. MOVIE TIME WITH ANUSHKA SANS MAKEUP-
While most celebrities cover their faces with whatever they catch hold of in sight when caught sans makeup, here is a lady smiling, waving and getting clicked by shutterbugs voluntarily without makeup and any fuss or tantrums. Brownie points for that, Ms. Sunshine. Spotted outside PVR Cinemas in Mumbai in a casual tee with a pair of ankle-length denims and sneakers without any makeup at all, Anushka Sharma's charm and radiance was brighter than that of the artificial lights of the shutterbugs jostling to catch a glimpse of her.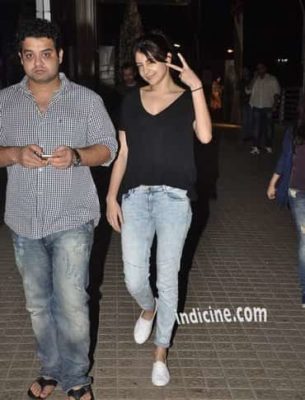 8. SWEATING IT OUT AT THE GYM –
Ever heard of the term post-workout glow? No? Then here you go. Anushka Sharma shows you what this unheard term stands for. Sweating it out at a gym without any trace of makeup, the lady glows and proudly flaunts her cheeks flushed pink in aplomb. And if you thought it is a picture captured by paparazzi, you are mistaken for it is uploaded by Anushka herself on her Instagram profile. Talk of self-confidence
and miss out Anushka? Naah, that is not happening anytime soon.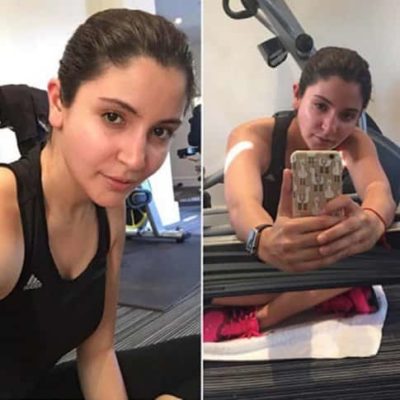 9. STRAIGHT INTO YOUR EYES-
Well, that is what gaze looks like- Staring straight into someone's eyes and soul (I am not speculating who that someone is as long as they do not break the news officially)! Sharma's eyes do not even need a slight stroke of any high-end mascara or kohl to mesmerize one, do they? And would any exorbitant blush every do justice to the natural flush of pink that her cheeks are covered in? Posted on her Instagram profile, this gorgeous lady takes her 'no makeup' game seriously.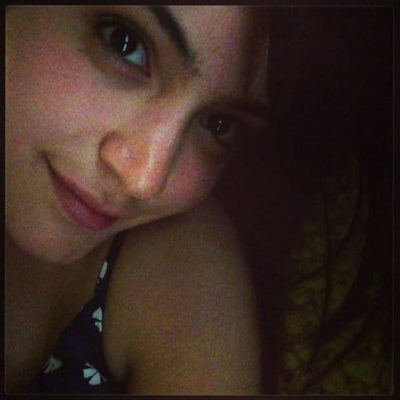 10. BEAMING IN HER TYPICAL CHIPRY WAY-
Now, that is something which attracts everyone- positive vibes from a lively person! Doesn't Anusha's smile look like that of a mischievous kid's smile who upon being asked what s/he was up to, barefacedly lies but still, looks adorable. Anushka continues with her no makeup game and makes us fall in love with her all over again!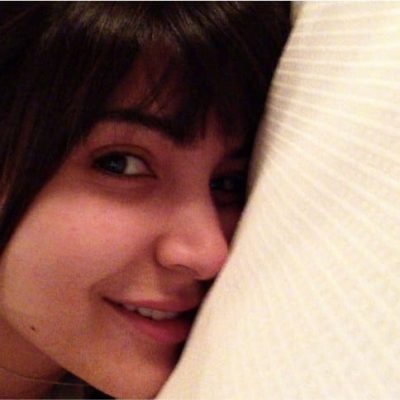 Image Source: 1, 2, 3, 4, 5, 7, 8, 9, 10, 11
Read More:
Do you like Anushka without makeup? Share your reviews with us.