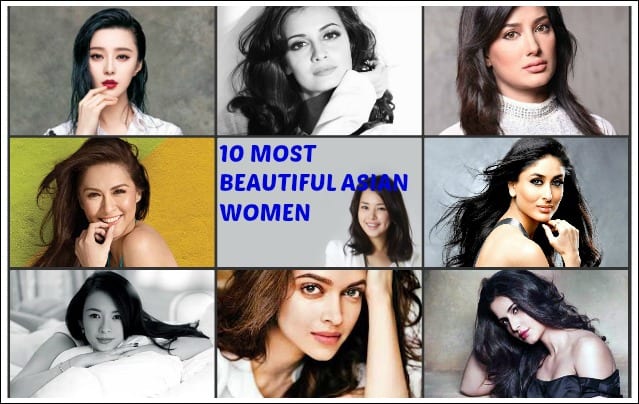 10 Most Beautiful Women in Asia with Pictures
We all know that Asian women are extremely talented, beautiful and attractive. People all over are mesmerized by their beauty and sense of style. So after the most beautiful women in India let's talk about the most beautiful women in Asia, these women have been included in various list all over the world from time to time. So I thought why not do an interesting comparison of who is the hottest, sexiest, most attractive, beautiful woman in Asia. Korean, Chinese, Indian and Pakistani women are some of the beautiful ladies in Asia. Beauty is subjective so you might have your own list of beauties which you can share with us. So we have a list down there, let's check it.
List of Top Ten Most Beautiful Asian Women of 2016
1. MARIAN RIVERA

Marian Rivera is a Filipino actress and model. She is not only one of the most beautiful women in Philippines but in Asia too. She is best know for her roles in 'temptation of wife, 'maryma', Amaya, and Dyesebel. She has been starred in film such as My bestfriend's girlfriend, You two are my everything. Marian Rivera also made it to the FHM's most sexiest women twice in 2008 and 2013. She also made it to the top endorsers list of 2012. In addition to her incredible talent in acting and modeling she is also a recording artist, she has released two albums: crazy retro and Marian Rivera dance hits. She has to be on the top of most attractive women in Asia.
2. DIA MIRZA
Dia Mirza is an actress, model and producer and one of the most beautiful women in the country. Born in Hyderabad on 9 December 1981, She started working at a very young age. She was 16 when she had her first job in Sriven multi tech, Hyderabad. After that she pursued modeling for various brand like Lipton, Walls ice cream's , Emami and many more  and later she participated in the miss India pageant in which she stood as the second runner up and she has also won various titles like Miss India Pacific in 2000 and Most beautiful smile. She has got one of the prettiest looking faces ever and is stunningly attractive. She made her debut In bollywood with the movie Rehna Hai Tere Dil Mein  in 2001. She got engaged to her longtime business partner Sahil Sangha and they tied the knot on 18th October 2014.
3. FAN BINGBING
Born on 16th September 1981, Fan Bing Bing is a Chinese actress, producer and pop singer.  She has an amazingly beautiful face and Fan is one of the top most celebrities of China. Fan rose to fame with the tv series – My fair princess. She was also starred in the movie Cell phone, which won the Hundred Flowers Award and it also became the highest grossing film of the year. She also appeared in the Forbes china 100 list in 2013, 2014 and 2015. Fan has one of the most beautiful faces and has done various foreign language films like – French film Stretch, Korean film My Way and the most famous Hollywood Blockbuster movie – X-men :Days Of Future Past. She has been called a fashion icon for her elegant and unique fashion sense at the red carpet, movie premieres and various fashion shows.
4. DEEPIKA PADUKONE
Deepika is one of the most popular, highest paid celebrities in India and has a very beautiful face. Without her this list is incomplete. She is the daughter of the famous badminton player Mr. Prakash Padukone, as a teenager she played badminton at the national level  but she left her sports career to become an actress. She made her debut in bollywood with the movie Om Shanti Om in 2007 and won the Filmfare award for the best female debut. She has received 3 Filmfare awards and other awards also. She also has her own line of clothing for women and she also launched Live Love and laugh foundation to create awareness on mental health. Currently she is working with Vin Diesel for the movie XXX. She is extremely attractive and has a good fan following in India.
5. ZHANG ZIYI
The next stunningly attractive Asian woman is Zhang Ziyi who is one of the most multi talented celebrity of Chinese film industry. She is considered as one of the four Dan Chinese actress. Her beautiful face got her a lead role in The Road Home, which was well appreciated by the audience. She achieved a lot of fame for her performance in Crouching Tiger and The Hidden Dragon , for which she won Awards for Best Supporting Female. To maintain her flawless beauty she eat lots of fruits and drinks 8-9 glasses of water daily. Her beauty is very noticeable as she was crowned Miss World China in the year 2007 and since then she has been the most popular Chinese star in the world.
6. HA NUI LEE
She comes from the 'Land Of Morning Calm'- South Korea, Ha Nui has a really cute looking face. She is one of the pretties women from Korea. Ha Nui Lee who is better know as Honey Lee is a popular south Korean actress, model and musician. She also represented her country in the Miss Universe Pageant and she was the 3rd runner up in 2007. She is the most well known vegetarian in her country with her Tv show, Lee Na Hui vegan recipes. The charming actress competed in 50th Miss Korean pageant as Miss Seoul, which she won.  She got her bachelor's degrees from Seoul University with honors. She is also known for her best roles in I Am a king, Tazza 2. She also appeared on many Tv shows like To the beautiful you, Pasta, Partner and many more.
7. KAREENA KAPOOR KHAN
Bollywood's begum – KAREENA KAPOOR was born on 21st September 1980 is one of the hottest asian women ever. She is one of the most beautiful and famous actresses in bollywood. She made her acting debut in 2000 with the war film refugee and later became one of the best actress in the hindi cinema. This impressive woman has given various hits to her fan and has also won several awards, including six Filmfare awards. She has also launched her clothing line with the retail chain- Globus. Kareena is brand ambassador of various brands in India like L'Oreal and many more. She like using minimal make-up and likes to stay hydrated to keep her skin glowing she drinks warm water.
8. MEHWISH HAYAT
How can we forget our neighbor? Pakistan. Mehwish Hayat is a Pakistani actress, model and singer. Born on 6th January 1983 in Karachi, She has a huge fan following not only in Pakistan but all over the world. She is glamorous popular and highly attractive. She has given numerous hit movies and television series like Insha 'Allah , Fir Chand Pe Dastak, Bin tere and many more. She was also listed as one of the most amazing Asian women in the year 2015 and also received an award for the most beautiful women in Asia.
9. PRIYANKA CHOPRA
Talking of Asian beauties, Bollywood's international diva Priyanka Chopra was born on 18th July 1982 in Jamshedpur. She is one of the most high profile celebrities and top bollywood actresses. She has received numerous awards including five filmfare awards, a national award and also Padma shri award, the fourth highest civilian award by the government of India. She was crowned Miss World in 2000 and she is considered as one of the most sexiest celebrities in Asia. She made her debut in bollywood with movie The Hero in 2003. She was also appointed as the UNICEF Goodwill ambassador in 2010. She is also a singer and a television star. She has released three singles and she is also known as the global icon of the country. She recently appeared on Oscars and The Jimmy Fallon Show.
10. KATRINA KAIF
Born on 16th July 1983, Katrina Kaif is a British lady. She is considered a highly attractive and gorgeous lady in Asia. Her beauty is very attractive and impressive, it has shaken many people's hearts. She is a bollywood actress and a former model. Before starting her career in bollywood Katrina has worked in various Telugu and Malayalam films. She has established herself as a successful actress of bollywood now. She has been a part of highest grossing films in India like Dhoom 3 and Ek Tha Tiger. In addition to bollywood highest paid actress she is also considered in a lot of lists for the most beautiful and attractive celebrities by the media.
Image Source: pinterest
Read More:
Who is the most attractive Asian woman according to you? Share your reviews with us.