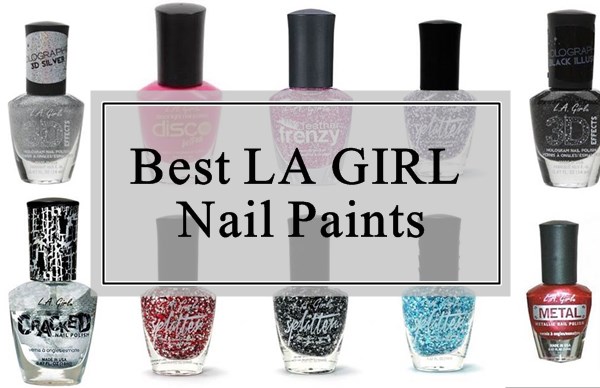 Top 10: Best LA Girl Nail Polishes Reviews, Shades, Swatches, PriceList
How cool is the feeling when you discover a brand you had no idea even made something that you totally love? Well, one, the feeling is absolutely lovely, and two, I just discovered that a brand whose concealer I've loved using in the past, makes nail points too and is in fact kind of an ace in that department. Yes girls, if you love brands like OPI, Sally Hansen, China Glaze, Essie for nail paints, then I think it's safe to say that LA Girl USA nail paints will be right up your street. I share my list of top LA girl nail polishes to buy to help you shop better. Oh, and did I mention that these la girl nail enamels retail for just about $3 to $5? Yes, you read it right, $5.
After a whole lot of research on LA Girls's nail paints, I can say the following three words without a shadow of a doubt- these are great! The thing is, I never really knew that LA Girl also does nail paints until recently, and now, I just can't wait to get my hands on all of them. So far, I've come to the conclusion that la nail lacquers are easily available abroad, they are pretty similar to OPI creme nail polishes in texture, they are easy to apply, come in a sturdy packaging, the applicator brush is such that it makes the nail paint application fairly easy and precise, and the nail paint stays for days without any major chipping. I mean, for all the qualities that I just mentioned above, I'd be ready to pay $10, no $15 even for a nail polish like this. HAHA!
List of Top Ten Nail Polishes and Swatches from LA GIRL:
1. LA Girl 3D Silver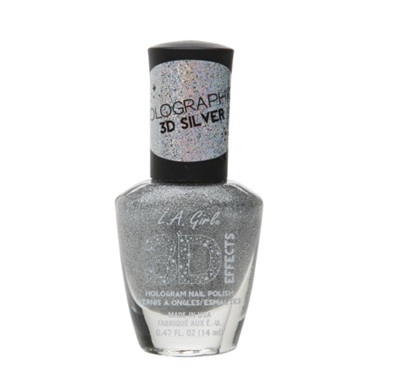 I love silver nail paints, I love silver on my nails, I love 3D, I love the idea of 3D nails and I absolutely love everything holographic. So when I find that there's a holographic nail paint with 3D effect by LA girl, I can't help but do a happy dance and hope to get my hands on it ASAP. Holographic basically means anything that creates a three-dimensional image and reflects various colors and looks different under different lighting. So a holographic nail paint? Yes, please!
2. LA Girl Platforms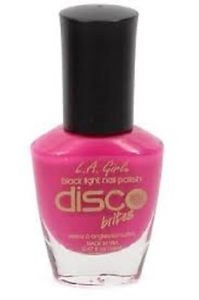 Platforms by LA Girl is a neon fuchsia shade of nail paint. I think it is the perfect nail color to flaunt in the summer. I personally love wearing bright nail enamels on my finger nails as well as toenails so this is one color I'd definitely like to try out for myself. This color is one such color that will go with a number of outfits as pink generally complements other colors well.
3. LA Girl Flamingo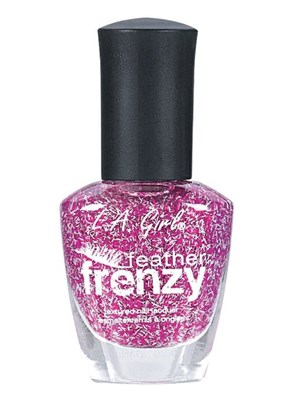 Flamingo by LA Girl is an absolutely gorgeous shade of nail color. It is a clear base with specks of purple and silver shimmer in it. It screams birthday parties, for some reason. This is kind of unique nail enamel. For people who love to try out shades that nobody else normally would, this would be a great pick. This nail paint would look really cool paired with a black or a with base coat.
4. LA Girl Shattered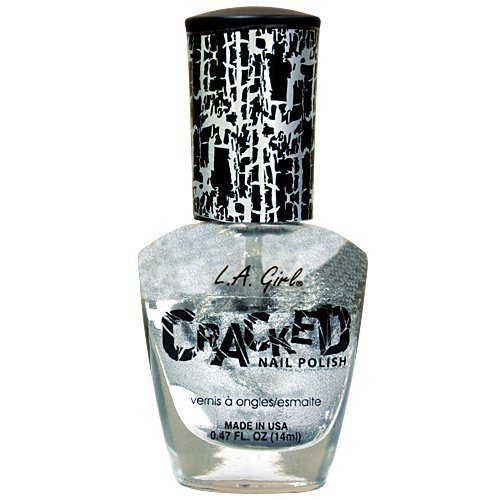 I really like the concept of the shade Shattered by LA Girl. It is a crackling nail polish in a silver shade. When you apply this nail paint over a colored base nail paint say black or a bright red, after this nail color has dried off, it will start crackling on its own and give a nice crackled effect. This nail shade is a very unique one and if you're someone who loves to do fancy nail art, then this one's for you! One of the best nail polishes from la girl.
5. LA Girl Black Illusion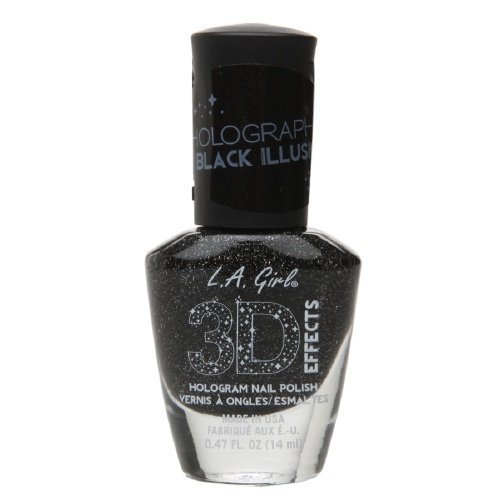 Black Illusion by LA Girl is again a 3D effects nail paint. It is a black nail paint with really minute silver shimmer in it. When you apply this lacquer on your nails, it will give a nice holographic effect. This paint can be styled in a number of ways- worn on its own as it is, worn as a french manicure, different kinds of nail arts etc. This enamel would really look good worn on the accent nail too paired with another bright shade like maybe hot pink or a red.
6. LA Girl Sputter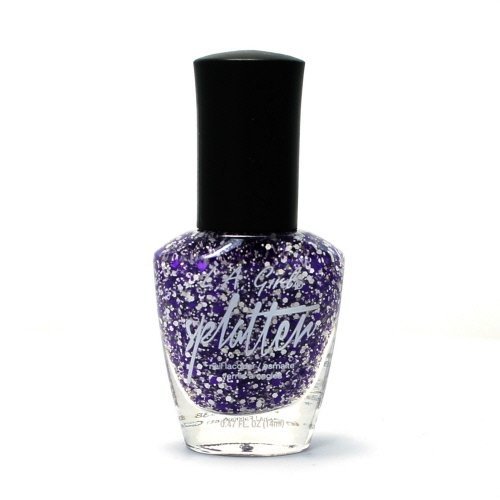 Sputter by LA Girl is from their Splatter collection, which is another gorgeous shade that I love. It is a clear gel nail paint that has a pretty good amount of purple, white and silver glitter specks in it. This is such a beautiful nail polish. You apply this nail paint and everyone is going to think that you've spent a good amount of time doing the polka dot nail art while all you really did was put on a bright base color and top it off with this glitter top coat. It is definitely something I'd love to try out! Recommend this one to all you girls out there who love to do fancy nail arts!
7. LA Girl Speckle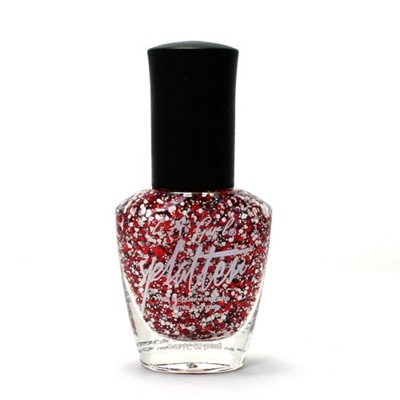 Speckle by LA Girl is a beautiful bokeh effect glitter nail paint. I personally really like this shade and would love to own it. It is a clear gel nail lacquer with chunky specks of red, white and silver glitters. This nail paint contains a dense amount of glitter and would look gorgeous worn over a yellow or a black base paint. This is one such nail polish that would be perfect for festivities etc all year around.
8. LA Girl Spotted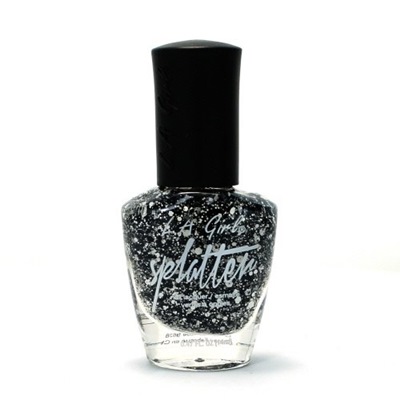 Spotted by LA Girl is another nail paint from their Splatter collection. I absolutely love this nail shade. It is the same bokeh effect lacquer. You apply it over a bright base nail paint and it would look as if you've done a polka dot nail art. This one is a clear gel with specks of black and white polka dots in it, and some grey too. This enamel would look totally fantastic worn over any shade of nail paint but if I had to style it, I'd go for a bright pink, or red or even an electric blue underneath to bring out the best of this nail shade. Definitely recommend this shade to everyone. Another best la girl nail polish.
9. LA Girl Spatter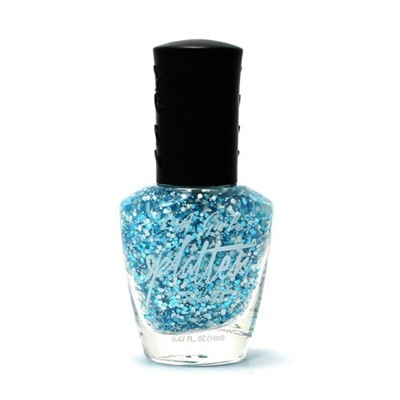 Spatter by LA Girl is again from their bokeh effect Splatter nails collection. Seriously this collection by LA Girl has the best nail paints. This paint is a clear gel nail paint with specks of various shades of blue in it. It has got a sky blue, a very light blue, a medium shade of blue and a few specks of deep blue in too. Summer and blue go together really well and this is such a summery shade to wear and flaunt. I would love to wear this nail paint over a clean black base coat or even a hot pink.
10. LA Girl Iron Red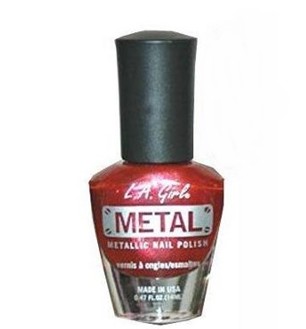 Iron Red by LA Girl is a true iron red nail paint, hence the name. It is a metallic nail color and would look gorgeous on the nails when worn around festivities or functions etc. This is a nail polish that gives me a very Diwali vibe. I would love to wear this shade around that time. This shade is from the metal nail paints range and the nail paints from this range are famous for their smooth texture, longevity and no chip formula. Recommend this to people who like metallic nail colors!
So these were my top nail paint list from the brand LA Girl. I have read a lot of great reviews about all of their nail paints on the internet. These nail enamels are great in texture and can even be compared to slightly expensive, China Glaze and OPI. These lacquers stay on for 4+ days without chipping or fading. They feel super smooth on the nails and come at a really affordable price. Although the shades that LA Girl comes in are highly dupable, the quality is one of a kind. So I definitely recommend you to try out this brand. So which one of the above nail paints do you want to try out? Tell me in the comments below.
Read More:
Best China Glaze Nail Polishes
China Glaze Glitter Nail Polishes
Which is your favourite LA Girl nail polish? Share your reviews with us.