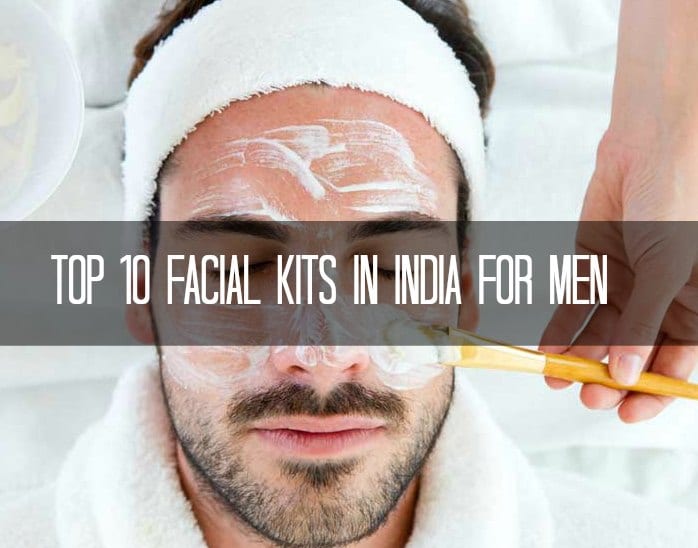 Top 10 Facial Kits for Men In India with Reviews and Prices
The last I checked, men needed pampering too. They go through the same dehydration, dullness and patchy skin and need TLC. Fortunately, there are so many products in the market that cater to men's skin care needs, but one special product is the facial kit. Say you're not comfortable going to the parlor, or you can't afford one, doesn't mean you can't use a facial kit at home! We've compiled a round up of 10 of the best facial kits for you guys that are available in India easily, which will give you clean, fresh and healthy skin. These kits are available both online and in stores to buy which makes hunting them out pretty easy.
List of Top Ten Men's Facial Kits in India:
VLCC Fruit Facial Kit
This is especially good for sensitive skin of young boys. It contains Vitamin E which treats any skin damage. It is not formulated with any harmful chemicals and provides the skin with natural remedies for the skin. This leaves your skin feeling fresh and revitalized. The mens facial kit consists of 5 products that contain fruits that target a specific skin issue. The facial kit contains a face scrub with papaya that helps remove dust, dirt, sebum and blackhead. The second is a massage cream with peach that keeps the skin firm and prevents wrinkles.
It also contains a green apple skin lotion that keeps your skin safe from the sun and removes blemishes. It also lightens age spots and acne scars. Once you're done with these steps, there is an amazing cucumber gel that hydrates the skin and softens it. An Orange Anti-Tan pack will make sure your skin isn't dull and helps prevent skin tanning. It costs 520 INR
.
2. Nature's Essence Papaya Kit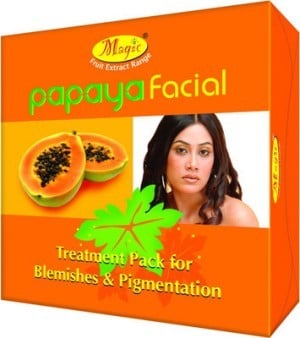 This is one of the most bud get friendly options for boys. A friend of mine tried it and can attest to it. One kit can be used many times so you get your money's worth. It leaves your skin soft and reduces blemishes, scars and acne when you're consistent about using it.  It makes your skin glow in as soon as 2-3 days. There's four products in the men's kit which include a cleansing cream, exfoliating scrub, anti blemish cream and di-pigmentation pack. It costs 150 INR for the entire kit
, AND you can use it quite a few times! A great deal.
3. Lotus Herbals Natural Glow Radiance Facial kit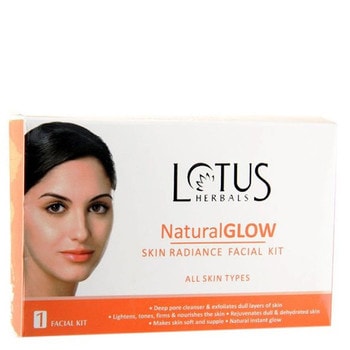 Ah Lotus Herbals! Our trusty friend that always has our back whether it's sunscreen, skincare or in this case, facial kits. Th is facial kit for guys is guaranteed to restore the glow to men's skin with the use of fruit extracts. Lotus is known for being easily available online and in stores around the country. This kit costs 625 INR and you get 5 sachets that you can use many times. This kid deep cleanses the skin and improves your skin tone.
This product contains a lemon and milk cleansing milk, an orange peel and alpine salt skin polisher, a wheatgerm oil and honey nourishment creme, a rejuvenating fruit pack and a cocoa-butter moisturizing lotion. The packaging is travel friendly and suitable for all skin types like combination oily skin, dry skin, etc.
4.  Nature's Essence Choco Facial Kit Mini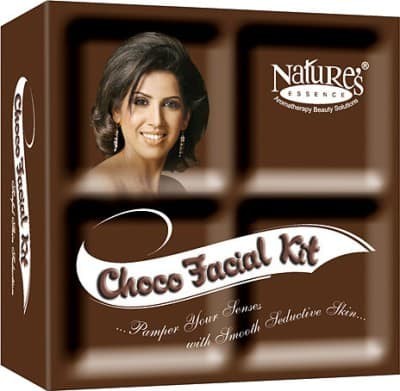 Who can deny the therapeutic powers of chocolate? Turns out, it doesn't just heal the heart, but it can heal the skin. Nature's Essence has once against struck gold with this choco face kit. This kit is also super affordable at 125 INR for 4 tubes. This contains a cleanser, scrub, cream and face pack. This is super moisturizing and sloughs out all the dead skin cells. This is especially good for premature ageing. All the ingredients on this list are natural. This is not suitable for men with oily skin.
5. Jovees Skin Rejuvenation Fruit Facial Kit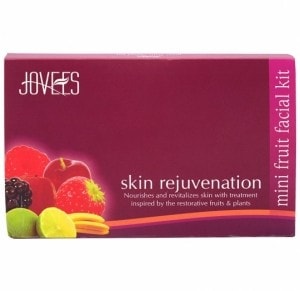 This fruit kit is wonderful! It is recommended that you men refrigerate this for 30 minutes before your facial begins for added benefits. This facial kit contains six products. each product is designed using herbs and avocado extract that helps rejuvenate the skin. A lot of fruit extracts are used in this kit such as papaya, apple, avocado and banana. The papaya fruit enzymes help to remove dull and dry, flaky skin. Banana and Avocado are very good for moisturizing and hydrating the skin, making it smooth and soft. Fruit facials nourish the skin using a combination of vitamins and antioxidants. One of the top rated facial kits for men in the market. This kit is worth 685 INR.
6. VLCC De-pigmentation Kit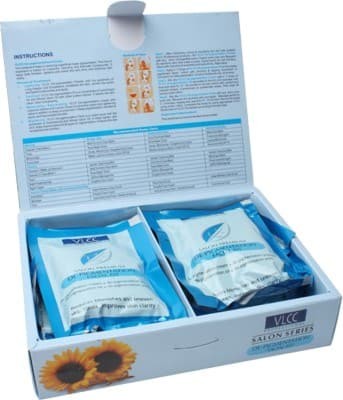 We all suffer from varying levels of pigmentation, especially when we're not consistent about our skincare and sunscreen. The damage in our skin can be resolved though! VLCC, which also works as a spa in India, has developed its own line of products so you can do your facials at home. This treatment uses liquorice, spirulina and aromatic compounds. It helps fade blemishes and helps even skin tone. This men's kit contains four 10 gram satchets that contain a de-pigmenting powder, oil, cream and facepack. You see instant results from one use. It costs 120 INR.
7. Shahnaz Husain 24 Carat Gold Facial Kit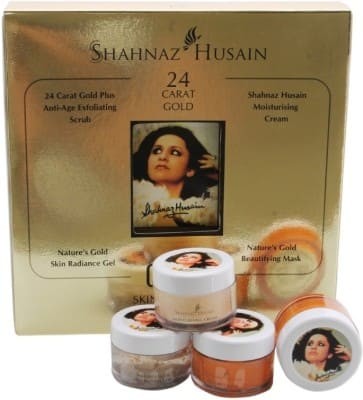 A holy grail product for some, Shahnaz Hussain has established herself over the years as the Indian voice of skincare. Her 24 carat gold kit is very popular. It contains 4 tubs which have an anti-ageing exfoliating scrub, moisturizing cream, skin radiance gel and gold beautifying mask. This facial mens kit help restore vibrance and radiance to the skin. It costs 599 INR .
8. Oxyglow Fruit Facial Kit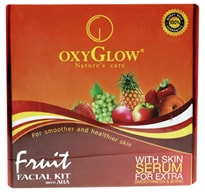 This product has 6 steps, but you'll be thanking your skin for it. It comes in really colorful packaging that lures you in, and a price tag of 150 INR that really seals the deal. If used sparingly, you can use it twice. This fruit facial kit is natural and has a bearberry fruit scrub, fruit enzyme cleanser, massage cream mask, serum and face cream. Oxyglow is also designed to help the dead skin cells come off and let your skin breathe, which is helpful if you boys have oily skin.
9. VLCC Party Glow Single Facial Kit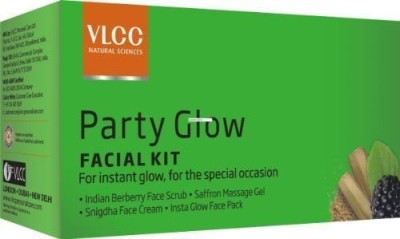 Prepping for a night out is hard when you work hard and long hours, and it shows on your face. This kit restores the glow to your skin and lets you face the evening with extra freshness. This product for men smoothens your skin and deep cleanses it. It also hydrates and moisturizes the skin making dull skin look luxurious. It is very easy to apply and take off.  Another best men's facial kit easily available in India. This kit can also be used multiple times and is priced very well. It costs 199 INR.
10. Adishi Gold Shimmer Powder Facial Kit For Men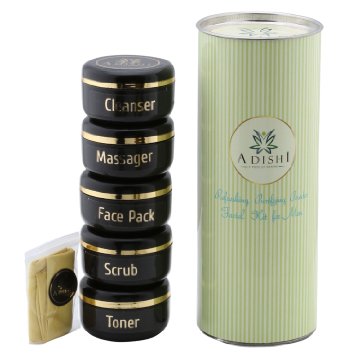 This product is 100% Herbal and contains no harsh chemicals! A win, because when it comes to our skincare, we want to get better not worse. It is unique because it comes in 5 tubs of powders that do different things. It contains a cleanser, scrub, toner powder, herbal massage powder and face pack powder. The toner helps to reduce the appearance of pores and restores the pH balance of your skin. The scrub gets rid of dead skin cells and helps restore your glow.
The powder cleanser is better than any harsh soaps you men use to cleanse. The massage powder helps to plump the skin and stimulate the cells. The face pack clears any impurities. This is a must have in your skin care regiment. It contains ingredients such as azadirachta indica, fuller's earth, Pterocarpus santalinus, Phyla nodiflora, Psidium sintenisii,Cassia auriculata, and Curcuma aromaticta.
And that's a wrap on this list of facial kits available online and in stores for men, we hope you found it useful. These kits can be used by girls too..we girls tend to use products meant for him and her anyway. Remember while this is important step of skin care, you don't want to over do and use facial kits constantly as they can dry out the skin. Keep your skincare routine streamlined and simple, that way you're not tempted to skip steps. Also, make sure to drink a lot of water. Thank you for reading, and please comment below on any facial kits that you have used that has worked wonders.
Read More:
Which is your favourite facial kit? Share your reviews with us.