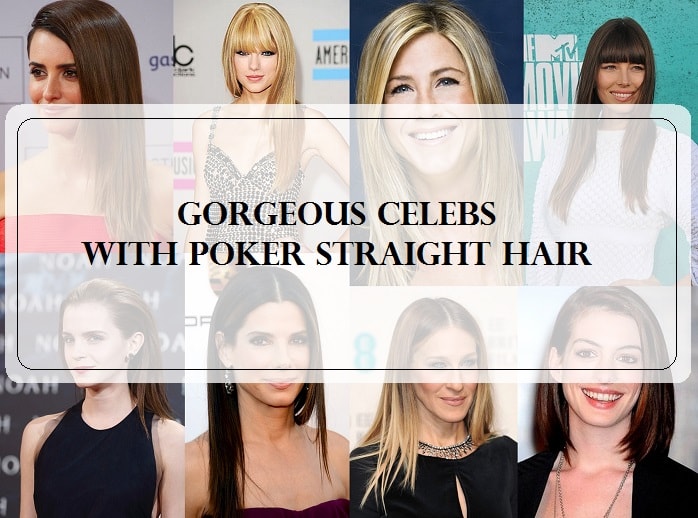 Top 10: Best Celebrities with Fine Poker Straight Hairstyles
The one hairstyle that never grows old is the straight hair. Now it's a common knowledge among us that girls who have straight hair desire those bouncy curls but the girls with the curly hair, dream of nothing but straight flow-y locks. Sometimes poker straight hair can be difficult to pull off with certain face shapes, for example square face. On lazy Sunday mornings, I love flipping through Hair magazines and admire the straight poker hair models and hollywood celebrities pull off so easily. From sleek hairdos, to those very elegant pony tails, the chic and sleek bobs and fringes or bangs! So I compiled a list of 10 best celebrities with poker straight fine hairstyles.
List of Celebs with Poker Straight Hairstyles
Penelope Cruz: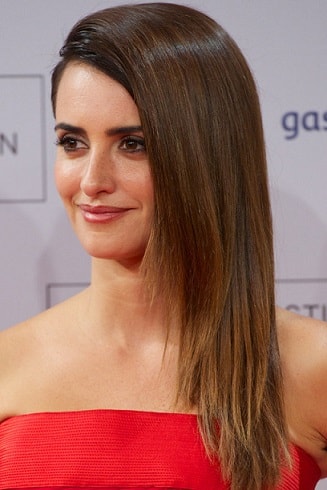 Over the years, Penelope Cruz has been sporting sleek straight long tresses and blunt bangs for some time now. Seldom did we see a different hairdo but those were a treats as well. Her delicious waves and retro hairstyles were drool worthy but the actress can sport the fine poker hair for as long as she wasn't as we are not complaining! Poker straight hairstyle look so jealous worthy on her and she flaunts it like a pro!
Taylor Swift: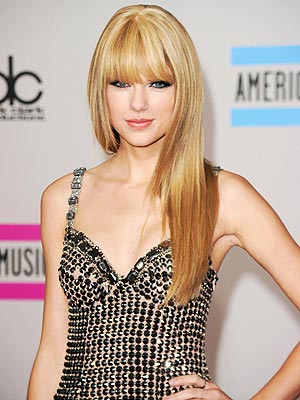 Her poker straight hair and blunt bangs have become a household staple for Taylor Swift. For years now she has been sporting the same hairdo and it never looks old on her. It has become her signature look just like her red lips. Very recently at the Grammy Awards, we saw her with in a smaller poker straight bob with heavy blunt bangs and it look so very flattering on her.
Sandra Bullock: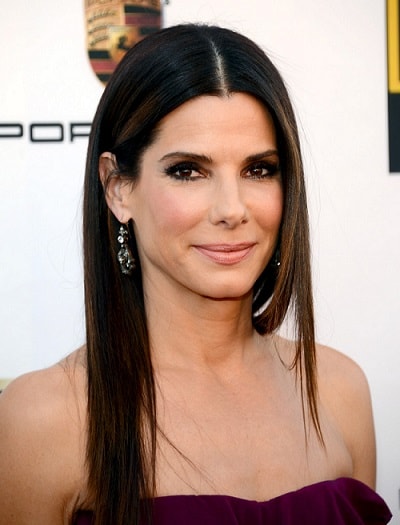 Poker straight hair can be very risky for square faced and often beauticians try to warn their customers about it. However, how marvelously does Sandra Bullock carry of her straight tresses? Her long wispy hair makes us all want to run to the salon and get it styled just like that. Sometimes parted in the middle and sometimes on the side, the straight hairstyle look looks absolutely timeless on her.
Jennifer Aniston: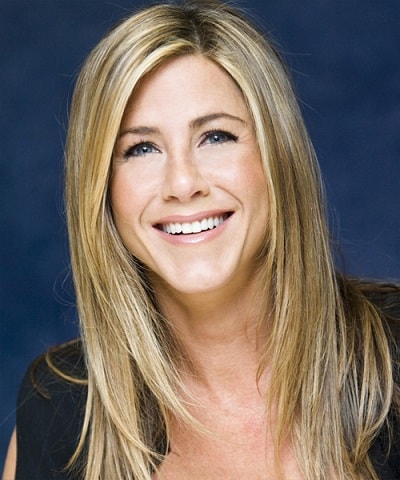 When Rachel Green entered the "Central Perk" coffee house in F.R.I.E.N.D.S, everyone instantly fell head over heels in love with her voluminous shoulder length fine straight hair. As seasons passed in Friends, her hairstyles began to change but she stuck to those long wispy tresses of hers. Even off screen and on other movies, Jennifer Aniston sports her classic poker straight hair. Even in most award shows, the actress flaunts her luscious tresses to the max!
Emma Watson: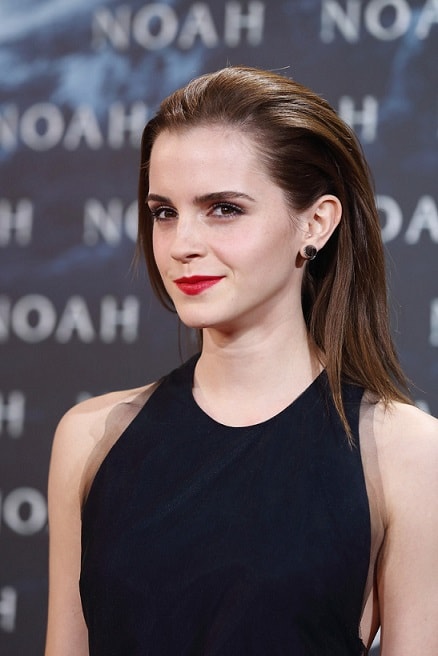 We adored Hermione and her wild bouncy curls but once off screen and off set, Emma Watson took charge and tamed those bushes! Her fine straight hair looks absolutely incredible on her and is so flattering. Emma Watson's poker hair hairstyle is my all time favourite and boy can that girl rock it! In her recent movies such as The Bling Ring, Perks of Being a Wallflower and Noah, she was seen sporting her shoulder length straight hair and it steals my heart!
Sarah Jessica Parker: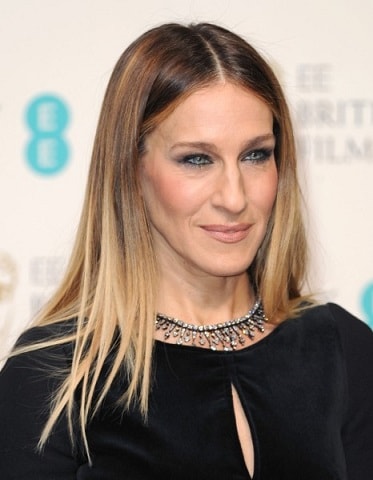 Carrie's voluminous curls were head turners all throughout the Sex and the City series but she treated us once in a while by portraying her hair in fine straight bob hairdos which were an absolute show stopper for us. Now off screen Sarah Jessica Parker is very often seen in her middle parted cookie hair coloured poker straight hair and it look so fabulous on her!
Mila Kunis: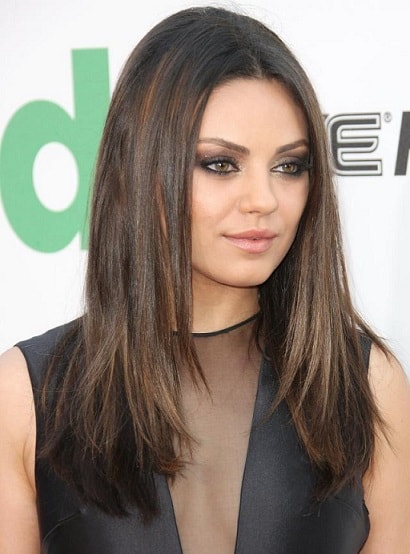 As far as I can remember, I can only remember seeing Mila Kunis in straight hair. Her straight hair has several layers to tone down her sharp features and adds a lot more softness to her face. Poker hairstyle looks so good on her because she carries it just rightly with the right outfits and the right make up!
Jessica Biel: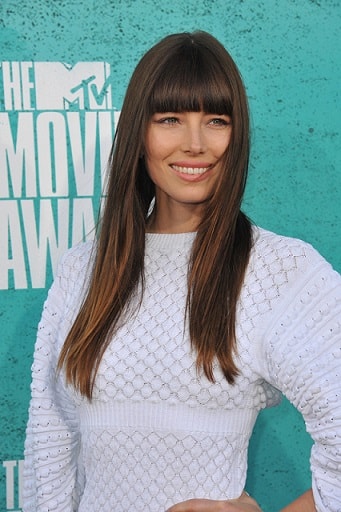 Jessica Biel often tends to add soft waves or curls at the end of her hair to give it a more elegant and soft look but we absolutely love it when she comes out in poker straight hair and blunt bangs. She did not sport bangs for long but her center parted fine hair with layers just below her jaw line adds so much softness and charm on her face.
Anne Hathaway: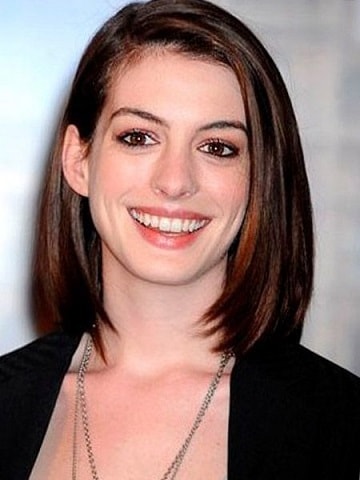 Let's take a moment here and remember her portrayal of cat woman in that body tight leather suit and silky and sleek straight hair cascading around her shoulder like a waterfall! Anne Hathaway is my idea of ideal person to have straight hair. Even when she went for a pixi haircut, her hair remained poker straight and she looked like a fairy dressed in gowns on the award ceremonies.
Nicole Kidman: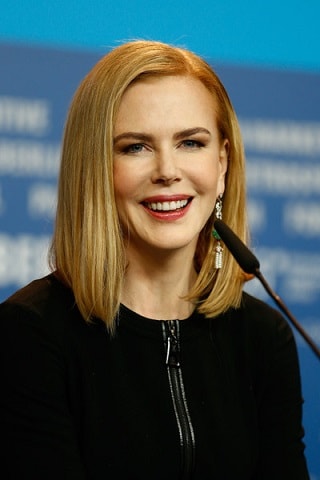 I have always admired Nicole Kidman and have always envied her gorgeous and silky straight hair. Her hair always looks Vogue ready and wouldn't be surprised if hundreds of dollars are spent looking after it. Her beautiful face is just amplified 200 times thanks to her very picturesque poker hair!
Image credits: 2, 3, 4, 5, 6, 7, 8, 9, 10, 11
By Contributor: Ananya
Who is your favourite celebrity with fine straight hair? Share your reviews with us.