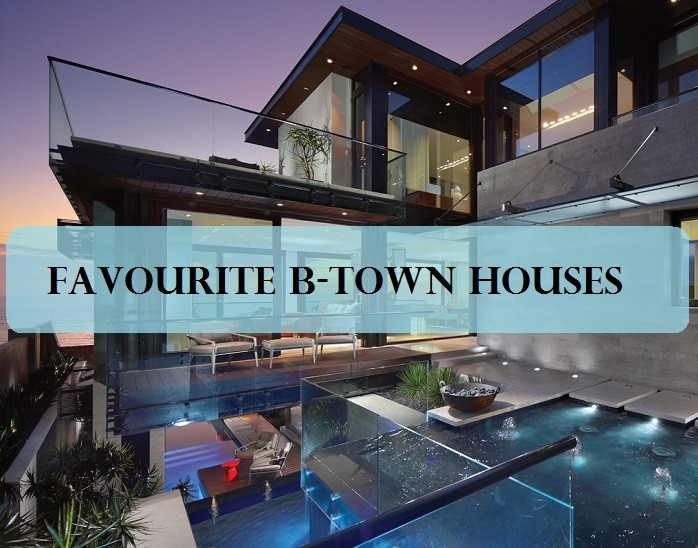 10 Best Beautiful Homes of Bollywood Stars and Addresses
By Contributor: Uzma
A house is not just a place to live in, it consists of those laughters and tears shared, it echoes all the beauties and reminiscence of things past. This is what makes a house. Whether it's our or someone else, it's equally precious. And when that someone else is a bollywood celebrity then that house becomes a little more than special. It defines the luxury that celebrities have around them. It also spells their taste and interiors surrounding them. Let's have a look at the top 10 beautiful bollywood stars homes and residences with addresses in case you are visiting Mumbai and want to see for yourself. You wont be allowed inside but one can always dream.
Top 10 Bollywood Celebs Homes
MANNAT: Shahrukh Khan's Home
Mannat means wish! Such a thoughtful name. SRK's house can be defined with an adjective only suited to him: KING. It is grand in most simple words. It is anything but a humble abode! The whole house is designed and decorated by Gauri, which is a result of years' sourcing and travelling around the world. Mannat has 5 bedrooms, multiple living rooms, library, gymnasium and everything else which a house needs. Mannat has been given the status of monument, which means it'll never be demolished.
The King Khan's Address: Mannat Bunglow, Bandra Sea face, Carter Road, Bandstand, Bandra (West), Mumbai 400050.
JALSA and Prateeksha of Amitabh Bachchan
It should have been mentioned first given the aura of Bachchans but I am a Khan fan, so can't help it. Nevermind! Jalsa is the place where Amitabh Bachchan with his wife, son Abhishek and daughter-in-law Aishwarya resides.  It is located in Juhu, Mumbai. Its elegantly done interior is decorated with earthy colours like brown, beige and mustard. It is reported to be registered on the name of Jaya Bachchan. They also have other house named Prateeksha.
Address: Jalsa: JVPD scheme, Juhu
Prateeksha: 10th Road, JVPD scheme, Juhu, Mumbai.Nearest station Andheri (W).
GALAXY APARTMENT: Salman Khan's Home
Yes! This where the Bhai resides (only for all the guys out there, because dare you call him any girl's brother). Salman has been living in this Apartment since his childhood. He shares his apartment with his parents and sister Arpita till she didn't get married. On special occasions and festivities, Salman comes out in the balcony to wave and show gratitude. People linger around here just to get a glimpse of the star. Salman got his apartment renovated in 2013.
Address: 3, Galaxy Apartment, Carter Road, Bandstand, Bandra (West), Mumbai 400050
Beau Monde Towers: Deepika Padukone's Home
On the 26th floor of this Apartment lives reigning queen of Bollywood: Deepika Padukone. Earlier she had a house in Pali Hill as well. The Apartment has a terrace, four bedrooms, three parking lots, tennis and badminton courts etc. There was a rumour that it was a gift by her then boyfriend Siddhartha Mallya, but Deepika cleared the air saying she is an independent woman and doesn't need a man to buy her a house. That's why I love ya!
Earlier address: B/Cozihom, Pali Hill, Bandra (West), Mumbai 400050
Fortune Heights: Saif Ali Khan and Kareena Kapoor's Home
This is where our Saifeena posses two Apartments. Their flat is on the tenth floor and Saif's office is also in the same building. Kareena and Saif got married at the same place. Reportedly Saif also has purchased four floors in the building opposite to his present residence in Fortune Heights. The reason being 'he likes to live in spacious suurroundings'. Kya Baat Hai Nawab Sahab!!
Address: Belscot, bungalow number 5, Lokhandwala Complex at Andheri
Raj Classics: Priyanka Chopra's Home
the multi talented star of bollywood: Priyanka Chopra owns 5 flats on the 6th floor of 'Raj Classics' in Versova, Mumbai. Her friend Susanne Roshan did interiors of her house. She bought this house so that she can enjoy her parents' company and her own privacy both. Her alleged ex-boyfriend Shahid Kapoor lives in the same building as well.
Juhu Tara Road: Vidya Balan's Home
Vidya Balan is the most admirable celebrity of Bollywood in recent times and she definitely has got one of the most admirable residence in Mumbai. She has got several flats there but her residence is in a sea facing posh flat at Juhu Tara Road. By the time Vidya and her husband Siddarth moved into this flat after their marriage it was decorated and ready to use.
Krishna Raj: Ranbir Kapoor's Home
self confessed mama's boy Ranbir Kapoor lives with his parents in his ancestors' house. This house was bought by his grandfather Raj Kapoor and it is situated in Pali Hill. Ranbir has also invested in a duplex apartment on Hill Road, Bandra. Demand of the situation, we must say. But he has no intention of moving out of his parental house.
Address: 27/Krishna Raj, Pali Hill, Bandra (West), Mumbai 400050
Penthouse in Mumbai: John Abraham's Home
the luxurious villa in the air is a possession of smoking hot John Abraham. His architect brother has designed this spacious apartment for him which combines two levels and a terrace. This apartment is so beautiful that it will literally take your breath away, just the way John took ours in Dostana. Its master bedroom has a direct view of Arabian Sea. Can you imagine how beautiful it would be to wake up in front of sea everyday? (swoons)
Fareeda Apartment: Aamir Khan's Home
Mr. Perfectionist, Aamir Khan resides here in Bandra. Earlier he lived in his ancestral house in Pali Hill called Bella Vista Apartment. He decided to relocate when his Pali Hill house went under renovation but after sometime he purchased it. He lives there with his wife Kiran and son Azaad.
Address: 11, Bela Vista Apartments, Pali Hill, Bandra (West), Mumbai 400050
Image Source 1, 2, 3, 4, 5, 6, 7, 8, 9, 10, 11
Which is your favourite bollywood celeb home? Share your views with us.