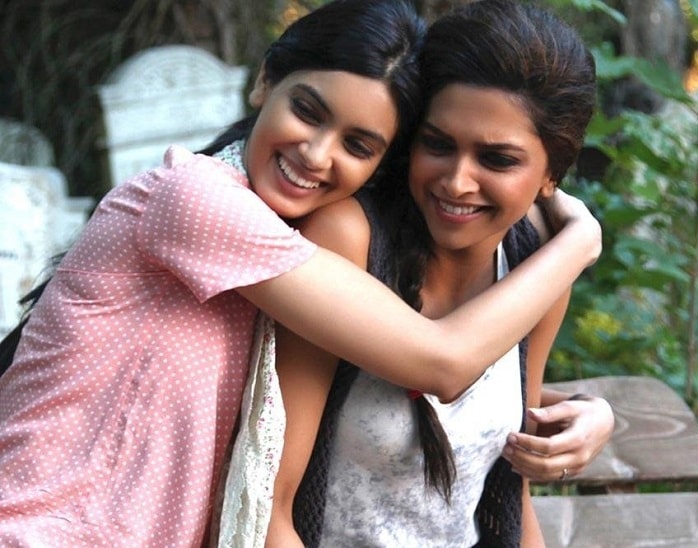 Top 10 Bollywood Celebrities with Long Hair
Hair is perhaps one of the most important of beauty-accessories. It defines youth and good health, giving the face a 'frame' to fall up on. A thick head of gorgeous long locks tumbling down is the perfect picture of the fairy-tale beauty, where it was always specified that the 'princess had very long beautiful hair…' the rest just follows. Now, since Bollywood in our country is the ultimate portrayal of beauty and all that stands for it, let us take a peek at some of the best hindi film celebrities who adorn long silky hair with oomph. You would be expecting only gorgeous bollywood actresses in the list but wait..there is a handsome surprise for you at the end!
Human's preference to long hair is still unknown. While, it is surely visually appealing, however, various theories have their own logical explanations. For men, long haired woman sends them visualizing (as usual) to grabbing a handful of locks during lovemaking! For women, a man with slightly longish hair sends the image of a 'rugged-hard-to-tame-aggressive' male (who is exciting in bed). Trust me these are facts and I am not kidding. Lets get started with our list now.
List of Ten Celebrity Long Hairstyles in Bollywood
1. Sonam Kapoor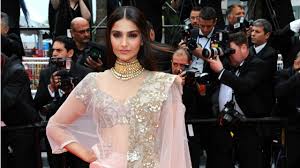 The ultimate style Icon that India has to offer in recent times and the undisputed fashionista; Sonam Kapoor sure is what it takes to define all the dimensions of beauty. How else do you think does she pulls-off all those elaborate hairstyles in the first place? Be it poker straight hair, mid-partitioned long hair at the recent Cannes festival or the Vintage-inspired stylish hair for Vogue cover, the lady has done it all. In my humble opinion she has the best hair in the bollywood industry.
However, she has proved that having beautiful healthy long hair does not mean you leave them wild. There is so much you can do with your locks to compliment the outfit of the day! She is the single celebrity out there who turns out with 'the perfect' hair that goes in sync with her dress.
2. Rekha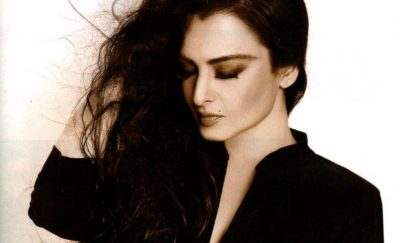 Can you ignore her? Remember that sequence from 'Khoon Bharii Maang' where Rekha comes riding on a Horse with her long, Black hair flying wild with vengeance? Rekha still manages to challenge just about any of the Bollywood girls today with her style and beauty. Her heritage jewelry, rich Kanjeevaram sarees, the Red lip and the gorgeous cascade of Black messy hair; that is Rekha personified. A Red Carpet stunner, Rekha still is known just as much for her gorgeous long locks as she is for her beauty.
3. Priyanka Chopra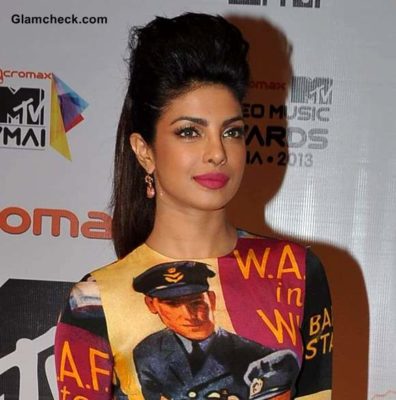 India's latest import after the Decimal, Zero and Butter Chicken. Priyanka Chopra sure has made us proud. But that is not why I have (necessarily) listed her here. This voluptuous Indian beauty, with her Dusky skin, oodles of talent and long, gorgeous hair, is a complete package of all things from the 'fantasy land'. Usually, she adorns her long locks in a typical wavy-style with slight curls, giving her the bounce that her signature walks exudes. However, sometimes Priyanka goes overboard with bed hair and is never afraid to experiment with elaborate hairstyles, like at the MTV awards.
4. Deepika Padukone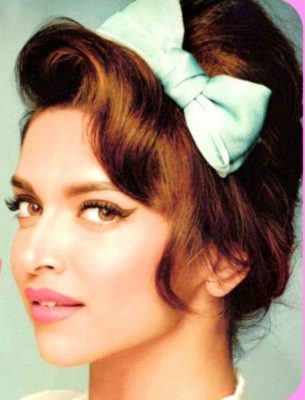 Deepika Padukone has her South Indian roots to thank to for her gorgeous mane of wonderful long, thick hair. Her statuesque height goes well with her top-knots that she usually adorns. However, mostly we catch her freely exhibiting her beautiful long hair in all its natural glory. Be it the wild and adventurous haired Veronica in 'Cocktail' or the Shanti Priya with the Retro BeeHive Bun in 'Om Shanti Om', my favourite actress can pull-it off any hairstyle which way.
5. Kajol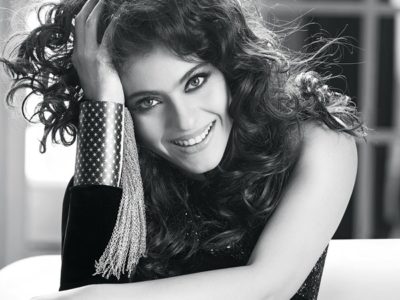 Popular for always indulging in a fight with her makeup/stylist for trying to tame her gorgeous long hair, hot mommy Kajol mostly got her way as she just wanted everyone to 'leave her hair alone!' We have mostly seen the bollywood beauty Kajol both on and off-screen with her long hair left at its natural-course; and she was brave enough to do so with so much of confidence. The chirpy, curvy actress with talent and dusky skin was well-known to break all the rules.
Be it her choice of films, her uni brows or her bold statements; she is often spotted with her free spirited self breezing through the length and flow of her long, wild locks.
6. Dimple Kapadia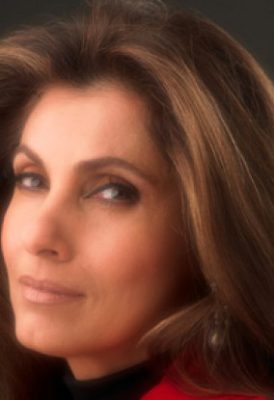 '…zulf ghaneiree shaam hai kya?….Saagar jaise aankhon waali ye to bataa tera naam hai kya…'
And so, our very own Bobby, the Indian version of 'Lolita' ruled all hearts. Dimple Kapadia, with her oh-so-innocent sex appeal, her short dresses and her long hair was and still is what you truly call the mysterious woman. Her crown of gorgeous mane, luxuriously flowing and falling suggestively only emphasized her charms. Dimple Kapadia's Golden-skin and lustrous dark-Brown long hair cupping her heart-shaped face gave her a rather a feline-appearance' She has aged well and her long hair is still her sex-appeal. Undoubtedly one of the top long hair actresses in bollywood .
7. Jacqualine Fernandes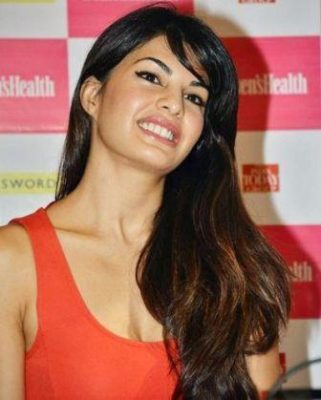 If whipped-cream were a person, it would surely be Jacqualine! She is your luscious, curvy, ultra-cute girl with shiny long hair, often let-loose. Jacqualine rocks all long hairstyles with equal oomph; be it wild-loose locks, cornrows or even the dread-locks, the girl has done it all thanks to her long, thick hair. Often she is spotted wearing evening gowns and her hair flowing in smooth falls, showing-off just how important long tresses can be to a woman!
8. Karishma Kapoor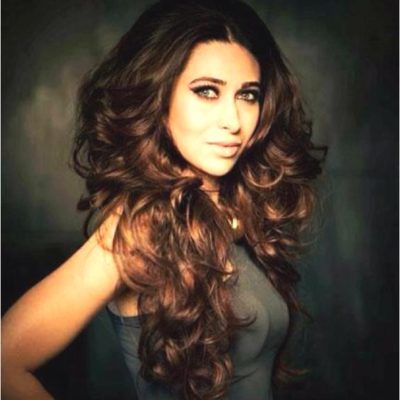 '…karisssmaaa cut chahiye…'  the average-looking girl would ask at a beauty parlor and the beautician would snip-away her scissors with such affirmation that would surely make any one actually believe that she could look like Karishma Kapoor with just a hair-style! Coming from a small-town myself, I know the rate of Bollywood worship out there, which pales down the star-obsessions in big cities. Dil to Pagal hai happened and you could spot 'Karishma Kapoor' in every girl's style.
Thanks to Manish Malhotra, who miraculously transformed KK from her 'Androgynous' avatar to the long-haired Barbie doll of bollywood overnight. Her soft-long Barbie-like thick waves would bounce away at her butt, thus, making us realize that having the 'right' hair goes a long way in accentuating our personality. This Bollywood actress with long hair rocks all hair styles with equal ease, be it top knots, beach waves, curls, poker straight, etc.
9. Kangana Ranaut
She got 'Curly' back on the map. The hindi star who had the ease coupled-up with determination to carry her hair-type just the way it is. Kangana Ranaut is your definition of the un-touched , raw-beauty; remember her in Gangster in a song-sequence where she disappears behind a tree with just a white bed-sheet wrapped around her and her naturally curly long hair suggesting the rest?
The star sports her curly-long luxurious locks bouncing away in happiness in the various hair-care brand endorsements as well, giving the curly-haired girls the encouragement to wear their hair, the natural way.
10. John Abraham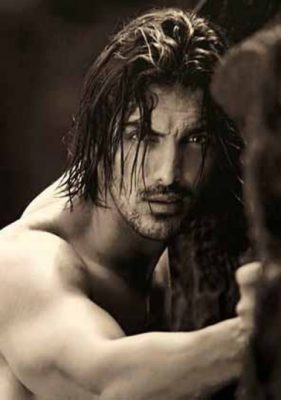 The only male on the list! (Can I please..? I still lust him you see) John Abraham's debut was not just in the movies, but he also had all the boys out there growing their hair as well. Who can get over the tall, handsome, Bollywood fresher with a goofy-walk and longish hair? Johnny Boy was soon lusted after, got hitched with Bipasha Basu and got all the more desirable.
The reason why the long hairstyle worked well for John Abraham is mainly because he knew how to wear it well. As for the boys, be sure to style your long hair well and also take care of them if you wish to get the Johnny Boy look!
And that's a wrap dear people! So, those of you who have lustrous long hair go ahead and flaunt them; those of you with no-so-long hair, well, go ahead and grow them if you wish!
Image Source:2,3,4,5,6,7,8,9,10,11
Read More:
Who is your favourite celebrity with beautiful hair? Share your reviews with us.