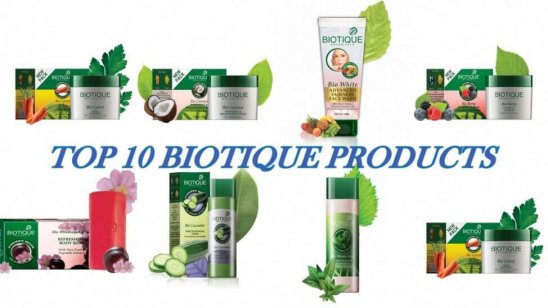 Top 10 Biotique Products in India: For Face, Skin, Hair Care
Biotique is one of the leading natural cosmetics brand in India. Biotique is the brand which I can buy without worrying about any side effects. Biotique has been the 'go-to' herbal brand if I need to buy something without worrying about the cost and the quality. The costs are reasonable and the products are all natural, so what more does a 20 year old need! Before, biotique products were available only in selected drugstores in India, but nowadays I can find their basic skin care and hair care products in local supermarkets and online too! I'm totally in love with it and had a hard time coming up with my list of top 10 favorites products for face, body, hair, skin from Biotique. I've also included products for both dry and oily acne prone skin to make it a holistic list for every herbal products lover. After a lot of deliberations, here are my biotque reviews and must haves from it.
List of Ten Best Biotique Products for Face and Hair: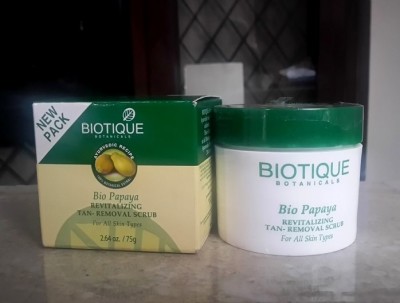 This is the perfect scrub that I have ever used, which suits my oily combination skin perfectly. It is a more of the grainy type and is slightly rose in color. On applying it in the face, the grainy particles do not feel so hard and helps in improving my blood circulation, thus providing immediate brightness. It also makes the skin clear and soft. It helps to remove tan and reduces blackheads. I use the biotique face scrub once or twice a week and I must say that the results are fairly visible. This is one scrub, which I'm never willing to replace, ever! This product ranks number 1 in my list.
Cost: Rs.199 for 75gms
Biotique Bio Coconut Whitening and Brightening Cream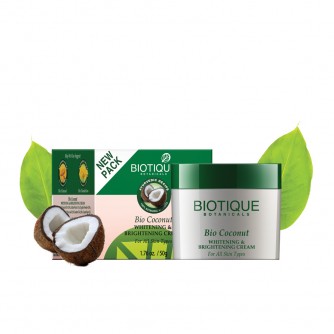 This one has extreme mixed reviews from beauty bloggers, but for me, this is like the magic potion! Though this is a day cream, I used this biotique face cream as a night cream and I could considerably see my dark spots fade away and in the morning, my face would be a lot brighter than how I looked in night! Magic potion, right?! This is in a creamy, white formula, which leaves a kind of a watery trace behind for combination skin, like me, so that is the reason I used it a night, but this is sure worth that effort! Dry skinned beauties can flaunt in the day for a brighter, well moisturized skin.
Cost: Rs.199 for 50gm
Biotique Bio Henna Leaf Shampoo and Conditioner
A perfect shampoo for smoother and silkier hair. It also adds a bit of healthy color to the hair. Those who use henna for their hair, this is a must-have biotique shampoo in India. Even for those with normal hair, it provides a shiny, lustrous look and it also adds a bit of volume to the hair and also prevents premature greying. I just love the way it colors the hair to a rich-looking brown and gives such a smoother finish!
Cost: Rs.99 for 120ml
Biotique Bio Cucumber Toner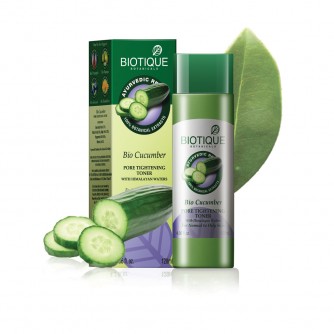 Another bestseller from Biotique. This is used to tighten and clean out pores. A single swipe of cotton with cucumber toner leaves the skin fresh. Any makeup applied on top of it stays on for a longer time. Only very little quantity is required and so can be used for a long time. Sometimes I used it in middle of a day spent outdoors, just to remove the dirt from the face and to give a brighter and cleaner look.  To get such an effective toner at this price is really a bargain!
Cost: Rs.175 for 120ml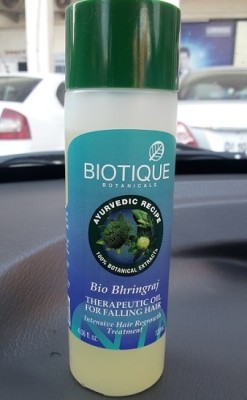 Bhringraj oil is one of those rare oils which works wonders! It reduces hair fall and increases hair length and on continuous use, it improves the volume of the hair. It also helps to reduce greying and strengths scalps. I completed a bottle of it and (voila!) I could feel the volume of my hair to increase considerably! I'm definitely adding it to my weekly regime. If more frequently used, it gives more wondrous results! One of the best biotique products in India.
Cost: Rs.159 for 120gm
Biotique Bio Berry Lip Balm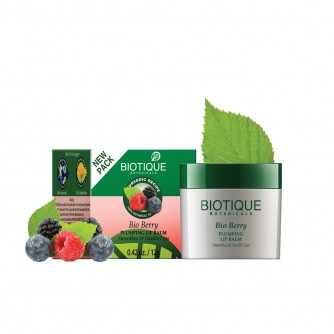 This always comes to my rescue on a 'chapped lip' day! It is pink in color and when applied, stays on for about 4-5 hours, It keeps the lips moisturized and makes the lips look like a bubbly pink color. Sometimes I use the biotique product to make it work overnight to get naturally colored pink lips for the next day. This is one of the must-haves I carry along every day to give a subtle and natural looking pink lips.
Cost: Rs.149 for 12gm
Biotique Bio Carrot 40+ Sunscreen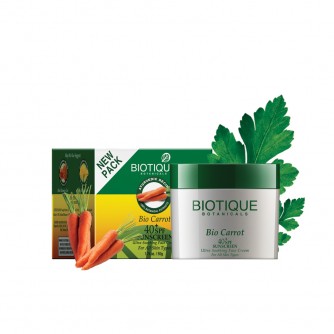 This is a favorite sunblock for not only me, but for many who have used this sunscreen. First, the consistency is a little watery, but when applied it gets absorbed into the skin quickly without leaving any white traces behind. Second, the smell! A mild and pleasant smell, which is very inviting. Third, the sunblock contains both UVA and UVB protection. It can be used in face and body and it leaves the skin smooth, which lasts about 5 hours, based on the sun exposure. Also, since the biotique sunscreen is not thick, I can easily apply even when I'm in a hurry, without bothering about any white patches.
Cost: Rs.220 for 50gm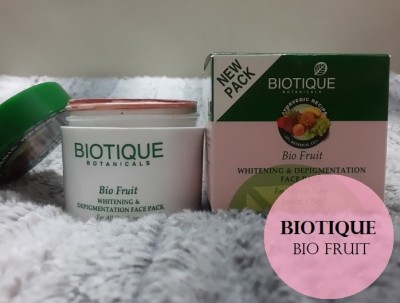 Just one word to describe it, 'Wow'! A perfect biotique face pack to get instant effects. I normally use it just before going out for a function to give me the fair and bright skin! Never before did I really believed products to show effects so quickly. For last minute plans, I don't worry about the way I look. Just 20 minutes for the pack and I get a visibly brighter and clearer looking skin that everyone asks me whether I did some facial in parlor! No exaggerating here! This is not only for me, my friends who used it also unanimously agreed to the marvelous effects of this pack. A top selling biotique product in the market. This is a pink looking thick pack, with a different smell which borders on pleasant. But who would mind it, if it gives such results, right?
Cost: Rs.199 for 75gm
Biotique Bio Himalayan Plum Soap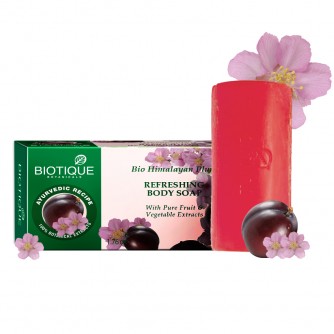 There were several soaps of Biotique in the store and I bought a small pack in all of the varieties available, and guess what! All were closely competing with each other for the Top 10, but finally Bio Himalayan Plum won me over with its texture and smell. I can see my skin becoming smooth and supple and increase a tad bit in the color too! Also, it smells too good and inviting! It is creamy in texture, but it does not make the skin feel oily, but at the same time retains the moisture level in the skin. The soap is made easier to handle and feels so soothing to the skin.
Cost: Rs.64 for 100gm
Biotique Bio White Advanced Fairness Face Wash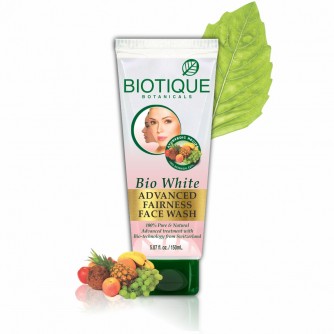 This is designed to improve the fairness of the skin. With ingredients like lemon, papaya and tomato, it mixes the perfect combination for all that is needed for fairness. The biotique face wash is gel based and does not feel sticky or oily on the skin. It does improve the skin tone and also gives the face an overall brighter look. I have the small tube as a carry on to give my face a fresh look now and then. I also observed that, on continuous use, it seems to reduce the dark spots. Overall a better product for a fairness face wash.
Cost: Rs.55 for 50ml
A lot of these products have detailed reviews on VNA. Which one of these are your favorites from this list of skin care and hair care biotique products? Share your experience in the comments below.
Read More:
Which is your favourite Biotique product? Share your reviews with us.