Top 10: Best Sunscreen Lotions for Dry, Sensitive Skin in India
We often have a wrong notion that sunscreens are something that are to be used only in the summer months when the sun rays are scorching but it is actually important to use sunscreens even in the winters when you don't feel the sun's heat stinging and yet it does to your skin all the harm that you must have actually dreaded like anything. In winters most of us suffer from dry skin. So sunscreen lotions are better preferred instead of sunblock creams. This post also talks about sunscreens for men which are meant specifically for their hard and sensitive skin. So now lets move to the list of the best sunscreens available in India for dry skin along with prices.
In the winter month's most of us love basking in the sun; we love to warm ourselves up in the mild heat of the sun to beat the chills. No matter how mild the heat of the sun is in the winters, yet that doesn't stop the UV and Infra red radiations of the sun from playing havoc with your skin. The result invariably is skin damage such as fine lines, wrinkles, 'photo aging'. So don't forget to wear a broad spectrum sunscreen even in the winters when you are out in the sun. Here are some Best sunscreens for winters listed.
List of Best Sunscreens for Dry Skin
Lotus Herbals Sandalscreen

This fragrant refreshing broad spectrum sunscreen from Lotus Herbals with SPF 40, 60 is a great sunscreen to fight skin damage due to sun exposure and skin imperfections due to over-drying. The honey, Aloe gel, glycerin in it act as  superb moisturizer while sandalwood extracts soothe your skin and relieve and reverse the effects of sun burns plus it will give the face a natural glow
as well. The holy basil extracts act as an excellent skin toner plus help in cell regeneration thereby repairing any sort of skin damage caused due to sun exposure or pigmentation. The cuscus grass extracts too nourish and refresh your skin thoroughly giving you a soft flawless skin this winter. This is a non greasy sunscreen, suits best for winters.
Price of Lotus Herbals Sandalscreen In India: Rs.195 for 80ml
Himalaya Herbals protective Sunscreen Lotion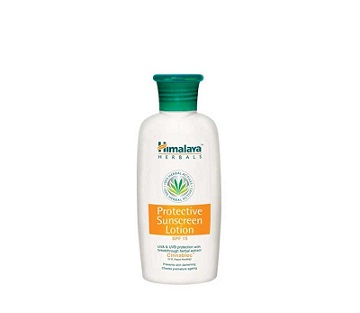 The brand Himalya has always been known for its purity and effectiveness and their sunscreen will also not disappoint you. This thick textured sunscreen lotion from the reputed Himalaya Herbals offers your chapped dry skin in the winter months optimum nourishment, moisturizing the skin surface thoroughly. The key moisturizing agent is Aloe extract while the apple extracts check premature aging of the skin and degeneration of the skin cells. The Aloe extracts will also help you get rid of any stubborn blemishes. It comes with SPF 15 offering you protection against sun tanning, sun burns.
The price of Himalaya Herbals protective Sunscreen Lotion In India: Rs.200 for 100ml
L'Oreal Paris New Sublime Sun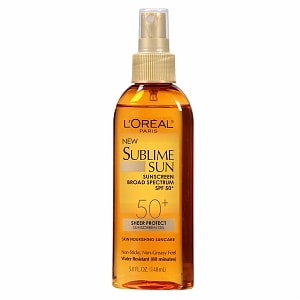 The brand is L'Oreal, so you really count upon on this sunscreen lotion. This quick drying advanced sun protection formula from Loreal Paris will take full proof care of your delicate skin this winter. It's light in texture and gives a sheer finish. It is non greasy, so you no need to worry about any oil formation. It aptly moisturizes your dry skin with its content of Vitamin E. It's Lime extracts will also help you remove blemishes from your skin. It is also waterproof which will not move even a bit even if you step into the water or will be drenched in rain. Hence its one of the best sunscreens for dry skin.
VLCC Moisturizing Sun Block Cream (SPF 30)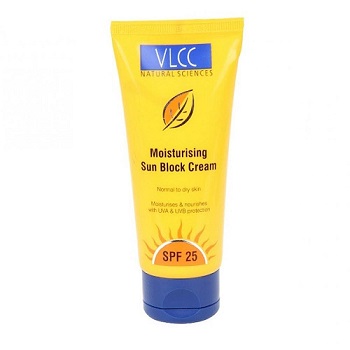 This Sun block cream from VLCC will indeed block the harmful ultraviolet radiations and infrared rays of the sun away from your skin. At the same time the jojoba oil, wheat germ oil, Evening Primrose oil, Aloe extracts in the cream offer optimum nourishment to your chapped dry skin in the winter months, moisturizing skin thoroughly. Also the sandalwood extracts do away with dry skin irritations if any.
Price Of VLCC Moisturizing Sun Block Cream In India: Rs.195 for 100ml
Lakme Sun Expert Fairness UV Lotion (SPF 30)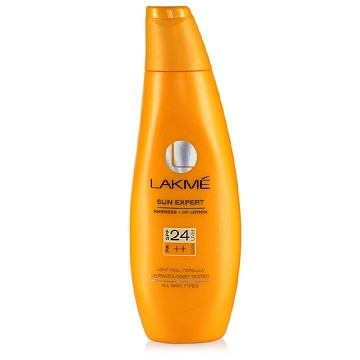 This is another great sun screen for the winter months when your skin is dry and dull. Its hydrates your skin to the innermost layers with the help of its nourishing cucumber extracts, Vitamin B3 and lemongrass extracts. These ingredients are high in antioxidants which will help balancing the pH level in your skin controlling excess of sebum. It will retain moisture all day long into your skin making it look naturally soft and fresh. Hence your dryness, pigmentation, age spots, blemishes issues will aptly be addressed. The SPF will check sun burns, sun tanning, 'photo aging' giving you a flawless baby soft skin this winter. It can be a great pick if your are going to buy a sun screen.
Price Of Lakme Sun Expert In India: Rs.375 for 200ml
Lacto Calamine Sun Shield for Dry Skin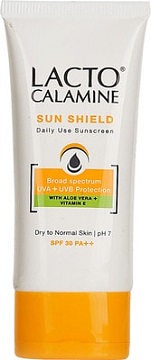 When you are exposed to both sun and cold dry winds in the winters, your skin needs extra protection. Give your skin the shield of Lacto Calamine Sun Shield. This broad spectrum sunscreen with SPF30 PA +++ offers 100% sun block to your skin against the dangerous skin damaging radiations of the sun. While your dry skin too is thoroughly moisturized by the Aloe extracts, Vitamin E that make your skin smooth and soft and free from pigmentation, blotches, dark spots or signs of aging.
Price Of Lacto Calamine Sun Shield for Dry Skin In India: Rs.199 for 50ml
Kaya Daily Moisturizing Sunscreen


Use this sunscreen from Kaya to protect your skin from the harmful solar radiations and at the same time moisturize skin thoroughly offering all the needed hydration for the cold dry winter months. You can use it daily under your make up, it won't make skin greasy so you can be relaxed after wearing it. Can also be used by men.
Price of Kaya Daily Moisturizing Sunscreen: Rs.890 for 50ml
Ayur Sunscreen lotion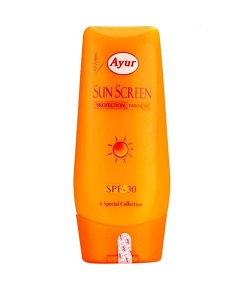 This Sunscreen lotion from Ayur is best for dry patchy skin. It offers great sun protection at the same time thoroughly moisturizing your skin. It's enriched with Vitamin E, Wheat germ Oil to give your dry skin in the winter optimum nourishment and suppleness while the SPF 30 fights issues like sun tanning, sun burns etc. It is a great herbal sunscreen which will not harm your skin in anyway.
Price Of Ayur Sunscreen lotion In India: Rs.125 for 100ml
You must always be careful of what you apply on your skin, it is one of the most sensitive organs of your body. According to the season you can choose the SPF plus you should always look for the ingredients while choosing any beauty or health care product. I hope I could effectively guide you to choose a good sunscreen according to you requirement. All Of the above sunscreens are available on top online portals like Nyka, Amazon.in, Flipkart, Snapdeal etc.
By Contributor: Moupee
You May Also Read:
Review Of Lotus Herbals Safe Sun UV Screen Matte Gel SPF 50 
Review Of 9 to 5 Mattifying Super Sunscreen SPF 50
10 Best Sunscreens in India: Oily Skin and Dry Skin 
Review Of Skin79 Super+ Blemish Balm Pink Label 
Which is your favourite sunscreen lotion for dry skin in India? Share your reviews with us.