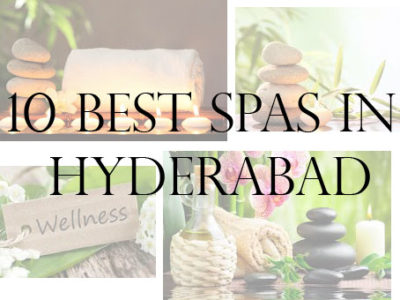 Top 10 Salon Spas in Hyderabad
Hyderabad can rightly be called the city that has it all. It is a perfect amalgamation of the old monuments and mahals with the bustling IT and metropolitan crowd. It's truly remarkable how the absolute ends of the spectrum blend together and co-exist in perfect harmony. The city of biryani calls itself home to some of the most beautiful women like Aditi Rao Hydari, Dia Mirza and Tabu. Along with this, it nestles some of the world's most relaxing spas and salons you had no idea about. Hence, we present to a list of the best affordable and luxurious hyderabad spas and salons.
List of Ten Must Visit Hyderabad Spas:
1. Naturals Spa
Naturals has been a pioneer in introducing unisex salons to India and today, they have over thousands of outlets spread throughout the country. They offer services for Hair, Body and Skin. The Body Spa services are quite sought after because they have specially trained masseuses who specialize in providing a very relaxing treatment for your tired body.
They offer massage treatments from a simple bath steam to a luxurious cocoa butter massage. Apart from that, they offer treatments using Reflexology, Body Polish and Body Wraps. As they have a number of stores all around Hyderabad, you can pick a location based on your convenience and preference. My best hyderabad spa ever!
2. Studio 11 Salon and Spa
Studio 11 has its stores in 18 cities all over India with about 29 outlets. Their expansions are taking place rapidly and will soon sprout in all the major cities. Their spa treatments
include a Quick Massage to relieve all the knots and aches in the joints and loosen up the body. The Quick Massage leaves you feeling energized and provides quick relief from pain. The
Body Polishes promise radiant and silky smooth skin combined with a de-tanning mask
. Lastly, the Body Massage are extremely therapeutic which help improve blood circulation and bring about balance and a sense of calmness in your body.
Hyderabadi girls love it.
The body massages include a Deep Tissue Massage, Swedish Massage, Balinese Massage, an Aroma Relax, a De-stress and Signature Studio11 massage. You can contact them on their Toll Free Number: 1800 102 3373.
3. Meghavi Luxury Villa Spa
Meghavi is a spa, salon and cafe located in MLA Colony, Banjara Hills . Meghavi Spa focuses not only on the physical aspect of feeling good like massages and body wraps, but also believe in treating your body from the inside, which is, by eating healthy as well as eating delicious. Their cafe offers a wide range of fresh and healthy food and drinks. All the treatments done in Meghavi use products that are all Paraben free and organic, home grown fruits and vegetables are used in their preparations of not only the food in the cafe, but also the organic masks and treatments they offer.
Their spa services include relaxing massages, Massages for Stress Relief and massages that work right on the tissues of the body, Scrubs and Wraps, specially monitored massages for pregnant women  and those who are undergoing treatments for depression and last but not the least, Spa Parties! Must visit spa when you travel to Hyderabad. You can contact them on: 040 23335678, 23337890.
4. O2 Spa
O2 Spas have their outlets not only in India, but also in the UAE. With outlets in 15 cities in India and 3 cities in UAE, O2 Spas have alot to offer. The spa treatments in O2 help in relieving stress, stimulates relaxation, improves blood circulation, lowers blood pressure, relaxes muscles, improves flexibility, improves rehabilitation after injury.
They have wonderful spa packages for Him and Her such as Jet Lag Recovery Package, Oriental Exotic, Precious Time Together, Male Escape, Retreat, Relaxation to name a few. Go ahead, give them a try for a wonderful experience! Definitely the most visited spa in hyderabad.
5. Opium Spa Lounge
Opium Spa Lounge has been established to cater the budding cosmopolitan crowd emerging in Hyderabad. The spa is manned by certified beauty and therapeutic experts and all the major International beauty brands are available. Their massages include Opium Signature Stress Relieve Massage, HBS Stress Release(Head, Back, Shoulders), Trigger Point Massage, Deep Tissue Massage, Aromatherapy Massage, Thai Massage, Instant Massage, Back Massage, Balinese Massage, Swedish Massage. This should be on your bucket list.
They offer utmost importance to comfort and deliver packages based on the treatment that you want. You can contact them on: 040-66686662.
6. Mirrors Spa and Salon
Mirrors Spa and Salon are located exclusively at Jubilee Hills and Madhapur and offer one of the finest services in spas. The clients at Mirrors include movie stars, celebrities, models, socialites, political figures and many other famous personalities. Mirrors is a personal favourite . It is my go to salon. Their expertise therapists and masseurs offer just the services you need with highly skilled knowledge about their work.
Also, the products used for these services are from reputed brands only and they even use organic oils and lotions upon request. Mirrors won the National Award for Customer Service Excellence in 2013. Do give it a shot, you won't regret it. Its one of the best get away spa on my list.
7. Bubbles Hair and Beauty
Bubbles Hair and Beauty offers the pampering you need after a tiring day at work. They have some of the most unique massages and treatments offered. It is located in 11 locations around Hyderabad and Telengana. The Dew spas in Bubbles offer the following treatments: Steam bath, Face massage, Body Massage, Oil Massage, Bubbles Massage, Swedish Massage, Aromatherapy massage, Thai Massage, Deep Tissue Massage, Trigger Point Shoulder Back Massage. Do give it a try!
8. Isa Spa
Isa Spa is located in No. 212, 2nd Floor, Fortune Monarch Mall, Road Number 36, Jubilee Hills, Hyderabad, Telangana 500033. It has to offer, one of the most rejuvenating and relaxing massage one could ever ask for, quite necessary on those days where you just work your butt off.  Their spa treatments include Head Spa, Foot Spa, Body Massage, Body Polish, De-Tan, Skin Spa. The Skin Spa they offer do great wonders for those with oily skin and are perfect for the modern woman who encounters all the dirt and the grime throughout her day.
9. Aura Spa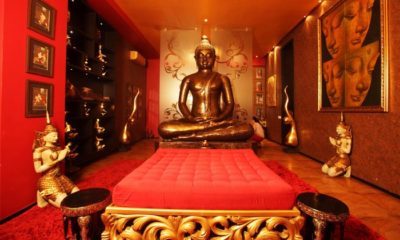 Aura Spa is a luxurious spa located in The Park Hotel which offers one of the most relaxing treatments one could ask for. The spa has been constructed very tastefully with beautiful ornamentation and choice of decor.  They offer a wide range of treatments which change with every month or season. Aura spa had been awarded as the 'best new spa' at the Pevonia AsiaSpa in 2010.
Address: 22, RajBhavan Road, Somajiguda, Hyderabad – 500082
10. Thai Sabai Wellness Spa
Thai Spa has a wide range of spa services to offer for the varying clients that they have. Their services include Thai Conditional, which involves stretching of the body while doing yogs, meditation with acupressure. It helps in detoxifying the body and boost immune system. They also have the Aroma Hot Stone Healing Therapy, which is a Swedish based massage using hot stones with the added effects of heat enhancing the relaxation response of muscles and fats.
Address: No. 481,2nd Floor, 36 Square, Road No.36 Jubilee Hills, Hyderabad – 33.
Now that you know exactly where to go after a long day at work or home, go get yourself a relaxing massage because you're worth it. Book your appointment now!
Read More:
Which is your favourite spa resort in hyderabad? Share your reviews with us.