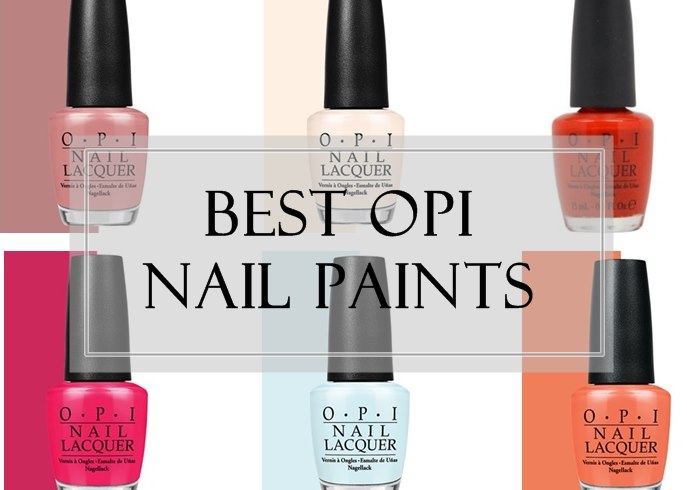 Top 10: Best OPI Nail Polish Colors, Reviews
It's no surprise that putting on a cute nail paint is the easiest and quickest way to ensure that you look put together most of the time if not all. I've really fond memories of sneakily putting on my mom's bright red nail paints as a little girl on the rare occasions that I got access to her vanity when she was not around. OPI has always been a brand that I've loved for nail paints. I have tried OPI signature red and have loved it dearly. It'd be safe to say that what MAC is to lipsticks, OPI is to nail paints. So I've done a round-up of top 10 most popular OPI nail polish colors and shades that happen to be best sellers (and world-famous too!)
I've always loved putting on fancy nail paints and you'd hardly see me without one. While I love all brands and all nail paint colors under the sun, let me admit it, I have a couple of absolute favorites too. There isn't a shade you have your mind on, that OPI doesn't make. Their shade range is diverse beyond belief and the quality of their nail paints is second to none. OPI nail paints are smooth in texture (at least most of them), they are not overly thick or runny, most of them come with a quick dry formula and they stay on for days without any major chipping. OPI nail paints retail for about $10 and are a total value for your money. What more could a girl ask for?!
Although OPI is not as readily available in India as we'd all would've liked it too, one can surely get their hands on some awesomeness by this brand on various online shops and even shops in the country that stock imported cosmetics. So really, availability is no issue here! While OPI has a ginormous collection of nail paints
and you'll probably find a
nail paint in every single color you can imagine
under the sun, there are a few shades that are definitely class apart. I'm talking about shades that any OPI fan would have owned at least once and these shades are the brand's ultimate best sellers.
List of Top Ten Best Selling OPI Nail Polishes
1. OPI Big Apple Red

OPI Big Apple Red is a creme finish nail paint which is described as "bright, shiny and ready to take on the world" color. Whoever has been a OPI fan definitely has tried out this shade and it is their signature red nail paint. It is the Ruby Woo of nail paints. This shade suits almost every skin tone, is super flattering and a bonus makes those hands look extra pretty! This shade not only happens to be an OPI best seller but it is a sure shot hit in general.
2. OPI Barefoot in Barcelona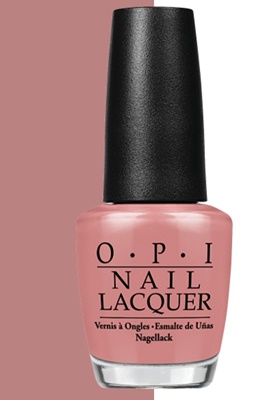 Barefoot in Barcelona is a classic shade by OPI that is defined as a "luscious shade of nude with a spanish sole". this shade is again a creme finish which happens to be an OPI hit. If you've looked closely at Khloe Kardashian's nails in this season's KUWTK, I'm sure you'd want this shade in your kitty right now. It is a gorgeous neutral shade with cool undertones. It has hints of mauve as well as taupe. If there's one OPI shade that I really, really want to try, it's this one.
3. OPI Be There In Prosecco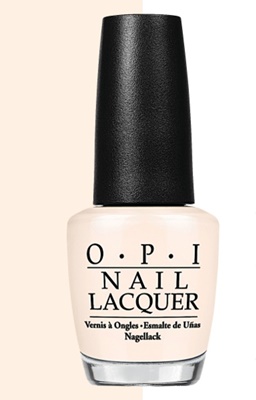 Be there in Prosecco by OPI is described as "I'm living in the moment and in this opaque creme". This is a creme finish gel nail paint. It is a light nude shade with hints of baby pink in it. This shade is perfect for girls who hate the idea of bare nails but still want something subtle on their nails. It's like the "no makeup, makeup look" for your nails.
4. OPI Malaga Wine
OPI Malaga Wine is another gel color by OPI which is described as a "rich, intoxicating wine- red". Did you watch Blake Lively's Age of Adaline? Want to get her look (in part)? Go try this nail paint. This is the kind of deep wine shade that Blake Lively wore in the movie. This shade gives a very luxe vibe and looks like something a very classy lady would wear. Though this is a typical Fall/ Winter shade, if you can rock it all year round, you get our heads up!
5. OPI Baroque…But Still Shopping!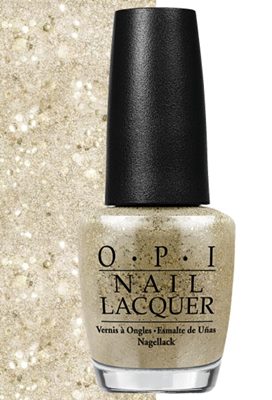 This shade is described as "it shimmers, it glitters, and it's gold, and it's mine". Who else is a fan of an accent gold nail? I sure am. I always like to jazz up one nail out of 5 on each hand with a jazzy shimmer shade. This shade is something I would totally use. It is a golden shimmer nail paint but don't let the shimmer in it scare you away, it has the cutest little shimmer particles imaginable!
6. OPI Dutch Tulips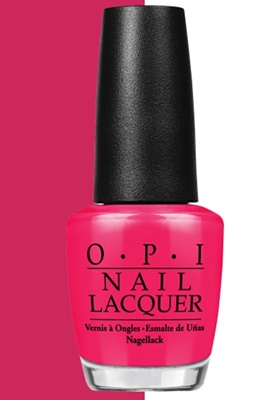 OPI Dutch Tulips is described as "a bouquet of blooming pink red". I mean, which best-selling nail paint list could ever be complete with a pink nail paint on it? Dutch Tulips is a beautiful cross between cherry red and fuchsia pink. It's a shade that will suit most skin tones. another plus point: pink nail paints look as good on your fingers as they look on your toe nails. I personally wear pink on my toe nails 95% of the time and I would love to own this shade.
7. OPI Gelato On My Mind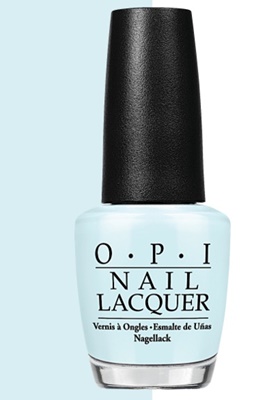 OPI Gelato on my Mind is described as a "deliciously sweet and icy- cool, pastel blue" shade by OPI. Remember how last year, pastel nails were all the rage? I mean every single picture you'd see on Tumblr/ Pinterest, the model would be sporting a pastel blue or a peachy pink or a mint green. I'm pretty sure, they wore this Gelato Ony My Mind by OPI on their nails in all those overwhelmingly beautiful pictures.
8. OPI My Private Jet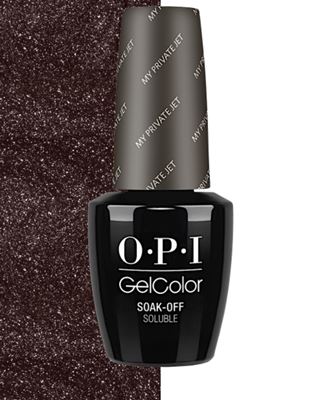 My Private Jet by OPI is described as a luxurious deep black with glints of glimmer. I can not count the number of times I have bought a black nail paint and have eventually thrown it away because it ended up looking more cheap than trendy. That's the thing with black nail paints- you gotta think of them as an investment. I have one rule- to always buy at least a black nail paint from the best brand I can afford. I'm pretty sure my next black nail paint is gonna be Private Jet since it looks so glamorous and classy.
9. OPI Russian Navy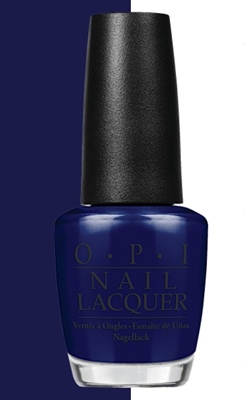 OPI Russian Navy is described as "wait until you see this deep sea indigo". Whenever I have googled for best OPI nail paints, this one has always come up. Apparently, it's been an OPI best seller for years. It is the navy blue color to go for. And since this is a cool toned nail paint, it would make your hands look leaner and fairer, as a bonus (not that I don't like tan hands, I really do!).
10. OPI Where Did Suzi's Man-Go?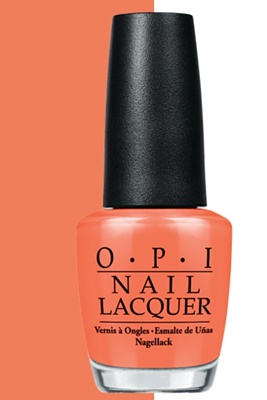 Where Did Suzi's Man-Go? by OPI is described as "he went to fetch her this delicious mango smoothie". Which is the second color that comes to your mind after hot pink when you think of summer? I'm sure a nice shade of orange. You see orange is such a versatile shade that I'm almost tempted to call it the new pink. There are a tone of variations of orange- red-orange, coral, pastel orange… and so on. I absolutely love me some orange in summers and this one looks like the perfect choice. It's a light almost pastel shade of orange that looks like a mango smoothie (for real, guys) and it will definitely fetch you a ton of compliments from whoever sees you wearing this gorgeous shade.
So these are my top favourite shade names from OPI. This list does not contain all of my favorites from the brand, because let's be real guys, every single shade that OPI makes is to die for and any girl would be lucky to own a majority of OPI shades. I really love how OPI is so versatile with their shade range and how they never compromise on their quality. If there's one nail paint brand I'd suggest to friend to go for, it would be OPI hands down. Which is your favorite shade from the above mentioned nail paints? Or if you have another favorite that you own/ have your eyes on, do list it down in the comments. I'd love to know!
Which is your favourite OPI nail polish? Share your reviews with us.