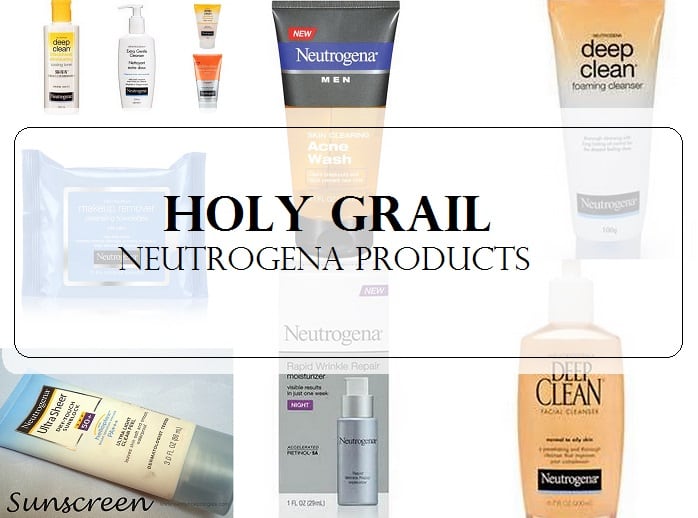 Top 10: Best Neutrogena Products In India for Oily, Acne Prone, Dry, Sensitive Skin
So for as long as I can remember I've been a big fan of Neutrogena. And here's the thing, this is the brand that got me through my teen years of acne breakouts and bad skin. So I'm really excited to be letting you all in on some of my favourite Neutrogena products that have worked wonders for me over the years. These skin care products are best for oily, acne prone and sensitive skin girls. If you have dry skin then go through the list because there is something for you as well. Here is my list of top 10 neutrogena products available in India along with their reviews and price list.
List of Top Ten Neutrogena Products in India
1. The Neutrogena wet wipes : best neutrogena makeup remover
I'm starting off with these because they are by far my favourite product from Neutrogena in India. They're so gentle on the skin, work so well with taking off dirt and makeup off your face and the reason I'm such a huge fan is because they're the only ones on the market that don't break me out. The ones from Apollo and Dettol make my face itchy and read and make me wake up to a zit on my face. They're a must have and having gone through a dozen packs, do take my word for it.
2. The Neutrogena Extra Gentle cleanser : best for dry skin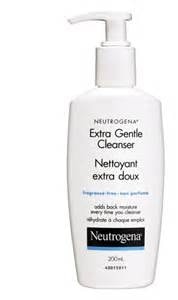 If you have dry skin, if you have sensitive skin or if you have skin like mine, which is prone to redness and breakouts , this face wash from neutrogena will be your new favorite. It's so gentle , so purifying and manages to get your skin clean without leaving that icky film or causing any harsh effects. It's texture is almost like cetaphil and works wonders through the dry winter months for me. Price in India: Rs.400
3. The Neutrogena Deep clean Black-Head Eliminating scrub : for dry skin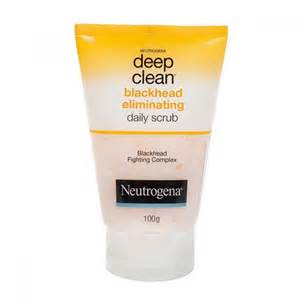 Like I said, my skin is the anti-Christ. It's prone to break outs, it's prone to redness and rough scrubs are the devil! They usually have those walnut or apricot granules that irritate my skin and end up being too harsh for my skin or aggravating my acne. This however has much finer granules and isn't nearly as harsh. Also, it's texture is rich and creamy and my skin feels a lot more hydrated after I use it in the drier months. It's meant for black heads, but i personally don't have a lot of issues with those so I wouldn't know how it works for that particular purpose. But in general, it'll be your new best friend. It's also at par in terms of pricing with most products on the market, retailing at Rs. 129, and much better in quality. One of the best products from neutrogena in India.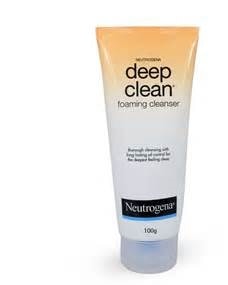 If you happen to have oily skin, which I had through my teens, back when my skin wasn't so sensitive, this used to be my favorite face wash. It got all the oil off my face and left it feeling squeaky clean and fresh. From what I can tell, it also helped with my breakouts during the summer. I loved how it left my face feeling after the wash and how it stayed oil free for a few hours after I washed it. Holy grail for those days. So if you happen to have oily skin , with the Indian summers coming up, think about picking it up. Again a top notch neutrogena product. Especially since it's only Rs.95 and is extremely pocket and travel friendly.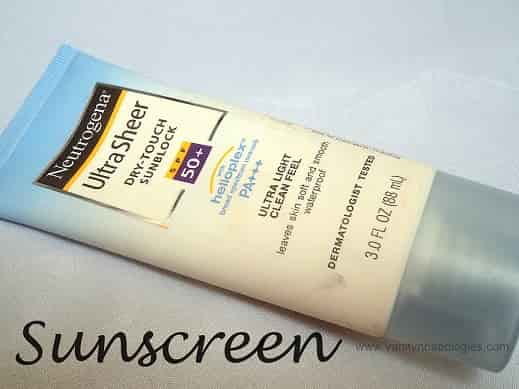 If there ever was a sunblock i loved, it is this. It has an SPF of 50 with PA+++, is waterproof, sweat-proof, and stays on through the summer heat without needing too much reapplication like the Lakme ones. It's also got a wonderful texture that blends in easily and the finish it leaves is paradoxically, not dry. It has a sheer glow that leaves your skin looking beautifully dewy and glowy . It also somehow manages to subside my redness and makes my skin look a little more healthy when I put it on. The best spf 50 sunscreen available in India from neutrogena. Retailing at Rs 199, it's at par with the market rates and a little will go a long way.
6. The Neutrogena Visibly Clear Exfoliating Face wash :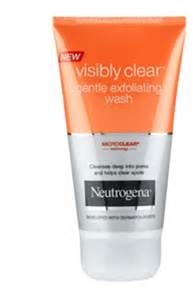 I'm not sure if this is available in all stores and outlets because my store doesn't carry it. It's always available and in stock on flipkart though if you feel like picking it up. This face wash is my second-favorite from the Neutrogena line for the summers. It works almost like the deep clean foaming cleanser in terms of leaving your skin oil free and glowing, but it doesn't foam up as easily and isn't as drying in terms of the formula. It also happens to smells way better than any face wash I've tried and the ingredients for it are very impressive in terms of being sensitive-skin-friendly as far as an exfoliating products go. Not my favorite, but definitely worth a look if you happen to have combination skin. Price in India: Rs.700
7. The Neutrogena Deep Clean Facial Cleanser : for dry sensitive skin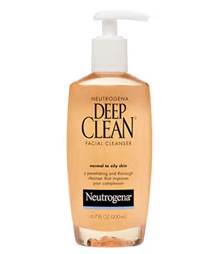 Now this is somewhere between the Deep clean foaming cleanser and the gentle cleanser. It's much easier on your skin than the Deep clean, and not quite as gentle as the latter one. It's perfect for combination skin through the year because it does control oil without completely drying you out like the neutrogena foaming cleanser (meant for oily skin) . One iffy about this is that it does leave a film on your skin after washing. This also makes your skin look much smoother, but in turn, the texture irks me a little. Not for my skin, but perfect for anyone in the combination-quota looking for a gentle , oil clearing , all-year-round face wash. It retails at around Rs.350.
8. Neutrogena Men Clearing Acne Face wash :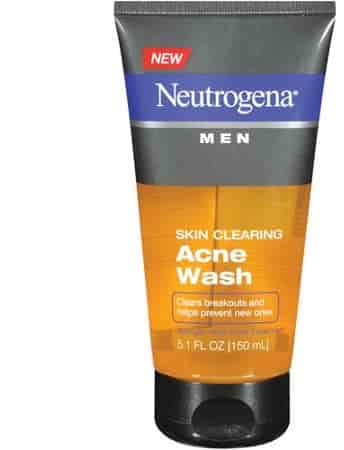 I know this is technically a men's product but hear me out okay! If you have oily skin that's prone to breakouts, you will love how this leaves your skin feeling fresh and clean and glowing and takes away all the oil and the dirt. Also, the ingredients AKA Salicylic acid does work miracles on your breakouts. It's slightly pricy online Rs.919, since it's a little difficult to source here in India, but it is so worth the money you pay. The results I got with this neutrogena face wash were amazing and I have recommended to most of my friends time and time again . Now the only downside is that if you have dry skin and suffer from hormonal acne or something, it will produce dry patches on your skin and won't work too well for you.
9. Nueutrogena Blackhead Eliminating Toner :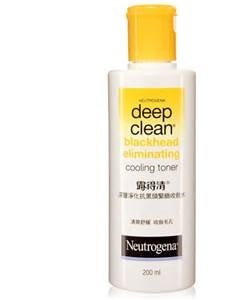 I'm not a big fan of toners, since I usually use rose water or the dermatologically recommended ones but I got suckered into buying this since it was on sale and hey! I'm thoroughly reformed on my views on off the shelf toners. It takes away any leftover film from my face wash, any grime or dirt still on my face and leaves it squeaky clean. As for the blackheads, I can't tell a difference but this neutrogena toner did improve the texture of my skin for as long as I kept using it. It seemed a bit more even toned and my complexion was visibly better. Sadly, I ran out of it and haven't gotten around to picking up another bottle as I'm currently trying out the faces toner, but if you're hunting for a new toner in India, give this neutrogena product a go if you don't have dry skin. I did find that initially it aggravated my redness (which is why I prefer natural or gentler toners) but given a minute to settle down, it all worked out fine. It retails at round Rs. 340.
10. The Neutrogena Rapid Wrinkle Repair Moisturizer: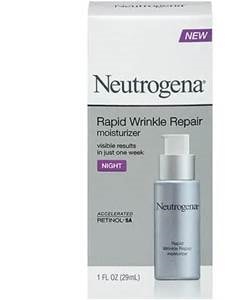 Now last but not the least, my last and most recommended product from Neutrogena is The Neutrogena Rapid Wrinkle Repair Moisturizer. I personally have seen the product's effectiveness. My mother used to use this all the time and she would put it on at night and wake up with visibly more even and firmer skin. I could tell a real difference. The neutrogena product does work miracles. It's one of the few anti-ageing products that show an actual difference on the skin. The ingredients are a little harsh for younger skin and so I only recommend it if you're over 45 but I can personally vouch for this product. It's a little pricy, retailing at just under Rs 1000, but worth every penny.
By Contributor: Vaidehee
Read More:
Foundations for Oily Acne Prone Skin
Makeup Products for Working Women
Full Coverage Foundations for Oily, Dry Skin
Lotus Herbals YOUTHRx Youth Activating Serum + Creme
Best The Body Shop Products Available in India
Which is your favourite neutrogena product? Share your reviews with us.