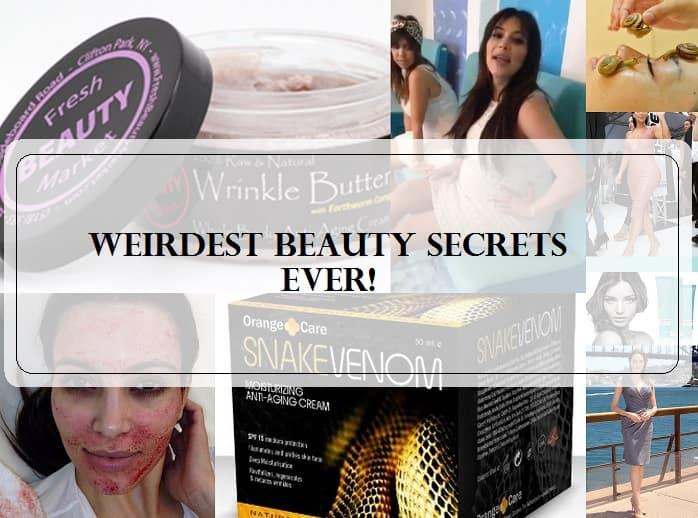 Top 10: Best Beauty Secrets of Hollywood Actresses Revealed

When we sigh and admire the perfect skin or the immaculate blush of a Hollywood actress, we yearn to achieve that look. But the grind of day-to-day life and the lack of time forces us to look not as good as we would like. I have also been a victim of these lustful sighs that speak volumes about my desire to get that flawless skin or picture-perfect hair of these hollywood stars. Here, I want to reveal the 10 best beauty secrets of Hollywood actresses. Agreed that these celebs have the best skincare products at their disposal but with a little effort and hard work, you, too, can achieve that faultless look. Go hollywood! Just be warned, some of the celeb beauty secrets are weird.      

It only takes some commitment and a deep burning desire to look your best and be your best. While many treatments on this secrets revealed list are best left to celebrities, a lot are actually pretty easy to follow. A nine to five job does leave you tired but if these Hollywood actresses

, who are always busy and are constantly strapped for time can take out time to take care of their skin and body, why not us? These beauty secrets are the some of the best-kept ones in Hollywood and we bring to you the weirdest, strangest and the most effective ones.
Best Beauty Secrets of Hollywood Actresses Revealed
1. Work out: Wait..thats no secret!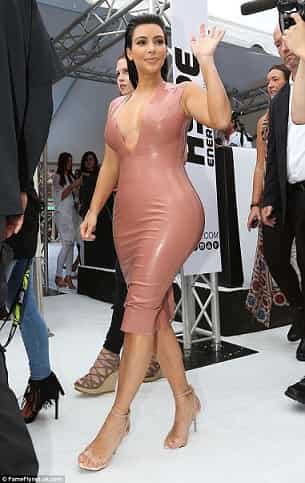 Without an iota of doubt, I can assure you that good skin begins with a good lifestyle. Work out reduces stress levels and releases endorphins, the 'feel-good hormones'. Sexy Mommy Kim Kardashian swears by high-intensity cardio while Transformers star, Megan Fox, loves intermittent cardio teamed with strength training.
2. Healthy and Balanced Diet: secret to healthy skin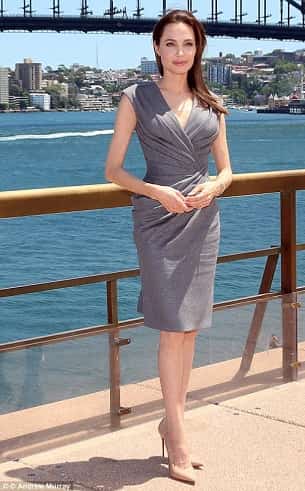 Diet plays an important role in your overall appearance. 'You are what you eat' is a popular quote, not without a reason. If you eat healthy food, it reflects on your skin. A diet high in green vegetables, antioxidants and vitamins shows on your face and makes you glow like no other cosmetic would. Avengers siren, Scarlett Johannson, follows a strict diet of oats, green vegetables and fresh fruits to get that awesome skin and voluptuous body. Beautiful Angelina Jolie includes more protein and less carbohydrates in her diet to look fabulous.
3. Organic Skin Care products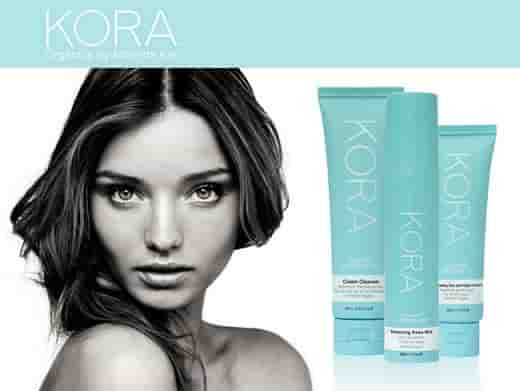 Any skincare routine that incorporates natural ingredients is safe for long-term use. Miranda Kerr, the Victoria's Secret supermodel, swears by organic skincare products. Kora Organics, a natural beauty range, was launched by her to help women get flawless skin without any harmful side-effects.
4. Snail Facial: Demi Moore's Beauty Secret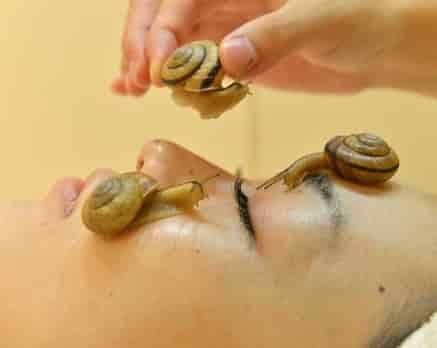 Yup! You heard that right. Snail facials is the secret behind your favourite celebrity's perfect skin. The slime excreted by the snails is rich in antioxidants that keeps free radicals at bay. This ensures that your skin is smooth and wrinkle-free. Evergreen Hollywood beauty, Demi Moore, is known to indulge in leech facials to maintain her youthful glow.
5. Snake Venom Beauty Products: Gwyneth Paltrow's Beauty Secret Revealed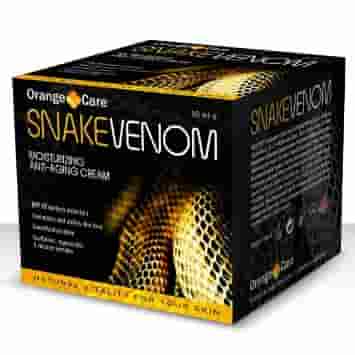 I know that you are already rolling your eyes but snake venom is the thing to have if you are seeking to eliminate fine lines. Apparently, snake venom acts like Botox and stuns the muscles. Of course, real venom would be too dangerous to use so scientists develop a skin-friendly version in the lab. Lovely Gwyneth Paltrow is a fan of snake venom treatment and loves to indulge in beauty products that contain the laboratory version of this deadly ingredient.
6. Fish Pedicure: Secret of Sexy Legs of Kardashian Sisters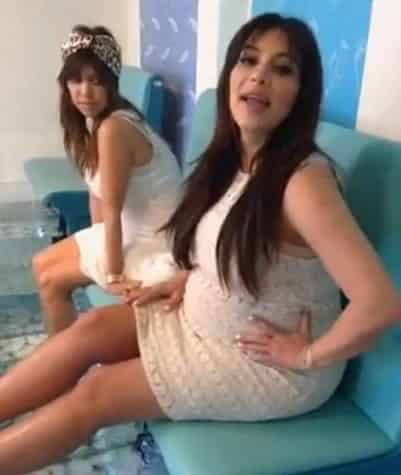 This one is rather cute! Little fish will eat away all the dirt and dead skin from your feet as you soak them in a tub of water. Garra Rufa fish is the one who helps you in your quest for happy and beautiful feet. For this reason, it is also called 'Doctor Fish'. With the help of these cute fish, you not only get a pedicure but also feed little friends! The Kardashian sisters are huge fans of this tingling method of getting a pedicure.
7. The Vampire Facial: Kim Kardashian Revealed her Beauty Secret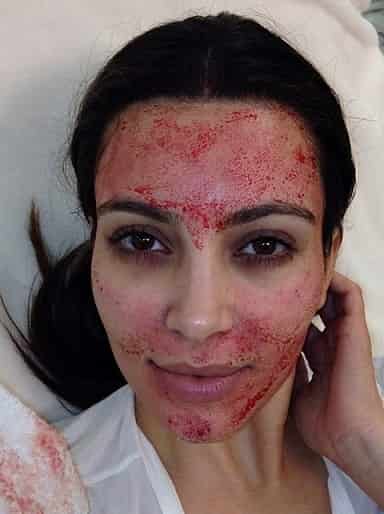 When Kim Kardashian posted a photo of hers with her face smeared in blood, the whole world went crazy. While this blood was her own, it raised questions about the weirdness of this treatment. Many skincare experts believe that infusing your own blood in your face can increase the platelet count in the face and eventually, help reduce wrinkles. While there is still no substantial theory to support this idea, Hollywood actresses are trying vampire facials in an effort to look young forever.
8. The Geisha Facial: Victoria Beckham's Beauty Secret
No, this is not the one where you can apply a thick layer of white make-up, wear a kimono and flutter your eyelashes at prospective clients. Geisha facial originated in Japan but is probably the weirdest and the yuckiest skin treatment on this list. The sweet-sounding Nightingale can not only chirp musically but also help you look better. Yes! The poop (yes, you heard that right) excreted by this bird is mixed with some other ingredients like bran and a potent mix is created that is then, applied to the face. Posh Spice, Victoria Beckham, is in love with these facials and regularly gets them to keep her skin smooth.
9. Earthworm poop in skin care products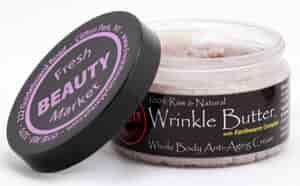 I know you are getting fits by now but our Hollywood beauties will leave no stone unturned in an effort to look beautiful and young. If bird poop was not enough, these hollywood actresses are also using earthworm poop. I know what you are thinking? Do we now have to collect earthworm poop? Not at all! Many skincare giants have launched effective products that contain earthworm poop since it helps in collagen production. Collagen is the stuff that keeps the skin tight and supple. While no one reveals which actresses use these creams, it is widely believed that this one is a very popular choice for leading actresses.
10. Clay Eating
We all remember those naughty cousins who used to sit in the middle of the field and eat mud. Were the doing any good to their skin? While the days of clay-eating by mischievous cousins are long gone, it seems that they were doing a service to their skin. Clay does help your skin get rid of toxins! However, scientists say that your body is perfectly capable of doing that on its own. So, it is not essentially vital to run to your garden to get your daily dose of beauty food!
A lot of these beauty secrets are strange and bizarre. Hollywood actresses are under constant pressure to look good and stay young. It is understandable that they would try anything to get the ideal look. With the constant glare of cameras and unwanted criticism, life in the fast lane is not easy. Even if a pound is gained, paparazzi is quick to notice it and write off the actress. One fine line and you are considered over the hill.
Under such tremendous pressure, Hollywood actresses resort to any and every method to look fabulous. Do they succeed in doing so? It seems that they do as Miranda Kerr can pass off as a teenager when she is thirty-plus and Demi Moore still looks as beautiful as she looked when she debuted in the 1981 movie, 'Choices'. Whacky beauty secrets are here to say but hey, try them at your own risk!
By Contributor: Kanika
Read More:
Matte Red Lipsticks for Indian Skin
Makeup Products for Working Women
Sonam Kapoor Neerja Makeup Look
Full Coverage Foundations in India
Fashion Shopping Websites in India
Which is your favourite celebrity beauty secret? Share your reviews with us.