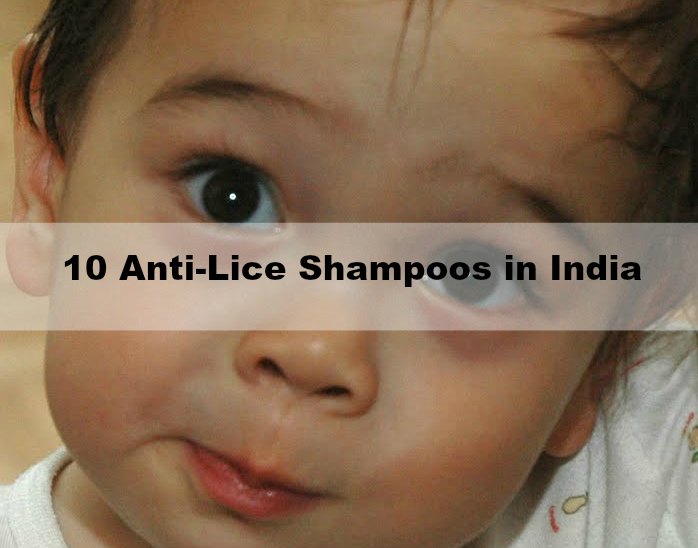 Top 10 Anti Lice Shampoos In India for Babies and Kids with Reviews and Prices
It's funny how one word can totally trump any other hair concern you may ever have? Who can think about split ends, dandruff or frizzy hair when lice is involved? Maybe you got it from your kid or any other type of carrier, but these things are roaming around our hair and we want them to be gone NOW. So what can we do? There are plenty of top notch shampoos

on the market, we at VNA have complieda list of 10 Best Anti Lice Shampoos available in India for babies and kids, check it out! But before that I thought it would be a good idea to inform you and debunk some myths about head lice which might help you further in your treatment.
Head Lice Myths and Tips:
Headlice can be spread through clothes too, however you'd have had to share the clothing in 24-36hrs because if a louse is off a head too long, it will die.
Headlice aren't a significant health risk, they're just a nuisance. They do not give you any disease or illness.
The reason they're itchy is because their saliva irritates your scalp and causes an allergic reaction.
Having lice doesn't mean you're dirty, in fact lice normally like roaming in clean hair.
One round of treatment may not be enough to remove all the lice. Nits take about 10 days to become lice so make sure you treat it every week to make sure the new batch that's hatched doesn't live on
Olive oil is a great way to suffocate the lice. You'll also be able to see the lice clearly and pull it out effecticely. Make sure to leave it on for 5 hours and remove all traces.
There's no need to throw out your linens and clothes. Headlice are not bed bugs, they can't survive without a human scalp and will die after a wash. the nits may last a bit longer but they'll die out too
If your child has lice, chances are you do too. So make sure to treat yourself if you treat your kid.
A singular lice is called a louse
These insects are normally 3 mm in adult size
Never use tea tree oil on its own, it's way too harsh for regular hair and will damage it.
If you don't have a anti-lice shampoo, add a bit of tea tree oil to your existing shampoo and voila! You made your own anti-lice shampoo
There is a social stigma attached to lice which often leads parents to not hug their children etc. It is important for your child to know that lice is a possibility that can happen and that it doesn't make the unclean. Make sure you don't perpetuate that stigma and treat your kid with kindness. There is nothing wrong with lice, it can happen to anyone and it doesn't do  any significant harm.
A few nits may not necessarily be a sign of an infestation, but take a call as a parent to make sure that your child gets their school work taken care of if you intend on removing them from school for a while.
List of Top Ten Anti Lice Shampoos and Treatments:
Mediker Anti-Lice Treatment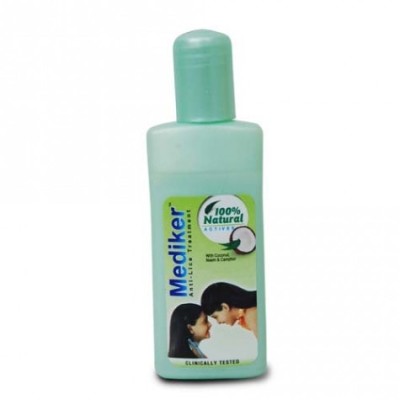 I felt that this mediker shampoo was important to include at the top, mainly because it is the go to name for lice removal. It has often replaced the traditional combing out method of removing lice. However, a combination of the two will do especially if you have a lot of lice on your hands. This anti lice formula contains products like neem, camphor, and sitaphal. It is safe with no side effects and clinically tested. It's available in a bottle form as well as sachets. Price: Rs. 45 for 50 ml
2. Fairy Tales Rosemary Repel Shampoo & Conditioner Duo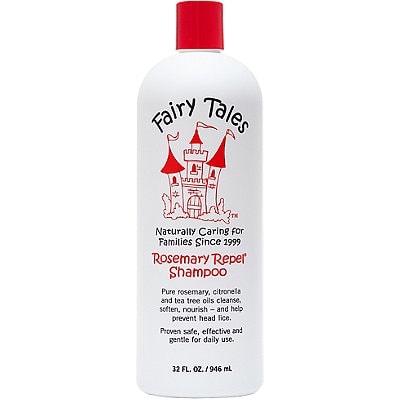 Fairy Tales Shampoo contains rosemary, lavender oil and tea tree to repel lice and other insects from the hair. It is paraben free. However, it does contain Sodium Lauryl Acetate. It is ideal for daily use and does not dry out the hair. Price: Rs.1500
3. Apollo Pharmacy Keeto Care Anti-Lice Shampoo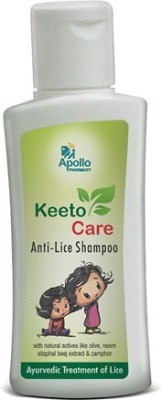 This shampoo brand is really good for children as it is ayurvedic and kills lice from hair. It doesn't dry or hurt the scalp. It contains natural ingredients like sitaphal beej extract, olive, neem and Camphor. Parents have said that it worked really well for their children and provided them relief. A top rated anti lice shampoo in India. Price: Rs. 43 for 50ML
4. Jungle Formula Head Lice Shampoo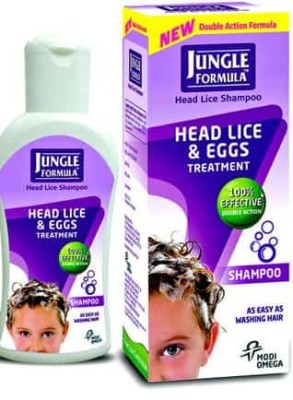 This lice shampoo claims 100% removal of lice and eggs just in one application! That's a tall order for prevention of head lice. It contains 96% Hydrocarbon Fluids and 4% Dimethicone. What this does is dehydrate and suffocate lice and their eggs. It is insecticide free and safe with children. Price: 75gm for Rs.130
5. Ego Moov Head Lice Shampoo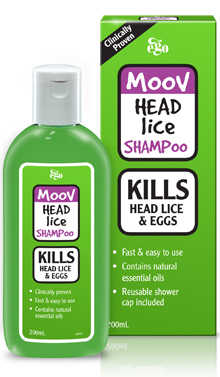 This is an effective clinical treament that kills head lice. After you wash with this, you don't need another shampoo your hair with a regular shampoo. You can apply this directly to dry hair and leave for 15 minutes and rinse it out. By scrubbing it into the hair, it develops a foaming action that works like a regular shampoo. It doesn't dry out the hair and is recommended for use on normal scalps. Price: Rs.893 for 200ml
6. Clearlice Repel Shampoo and Conditioner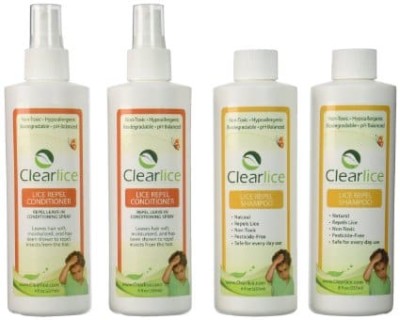 A lice shampoo that smells like Christmas? Count us in. It has an addictive peppermint scent that your kid will love. It will also make the lice wish they never came there. It is good for everyday use. It is pesticide and sls-free. Make sure to massage this into the scalp and rinse it out the way you would with a regular shampoo. Price: Rs.130
7. New Lice Shield Shampoo & Conditioner in One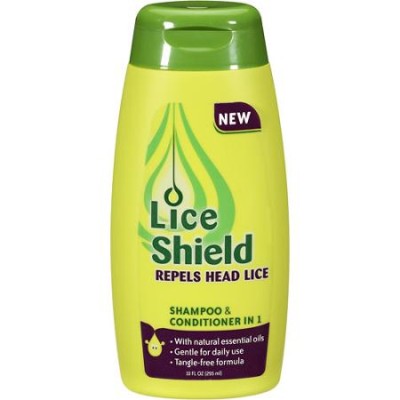 This is a shampoo that kills lice and lathers really well and smells like a citronella candle. It is gentle for daily use and is tangle free. It is also made with natural essential oils. If you buy the leave-in treatment this will do just as much for you in getting rid of those pesky bugs. The essential oils will help prevent an itchy scalp. Price: Rs.645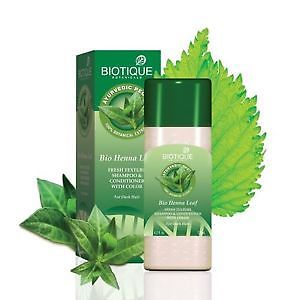 Who would have thought a henna shampoo would be useful to combat lice? Biotique is a well-known, established brand in India and I'm sure we can trust when it comes to our itchy friends. This shampoo provides only relief, but it contains Neem, Tesu, Daruhaldi, Bhringraj, Ritha, Sajjikshar, and Himalayan water. While neem does help with the head lice, you should only use this as you're recovering from heavy head lice as it's mild in comparison to most shampoos and only helps in keeping head lice away. This also prevents hair fall. Price: Rs 159 for 210 ml; Rs 99 for 120 ml.
9. Licelogic Repel Conditioning Shampoo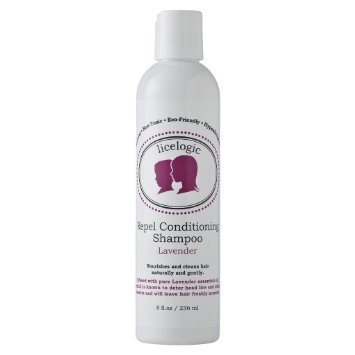 This shampoo won the 2011 National Parenting Center Seal of Approval, so if other parents think it's great for their kids, it probably is. It is naturally lavender scented and gentle on the hair. It is also non-toxic. It repels lice for 24 hours. This shampoo does not contain sulfates, parabens, pesticides, sulfates or sls. It also doesnt have artificial colors and fragrances.It is also environmentally friendly, cruelty free and biodegradable. Don't hesitate when picking this one up. One of the best shampoos for lice in the market. Price: Rs.584
10. Holista Health Tea Tree Oil Shampoo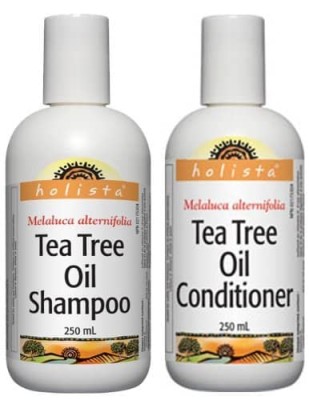 For 250 ml, you get an anti-fungal and anti-septic shampoo. The ingredient of this shampoo is tea tree, which is a known essential oil that lice despise. It is a totally safe and natural shampoo and is child-friendly. Not only does it remove lice and eggs, it also prevents re-infestation. So once you say bye bye to those bugs, it stays that way. Price: Rs.898 for 250 ml
Now that you have options for shampoo, I hope that cleared up a bit for you! Remember, lice is very treatable and there are plenty of tools in the market to help you get rid of them.
Read More:
Which is your favourite shampoo for head lice? Share your reviews with us.