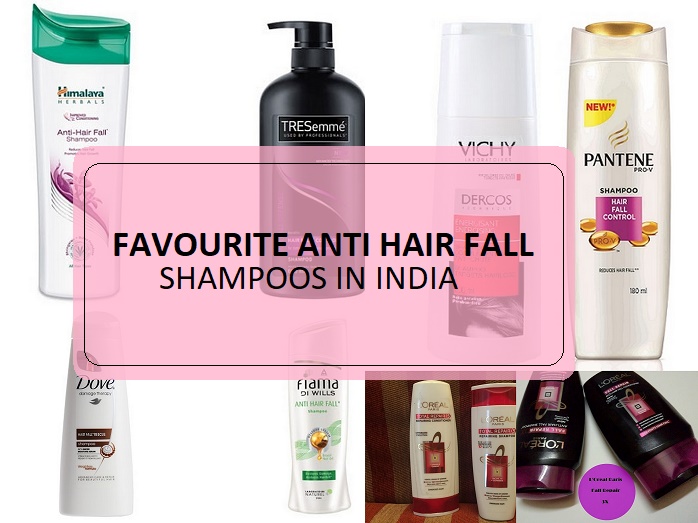 10 Best Anti-Hairfall Shampoos in India with Reviews and Prices
By Contributor: Roshni
Horror and nightmare for many of us often takes shape in the form of clusters of hair, either on our hairbrushes and combs, or even worse, the bathroom floor (shudders) To be true, hairfall is something that a lot of people suffer from. But again, no need to panic and break out in a sweat. The market has got hundreds of products specially made to combat hair fall, and choosing the best amongst them can be quite a task. Fret not, for I've compiled a list of the best anti-hairfall shampoos in the market, all of which are guaranteed to help you prevent hair fall, as well as help your hair grow back.
Society has always attributed a girl's luscious locks to her beauty, and I'd say that it's absolutely true. There is nothing beautiful as a girl with gorgeous tresses, be it long, short, straight, curly, natural or coloured. And when the devil strikes and we find our precious locks ensnared in the clutches of our combs instead of adorning our hair, all hair breaks loose! Agree, girls? There are a lot of reasons for this, from basic genetics to dandruff, weak roots to pollution. The most common reasons are weak roots, which lead to breakage, using styling products too much, especially those which use heat, as in straightening irons and blowdryers, and products with high amounts of chemicals.
Top Anti Hair Fall Shampoos in India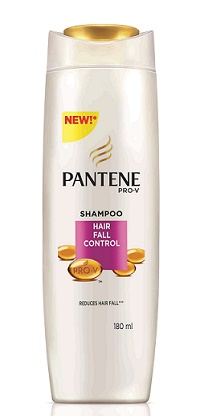 One of the oldest and best hair care brands in India, Pantene with its new formula with PRO-V and goodness of oils makes hair thicker, stronger in just 14 days. The Pantene shampoo helps control hair fall efficiently along with preventing dandruff without damaging the hair. Dandruff and damage can happen at the same time, but you don't have to give up solving one for the other. The Pro-V formula and goodness of oils in the new Pantene works from the very core of the hair fiber therefore strengthening the hair from root to tip. Also makes it stronger and shinier after every usage. You can obviously trust on this one! Follow the link above for its full review. Price in India: ₹110 for 180ml
2. L'oreal Paris Total Repair 5 Shampoo
Total Repair 5 from the house of L'oreal, in it's ubiquitous red and white bottles, has been a winner ever since it's launch in the market. Enriched with ceramide and lactyl-10, this magic potion not only reduces hair fall, but also combats dryness, roughness, dullness and split ends! In short, using this shampoo leaves your hair stronger, smooth and less prone to breakage and split ends. Price in India: ₹ 130 for 200ml
3. TRESemme Hair Fall Control Shampoo
Though a relatively new entrant in the market, this one is GOOD. Gentle enough for daily use, this product helps reinforce your hair strength and prevents hair fall due to breakage. It targets the most damaged areas to strengthen and help restore hair, giving you stronger, smoother hair with less hair fall due to breakage each time you shampoo. Price in India: ₹260 for 300ml
4. Sunsilk Co-creations Hair Fall Control Shampoo
Sunsilk has remained one of the oldest and most trusted hair care brand in India, and with it's Hair Fall Control Shampoo it's no different either. What's special though, is that it's been co-created by Dr. Francesca Fusco, a leading scalp care specialist. Enriched with Soya Vitamin Complex, it gently cleanses weakened, easily broken hair while reinforcing the tresses from root to tip. Hair is left stronger, smoother and less prone to breakage. With a mild, pleasing fragrance, it is gentle enough for daily use. Price in India: ₹ 99 for 180ml
5. L'oreal Paris Fall Repair 3X Shampoo
With its sexy purply-pink and black bottle, this is the latest kid on the block. And boy, is it awesome! With an innovative Arginine essence, the shampoo delivers a triple anti-hairfall action- nourishing the hair root, restructuring the hair fiber, and making the hair strong and supple. Also, I found that it did not weigh down my hair, which is oily, so yay for that! Price in India: ₹ 135 for 180ml
6. Dove Hair Fall Rescue Shampoo
This mild, beautifully fragrant Dove shampoo helps reduce hairfall caused by breakage due to damage. With unique Nutrilock actives that locks in the nourishment from the roots up, this shampoo reduces hair fall, giving visibly fuller hair. However I've seen that this only works well on dry hair. However, when applied to oily hair, the hair weighs down and appears pretty limp. Price in India: ₹ 123 for 180ml
7. Fiama Di Wills Anti Hair Fall Shampoo
Though I had never tried any product from Fiama di Wills, I gave this shampoo a try! Made by combining Exotic Brazil Nut Oil and Advanced Restore Technology, the shampoo claims to reduce hairfall thereby making hair 6 times stronger. Formulated for weak hair to protect them against hair fall, it gives you smoother hair that detangles without any effort. Hair fall is reduced by 90% while making your hair more silky and smooth as compared to normal hair. Price in India: ₹140 for 200ml
8. Himalaya Herbals Anti Hair Fall Shampoo
Unfortunately, most shampoos are laden with chemicals like Sodium Lauryl Sulfate(SLS), Sodium Laureth Sulfate(SLES), Parabens and Polyethylene Glycol, which do more harm to your hair than good. Himalaya is one brand which relies more on natural essences than chemicals, which is why this is pretty much the best option for someone who diligently avoids chemical-laden shampoos. Himalaya Anti Hair Fall Shampoo has a breakthrough 2-in-1 formula that reduces hair fall, provides nourishment to hair shafts and also conditions and improves your hair texture to reduce hair fall due to breakage. The herbs Butea Frondosa and Bhringaraja stimulate hair follicle growth and are effective in strengthening hair roots and controlling hair fall. The perfect choice for anyone with seriously damaged hair, since it's mostly herbal. Price in India: ₹ 129 for 20 ml
9. VICHY Energizing Shampoo
Yet another one of my favourites! From the house of Vichy, this unique shampoo has Aminexil, which works by combating the stiffening of perifollicular collagen to retain flexibility and elasticity around hair roots, allowing hair to anchor itself more solidly in the scalp. Hair becomes stronger and more vigorous from roots to tips. Besides, its hypoallergenic paraben-free formula is a boon for damaged hair. A really great buy, though a bit on the pricier side. Price in India: ₹ 590 for 100ml
10. Schwarzkopf Professional BonaCure Hair Growth Shampoo
A salon favourite for thinning hair, this premium German shampoo is probably one of the best shampoos in the market for those with thinning hair caused due to hairfall. The BonaCure Hair Therapy with Amino Cell rebuild technology helps repair hair which is damaged and thinning, thereby preventing hair loss as well. With active ingredients like carnitine taurine and Echinacea that reduce hair fall and stimulate hair growth, hair looks stronger, bouncier, and with more volumized than ever. Available through salons all over the country, this is one shampoo well worth its moolah. Price in India: ₹ 600 for 250ml
However, all said and done, just external application of hair care products would not work too effectively, unless they're combined with a healthy balanced diet, a good lifestyle, and a water intake of at least 8 glasses per day. Besides shampooing your hair, a regular hot oil massage(coconut oil, olive oil, almond oil and hibiscus oil) is a must. Increase your protein intake, by adding protein-rich food like egg whites, soybean, milk and almonds in your diet. Opt for natural hair care treatments instead of chemical ones, and use homemade hair packs instead of drugstore packs or salon packs. Once you do all these and use one of these top rated anti hair fall shampoos in India, no one can stop you from having lusciously long tresses that bounce and  shine with good health.
Read More:
L'Oreal Wild Stylers Tecni Art Beach Waves Spray
Olique Anti Dandruff & Hairfall Oil Potion
Biotique Bio Bhringraj Fresh Growth Therapeutic Oil
Biotique Bio Mountain Ebony Fresh Growth Stimulating Hair Serum
Yves Rocher Eclat Radiance Rinsing Vinegar
Which is your favourite Anti Hair Fall Shampoo? Share your reviews with us.