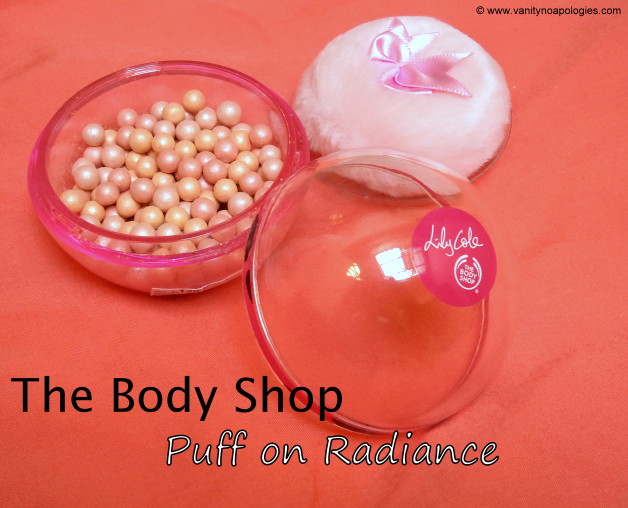 The Body Shop cruelty free Lily Cole Puff On Radiance Review, Swatches
I just watched The Walking Dead's 3rd season finale and I'm super sad. Looking forward to Mondays for TWD and Tuesdays for HIMYM had became a habit and now I dunno what to do! I've to wait till October'13 for the show to start another season. When you are in such a grumpy mood, makeup comes to your rescue. Not just any makeup but cute pink fairytale makeup. Its makeup therapy! So I just went to my dresser and just looked and looked at this pretty magical ball….and it hit with a bang. I never wrote about it. 
Its supposed to be decorating VNA and here I've it feeling all ignored. Fear not angry kitten, you will get your due fame soon…and the   moment has now come..
The Body Shop claims: These magical little beads deliver shimmering colour to face and decolletage. The supersoft integrated puff is made from manmade fibres. It's limited edition so don't miss out. Catch it while you can.  Pink tones. Dermatologically tested. Integrated cruelty-free puff.

The Body Shop Puff on Radiance is supposed to be a face and body highlighter. But I don't use it on my face…you will know why.
First things first, the packaging! One look at it and you are sold. I keep it on my dresser at all times to pinkify it. It comes in a round container with a cute pink puff with a bow on top. There is a plastic separator between the shimmer balls and the puff.
The beads come in 3 colours – gold, silver and peachy pink. You are supposed to swirl your makeup brush or puff on them to get the nice pearlescent glow. The pearls are a little shimmery to be used on your face, so I don't recommend that. But for body highlighting, just sweep a large powder brush on it and you get the beautiful night glow over your shoulders, collar bones and decolletage. You can also use it on your legs and bare back. I wore it with a low cut blouse to a marriage recently and it looked pretty!
Although the puff is super cute to look at, I just use it for show off purposes (haha!) since it never picks up much shimmer, so I use my large powder brush with it.
And with the number of beads/pearls/balls you get…it will never finish. If you are looking to gift your girly best friend something pink and cute then this can be a nice option.
Let's look at the photos and swatches: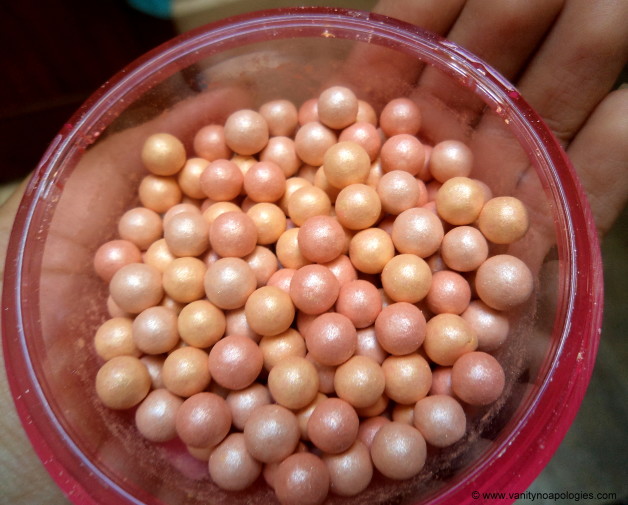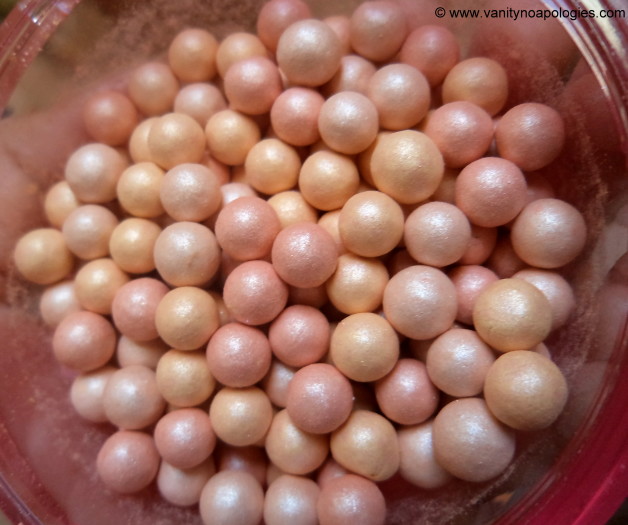 I've swatched all the 3 colours seperately, starting from bottom to top. The top most swatch is all the 3 colours combined.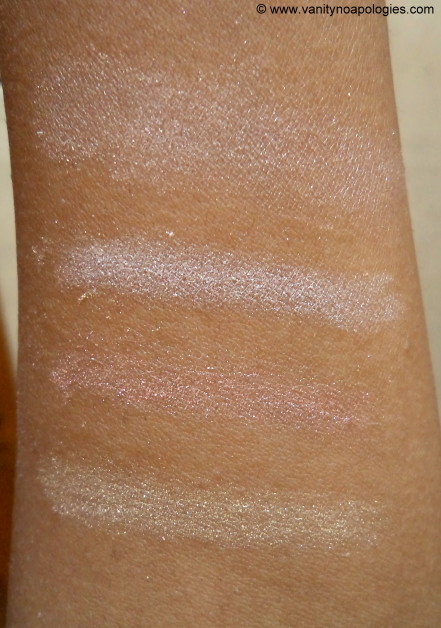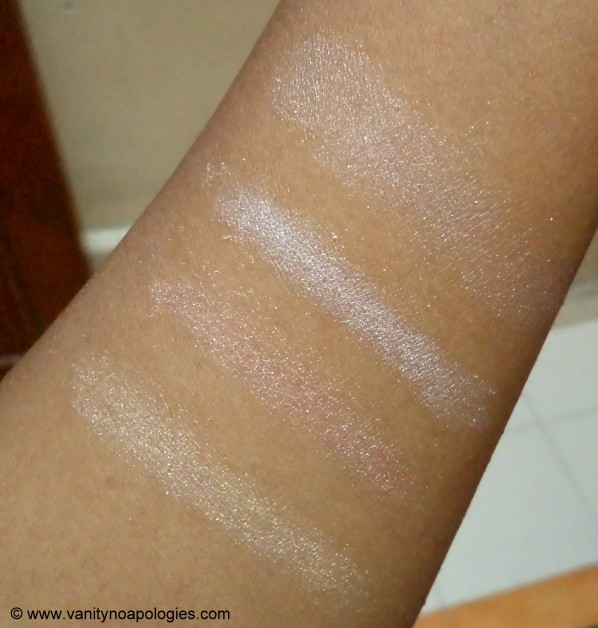 Price: Rs. 1395 (that's crazy)
So is it for you? The Body Shop Lily Cole Puff on Radiance is a super cute body highlighter to get that beautiful glow while wearing short clothes. If you don't mind paying such price tag for a highlighter then you have to get it…its just so cute. It can be a nice gift too (guys are you listening?)
Product sent by the brand for consideration