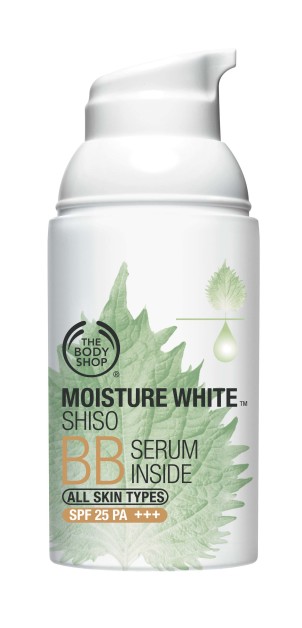 Brighten Up with The Body Shop's Moisture White BB Serum
A BB That Works Twice As Hard Make-Up Coverage  PLUS the Power of Shiso Serum
Want brighter-looking skin, day after day?  You got it!  Meet new Mo isture White™
Shiso BB Serum inside SPF 25 PA+++, our supercharged, skin-caring BB Cream that's infused with serum powered by shiso.    The results are so noticeable that 71% of 100 Asian women who tried it saw instantly fairer skin upon applic ation.
Our entire Moisture White™ Shiso range is inspired by the humble herb shiso which is a member of the mint/basil family and believed to reduce early melanin-making signals for brighter, more luminous skin.
Your Supercharged Multi-Tasker Delivering superior skincare benefits, Moisture White™ Shiso BB Serum Inside instantly brightens, corrects, protects and cares for your complexion, making it the multi-tasking must-have for busy, time-pressed mornings.  With a wonderfully lightweight, smooth texture, our sensational serum-infused BB Cream is a joy to apply.  Suitable for all skin types, its radiant beige shade was specially developed to suit most Asian skin tones. The good level of coverage provides a natural finish.  Perfect!
8 Benefits In 1
You work extra hard and so should your BB cream! This lightweight skincare BB cream contains ingredients from our bestselling serum to deliver eight – yes, count them! – Benefits in every application:
Brightening
Instant Hydration
Natural Finish
Easily Blendable
UV Protection (mineral sunscreen SPF 25 PA +++)
Soothing
Evens Skin Tone
Lightweight
Nature's Brighteners Get Active!
Our entire Moisture White™ Shiso range is infused with a powerful combination of natural ingredients.   Shiso, Vitamin C, liquorice and Community Fair Trade organic aloe vera work together in a special complex designed to help you achieve a luminous skin tone.
A renowned antioxidant, Vitamin C helps reduce excessive melanin production.  Rich in flavonoids, liquorice is known to enhance skin-brightening.  And aloe vera is prized for its soothing and cooling properties.
How To Use ?
Use Moisture White™ Shiso BB Serum Inside as the final step of your morning skincare routine.  Apply with your fingers, gently blending over the face with small circular movements.  The chic bottle has an easy-use pump dispenser for a no-mess application. Use alone, or, for heightened brightening benefit, pair with our Moisture White™
 Shiso Whitening Serum.
For the optimum in skin brightening, use our full range of Moisture White™ skincare products to cleanse, tone, treat, moisture and perfect your complexion.  Developed for and tested by Asian women, the products are proven to deliver the visible benefits of skin radiance, clarity and improved luminosity in just four weeks.
MRP : Rs 2095
Quantity: 30 ml
Another new launch from The Body Shop!! Let's see how this one fares