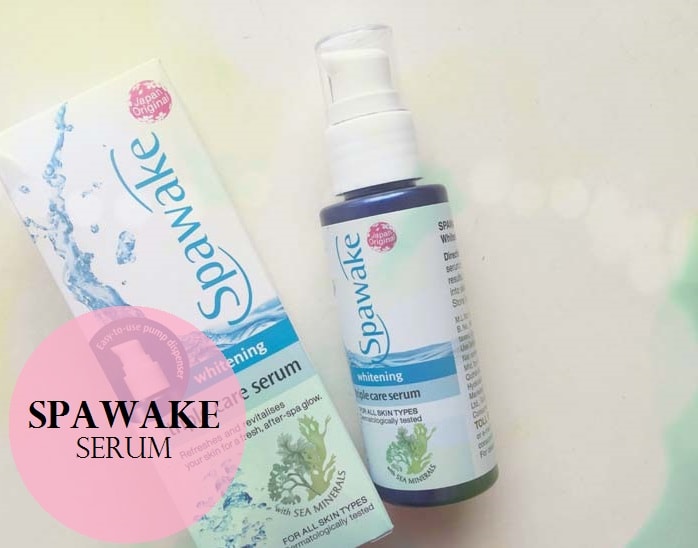 Review, Price, Buy Online Spawake Whitening Triple Care Serum
It's January and winter is in its full glory (here in Delhi at least). While I absolutely love the winter warm and fuzzy clothes, the hot chocolate, and all those deserts that taste extra good this time of the year, what I just don't like is what winters do to my skin. I recently came across one product that claims to maintain a healthy skin and I decided to try out and share the review of, with everyone. It is the Spawake Whitening Triple Care Serum that gives the skin a spa-like glow and moisturizes the skin from within. Read on to know how this skin serum fared for me.
My skin feels so dry, patchy and dull in the colder months of the year. So I am all for finding good moisturizing skincare products that helps my skin in any way possible and keeps it moisturized and smooth.
Spawake Claims: Triple Action Formula – Reduces Melanin Production, Prevents Melanin accumulation, Hydrates & takes care of skin that has been damaged by UV radiation.
Ingredients:
Laminaria Japonica Extract: A highest quality extract drawn from Japanese Kelp, a type of seaweed. The extract is known to have hydrating effects on the skin.
Maris Sal (Sea Salt): This mineral helps in controlling skin inflammation.
Niacinamide or Vitamin B3: It helps maintain a healthy skin and promotes good blood circulation.
Algae Extract: It helps improve blood circulation and combat melanin.
Vitamin C: It has high anti-oxidative powers that protects the cells from active oxygen and prevents aging. It suppresses melanin pigmentation and fights blemishes.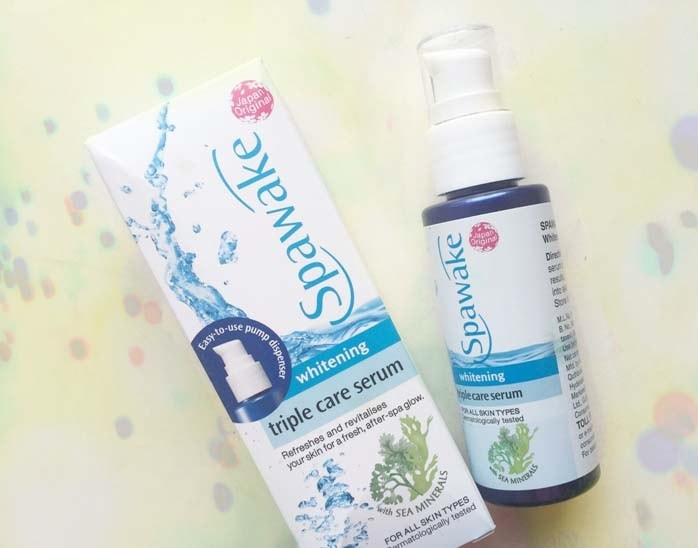 My review of Spawake Whitening Triple Care Serum:
Even though Spawake Whitening Triple Care Serum happens to be a whitening serum, I did not get this serum because I would like to become fairer. No, instead, I was intent on trying the said serum out for its triple action formula that it boasts of.
This spawake serum essentially reduces the Melanin Production and even prevents the melanin accumulation in the body. Now, Melanin basically is the pigment that gives the skin/ hair and eyes the color. If there is a high production of melanin in the skin, or even and accumulation, the skin reacts quickly to the sunlight and gets darker. Since the Spawake whitening serum prevents the production of Melanin and even its accumulation, it basically prevents the skin from turning dark. This serum also hydrates the skin and takes care of the skin that has already been damaged by UV radiation.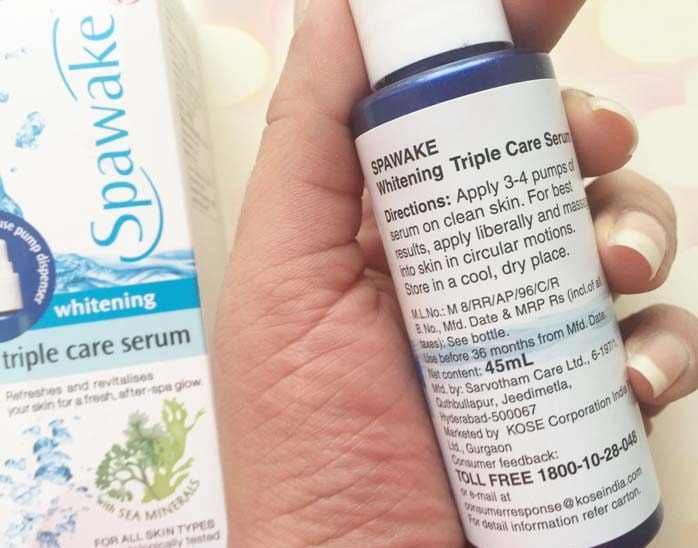 Triple Care serum is gel like in texture and feels very smooth on the skin. I usually take two pumps of this serum and it is enough to cover my whole face and neck area. For applying it, I wash my face with a mild face wash, let the face dry completely and then go ahead with applying this Spawake serum gently with light hands. The spawake serum gets absorbed into the skin really quickly and gives aglossy and radiant texture to the skin. I can almost see my skin with a little glow due to this serum. Post the whitening serum getting completely absorbed into the skin, I finish off my skincare routine with a moisturizing lotion to lock the serum into my skin for best results.
After just seconds of application of this triple care serum, I can feel the freshness it gives to my skin. It is very lightweight and doesn't even feel like I have layered some product on my skin. Since I have just begun using this Spawake serum on my skin, it would be unfair to say that I have already started seeing great results on my skin but I can say that the serum has definitely been working for me and that my skin definitely feels more glowing, fresh and awake.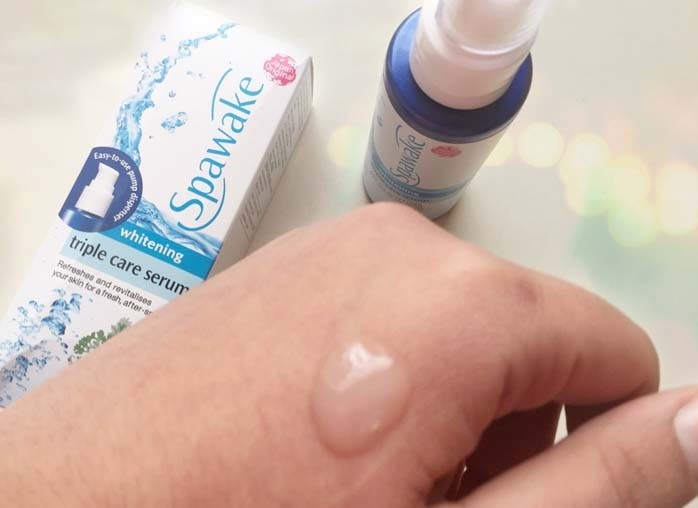 Pros of Spawake Whitening Triple Care Serum:
For a skincare product, I think it is quite affordably priced.
Easily available online
Contains Vitamin C and B3 which act as whitening agents
Feels very lightweight on the skin and gets absorbed very quickly.
Gel like texture. Easy to blend into the skin
Gives the skin a glow and radiance
Makes skin feel more fresh
Doesn't contain alcohol
Prevents the production and accumulation of melanin in skin
Prevents the skin from harmful UV radiation
Cons of Spawake Whitening Triple Care Serum:
Price in India: Rs.399 for 45ml
VNA Rating: 4.25/5
Availability: Retail Market – Urban Chemist shops and Supermarkets like Big Bazaar in Delhi / NCR
Where to Buy Online in India: spawake-shop.com
By Contributor: Trisha
Have you used Spawake Whitening Triple Care Serum? Share your reviews with us.