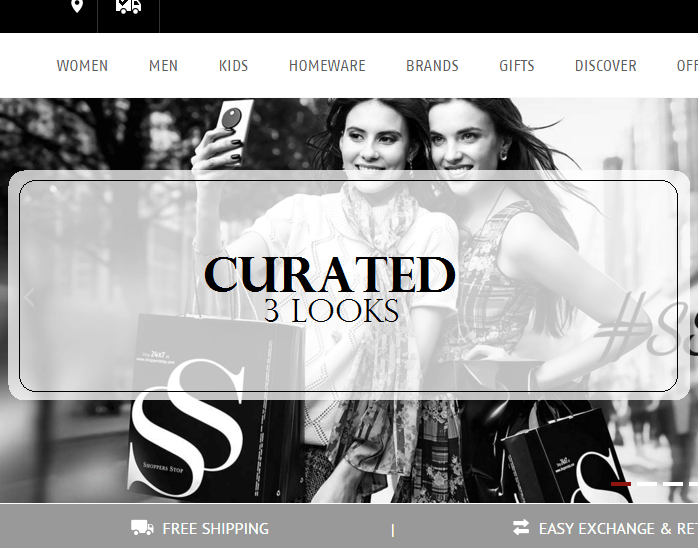 Shoppers Stop Website Online Shopping Review
Online shopping is a blessing in disguise for everyone. No one wants to face the hassles of travelling, running from one shop to the other and then standing in the long queues for trial rooms. Now, think of your favorite shopping destination online where you get everything under one roof and there's absolutely no difficulty at all. There's not a single woman who is crazy about clothes and makeup and hasn't heard of Shoppers Stop. The Shoppers Stop has revamped their website and launched it with a new hashtag trending all over the social media as #startsomethingnew.      
That got me curious and I headed over to their new shopping website to see what the buzz was all about. I;m going to share my experience of shopping from Shoppers Stop website and talk in detail about the user interference and other specifics about the site. Overall, it is incredible to have such a website which you can access anytime from phone or laptop and have a laidback shopping experience from the comfort of your home. There are three looks that I created for the VNA readers which might help you decide where to start from The Shoppers Stop Website.
BIKER CHIC: How to Style a Biker Girl Look
The ultra-sexy black pants and leather jacket is the quintessential biker look with the black bag with subtle metallic touch from RS by Rocky Star. Perk up the look by tight lining the eyes with the Lakme Absolute Kohl for a natural kohl smudged smoky look. Biker chic looks are extremely natural therefore you can simply layer up your face with the Dry and Wet compact from Lakme and finish the look with a subtle Colorbar earthy matte lip cream for the sexy pout. Put on the black boots which has a similar metallic touch of the shoes. Last but not the least, those sexy aviators to complete the look.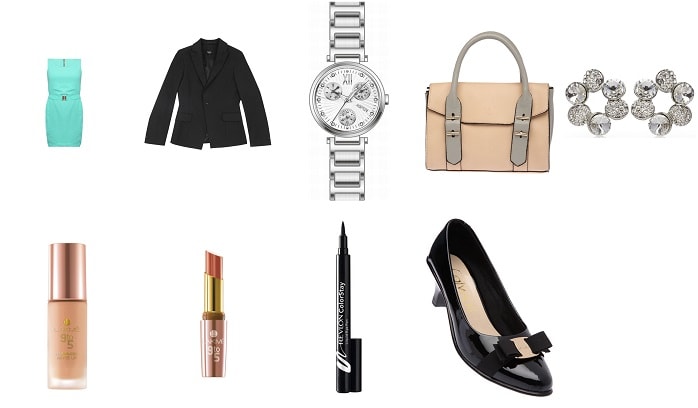 BOARDROOM GLAM: How to Style a Power Business Look
This look is formal, has a classy touch and also has a subtle glam factor. The pastel blue dress is an absolute stunner with the suede black blazer and along with the sleek black kitten heels. The bag from RS by Rocky Star is another stunner and the beige-grey pastel combo looks formal and stunning. The accessories include a metallic strap watch from Aspen and a pair of floral studs from the Kashish. For makeup, the 9 to 5 RANGE OF LAKME is the best choice for that long lasting effect. The lipstick, is also from the same range. Use the eyeliner felt pen from Revlon to draw and semi-thick line along the eye lid to give them some enhancement. They have a fabulous range of makeup which you can brows easily.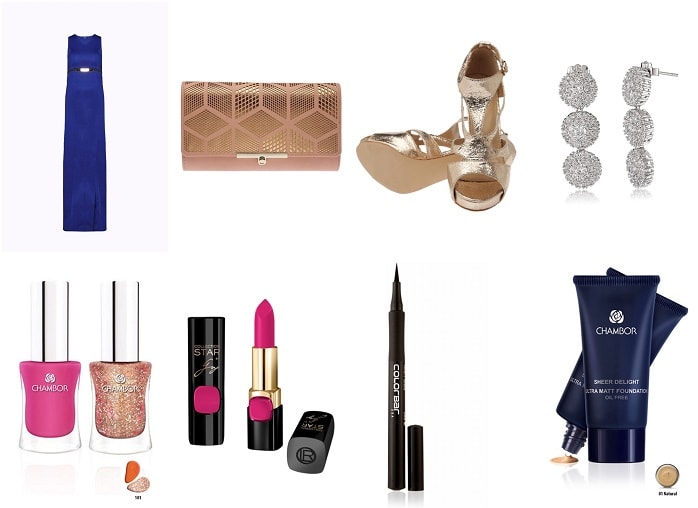 DATE NIGHT: How to Style a Sultry Date Night Ready Look
Date night is something every girl gets excited about. Here's the decoded look for the special date night. The royal blue maxi dress is apt for this occasion and the stunning champagne gold heels from Tresmode. The look is further accessorized with a rose gold stunning clutch from the brand RS by Rocky Star. The earrings from Shaze are gorgeous to glam up the look. Paint your nails with the Chambor Star nail enamel and also prep up the skin with the Chambor Sheer Delight Foundation. Apply the fabulous red lipstick Pure Amaranthe from the L'Oreal Pure Red Collection which is also available on the shoppers stop website.
Layout: the home page of the revamped shoppers stop website looks pretty and has that beautiful monochrome tone. Everything is listed at one place and you can also sort by brand if you are a brand-specific person. The great thing about the whole website is the idea of clothes, shoes, accessories, makeup and skin care – everything under one roof. The home page also states various new launches, deals and sales that are going on and also has a look-book to help you get started.
User Interference: the clothes, shoes and even belts come with proper measurements which really helps to identify the exact size you want to go for. For clothes, shoes and even watches, they have a very good collection to choose from. If you are confused, there are sections named Casual, Formal, Party, etc. to refine your search further. There is also a search bar to find everything else you are looking for. Overall, I found the user interference pretty good and distinctive.
Brands: I am sure this is the biggest thing which makes us come back to a website again and again. The Shoppers Stop Website has certain exclusive brands like Kashish, Stop, Eliza Donatein, Life and even exclusive brands like RS by Rocky Star, Desigual, Austin Reed, Haute Curry and Flaunt. It also stores the regular lifestyle brands like Vero Moda, Vanca, Lancome, W, Aleen Solly, etc.
I found the varied and distinctive products by RS by Rocky Star fabulous especially their bags and shoes. For casual and party wear, I adore the dresses from
Eliza Donatein
. Overall, there isn't a single brand I didn't find useful.
Shipping and Returns: The Shoppers Stop website offers COD, net banking, payment through credit cards and debit cards. For ordering anything, you have to sign in with your email or Facebook and after that the process is absolutely smooth. They usually ship within 5-7 days (excluding public holidays). They also provide you with free returns on most items within 14 days of delivery with a 100% refund. For any other specifics you can contact their service center for more detailed help. There is also a provision for exchange if you want any. Last but not least, it offers free delivery on all orders.
So, go on and try out the latest fashion trends with a few clicks and order any time you like. Do share your experiences about the website with us.
By Contributor: Sanchita
Have you shopped from Shoppers Stop online website? Share your reviews with us.