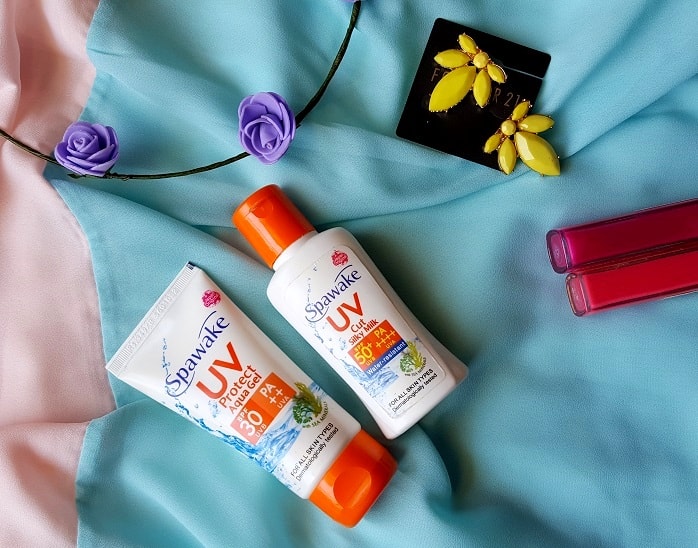 Review, Price, Buy Online Spawake UV Cut Silky Milk SPF 50+ and Spawake UV Protect Aqua Gel SPF 30
The oriental breeze always fascinated me with its beauty and unblemished charm. So, when I heard that Japanese cosmetic major Spawake has ventured into Indian markets, I just could not contain my excitement! I logged in online, and ordered two sunscreens for myself. After using their two flagship products – Spawake UV Protect Aqua Gel and UV Cut Silky Milk, I am all set to share my pearls of wisdom. Let me review the products and show you whether the imports from the land of rising sun are really worth all the hype.
About Spawake: Japanese brand, Spawake, is a renowned beauty and skin care brand in Japan. Spawake manufactures cosmetics and beauty products by deriving minerals from the sea. Some common ingredients directly extracted and included are:
Laminaria Japonica Extract, a sea weed, which keeps the skin hydrated.
Maris Sal, also known as the Sea Salt, contains minerals, and is used in curing inflammation of the skin.
Glycerin – to moisturize skin
Both the products in my kitty have these ingredients. Doesn't it sound tempting?
I started using Spawake UV Cut Silky Milk first; hence I will talk about this one before we get onto the other one.
My Review of Spawake UV Cut Silky Milk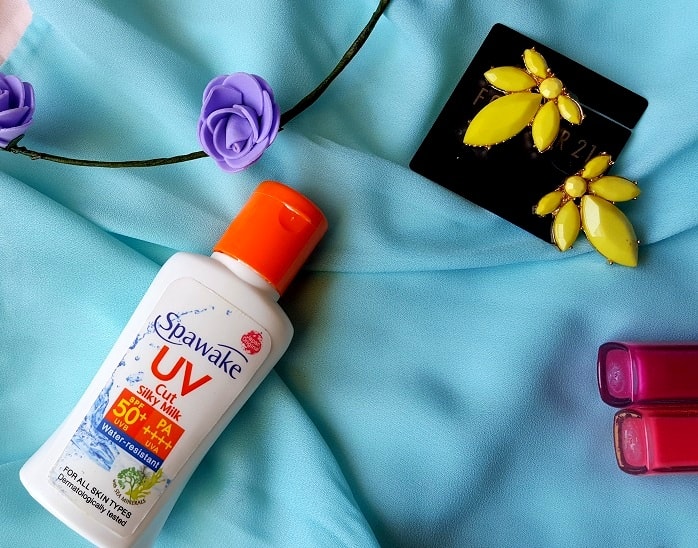 Packaging: Sturdy white bottle with orange cap.
The Texture & Consistency: The texture of Spawake UV Cut Silky Milk is precisely like milk. It is what you will feel if milk sticks around, and does not spill even for a split second. The sunscreen lotion is seamless, gives a dewy look instantly and did not leave any white residue behind.
Usage: Apply it just before stepping out. You can use the spawake sunscreen liberally if you sweat or swim, as it is water resistant. Just shake it well before applying.
How it Feels: After applying and rubbing the sunscreen lotion on my skin, I felt soft and there was an obvious change in the texture and appearance of skin.  It did not look shiny, just slightly dewy. It contains SPF 50+ PA++++ UVA/UVB, hence is a great lotion for all skin types. This little bottle is indeed a blessing.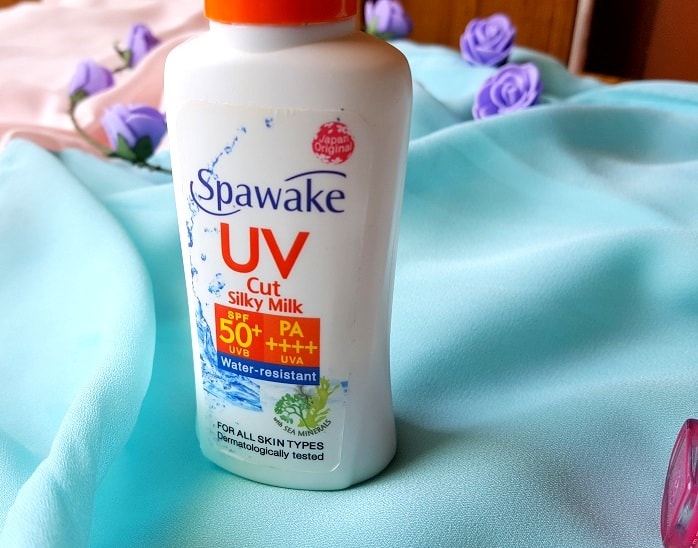 Pros of Spawake UV Cut Silky Milk:
True to its name, it is milky in its touch and feel
I would recommend it to all skin types
It works effectively as a sun screen lotion.
Easy to apply and permeates into skin quickly.
Packaging is light and travel friendly, hardly takes any space in your bag.
Water and sweat resistant
Has a fresh floral and fruity fragrance
Leaves no white residue behind
Cons of Spawake UV Cut Silky Milk:
Who can find a con with a product this good!
My Review of Spawake UV Protect Aqua Gel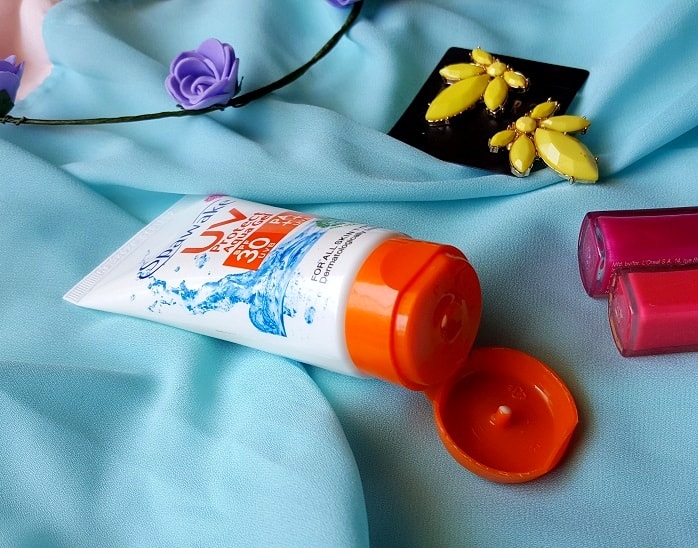 The Texture & Consistency: This sunscreen is extremely light, by light I mean extremely light, and it just did not spill around. The minute it was out of the tube, the lotion like sunscreen gel was absorbed. I knew that there was some product covering my skin, but precisely what, was difficult to say. Really thin and gel like, it is white in color.
The fragrance is mild and flowery, and will keep you refreshed.
Usage: Aqua Gel clearly indicates that it contains SPF 30 PA++ UVA/UVB, which makes it a highly desirable product as you can apply it and step out in the sun. You can apply the spawake sunscreen say, five before stepping out in the sun. It can be evenly applied all over the body.
How it Feels
The sunscreen cream can be evenly applied all over as it spreads easily.
It hydrated my skin, and I could feel some exotic effect working all over.
Spawake UV Protect Aqua Gel did not feel like a heavy gel. Just like a mild lotion, it left a long lasting effect on my skin.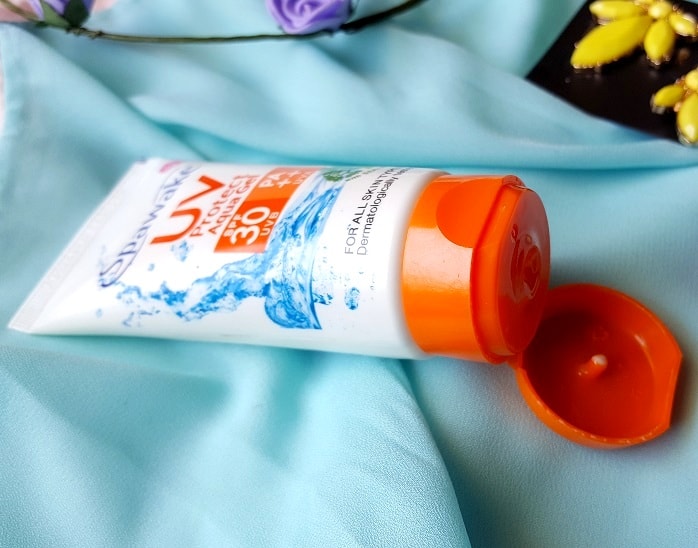 Pros of Spawake UV Protect Aqua Gel:
A great product for its range
Leaves no white cast or residue
Available online as well as in regular bricks and mortar stores
No sticky or chalky left overs
Travel friendly packaging
Spreads and permeates into the skin like water. I have now changed my perception around gels in many ways: Gels do not need to be transparent, Gels can smell great, Gels do not have to be thick and slimy.
Cons of Spawake UV Protect Aqua Gel:
Couldn't find any cons with this one
Price in India: UV Cut Silky Milk (Rs.449 for 40ml), UV Protect Aqua Gel (Rs.349 for 40gm)
VNA Rating: 4/5
Where to Buy Online in India: spawake-shop.com
Will I recommend the Product? Yes, both the sunscreens are for all skin types. None of these spawake sunscreens gave any side effects whatsoever. Given the fact that I have spent a considerable part of my life in the mountains, I can say that Spawake has researched rather well. They know the complex skin types of Indians, which is primarily a land locked country. All the ingredients originate near the sea, and to blend them accordingly, is indeed a great job.
A lot of us lose most of the sun screen in sweat, so products which are water resistant come as a fresh lease of life. I have used Silky Milk in sun, and the tanning was negligible. Similarly, Aqua Gel will not make you feel sticky at any point. The packaging is very travel friendly.
Have you used Spawake sunscreens? Share your reviews with us.