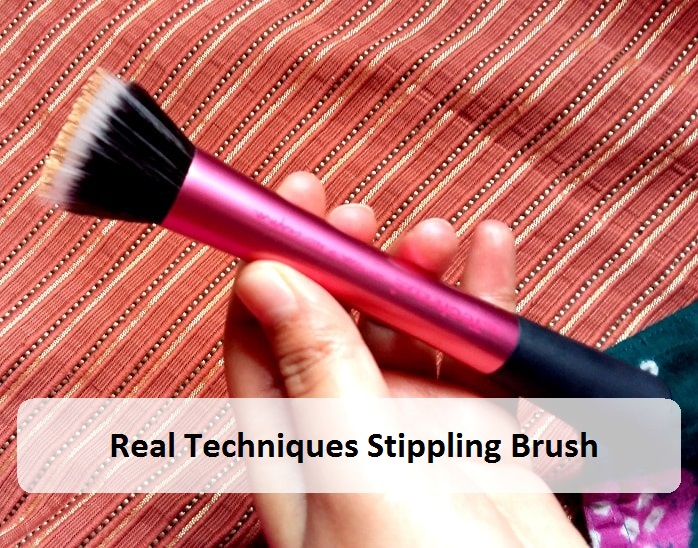 Review, Price, Buy Online Real Techniques Stippling Brush

Makeup brushes are boon for all makeup addicts as they give you a pro feeling and as well as good results too. Makeup brushes are available in various varieties, sizes and shapes. They always attracted me but at same time  broke my heart cause of their hefty pricing and availability. Let's face the fact we don't have affordable, good quality branded brushes in India. And if you find some they are overpriced, actually double the actual price. But all thanks to Samantha and Nick Chapman, the sister duo for introducing the real techniques brushes. I will review the real techniques stippling brush today.

I know real techniques brushes need no introduction, these are the only affordable and good quality brushes that are available in India and now you don't need to regret for not having a credit card to buy brushes from those international shopping websites. You can buy them here in India only. So today I will review the stippling  brush from real techniques. The Stippling brush is a duo fibre brush used to get that perfect airbrushed look as it picks up the right amount of product and stipples the product perfectly in the all corners of the face to get a flawless

  celebrity like skin which we all wish for.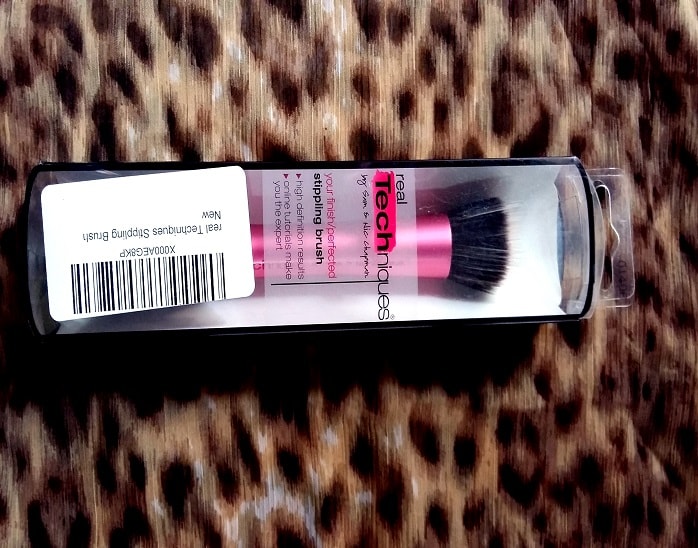 My take on real techniques stippling brush:
Real Technique brush is awesome and it's been so raved by all bloggers and YouTube gurus that I couldn't resist  myself  from including this one in my brush collection. It has a metallic pink brush with duo-fibre bristles and it's such a delight to your eyes. It will jazz up your whole brush stand with that girly hot pink colour.
Packing: Real Technique Stippling Brush has a pretty, bright metallic hot pink colour handle with real techniques embossed on one side and on the other it has stippling brush embossed. It has a broad matte black base to stand on its own and it comes in a sturdy plastic box with all the necessary information about the brush.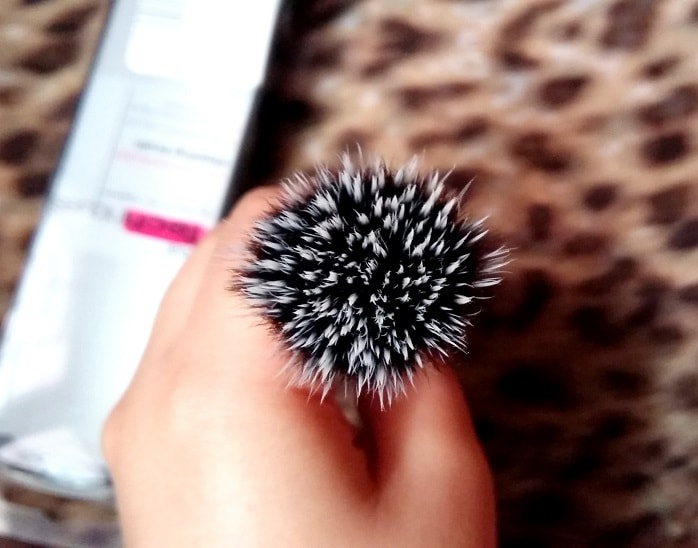 Bristles: The bristles are super soft duo-fibre i.e. the black bristles are animal hair with needle like look popping out. Basically this needle like bristles do all the magic. They are very soft.
Usage: Dip the Real Techniques brush in the product you wish to use with it and the white bristles pick up moderate amount of product and dab that on face and blend using dabbing or circular motion, I personally feel the white poky bristles actually pushes the product into the pores and uneven areas of face and covers up all the flaws. I know I may sound weird for simply imagining things but that's how I feel it works.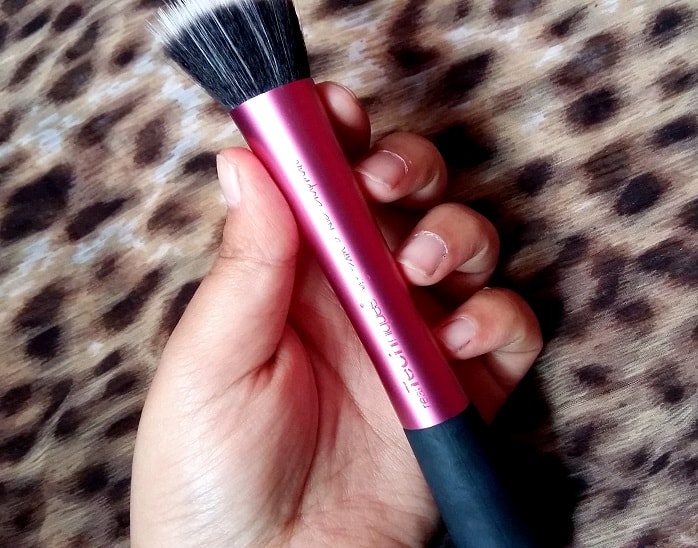 As I told before it's used to get an airbrushed look and it does the same. The brush is of perfect size, nor too big nor too small, it's perfect as a foundation brush to get in all the nooks and corners of face to cover up all flaws and it is not just limited to use as a foundation brush, you can even use with mineral foundations and also for setting makeup and so on. And the bristles are dense and designed in such a way to pick up required amount of product to create that pixel-perfect look and it doesn't make you look cakey as it picks little amount of product each time when dipped in foundation, unless you don't overboard the brush with foundation.
While picking up the product just touch the white bristles onto the product or else the product may end up going inside the black bristle and you may have hard time getting it out while washing it. And the proper application technique will give perfect airbrushed skin, if not blended properly it may end up looking streaky. So, blending is the key.
And now coming to the cleaning part of the Real Technique Stippling Brush, I have cleaned it zillion times with dish washing liquid and olive oil but it didn't even shed a single bristle. And the best part is that after every wash it retains its shape back and looks brand new.

What I like about real techniques stippling brush:
perfect sized foundation brush
multitasking brush
gives nice finish
affordable
good quality
no shedding
travel friendly
easy to clean
What I don't like about real techniques stippling brush:
Nothing! Actually I couldn't even think of one bad thing about Real Techniques Stippling Brush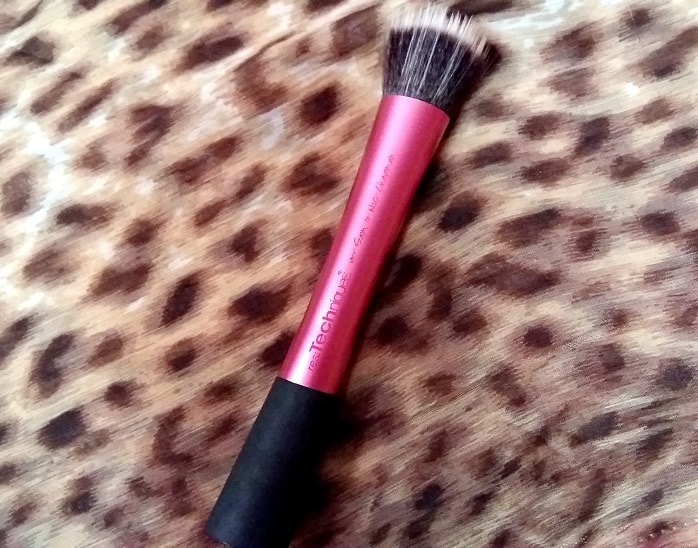 Price in India: Rs.1000 (now it's available at an even more cheaper price)
VNA Rating: 5/5
Where to Buy Online in India: nykaa.com
Conclusion: Good, affordable brush must have for all makeup junkies. It's a great foundation brush so it does all you work for blending in the foundations.
By Contributor: Ruhi
Also Read:
Review Of Real Techniques Blush Brush
Review Of MAC 217 Blending Brush
Have you used Real Technique Stippling Brush? Share you valuable reviews with us.