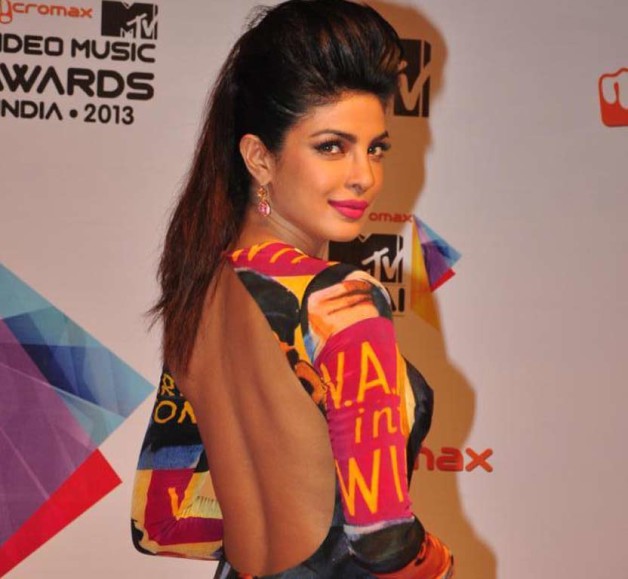 And the MTV Award for stopping people right in their tracks goes to Priyanka Chopra. Is that really her? Did she change her stylist or what?
I'm completely smitten by the Gauri and Nainika Hollywood inspired poster gown PC wore to the Mtv Video Music Awards 2013. Its one of the most hatke and quirkiest red carpet gowns I've ever seen. No, I've seen plenty quirky red carpet appearances but this one is a good way. Honestly, its hard to believe its Gauri and Nainika. This yet to be launched backless vintage gown

has really   made an impression.
If you travel north, you are welcomed by a beehive hair do. I'm in two minds about whether I like it or not…finally I've settled on liking it. Had it been on some other bollywood star I'm sure I must have hated it. But..PC looks edgy in this daring hairstyle. The hair up totally compliments the gown. If you remember, I wrote a post on 2013 hairstyle predictions and I mentioned beehives are going to make a come back…and here they are. I'm a visionary! Although they are a bit tricky to carry and not everyone can do that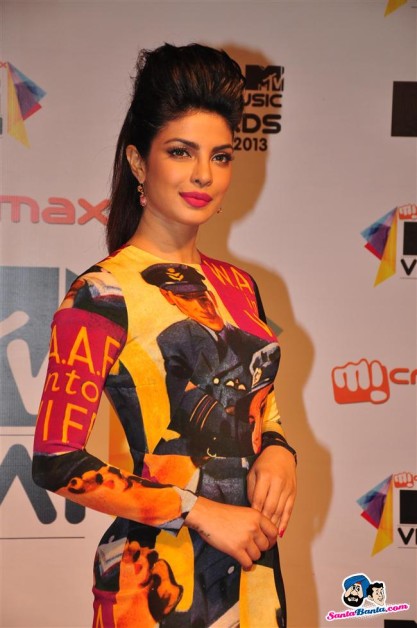 So now you know how much I love everything that looks vintage. But is the lady doing justice to the gown? Ummm..nope. From the way she is smiling and trying to look all mysterious, it looks like the gown is wearing her instead of the her carrying it. Deepika Padukone would have done a better job with it. No?
Since the overall look is supposed to be vintage and unconventional, what are those pink drop earrings doing there?
Makeup breakdown:
1. PC is wearing a highlighter shade in the inner corners of eyes. It can be Mac Rice paper. A thick line of black liner (Maybelline gel liner can do the trick) and falsies and mascara. Any mascara will do. I suggest Maybelline Hyper volume mascara.
2. The matte pink lipstick
looks like
Mac Girl About Town
.
3. The blush is a warm apricot blush. Mac Gingerly is my guess.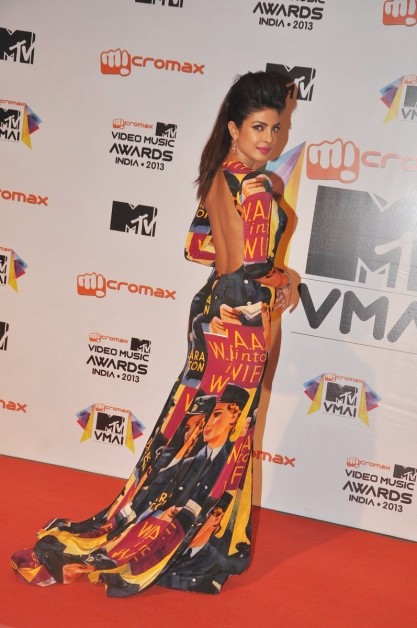 Did you do a double take too when you first saw her photos?
I'm on a vacation from last 3days and you have been reading the scheduled posts. But I can't help sneaking in through my phone to read your comments. Thank you for coming here always. You make blogging worthwhile. Big hug! :-*