Review and Price of Ponds Moisturising Cold Cream and Comparison with Nivea Cold Creme
By Contributor: Vidhi
To all the girls out there snuggling in warm blanket/ jacket/sweater and reading this I am here to review our very own favourite genre of cold creams (no sarcasm). How do we identify a cold cream or rather define it? Like this – Cold Cream = Sticky + strong floral or god knows what smell + oily cream. Not any more though, there was a time when all the cold creams use be like this. I remember applying cold creams used to leave behind an oily finger mark on paper and books (many among us have faced this) So I took a break from cold creams of any sort but on a recent visit to Delhi (which is the new Shimla these days) I had to step out and buy one cold cream and I got Nivea Creme in blue tin and Ponds Moisturising Cold Cream which I will review and compare today.
Okay now which is better out of two? (yes I was very confused that I was staring at them for around an hour looking for every specific thing written on them) So I will review them and at last give out my personal opinion. Let's start with Ponds Cold Cream.
Ponds claims: Moisturize:  Pond's Quenching-Moisturizers with Sodium PCA and Glycerine that gently moisturize rough and stretchy skin and maintain the skin hydration balance. Nourish: SkinNourishers with Soya protein, Sunflower oil and Skin lipids act on dullness and give soft supple skin. Protect:  SkinInsta-shield with Mineral oil, Emollients and Silicone conditioners protect skin from harsh winters and preserves its youthful beauty.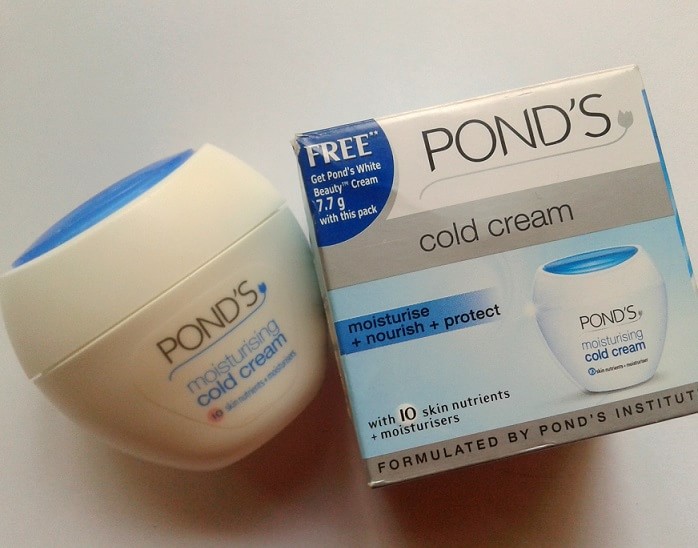 My Review:
First I really like the shape of  it (somewhat egg like) as it comes in a neatly packed box which has listed all the ingredients, claims and other necessary information about the product. The cream comes is in a white and blue tub which is egg-shaped which has a twist-to-open cap and as soon as you open it and smell the FRAGRANCE (wow just wow, really love this smell). I was hoping to find a thick textured cream but it had a little low consistency in comparison with Nivea but it spreads easily all over.
I did a tissue test also to check on the stickiness of the cream and (yay) tissue had no oil over it but my palm was bit slippery/oily after applying the cream, So one has to wash hands after applying this as I could hold the pen( which was slipping down from my fingers) It moisturizes for around 3 hours (depends upon how much you apply at once). Though the tub is convenient to carry in big purses but will not fit in your small purses or pocket! (In comparison with Nivea).
What I like about Ponds Moisturising Cold Cream:
The tub will not open loose or break if carried in luggage while travelling
Lovely smell
Moisturizes really well and preps up the skin instantly
Light on skin and doesn't make skin sticky or oily
Fairly priced
Available at all shops, malls, pharmacy and etc
Contains Sunflower oil too
What I didn't like about Ponds Moisturising Cold Cream:
Contains parabens
Staying power is quite low
Makes your palm/fingers oily
Which is better among Ponds Moisturising Cold Cream and Nivea Cold Crème?
Nivea cream has a thicker consistency which makes it a bit difficult to spread all over, it has an addictive smell (which you want to sniff sniff and sniff…not like a dog!) It is not sticky nor gives out an oily shine. It does not make your fingers or palm oily or sticky after applying so you don't need to wash hands after applying this (who like to wash hands in winter with cold cold water)
It can be easily carried in a small purse and even in pocket! (that's why I love it). The lid may come out loose open though while you travel so never take such a risk! (wrap around a rubber band and you're done) and I have applied it on lips too when I couldn't find my lip balm and amazingly it didn't dry out my lips.
I would say Nivea and Ponds are both equally effective but Nivea provides more quantity in lesser price in comparison with Ponds and also has longer shelf life than Ponds. So my vote goes to Nivea. In case if you don't like either of these there are many more options available in the market.
Price: Rs 75 for 49g
VNA Rating: 4/5
Do I Recommend? Yes I do recommend Ponds (unless you are allergic to parabens). It moisturizes without being oily. Although it makes your hands greasy. Travel friendly as the tub will not open and mess up your other stuff while travelling.