Review, Swatches, Price, How to Use, Buy Online Patanjali Saundarya Aloe Vera Gel with Kesar Chandan
I was looking for this Aloe Vera Gel with Kesar Chandan literally everywhere these past few months, ever since I heard of its release. However, the availability was very bad. I am a big fan of the old Patanjali Aloe Vera Gel as it had kept my skin pimple free for a year. The patanjali Gel was phenomenal and gave me good results but it took a lot of time though. This is why I was curious for this improved version.
I have oily skin, acne prone and sensitive too, at times. Not all 'anti-acne' product work on me and this is why I hardly change my skincare products. The ingredient list in the product was really good and gave me a hope that it would work on me. I have tried out the kesar chandan aloe vera gel for a month now, in various ways and here is my detailed review on the product in question.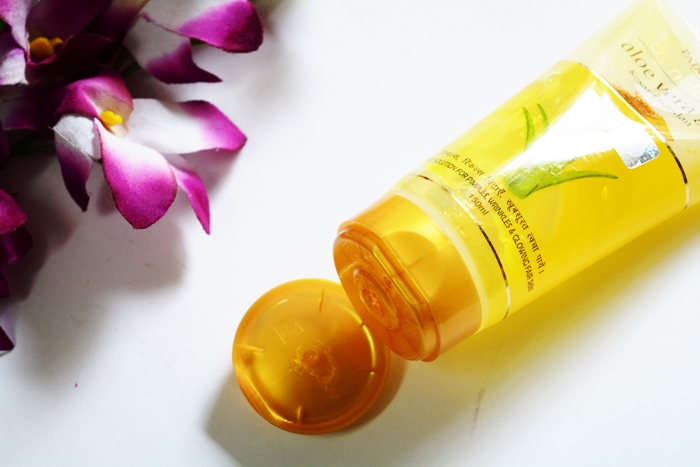 My Review of Patanjali Saundarya Aloe Vera Gel:
The Saundarya Aloe Vera Gel with Kesar Chandan comes in very convenient tube with the yellowish flip open cap. The tube is plushy, easy to handle and transparent – which enables you to see the product easily. The tube doesn't spill or leak the product and since I have traveled a lot with this, I can easily say that the tube is travel friendly, without any fuss. The gel has a slightly runny consistency. It is yellow in color and has the aroma of Kesar and Chandan. The smell is faint but you can easily say it's artificial. However, it does refresh your skin, gives a soothing whiff and I do like the smell.
A little amount goes a long way and it feels refreshing on skin. The moment you apply this saundarya aloe vera gel , it gives a cooling sensation, which is great for sensitive and inflamed skin. I, mostly, use this as a hydrator and the moment you apply, it gives a radiant touch to the skin. The gel takes some time to absorb and then it hydrates the skin without any greasy layer.
Patanjali Saundarya Aloe Vera Gel with Kesar Chandan vs Old Patanjali Aloe Vera Gel:
What I have seen is that, the fundamental difference between the old Aloe Vera gel and this new one is that, it adds that luminous touch.
I have used the gel in various ways and mostly I prefer it as a moisturizer and night serum too. My skin sometimes, is incapable of taking heavy duty night creams and facial oils so I stick to face wash and this Patanjali Saundarya Aloe Gel.
How to use Patanjali Saundarya Aloe Vera Gel with Kesar Chandan:
As a moisturizer, it is one of the best for oil free and acne prone skin. You can also use this as a night serum as well. It never broke me out and helped to refresh my skin.
As a night cream when you use a facial oil with it. Night creams are generally hydrating than the day versions and you can add few drops of essential oils of your liking and use it. I used to do this in colder months and it served me pretty well.
For under eyes, you can surely use this product. Apply a thick layer of this gel on a cotton pad and apply under the eyes. This is give a soothing and cooling sensation, hydrate the delicate eye area without making the eyes watery and make the eyes look fresh. However, it will not lighten hereditary dark circles.
For face masks, you can use this as well. Be it Fuller's Earth or Besan or any other dry face pack, use this gel to dilute it and apply on the face. This works best for oily and combination skin types.
The Patanjali Saundarya Aloe Vera Gel with Kesar Chandan can also be used as an overnight mask. I apply a thick layer for night, after washing my face and let the gel get absorbed slowly. it provides hydration and get the ingredients work on the skin as well.
There various other uses like an after shave body lotion to soothe the skin and as a face primer as the gel helps the makeup to adhere to the skin better.
Coming to the claims, I would say it is hyped. A gel isn't going to make you fair, rest assured, it does add a glow. My skin felt pretty lifeless for a long time before using this gel and this one helped me reviving the radiance. Coming to the dark spot and pigmentation removal, yes does work but takes a lot of time. The acne mark usually takes its own sweet time to disappear but I saw my pigmentation around the mouth disappearing. Also, the hydration prevents dullness.
The ingredient list is impressive. It has Aloe Vera, Kesar and Chandan. Aloe vera has various benefits for skin as it soothes inflamed skin, has various anti-ageing benefits, and hydrates the skin which is suitable for every skin type, reduces acne and breakouts and also helps to lighten the blemishes. Chandan or Sandalwood promotes healthy, improved skin and enhances the skin's texture. It also contributes in reducing the blemishes along with Aloe Vera and Kesar. Sandalwood also controls the excess oil secretion and adds a luminous touch. Kesar also helps in combating dullness and works good.
However, the ingredient list indicates that there is color and artificial smell included, which isn't something very appreciating in an herbal product. Also, the base Q.S. is a vague term. The product also may not work gloriously for dry skin. Since I don't have dry sin, I can't comment much on that. The price tag is good and affordable. But, the product availability is still bad after months of release of the product.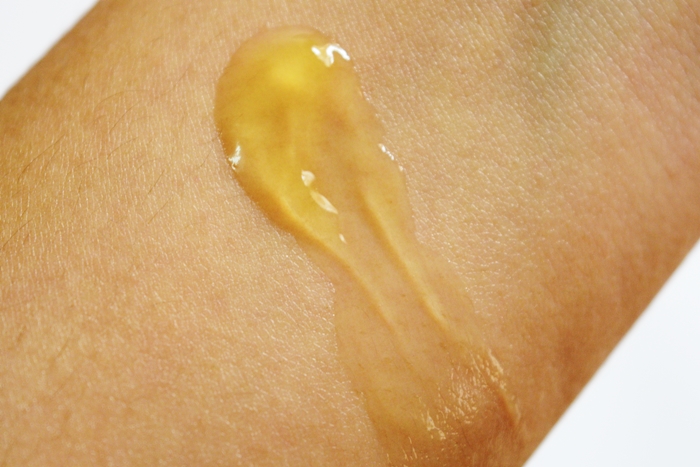 Pros of Patanjali Saundarya Aloe Vera Gel Kesar Chandan:
Efficient and travel friendly packaging.
Light yellow colored gel that gets absorbed, leaving an oil free skin.
Great for oily, combination, acne prone and normal skin types.
Multipurpose uses.
Adds a luminous glow to the skin.
It is enriched with Aloe Vera, Kesar, Vitamin E and Chandan.
Works great for controlling oil yet hydrating the skin.
It improves the skin texture.
Reasonable price tag.
Cons of Patanjali Saundarya Aloe Vera Gel Kesar Chandan:
It may not work for dry skin.
The product isn't completely herbal. (added preservative, colors and artificial smell)
False claims.
Works very slowly on skin.
It would not be very effective on matured skin.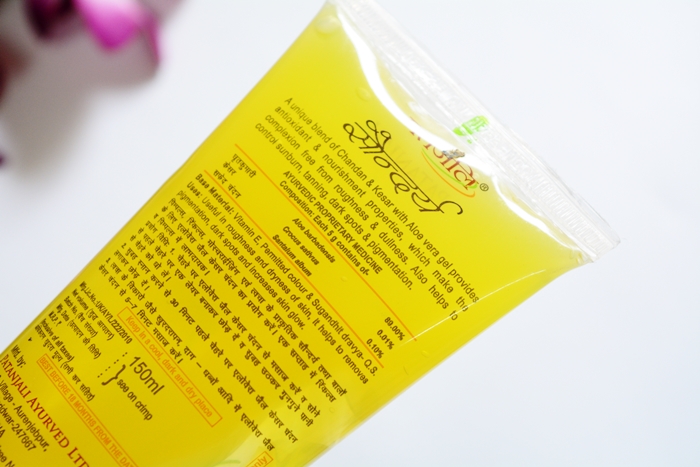 VNA Rating: 4/5
Price in India: Rs.100 for 150ml
Where to Buy Online in India: flipkart.com
Recommendation: The Patanjali Aloe Vera Gel with Kesar Chandan is a yellow colored gel that has multipurpose uses for skin and works best as a moisturizer for oily skin to hydrate and prevent acne. If you compare with the old Aloe Vera gel (which worked really great on me), I would say this is a better version. However, the product isn't a miracle. It takes its own sweet time to show and you have to be patient.
Have you used Patanjali Aloe Gel? Share your reviews with us.