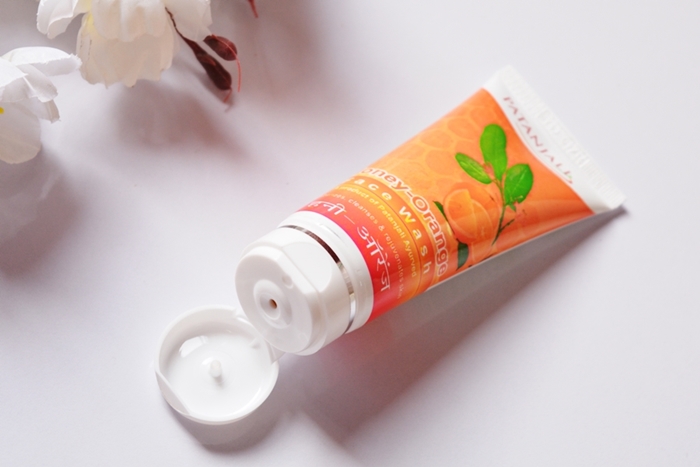 Review, Price, Buy Online Patanjali Honey Orange Face Wash
Patanjali has become a cult favorite in the affordable range of products. I have been using the baba ramdev Aloe Vera gel for years now and currently in search for the newest launch of Patanjali Saundarya Kesar Chandan Aloe Vera Gel after reading its reviews on the beauty blogs. Their products are affordable and nowadays, easily available online as well. I have been trying out the Patanjali Honey Orange Face Wash and transitional weather is the best time to change your face wash. I really liked the components and believed that it would work well with my skin. Having oily and acne prone skin, I always stick to foam based washes to keep the oiliness at bay. To know my detailed experience with the product, scroll down the review for more.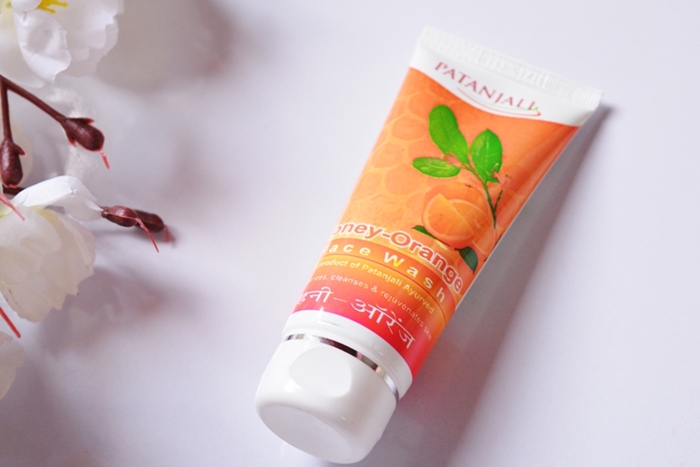 My Review of Patanjali Face Wash:
The Honey Orange Face Wash has a very simple and effective packaging. It is housed inside a plush white tube with a white cap as well. It has the flip open system and the face wash doesn't leak or spill at all. The packaging of the new patanjali face wash is light weight and easy to carry around while you are travelling. Every information about the cleanser has been penned down on the back as well. Overall, I liked the decent packaging.
The baba ramdev face wash has a gel based texture. It is orange in color and the consistency is neither runny nor too thick. The fragrance is the best thing about this honey based face wash. It has the glorious note of orange aroma and it is not overwhelming at all. It lingers on the skin for some time and gives a refreshing feeling to the skin. I love using this in the morning or before hitting the bed because of the aroma. The foaming face wash, though gel based , lathers pretty well and cleanses the skin to a large extent.
How to use this?
The orange face wash lathers well and makes your skin squeaky clean. It also gives a refreshing feeling and easier to wash off. I hate the slippery feeling of certain face washes which take forever to wash off. The cleansing property has certain limitations though. It can easily wash off dirt, pollution and unclogs the pores but it will hardly make a difference if you are wearing makeup. Thus, it is advisable to use cleansing cream or lotion beforehand. Once you wash off the face, it will not make your skin feel stretchy or dry. But using a moisturizer is a must!
It imparts a healthy glow to the skin and I love the natural luminous finish. The patanjali face wash is best suitable for normal to combination skin and thus, it works like a charm on my oily skin in winter. For summer, it will act as a mild face wash. The oil control factor is slightly mild and thus if you have very oily skin, you might not want to use this.
Coming to the biggest concern, acne. I have acne prone skin and thus, the very first thing I notice how it works on the tiny zits. Both the key ingredients, orange and honey, works well for acne and thus I was expecting it will do some magic. Well, it did dried out my tiny zits and some hormonal acne but it does takes 2 days approximately. The situation is not aggravated and I am happy to use the face wash.
The ingredient list is impressive, although they have just mentioned the key ingredients only. It consists of the goodness of Aloe Vera, Honey, Orange, Tulsi, Haldi and Neem. Aloe Vera is really helpful for skin and aids in treating acne. It gives a calming sensation to the irritated sunburn skin and helps in drying out the zits. It is anti-ageing in nature and also acts as a mild moisturizer without oiliness.
Orange has a high content of citric acid which is effective in drying away acne. It helps in lightening pigmentation and thus it gives a mild glow to the face. It also helps in restoring collagen and contain powerful antioxidants. Honey is an excellent humectant, anti-ageing, moisturizing and naturally antibacterial, so it's great for acne treatment and prevention. Even Tulsi, Haldi and Neem does an excellent job in improving the texture of the skin.
OVERALL – The Patanjali facial cleanser comes in a tube packaging with rich aroma of orange. It is a gel-based mild face wash, best suitable for normal to combination skin and acne prone skin. It gives a radiant glow, makes the skin clean without drying out and extremely affordable. However, you can only see the results after prolonged usage.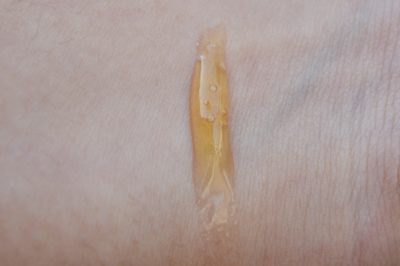 WHAT I LIKED about Patanjali Honey Orange Face Wash:
Plushy white tube, flip open cap and travel friendly packaging.

It is gel based, medium consistency and lathers well.
Best suitable for normal to combination skin and acne prone skin.
Makes the skin clean.
It is effective yet mild at the same time.
Beautiful fragrance of orange that lingers.
It consists of the goodness of Aloe Vera, Honey, Orange, Tulsi, Haldi and Neem.
Helps to dry out the zits.
Affordable.
WHAT I DISLIKED about Patanjali Honey Orange Face Wash:
Not all ingredients are listed.
Takes time to show results.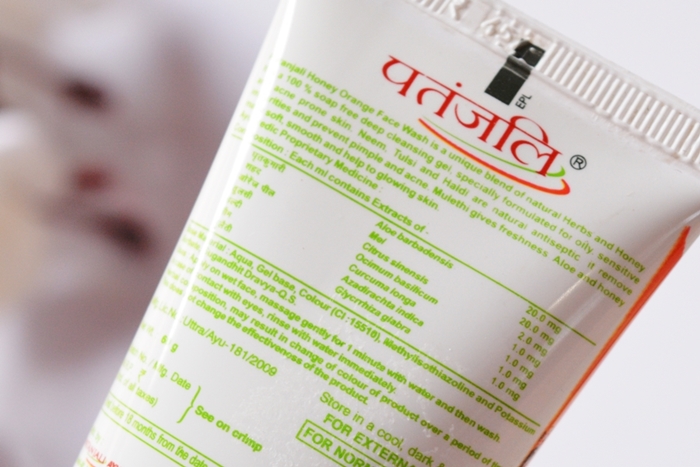 Price in India: Rs.45 for 60ml
VNA Rating: 4/5
Where To Buy Online in India: amazon.in
RECOMMENDATION: I would highly recommend this face wash if you are looking for a mild gel based face wash with an affordable price tag. I wouldn't call it a magical product but for the price, it surely works like a charm.
Read More:
Have you used Patanjali Honey Orange Face Wash? Share your reviews with us.