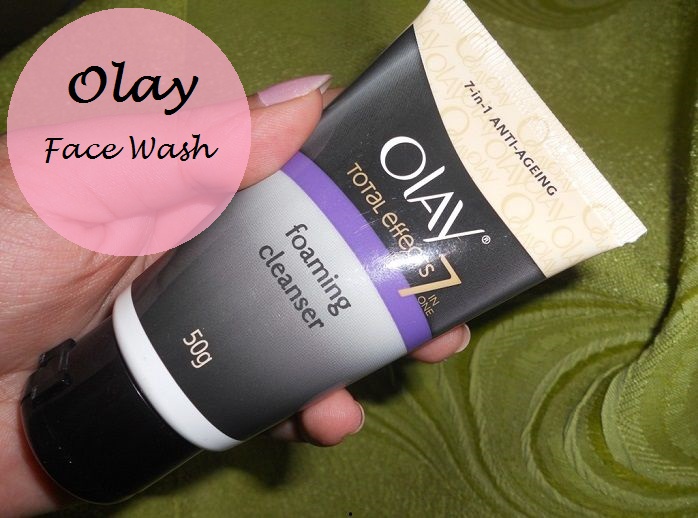 Olay Total Effects 7-in-1 Anti-ageing Foaming Cleanser Review
By Contributor: Agnirupa
I am never too finicky about my face washes but being oily skinned, I always go for the gel-based cleansers with salicylic acid like clean and clear, vichy and so on. So when Anshu sent me a host of Olay stuff to try out, I was the least enthusiastic about the Total Effects Foaming Cleanser with 7 in 1 Anti Ageing benefits. Read on my review know how it changed my opinion!
Olay Claims: Enjoy a luxurious way of cleansing your skin with Olay Total Effects 7-in-1 Anti ageing Foaming Cleanser that imparts glow to your skin and gives you freshness.
Washes Away Impurities
Washing away impurities from the pores of your skin gently, this cleanser leaves you with super soft and healthy skin.
Removes Dirt, Oil and Make-up
Get rid of every trace of make-up and dirt with regular use of this face wash that leaves you with fresh and clean skin.
Ideal for All Skin Types
This face wash is ideal for all skin types and does not cause any rashes or skin irritations.
Gives Fresh and Younger Looking Skin
Get a youthful look by cleansing your face with this face wash that endows you with fresh, firmer and younger looking skin.
Lifts away Dull Surface Skin
Revealing radiant skin, this cleanser removes dull skin from the surface.
My Review:
The packaging of this olay cleanser is a fuss-free plastic tube with a flip-top cap which is easy to use, carry and squeeze out. The face wash is pearly white in color, with a thick, creamy, shaving foam type texture which spreads on my damp face smoothly and I only need a little bit to get the foamy texture.
As it doesn't form any typical lather, I found it very easy and smooth to massage a bit and wash off leaving my face squeaky clean.
As for efficacy, I expected nothing much but omgg ended up totally loving the after effects!! My face was radiant, squeaky clean without being stretchy or dry and every tiny bit of makeup (concealer, powder, lipstick) had vanished smoothly!! My skin felt soft and plump. In love!!
The fragrance was neither amazing nor at all disturbing- a very mild, floral scent which vanished in a few minutes. My usually sensitive skin did not break out at all and lately this is the only cleanser I have been using twice a day!
Swatches in natural light – how it foams up
The pros of Olay Total Effects 7-in-1 Anti Ageing Foaming Cleanser:
Smart, sleek convenient plastic tube packaging with a secure flip-top cap
Thick, smooth and creamy shaving foam like texture- spreads smoothly on damp skin
Easy to wash off- removes oil and every bit of make up

Skin looks and feels plump, radiant, bright and healthy!
No drying out or stretching of skin
Did not break my skin out
Non cloying fragrance!
Inexpensive
The  cons of Olay Total Effects 7-in-1 Anti Ageing Foaming Cleanser:
Price: Rs.130 for 50g
VNA Rating: 5/5
Do I recommend? Ooh la la this face cleanser has it all! It fulfills its claims and cleans my sensitive fussy skin effectively without being harsh on it or breaking it out. Convenient packaging and its radiant effect after washing my face with it makes it a must-have for you all! Do try it out