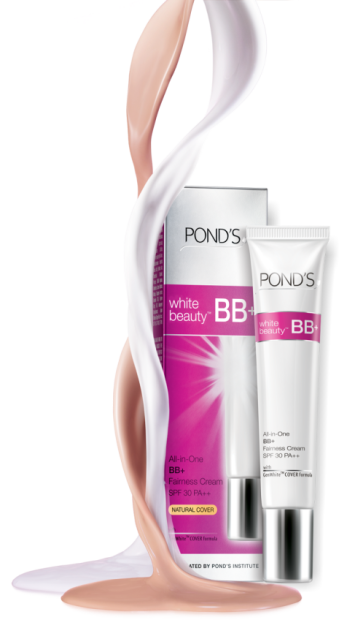 Its raining here in Delhi as I write this post. Bin mausam ki baraat…and I'm not complaining. You know what else was a welcome surprise today? That Ponds has launched a BB cream…after Maybelline, Garnier, Deborah, VOV..what now? Lakme BB cream!
The Future of Radiant Skin is here
The new all-in-one
Pond's white beauty TM BB+ fairness cream
 First of its kind BB+ fairness cream that instantly covers spots and lightens skin from within to give you radiant skin all day
MUMBAI, MARCH 24, 2013: Pond's, the pioneer in face care with over 160 years of face care expertise, introduces the revolutionary Pond's white beauty™ BB+ fairness cream. The first of its kind innovative beauty solutions from the Pond's white beauty portfolio combines the dual benefit of instant coverage of spots as well as lightening skin within to help reveal perfect natural look. Pond's white beauty™ BB+ fairness cream with SPF 30 PA++ and GenWhite TM

cover formula provides natural coverage suited for Indian skin that conceals spot instantly while working from deep within epidermis to lighten stubborn spots  for all day instant spot-less radiant skin.
The evolution of BB cream
BB cream, also known as Blemish Balm cream, was originally formulated in the 1950s by German dermatologist, Dr. Christine Schrammek, to protect and provide natural light coverage for patients' sensitive skin, who had just undergone laser treatments and surgery. Recently, it was introduced in South Korea and Japan and it has been named "the secret of Korean actresses" for their fair and flawless skin.
The science behind Pond's white beauty ™ BB+ fairness cream
With the Pond's Institute's dual-acting sophisticated skin lightening GenWhite™ Cover Formula and SPF 30 PA++ advanced sunscreen protection, Pond's white beauty™ BB+ fairness cream not only improves skin texture and effectively lightens skin from within but also provides Natural looking instant glow for Indian skin.
Clinically proven to lighten skin tone and reduce dark spots, GenWhite™ Formula is enriched with a powerful mix of Vitamin B3, Vitamin E, Allantoin and advanced superior sunscreen protection.
Vitamin B3 – Pond's signature ingredient, helps to reduce and control melanin accumulation on the skin
Vitamin E – A potent fat soluble anti-oxidant to neutralize the harmful effects of free radicals which can trigger melanin production which leads to darker skin
Allantoin – Recognized as an anti-inflammatory by US FDA found
in the comfrey plant and helps to reduce processes that can lead to increased pigmentation
Advanced Superior Sunscreen Protection SPF 30 PA++  SPF 30 PA++ – Helps to protect against skin tanning and photo ageing
A great complement to the Pond's face care regime:
Pond's white beauty™ BB+ fairness cream also completes the daily Pond's face care regime with its instant natural coverage and advanced sunscreen protection, in addition to superior skin lightening and brightening benefits.
With its smooth and light texture, Pond's white beauty™ BB+ fairness cream is applied in three easy steps after Pond's white beauty cream. For a smooth, flawless complexion, simply squeeze a small amount of Pond's white beauty™ BB+ fairness cream onto fingertips, dot the forehead, cheeks and chin. Then, blend and spread outward towards the hairline and jawline for an even coverage.
Providing multi-targeted coverage with skin lightening benefits that lasts throughout the day, Pond's white beauty™ BB+ fairness cream is the perfect complement to the Pond's daily face care regime.
Now get:
v  Instant natural coverage
v  Non-pores clogging
v  Light, non-oily texture
v  Lightens from within epidermis level
v  Reduces dark spots
v  Evens skin tone
v  SPF 30 PA++ protects from UVA, UVB and visible light
Pond's white beauty™ BB+ fairness cream is available at for Rs.125 for 18 gm and Rs.69 for 9 gm. 
If this BB cream is even half as good as the now discontinued Ponds tinted moisturiser then I don't know how would I stop myself from hoarding!