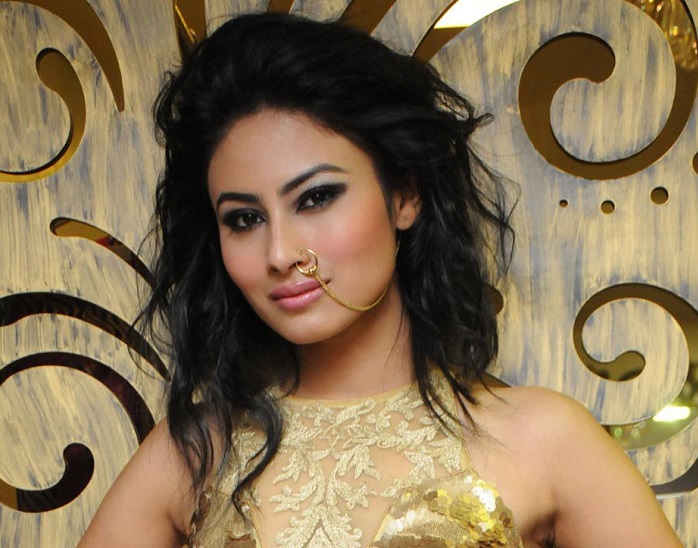 Top Mouni Roy Beauty Tips, Diet Chart, Fitness Secrets
Try compiling a mental list of television actresses who can carry every character and attire with elan and, I am sure, Mouni Roy, a.k.a. Sati of Mahadev will top the list. She's sexy, gorgeous, hot, beautiful, desi and original! Her screen persona is hard to ignore and her bengali looks are noteworthy. Mouni has recently appeared on the TV series Nagin, and this tv show multiplied her fan following tremendously. She is on Twitter and Instagram, she has already crossed one million followers. In this post we will get into what her daily beauty routine looks like along with her fitness mantras, diet chart, makeup regime and favourite beauty products.
We all know how gruesome their routine is and how hectic their lifestyles are. Hence my curiosity reaches its peak when I flip through the pages and see them smiling and graciously answering questions which are, well, quite irritating as well! Hats off to their dedication and hats off to their patience for sure. She has been staying away from media controversies for quite some time. Her dedication and commitment to the craft of acting is quite prominent, given the fact that she can mould herself easily into every character so easily. I have never been a TV buff, but, can easily figure out Mouni because of her strong screen presence and confidence. She looks different, and she is original!
Her beauty tips and inputs are very easy to follow. She has been quite active all her life, hence fat deposit was something which never rang a bell in her head. Being a Bengali, her skin is flawless and hair dark, wavy and thick. Adding beauty to her appearance is her broad face with sharp features.
Mouni Roy Diet and Fitness Secrets:
1. Drink water, at least eight to ten glasses in a day. It sounds like a cliché, and sounds boring as well. However, do not forget this age old trick. Water dissolves all the impurities.
2. She lays a lot of emphasis on keeping the body fit and toned. She is a trained Kathak Dancer, hence she dances away to glory to keep herself healthy and happy. Dance for sixty minutes to burn four hundred calories every day. Thats her most important work out and fitness secret.
3. Do not ever starve to stay fit and thin. Eat after a gap of two to three hours and stay happy. This will boost your metabolism and will put a full stop on your hunger pangs. The key here is to eat sprouts instead of a cheese burst pizza. You don't need a strict diet chart but healthy and light meals.
4. Mouni is a self confessed foodie. Her favorite cuisine happens to be Chinese and she eats Chinese food once in a fortnight. Sprite is her favorite drink. Though Chinese is her SOS kind of indulgence, she prefers home cooked food most of the times.
5. Wear clothes that you can carry off without any hesitation.
6. Say NO to alcohol and smoking for a sexy body and face.
7. Do not aim at being skinny, if you are not meant for it.
8. She loves her Bengali cuisine and loves spicy dishes.
9. No gym for her!! Only dance for about an hour.
Mouni Roy Beauty Secrets:
1. To add glamour in your life, ensure that you learn to accentuate one feature; be it shoes, attire, hair, eyes, lips, anything for that matter. Miss Roy believes in the same philosophy as well and loves to highlight her eyes. She is never without the eyeliner or kohl.
Her dry skin needs regular moisturization and hence she drinks a lot of water, and applies moisturizer on her face as well.
2. Mouni's love for lip balms is well known. She prefers balms to gloss or lipsticks. She has a huge collection of lip balms. Also, she applies lip balms after every three to four hours. This keeps lips health and moist.
3. Thats one of her favourite beauty tips. Another essential item is Sunscreen. She does not step out without the sunscreen and relies on the best brands to protect her skin from the damages. She categorically states that it is important to consult a Dermatologist before using any beauty product as they are the right people to guide and help you with regards to the need and overall maintenance of your skin.
4. Mouni ensures that she does not apply makeup in any form when she is not shooting. Once her shooting is over, she immediately removes the makeup with the help of oil based cleansers.
5. Her best friend is an Aloe Vera gel which keeps her skin nourished.
6. She is a huge fan of massages. She loves her body massage. Her weekly schedule includes a body massage. Apart from this, she never misses her facial cleanup appointment every week.
7. Many moons ago, Mouni's mother used to apply an ubtan made of Haldi and Malai for a great skin. Now, since she has no time to stay back at home, Mouni gives this beauty regime a miss.
8. Hair and head massage, as & when applicable and available.
Mouni Roy Make Up Tips
1. The key to a great makeup lies in the way you apply your foundation. Always prefer a foundation of great quality.
2. Highlight just one aspect of your face. Great, heavily embellished eyes will go well with a neutral lip color. If your lip color is really loud, then forget about eye makeup. A little tinge of mascara and kohl would be enough.
3. Looking beautiful is one thing, and you should strive hard to be beautiful. Your body language, clothes, grooming, accessories, everything plays an important role in creating the glamorous you.
Her Favorite Cleansing Routine:
Apply Aloe Vera gel at night on your face, and then wash off your face with water. You can store the gel in the fridge for best results. This will keep your skin nourished and hydrated.
Mouni Roy Favorite Beauty and Makeup Products Brands:
Products from Clinque & Lancome, especially
Moisturizer by Lancome
Moisturizing cream by MAC
Oil cleanser by MAC
All the products by The Body Shop
Mouni Roy Favorite Beauty Tip:
When in Rome, do as Romans do. Similarly, beauty wise, try to use products which are indigenous as these products understand the climatic conditions rather well. So, next time, do not shy away from using Sunsilk or Head & Shoulders or Patanjali as the makers understand the basic climatic conditions.
Hence concluded that beauty is not a matter of chance or luck, but it is a holy (blame it on Mahadev nostalgia) amalgamation of hard work, focus, determination and commitment.
Every time I try to figure out the factors which differentiates between 'us and 'them' it is the will power, or the lack of it which takes away the storm. I am still struggling to lose weight and getting rid of patches, and after reading and writing about beautiful actresses like Mouni Roy, I feel inspired and motivated to take the right step next time.
But do not forget that you need to lose weight and not your determination and confidence. Stay fit, eat what you like in moderation, and balance out your binge sessions. Moreover, do not lose sleep over anything. Sleep is a must to do thing, and stop thinking too much about anything and everything that has happened to you (Or maybe things which could not happen)!
These are some of the beauty, makeup, fitness and diet secrets of Mouni Roy. Life is too short and vanity is shorter, so make room for beauty asap, you never know what all you might be missing down the line!
Image source: 1
Which is your favourite beauty tip? Share your reviews with us.