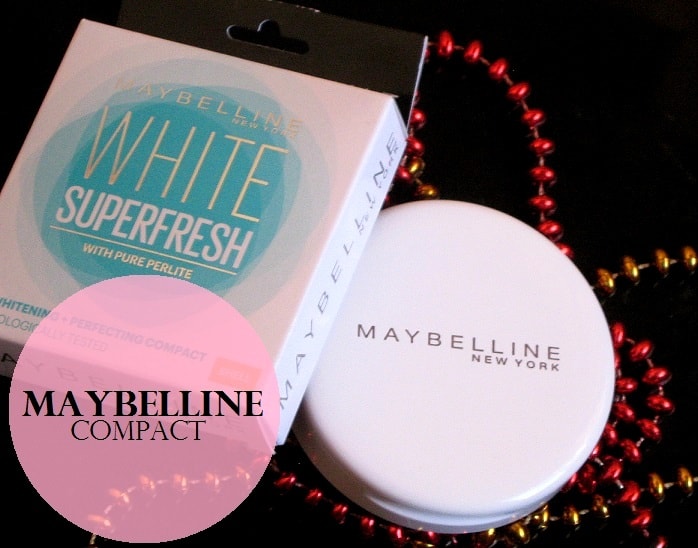 Review, Swatches, Shades, Price, Buy Online Maybelline White Superfresh 12HR Whitening+Perfecting Compact Powder in Shell
This is my first post on VNA and I am super excited. As the title suggests, this is a review of a compact powder. A while ago, I saw the advertisement for Maybelline White Superfresh compact on TV and decided to buy one because I like trying out new products (Alia Bhatt looks gorgeous you guys). I searched it online; I found it to be so affordable and also I could see many positive reviews, so I went to a Maybelline Counter to try out. By then I was using another compact powder and I was quite satisfied with it. Although that compact is not good enough to matify my super oily skin so I thought why not try the Maybelline one. Let's start with the review and swatches.
There are 3 shades in total: Pearl (with pink undertones suitable for fair skin), Shell (slightly yellow, suitable for medium to deeper skin tone) and coral (which is super yellow, in the pan it looks orange, suitable for deeper skin tone). I got myself the shade shell. This shade would suit most of the Indian girls I guess.
Let me start by describing my skin type. My skin is super oily; it gets super dry sometimes (during extreme winters). I cannot use the same products for a long period of time because of this strange skin type, I tend to change my skin care and make up products whenever there is a need. Also my skin is acne prone and I have prominent acne scars (I don't mind them).
Maybelline claims: Maybelline New York introduces it's all new perfecting compact

powder, White Super Fresh that comes in three shades, Pearl, Shell and Coral. The new perlite formula absorbs oil and sweat and gives you a fresh look all through the day. Now bid goodbye to touch-ups and stay fresh and fair up to 12hours.
Shades Available: Pearl, Shell, Coral
Ingredients: I couldn't find the complete list of ingredients anywhere. I can say from the pack, the main ingredient is pure perlite.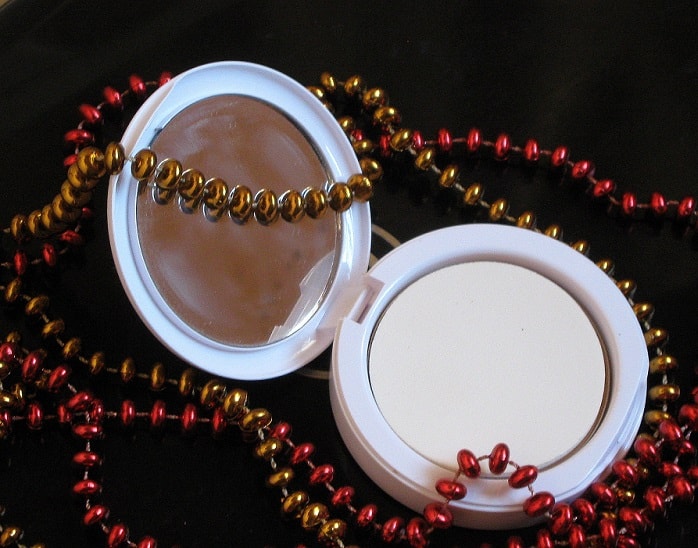 My Review of Maybelline White Superfresh Compact:
The Compact Powder (the actual product in a pan) comes in a white compact case with a pretty good mirror (bigger than usual compacts). It comes in an outer carton and the shade name is written in the bottom right of the carton in a very prominent manner so you wouldn't mess with the shade at any point. I personally like this way of writing shade, since I have had experiences of being sold wrong shade than the shade I opted. The shade name is printed at the back of actual powder case as well. I really love the packaging as it is very decent.
As mentioned earlier the main ingredient is Pure Perlite (I am not sure of the percentage, since it is not mentioned anywhere). I already have a compact with Perlite. I wasn't sure of what it was, so I googled, here is what I got,
"Perlite is an amorphous volcanic glass that has a relatively high water content, typically formed by the hydration of obsidian. It occurs naturally and has the unusual property of greatly expanding when heated sufficiently".
Perlite has peeling/exfoliating properties also it has got good matifying effect. Since I use the maybelline compact over my BB creams I am not sure about the exfoliating property. But I can say it is a good matifier. It matifies my Super Oily skin so nicely. I have tried this superfresh powder both outdoors and in an Air conditioned room. This works perfectly well everywhere. I can proudly say that this is the best compact I have ever used (FYI, I have not used any high end compacts). I am not sure how this will work during summers since it is monsoon here in Chennai, matifying effect of this maybelline whitening compact might differ in summer.
Staying power is quite amazing. Outdoors it stayed put for 4 hours and in air conditioned environment it stayed for around 5 hours. After which oil is slightly visible but still I can say that my face looks glowing and fresh. I would say that the claims are partly true. Yes, it absorbs excess oil. Yes, the superfresh compact makes you look fresh. But I still don't like the word "fair" (or lightens complexion) which is one of the claims. Let's be honest, a powder cannot make you fair (as you might have many layers underneath) it can brighten up your face and make you not to look dull. My skin is tan and I like it that way. I would like to touch up around noon. I always make sure to dab off the excess oil on the face before application, since this compact might look patchy.
The applicator that comes with the whitening + perfecting powder compact is mention worthy. It is of very good quality. It is a stiff sponge with one side smooth and other side velvety. It picks up good amount of product. But still i apply with a stipple brush or powder brush since i am not used to applying powder with sponges. I tried once (as you can see in the picture, the sponge is dirty) and i am okay with it. I use it for touch ups.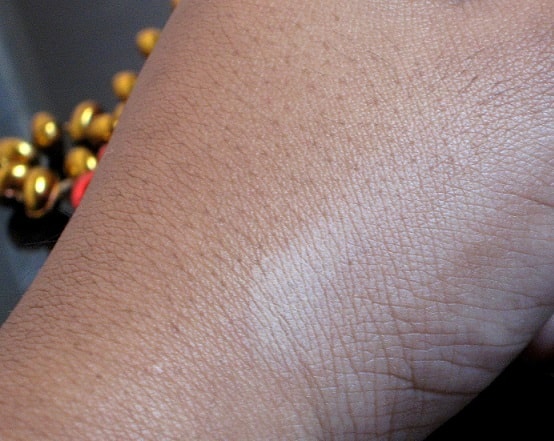 Texture as mentioned earlier is powdery. But it doesn't fly everywhere when picked with a brush. It is very fine powder.
The coverage of the maybelline superfresh is very sheer but buildable. It looks little cakey on me when layered a lot (mainly around my mouth since, i have hyper pigmentation there). I use this pretty much as a setting powder. I have lot of acne scars and it doesn't cover anything but that's okay because it doesn't claim for good coverage either.
Shade range of the maybelline white superfresh powder is a little disappointing. But still maybelline is clever and kept the undertones of these powders quite strong so that it can work across skin tones. I got the shade shell (i said it already) since it is slightly orange/yellow toned powder. As we all know yellow based powders brightens up the face so that's what it does. This is a very good compact for work/college every day use. The SA kept on saying that this compact has SPF and I did not ask how much. I came home after buying and I was searching the entire pack I couldn't see anywhere the SPF details, I searched their website also. I felt idiotic at this point. Without any ingredient list it is hard to say if this powder has any SPF at all (crying). Please let me know in the comments if you are able to find the details (crying again).
Availability: Available in Maybelline counters across India also online.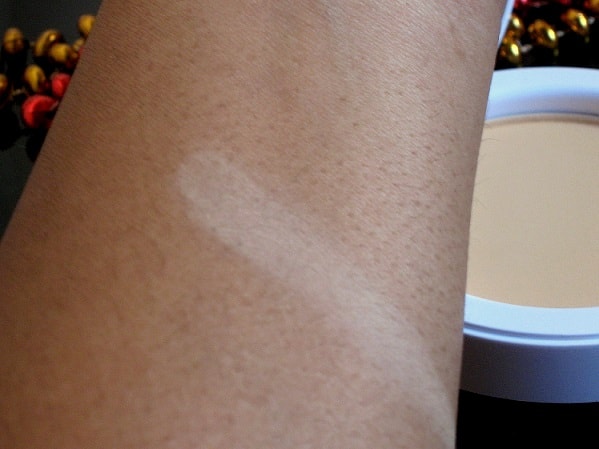 Likes about Maybelline White Superfresh 12HR Whitening+Perfecting Compact Powder:
Absorbs excess oil. Yes it really does.
Decent packaging. White case looks so good.
Dermatologically tested.
Doesn't break out
Gives a good freshness to face. I can even get away with a Kajal and lip balm with this compact
Good staying power
Doesn't transfer
UV filters
Good applicator
Sturdy lock. Locks with a loud click
Affordable (this is my favourite part)
Big mirror
Dislikes about Maybelline White Superfresh 12HR Whitening+Perfecting Compact Powder:
Missing ingredients list
Although the pack saying UV filters no SPF is mentioned (we need numbers guys)
Shade range. More deeper skin tones may not find a match
Sheer coverage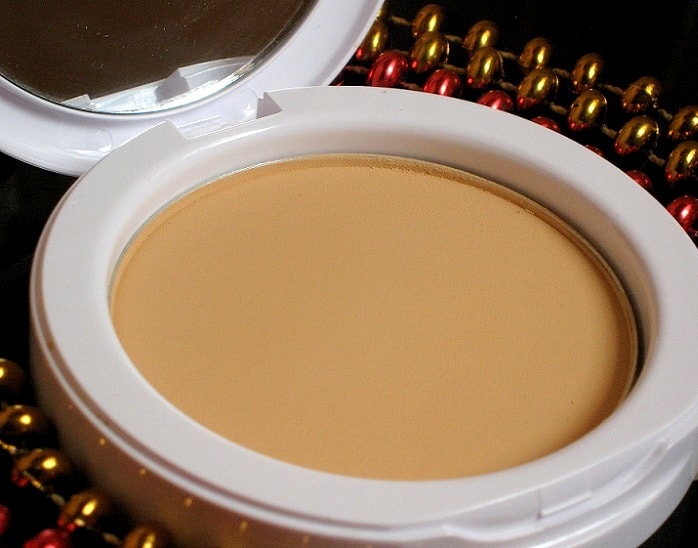 Price in India: Rs.150
VNA Rating: 4/5
Where to Buy Online in India: amazon.in
Overall: this is an affordable setting powder for oily and combination skin types.
By Contributor: Vaanathi
Read More:
L'Oreal Mat Magique All In One Matte Transforming Powders
Lakme Nine to Five Flawless Creme Compact
Lakme Absolute White Intense Cover Wet and Dry Compact
Colorbar Radiant White UV Fairness Compact
Faces Glam On Prime Perfect Pressed Powder
Have you used Maybelline White Superfresh 12HR Whitening+Perfecting Compact Powder? Share your reviews with us.