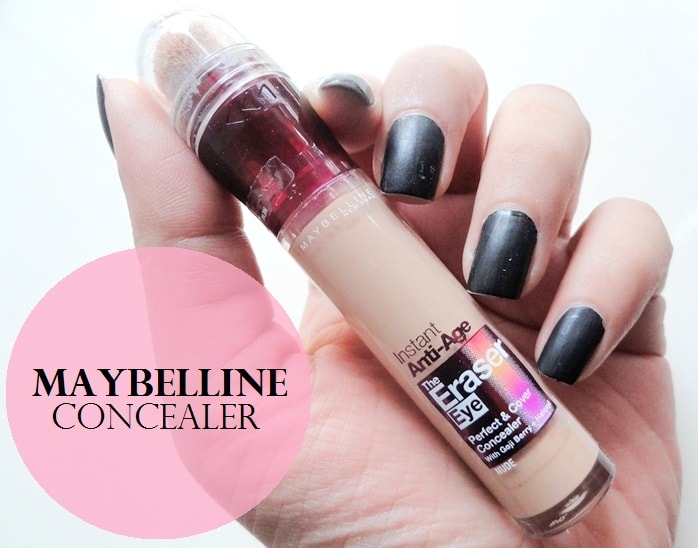 Review, Swatches, Shades, Price, Buy Online Maybelline Instant Anti-age The Eraser Eye Concealer for Indian Skin
So how many of you are a fan of the youtuber Kaushal Beauty? I'm sure if you're a makeup junkie and love watching beauty videos and makeup tutorials on YouTube then you sure would have stumbled upon this amazing youtuber from England who does, probably, the best makeup I've ever seen. Yes, that's Kaushal from Gujrat, India! So I obviously love to watch her videos and the best part is oftentimes, she uses products that are from the drugstore. One such product that she swears by in her videos is this concealer by Maybelline that is called the Instant anti-age the eraser eye perfect Cover and Conceal Concealer which I will review and swatch today.
I'd been on the hunt for this maybelline concealer for months, until one fine day when I actually spotted this beauty at a store in Delhi and I just couldn't wait a second to get my hands on it. I bought this age rewind concealer in the shade Nude, in a beat, as I'd already done my fair share of research on this maybelline concealer on Google beforehand. So yeah, keep reading to know how it fared for me and for its swatch!
Product description: Micro-Corrector Applicator micro-fills and smoothes, Active formula with Haloxyl reduces the look of puffiness and shadows while fading the appearance of under-eye circles. Apply neutralizer shade for extreme dark circles. Brightener shade adds a luminous touch.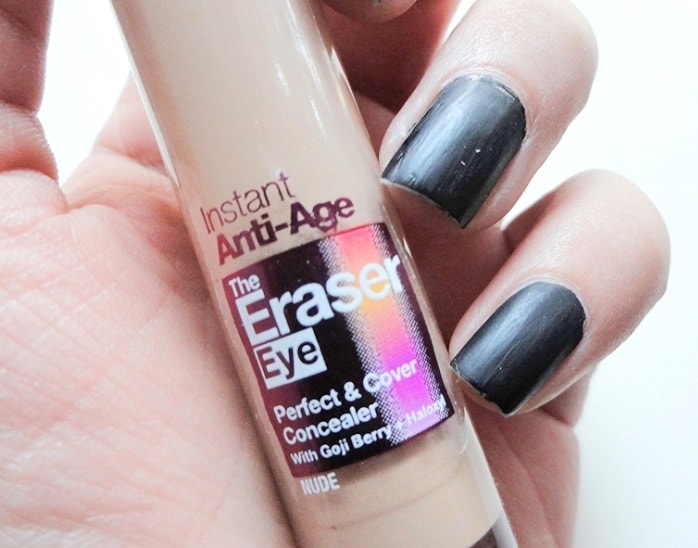 My review of Maybelline Instant Anti-age The Eraser Eye Concealer:
This Maybelline concealer comes in a glass packaging with a plastic cap. The glass bottle is made of good quality and is unbreakable. I love the fact that this instant age rewind concealer is very travel friendly and comes in handy to just keep in the handbag (although I don't normally keep my concealer in the handbag, but just in case I ever need to). The anti age concealer comes with a cushion like sponge which you have to twist in order for the product to come out from the bottle onto the sponge.
This kind of packaging has both its pros and cons- good thing being it's easy to pour out the product and there's hardly any wastage, ever. But the not so good thing about this concealer packaging is that the using the same sponge over and over seems kind of unhygienic to me and there's really no way to wash the sponge even.
I haven't used too many concealers in the past, but from what I can tell by using this one is that the texture of this maybelline concealer is by far my favorite. The texture is moderately creamy, very lightweight and not at all sticky. It is not one of those concealers that have a weird mousse- like, too creamy texture that end up creasing making your skin too oily. The coverage of this maybelline instant age concealer is medium- to high and on most days, just a single swipe works for me. The Maybelline Instant Anti- Age concealer blends beautifully into the skin and blurs out imperfections like a dream. After all, there's a reason why YouTube beauty gurus are raving about this concealer all the time.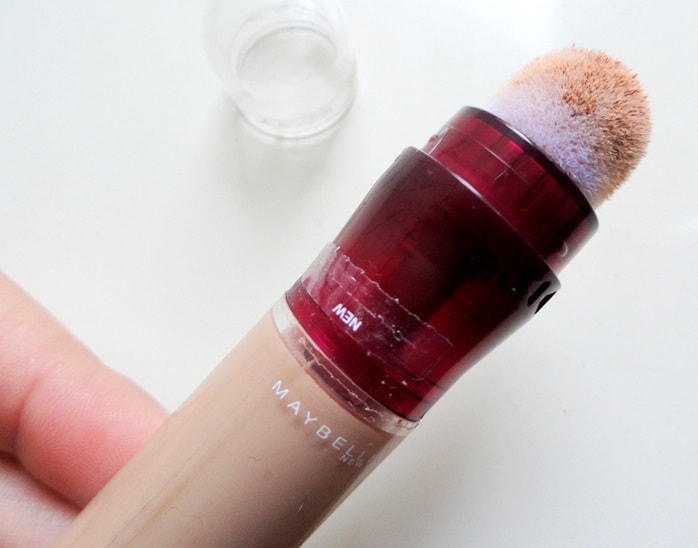 I've noticed that this brightener concealer stays on me for a really long time, like almost 8-10 hours without any creasing though it does make my under- eye skin a little greasy after say 6 hours or so, so it does need a touch up with a compact powder. Before applying this maybelline concealer, I make sure to moisturize my skin well as it tends to make my skin a little dry if its not properly moisturized and I also follow up with a setting powder over this as that prevents the eraser eye concealer from creasing under the eyes.
I mostly apply this concealer over my foundation and it really highlights the high points of my face and gives a fresh look. All in all, I can see myself using this very concealer over the years to come!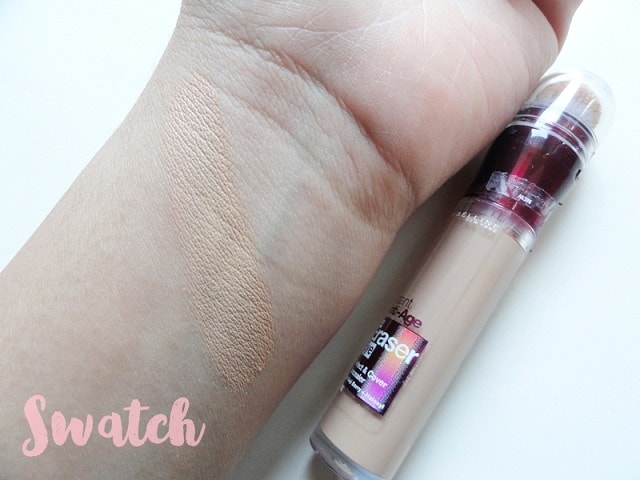 Pros of Maybelline Instant Anti-age The Eraser Eye Concealer:
Packaging is sturdy (other than the too- delicate cap).
It comes with an attached applicator sponge which prevents any wastage of product.
Texture is light and creamy
Feels very lightweight on the skin and blends beautifully.
Highlights the skin where it is applied.
Stays on for 8+ hours on me.
Affordably priced for the quantity and quality.
Does not make skin over- greasy.
Cons of Maybelline Instant Anti-age The Eraser Eye Concealer:
The applicator sponge, though prevents wastage of product, is not the most hygienic option out there.

Not available in India very easily.
If not followed up with a setting powder, this can end up creasing on the areas applied onto.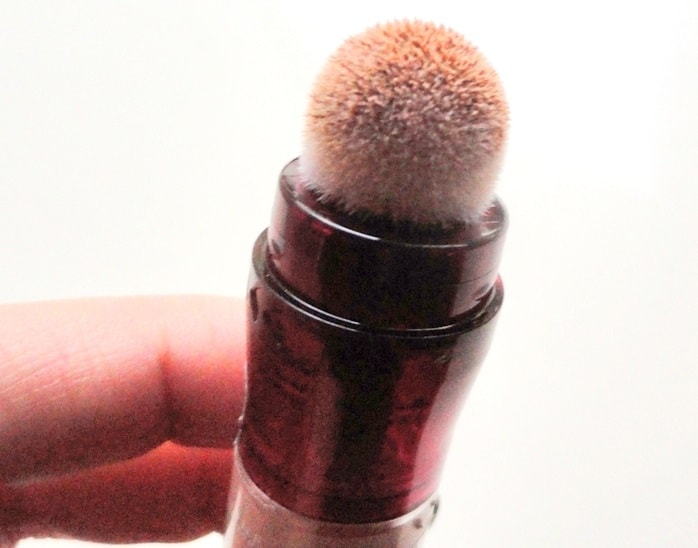 Price in India: I got it at a store in Delhi for Rs.1300 (It retails for about GBP 7.99, that is close to about INR 800)
VNA Rating: 4.5/5 (minus .5 for the applicator sponge and lack of availability in India)
Where to Buy Online in India: amazon.in
Conclusion: if you ever spot this Maybelline instant age concealer anywhere, ladies please buy this in a beat. You won't be disappointed by its quality!
By Contributor: Trisha
PS – Maybelline has 2 of these concealers with identical packaging. One is this and the other is Maybelline Instant Age Rewind Eraser Dark Circles Treatment Concealer. Are they both the same? Is maybelline again marketing products under different names in Asian markets?
Have you used Maybelline Instant Anti-Age The Eraser Eye Concealer? Share your reviews with us.