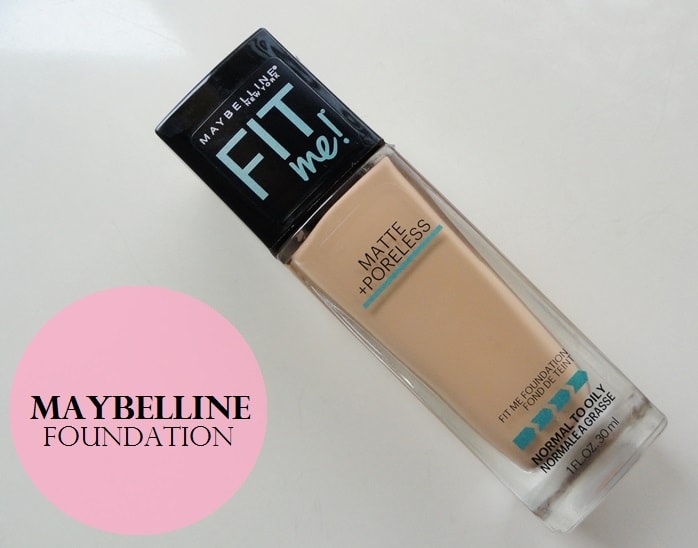 Review, Swatches, Shades, Price, Buy Online Maybelline Fit me Matte + Poreless Foundation 310 Sun Beige
In the past couple months; it seems like drugstore brands have been on a complete roll, launching one product after another in India. And it's surprisingly refreshing to see a new product that is other than a lipstick. So dear ol' Maybelline recently launched a ton of cool makeup products in India from foundation to shimmer compact to blushes and what not. One such product I'm reviewing today is the new Maybelline Fit Me Matte and Poreless foundation in the shade 310 Sun Beige. I'm also adding a foundation matrix to help you get a shade match if know your MAC studio fix fluid foundation shade. Let's start with the review and swatches.
The Maybelline Fit Me foundation isn't exactly a new launch as it was launched abroad over a year ago, if you're into watching makeup tutorials on YouTub e, you'd know. But it definitely is a new launch in India. So if you're interested in knowing how this foundation fared for me, keep reading! They are also out with Fit Me compact powder, Fit Me concealer and Fit Me blushes in corresponding shades to make shade selection easier.
Shades Available: Maybelline Fit Me vs MAC foundations
115 Ivory: NW20-25
128 Warm Nude: NC30-35
230 Natural Buff: MAC NC35-37
310 Sun Beige: MAC NC40-42
322 Warm Honey: NC42-45
330 Toffee Caramel: NC45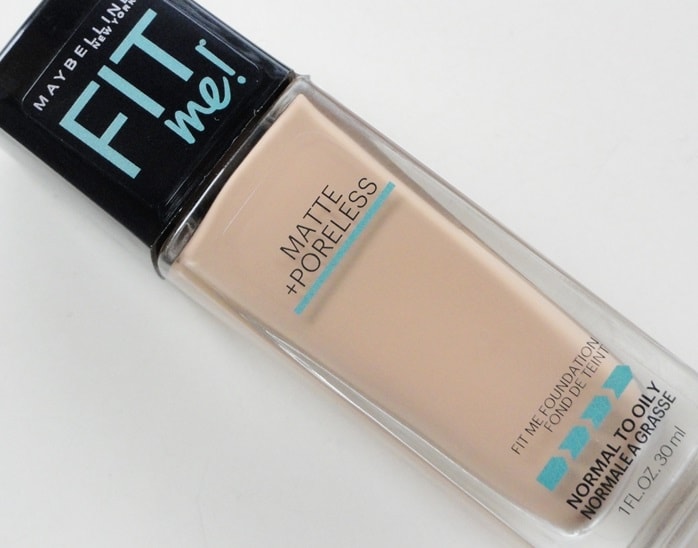 My Review of Maybelline Fit me Matte + Poreless Foundation:
The Maybelline Fit me foundation comes in a glass bottle with a black cap. Aesthetic and sleek looking, I must say. The only downside about the packaging is that it doesn't come with a pump packaging. instead, the fit me foundation has to be poured out from the bottle straight which I find a bit clumsy and time consuming to be honest. Also, it's something that definitely leads to a bit of product wastage too. But if you're okay with such a packaging or if you get the hang of it, I'm sure it won't be such a problem.
Coming to the texture, the maybelline foundation is definitely very smooth and lightweight. It doesn't feel like you're wearing a foundation at all, it is that lightweight. It is the right kind of texture, without being too runny or too thick. The poreless matte foundation is definitely creamy in texture and slightly on the thicker side, being a matte foundation. The maybelline fit me foundation is easily blend-able. It gives light to medium coverage and is totally buildable. I like the amount of coverage it gives. Medium coverage that is perfect for everyday wear. It doesn't look like you're wearing any makeup at all, the texture is that smooth and flawless.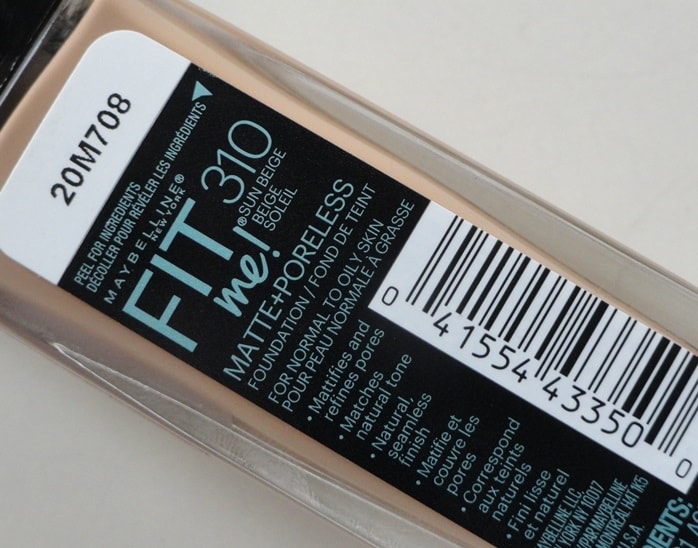 I like to apply this fit me matte + poreless foundation with my Real Techniques blending sponge and it gives a very nice, almost-air bushed finish. The maybelline Fit Me foundation comes in about 6 different shade options and the shade I bought is 310 Sun Beige which almost matches my skin tone perfectly. The reason it gives such a flawless finish is because the shade is, if not exactly, the almost similar to my skin tone. It hides imperfections well and gives a smooth finish. This 310 sun beige foundation definitely stands true to its claims of being a "poreless foundation" as it really hides the pores by covering them instead of sitting in them. It also evens out fines lines on the skin.
The Maybelline Fit Me Matte and Poreless foundation stays on me for 6-8 hours and keeps my face matte and shine-free. It doesn't make my skin dry like I've experienced with a lot of other foundations in the past that claim of being "mattifying". I hate to layer up my face with one product after another so I prefer to skip a compact powder when I'm wearing this fit me matte foundation and still this one keeps my face matte for good 5+ hours. Honestly, I didn't expect this fit me poreless foundation to be as great as I now think it is. It has definitely become my Holy Grail drugstore foundation and I can't wait to go through this one and re-purchase it.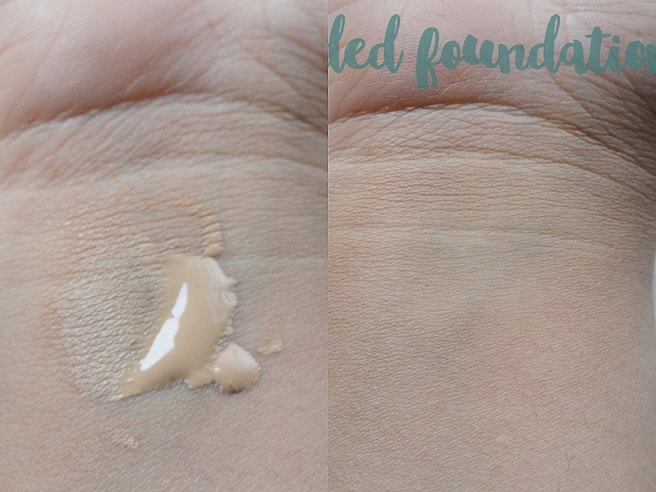 Pros of Maybelline Fit me Matte + Poreless Foundation in the shade 310 Sun Beige:
Very affordably priced at INR 525
Smooth and creamy in texture
Gives medium coverage
Perfect for everyday wear
Matte in texture. Perfect for oily-combination skin
Weight less foundation. Doesn't feel heavy or sticky on the skin
Easily blend-able. Gives a smooth, airbrushed finish on the skin
Looks like you're wearing no makeup
Lastly, the reason why it's become my Holy Grail foundation- It conceals pores, blemishes and fine lines like no other foundation I've tried before does.
Cons of Maybelline Fit me Matte + Poreless Foundation in the shade 310 Sun Beige
I wish it came in a pump bottle
Comes only in 5 shades in India as opposed to 12 in the US.
Price in India: Rs.525
VNA Rating: 4.5/5
Where to Buy Online in India: amazon.in
Conclusion: I absolutely love this foundation and recommend it to everyone with oily sin. It is a great option from the drugstore, stays matte and keeps skin shine free for over 5 hours.
By Contributor: Trisha
Read More:
Lakme 9 to 5 Weightless Mousse Foundation
Maybelline White Superfresh 12HR Whitening+Perfecting Compact Powder
Mineral Makeup Foundations in India
L'Oreal Paris 24H Infallible Reno Liquid Foundation
Have you used Maybelline Fit Me Matte+Poreless Foundation? Share your reviews with us.