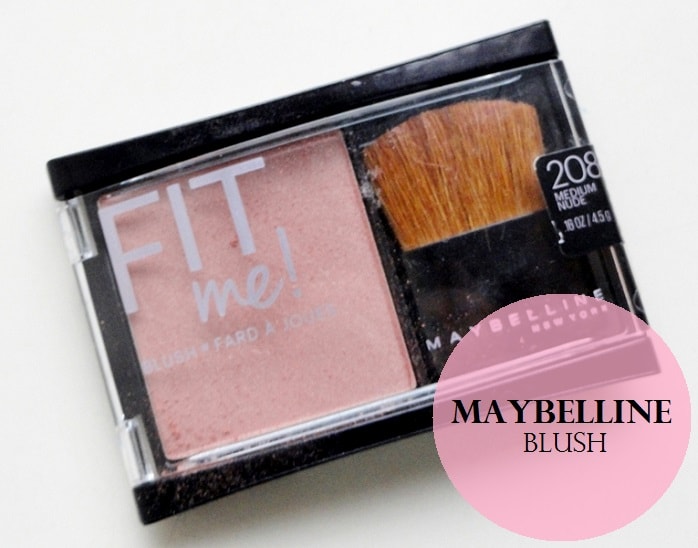 Review, Swatches, Shades, Price, Buy Online Maybelline Fit Me Blush in 208 Medium Nude
A lot of times it happens when I'm seriously too lazy to put on any makeup, not even an eye liner but I still want that little color on my face and don't want to look flat. A blush does just that. So it goes without saying that a good blush is something I'm always on the lookout for. Like I already mentioned in my last post, Maybelline New York recently launched its famous Fit Me range in India that consists of fit me foundations, concealers, blushes and compact. So today I will review and swatch a blush from Maybelline Fit Me Range in the shade 208 Medium Nude. Read on to know how it fared for me.
No matter whether I'm going somewhere fancy or just to hang out with some friends, I rarely leave home without some color on cheeks, yeah, I'm like that!
Maybelline Claims: Flawless blush that lets the real you come through. You'll Love It. Lightweight pigments blend easily and wear evenly. Provides a natural, fade-proof cheek color that leaves skin the way it was meant to be… fresh, breathing, and natural. Oil-free, non-comedogenic, dermatologist tested
 Shades Available: Medium Pink, Medium Coral, Medium Nude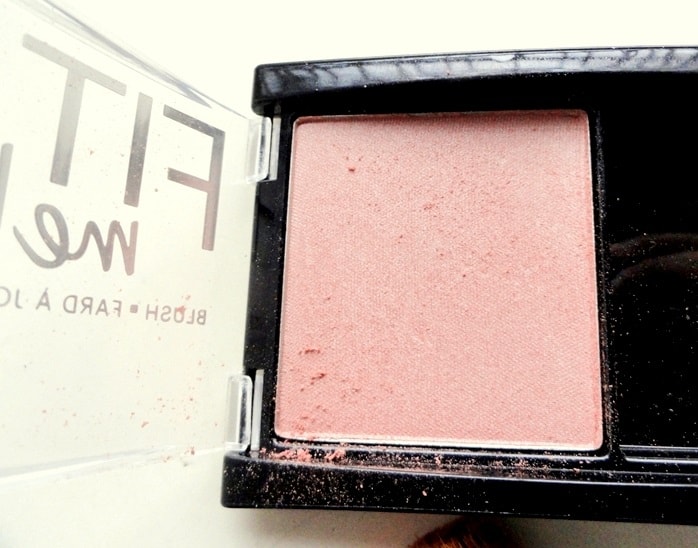 My review of Maybelline Fit Me Blush:
Tempted enough as I was to pick up the Maybelline Fit Me Blushes in every single color they come in, I decided to play safe and just buy one first to try it out and see if it works for me or not. Playing safe like I said, I picked up the shade Medium Nude 208 which is light mauve/ pink kind of color with hints of shimmer in it, though not overpoweringly shimmery.
The Maybelline fit me blushes come in a standard plastic packaging, a brush and no mirror. I really like it when blushes come with their own mirrors so that they can be travel friendly etc like the Loreal Magique blushes (really like those!) , but whatever, at 400 Rupees, I can't really complain much. I am not a big fan of the packaging of this maybelline blush and would have liked it better if it were a little more sturdy like the Maybelline cheeky glow blushes.
It comes with an applicator blush which is, to give this a little credit, better than the Cheeky glow blushes by Maybelline since those do not come with an applicator brush. However the quality of the fit me brush is poor. I would never use a brush like this on me skin. The bristles are kind of thick and prickly and fall off.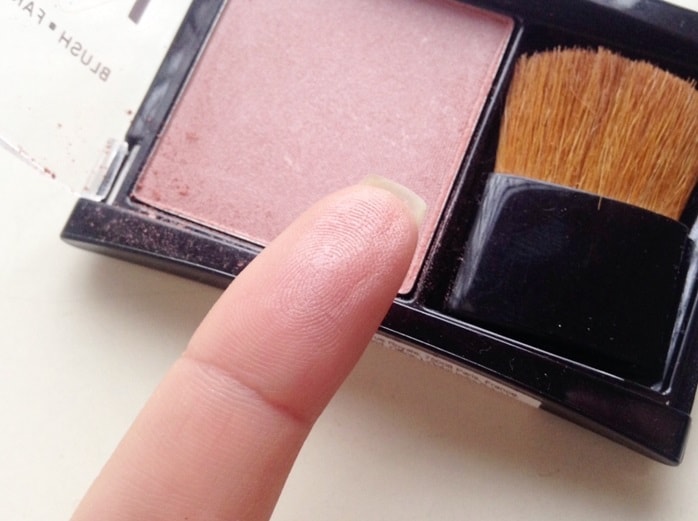 Now coming to the color of this fit me blush; I picked it up in the shade 208 Medium Nude which is a mauvy pink. It is kind of a neutral shade so I thought it would be perfect for everyday wear for Indian skin tones. It does contain some shimmer in it, but the minutest shimmer. The shimmer only gives skin a little glow and does not settle into the pores which is a good thing.
The shade of this maybelline ft me blush is such that will suit most Indian skin tones. However, the pigmentation is not at all good. I keep layering the maybelline blush and even then it barely shows up. I hoped it would be at par with other Maybelline Blushes I have tried in the past if not better than them, but this one is rather worse than those ones in the pigmentation department. Or maybe it's the shade I picked up that doesn't show up on me as well as I would have liked it to be.
But I will say here that I do like the smooth and fine texture of this blush. It doesn't feel chalky on the skin. Gives a natural finish and seems like I'm going to be wearing this a lot on a daily basis because it is a shade that adds the most natural flush to the skin and looks like no makeup. it stays on for about 4-5 hours. It doesn't make my skin oily as such. Apart from the poor pigmentation of this particular color of fit me blush, I don't have any problem with the other attributes of this blush.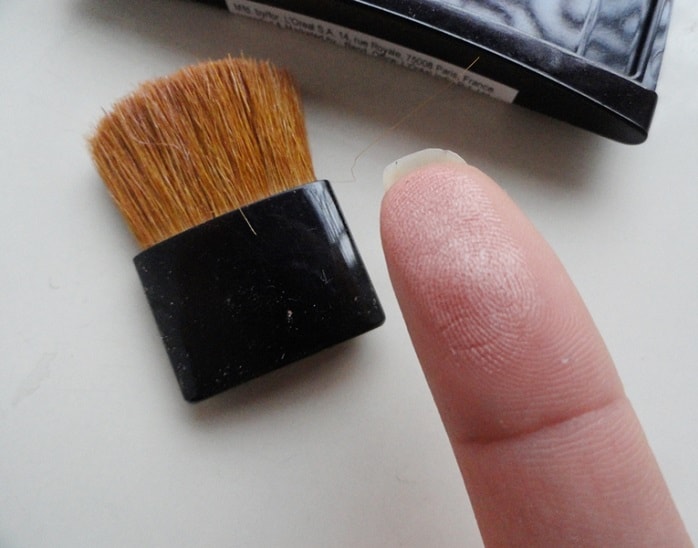 Pros of Maybelline Fit Me Blush in 208 Medium Nude:
Decently priced at INR 400 for 4.5 gm of product
Easily available online and at Maybelline counters across the country
Comes with its own applicator brush
Contains tiny shimmer in it that add a glow to the cheeks.
The shade Medium nude will suit most Indian skin tones
Smooth and silky in texture.
It gives a very natural finish
Doesn't feel chalky on the skin
Lasts a decent number of hours on me.
Cons of Maybelline Fit Me Blush in 208 Medium Nude:
The packaging is slightly flimsy. The plastic seems to be of a not-so-good quality and I also don't like the fact that it doesn't come with a mirror. I prefer my blushes that come with their own mirror.
This blush comes with an applicator brush which is a good thing and I do agree that the brush can come really handy while travelling but I wouldn't really use this brush that comes with the blush as it isn't the best quality brush and the bristles are rather prickly. But that's what I feel.

I do not like the pigmentation of this blush. Takes swipe after swipe to get the color to show up even a little on my medium skin tone.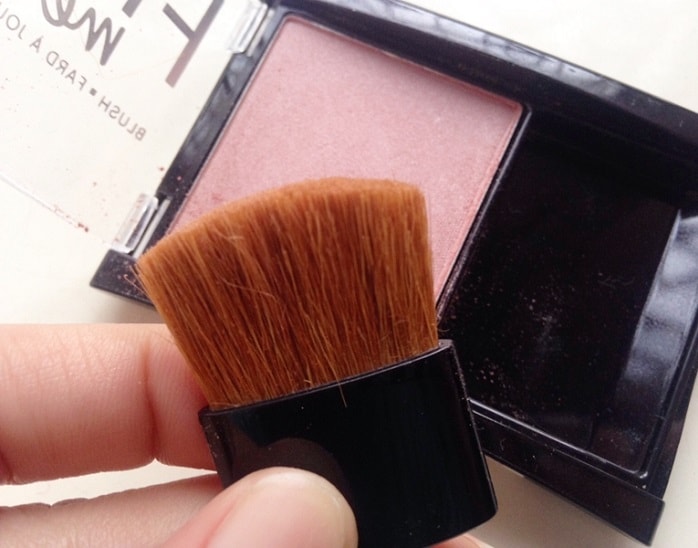 Price in India: Rs.400
VNA Rating: 3/5
Where to Buy Online in India: amazon.in
Conclusion: While I do recommend the Maybelline Fit Me blushes in general, I do not recommend the shade Medium Nude in particular because of its low pigmentation. Overall, the quality and the texture of the Maybelline Fit Me blushes is quite decent. Thanks for reading my review. Hope you found it helpful!
By Contributor: Trisha
Read More:
Maybelline Blush Studio Blush 'Em
MAC Plum Foolery Sheertone Blush
Lakme Absolute Cheek Chromatic Baked Blush Night Sparkle
MAC Petal Power Mineralize Blush
Have you used Maybelline Fit Me Blush Medium Nude? Share your reviews with us.