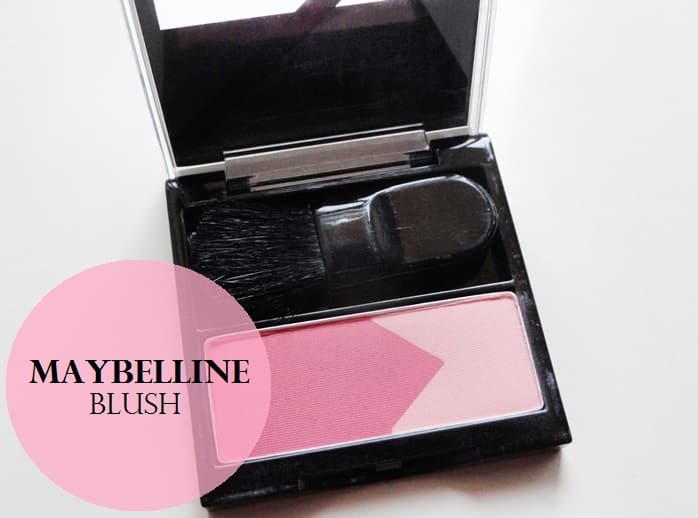 Review, Swatches, Price, Buy Online Maybelline Blush 'em Blush Studio Cheek Color in shade 03 I'm Pop!
Maybelline is fast becoming my new favorite drugstore brand, what with all its amazing new range of foundations, concealers, blushes et al. Whatever you want, you name it and Maybelline has the best of it. Maybelline recently launched a lot of nice stuff in India; however, there are still some really cool things that it is yet to launch in India. One such thing is the Maybelline Blush em Cheek color. The shade I will review and swatch today is 03 I'm Pop and it is the pinkest pink blush. I hope these blushes get launched in India soon as they will give tough competition to the maybelline cheeky glow blushes we have here.
I reviewed another blush from the same range called I'm Fashionista a while ago on VNA and since I have three shades in this, I thought of sharing my views on another shade from this range.  The main reason why I picked up three shades at once in these blush studio blushes is because they serve the purpose of contouring too. Read on the review to know how.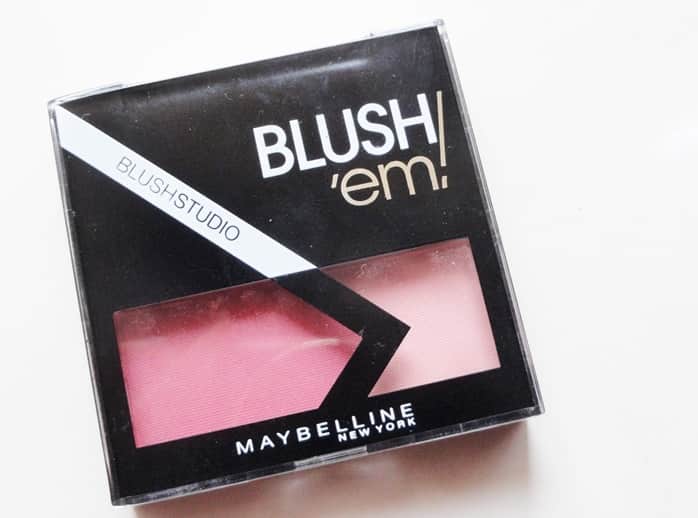 My Review of Maybelline Blush em Cheek Color in 03 I'm Pop:
The Maybelline Blush em blushes come in a really tiny packaging. I think they are just slightly bigger in size than the cheeky glow blushes by Maybelline however the quantity of product in Maybelline blush studio blushes is far less than the cheeky glow blushes. They are nicely packaged and the reason I love these blushes so much is because they come with their own tiny brush. Not many drugstore blushes come with a brush and since this one does, it is very travel friendly. I mean, I can just throw this in my bag and if I'm heading out for something fancy with friends, I can just touch up my lipstick and apply some pink blush, because guess what? My blush comes with its own cute little brush. Hahaha!
The concept of these Maybelline blushes is really good. These don't just contain a single boring blush color. Nope, they don't. Instead, these blush em blushes come with a bright blush shade and a fun highlighter so you can give them cheek bones all the TLC that they deserve! So yeah, apply the blush shade in the hollows of your cheek and for that extra glow on the cheeks, just pop in some highlighter and you're super fancy in just seconds.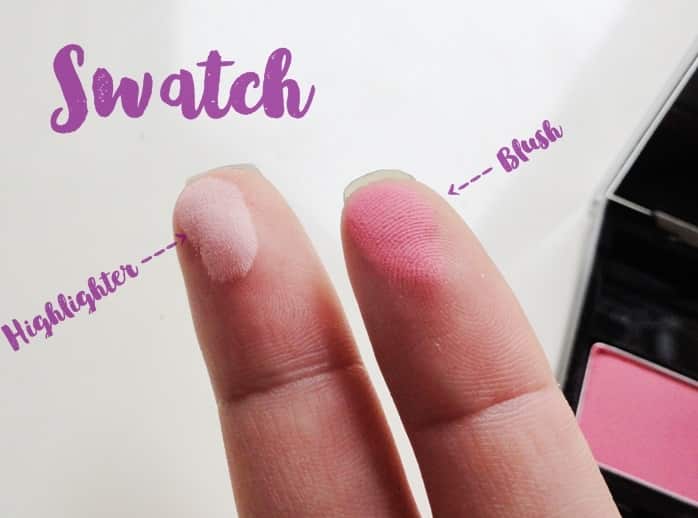 The I'm Pop blush shade is a true pink. It just pops. Like the pinkest of pinks. I haven't used a blush pinker than this one before. It goes well with almost all my pink and nude lip shades and since it comes kind of muted on skin; it makes for a good every day use blush.
The shade of the maybelline highlighter is a pale pink. It has the slightest amount of shimmer in it that just adds a healthy glow to the skin without making you look like a disco ball in broad sunlight. The cheek color highlighter can also be used on other areas that you may want to highlight such as the bridge of the nose or the cupid's bow as it is only slightly pink and has very subtle amount of shimmer.
The I'm pop pink blush is absolutely matte and goes on very smoothly onto the skin. It does look chalky if not blended well. I normally apply and blend this maybelline blush with my hun, Real Techniques blush brush and it gives the most natural flush to the skin and blends the product really well.
However, when I'm on the go and have to apply the cheek color blush with the brush that it comes with, I have to be super careful about where exactly on the cheeks I'm applying the blush as the size of the brush is pretty tiny and also, it has to be blended really, really well because the of the tiny brush. It does not make my skin oily and stay son for 5+ hours on me which I think is a decent amount of time. The texture is smooth and feels very light on the skin. It doesn't irritate my sensitive skin at all.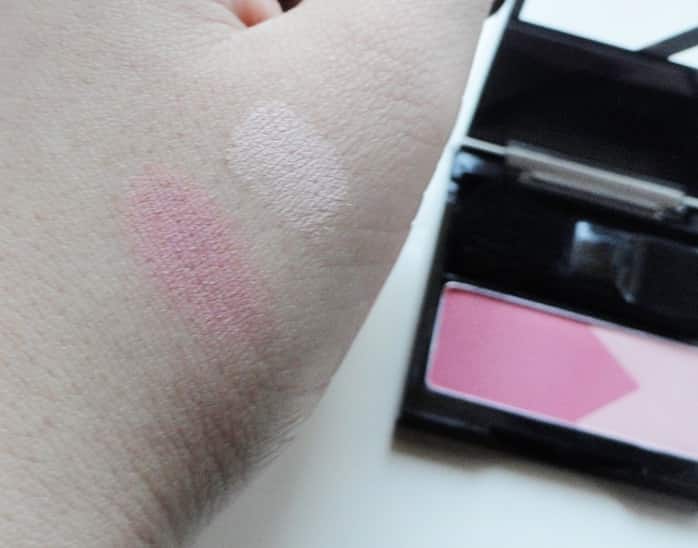 Pros of Maybelline Blush em Blush Studio Cheek Color 03 I'm Pop:
Affordable for the quality of the blush.
Cute and sturdy packaging.
This blush comes with its own brush and is super travel friendly because of its size.
It has a cool concept- comes with a separate highlighter.
The blush shade is absolutely matte and the highlighter as usual has hints of shimmer. Nice!

Stays on me for around 5 hours.
Doesn't make my skin oily or sticky.
Blends well into the skin and looks natural.
03 I'm Pop is a shade that is a perfect pink for everyday wear. Very fuss- free.
Cons of Maybelline Blush em Blush Studio Cheek Color 03 I'm Pop:
Not easily available in India.
Available online at a hefty price.
Appears a bit chalky if not blended well. But then, any blush would look chalky if not blended.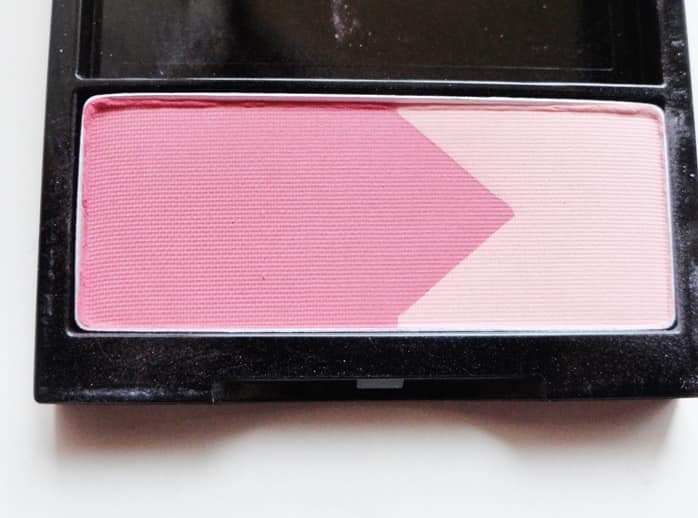 Price: around Thai Baht 250 (INR 500)
VNA Rating: 3.9/5
Conclusion: If you liked the Maybelline Cheeky glow blushes, I'm sure you'd like these Maybelline Blush em blushes 1 times more. And a little bonus- they are travel friendly and come with a separate highlighter.
By Contributor: Trisha
Read More:
Maybelline Fit Me Blush Medium Nude
MAC Plum Foolery Sheertone Blush
Maybelline Colossal Super Black Kajal
Strobing Highlighter Makeup Tutorial
Best Maybelline Products in India
Best Neutrogena Products In India
Have you used Maybelline Blush Studio Blush 'em I'm Pop? Share your reviews with us.