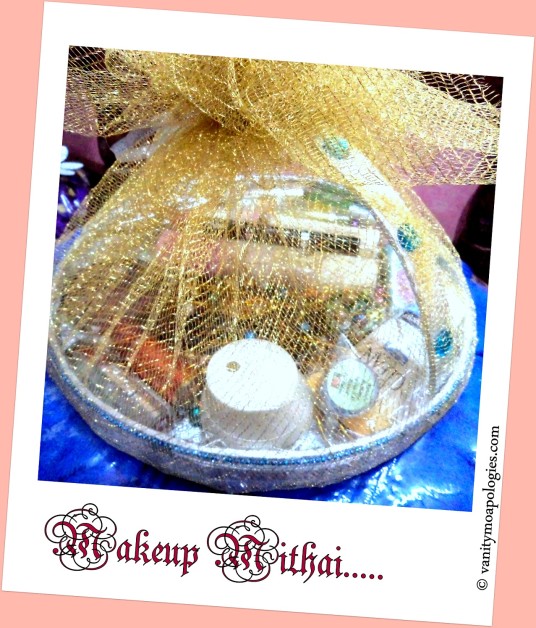 Yes makeup as mithai instead of the moti choor ke ladoos, kaju ki barfis, rasmalai, coconut barfi….oooh my mouth is watering. You must have guessed I've a sweet tooth or maybe sweet teeth! A new wedding gift for Indian brides (may be I should apply for the copyrights). So this all started when we were planning for a gift for my cousin's wife-to-be. Since the bride was a makeup virgin, the beauty blogger in me jumped to her rescue. So I started buying makeup for her…..I started with simple fuss free basic stuff since the only lipstick she has is inherited from her mom probably (an ugly maroon). I included some base makeup, a blush palette, eye makeup, 3 lipsticks, 2 nail paints, skin care, hair care.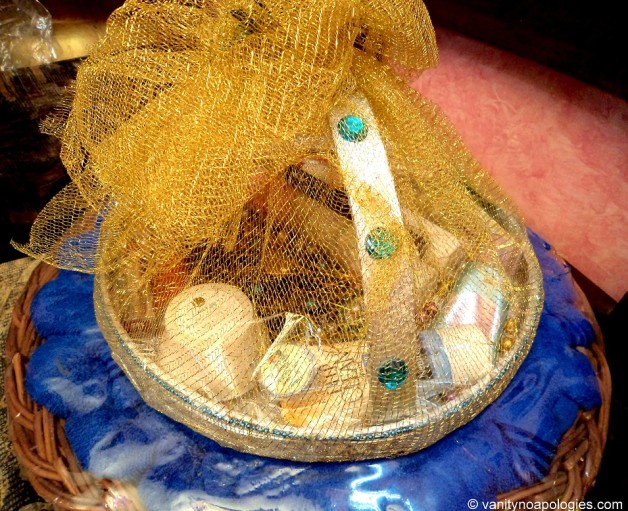 Do you have any idea how over priced the vanity boxes are? Everything good is beyond 5k! And after buying all that makeup, I was out of my budget. So my mom being a wise woman she is said "why don't we give it away as shagun?" And I was sold with my wallet smiling at me. All I needed was a makeup tray and some gift wrapping material. My mom took out a Diwali gift pack loaded with Snickers, 5 Stars, eclairs, gems and all other heavenly things…..which we emptied in 1 day. Come on it was for a good cause *I swear*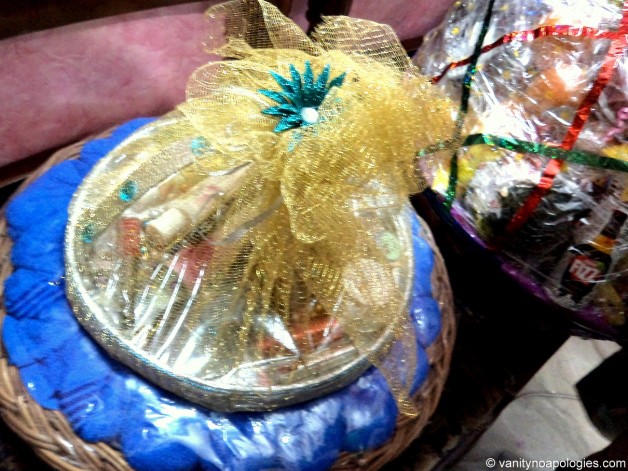 1. So the tray was ready now.
2. Now I secured all the makeup items with some glue and dusted some coloured balls, craft glitter, ribbons, etc.
3. Now I covered the thali with a thin plastic sheet to secure the tray.
4. I took a net golden dupatta kind of cloth (available at all gift stores for some 30 bucks) and wrapped up the thali and secured it with a knot. Add some fancy bow or flower at the top to wedding-fy it.
And you are done…..tadaaaa!!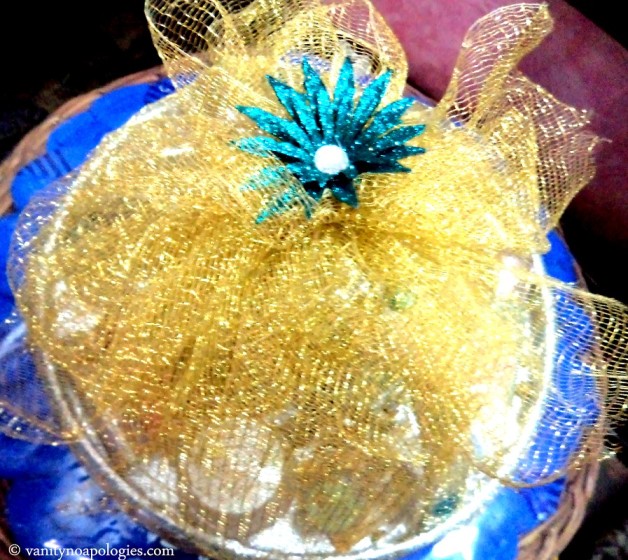 What all I included in my mithai makeup gift pack:
1. Maybelline BB cream for daily use – Rs.200
2. Lakme Invisible foundation (had a hard time guessing her correct match so didnt splurge much) – Rs.190
3. L'Oreal Infallible lipstick (because every bride needs a long lasting lipstick) in some ruby shade – Rs.800
4. Maybelline Color Sensational Autumn Rush (basic nude brown) – Rs.300
5. Lotus Herbals lipstick (don't remember the name but it was a very pretty coral pink) – Rs.300 approx
6. Lakme Absolute Baked Blush in Night Queen – Rs.550
7. Chambor eyeshadow trio – Rs.400 approx
8. Oriflame clickit eyeliner and mascara duo – Rs.200
9. Maybelline nail paint (astral green I guess) – Rs.91
10. Lotus Herbals nail colour (red) – Rs.135 approx
11. Lakme Winter Care Day Cream – Rs.150
12. Neautrogena daily scrub – rs.60
13. Lotus Herbals Stick foundation and concealer – Rs.200 approx
14. Enchanteur body lotion and deodorant (Charming) – Rs.300
15. Dove Oil Hair serum – Rs.300
Total price: Rs.4176!! You see I suck to only drugstore brands, you can go higher depending on your budget.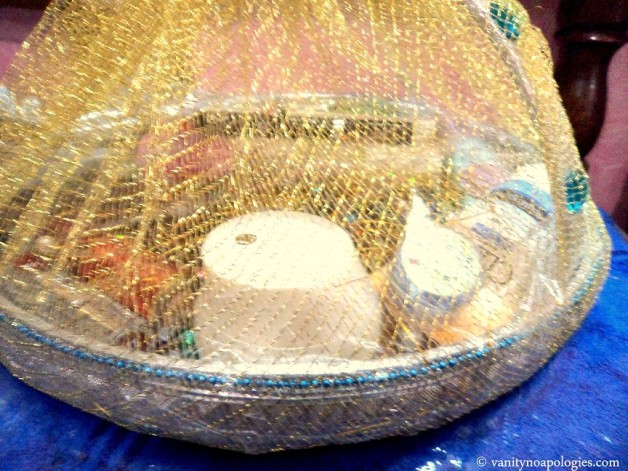 How do you like my makeup mithai?